People of Bon Homme County
Note: To view them larger, right click and "open image in new tab".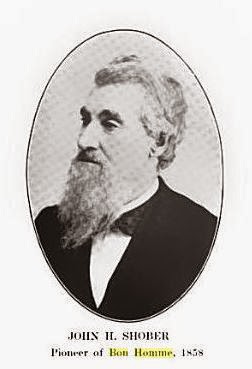 John Shober
Source: History of Dakota Territory, Volume I by George Kingsbury, 1915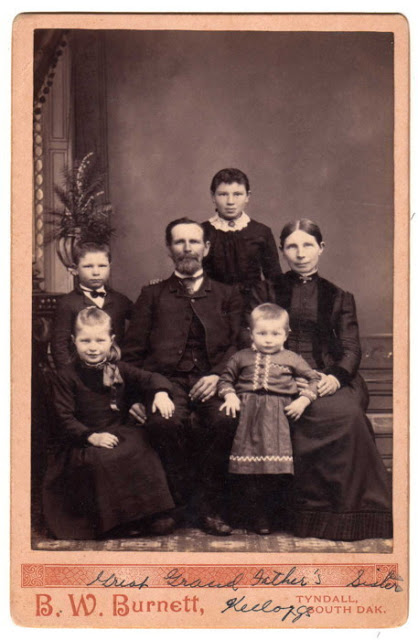 "Great Grandfather's Sister ... Kellogg"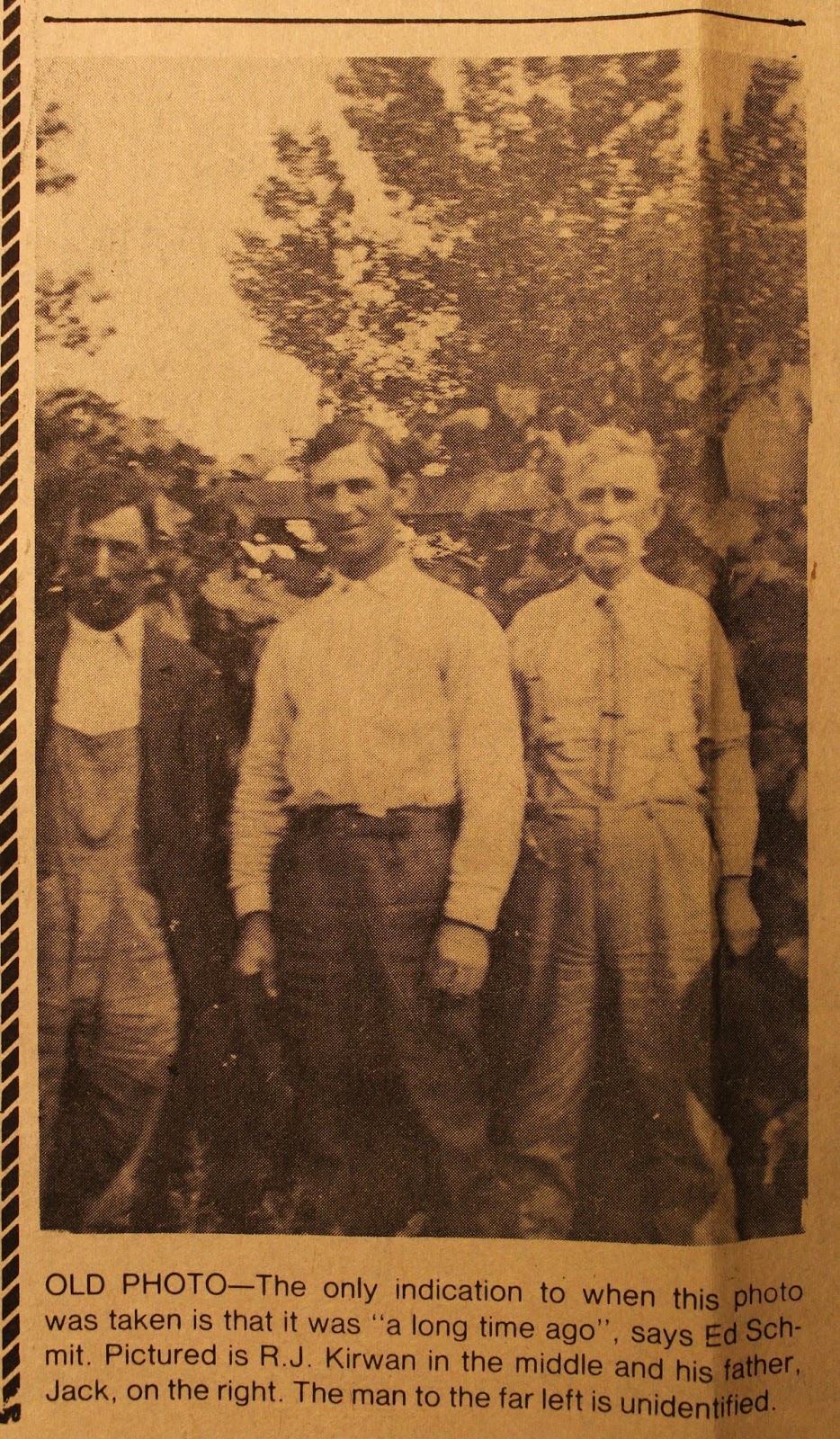 Jack Kirwan, R. J. Kirwan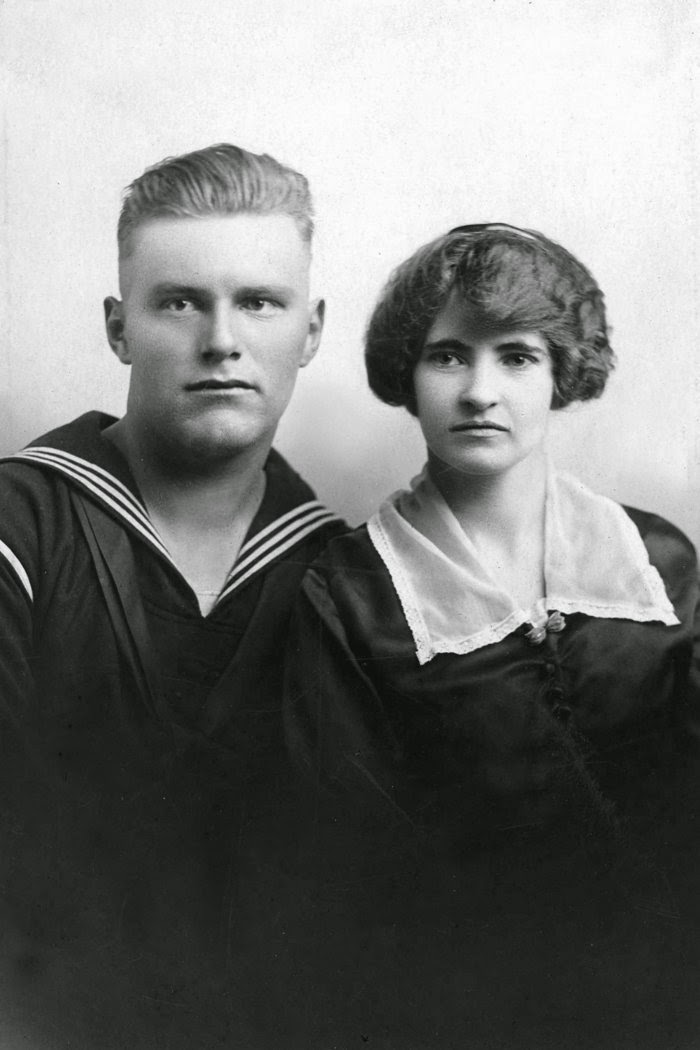 Walter & Nora (McHughes) Bangert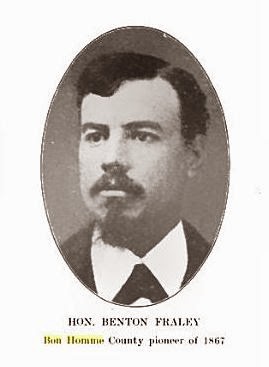 Benton Fraley
Source: History of Dakota Territory, Volume I by George Kingsbury, 1915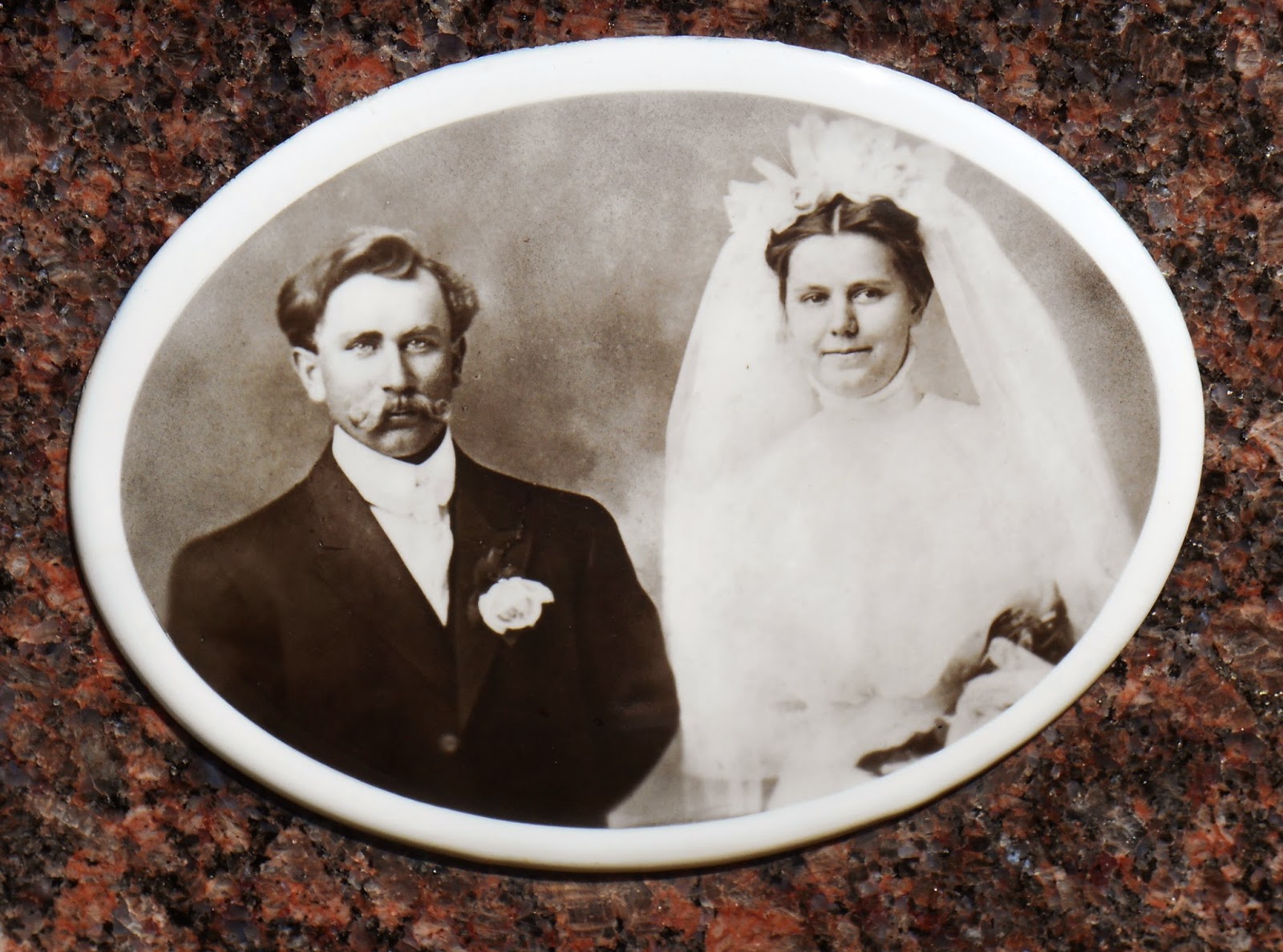 Emanuel (1888-1980) & Alma (1891-1912) Klink on their wedding day.

Joseph & Frances (Hlinovsky) Koftan Family 1898
Children: Laurence, LeRoy, Bozena, Ella, and Frank.

Joe Hisek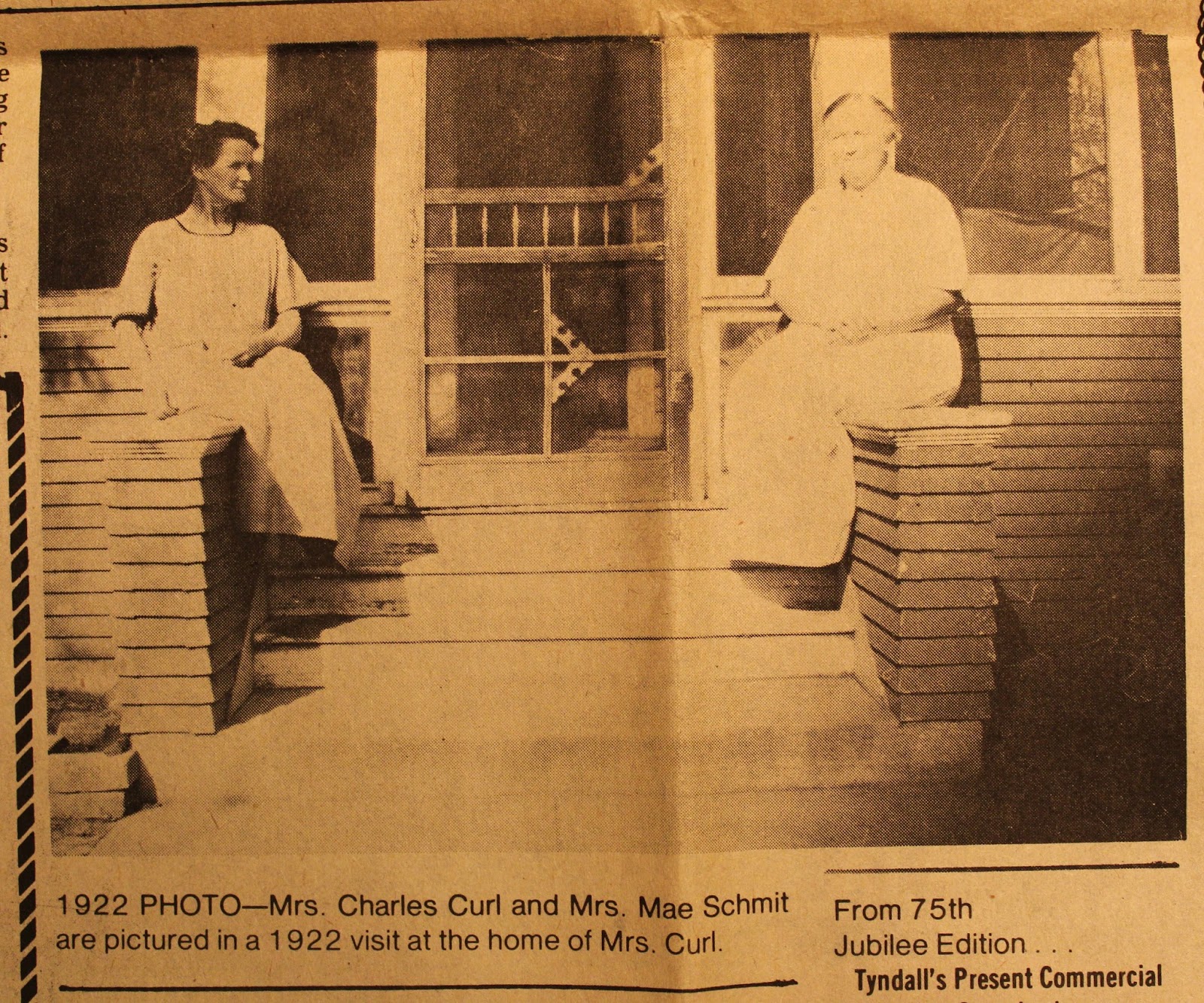 Mrs. Charles Curl & Mrs. Mae Schmit

Joe Ford

The Tom Ptak Orchestra (about 1940) featured
Leo Krcil, trumpet; Steve Thaler, trumpet; Adolph Cudley and George Honomichl,
saxophone/clarinet; Bill Hron, tuba; Mary Rohla, piano; and Tom Ptak, drums and vocals.
Source: National Music Museum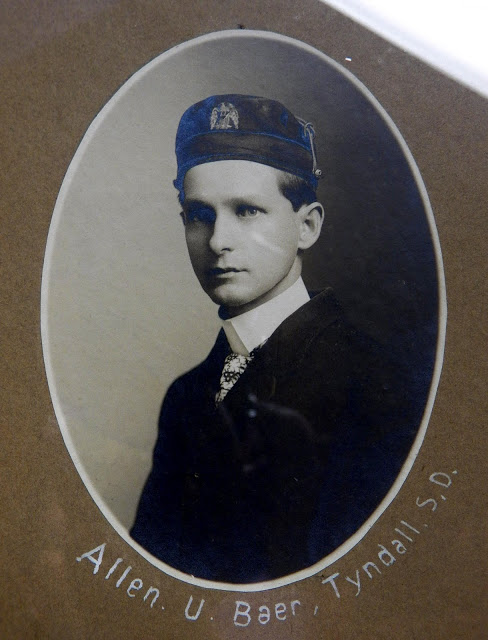 Allen U. Baer - November 1908
Masonic Temple of Yankton, South Dakota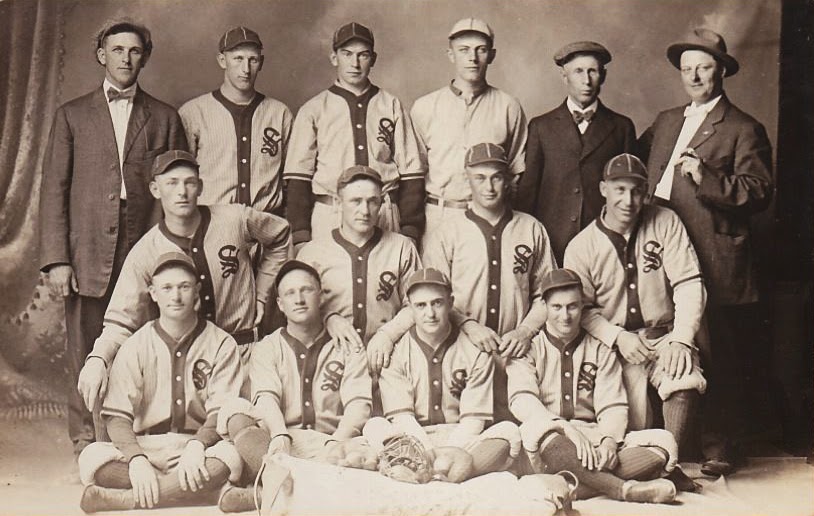 Scotland, South Dakota Baseball Club (Year & Names Unknown)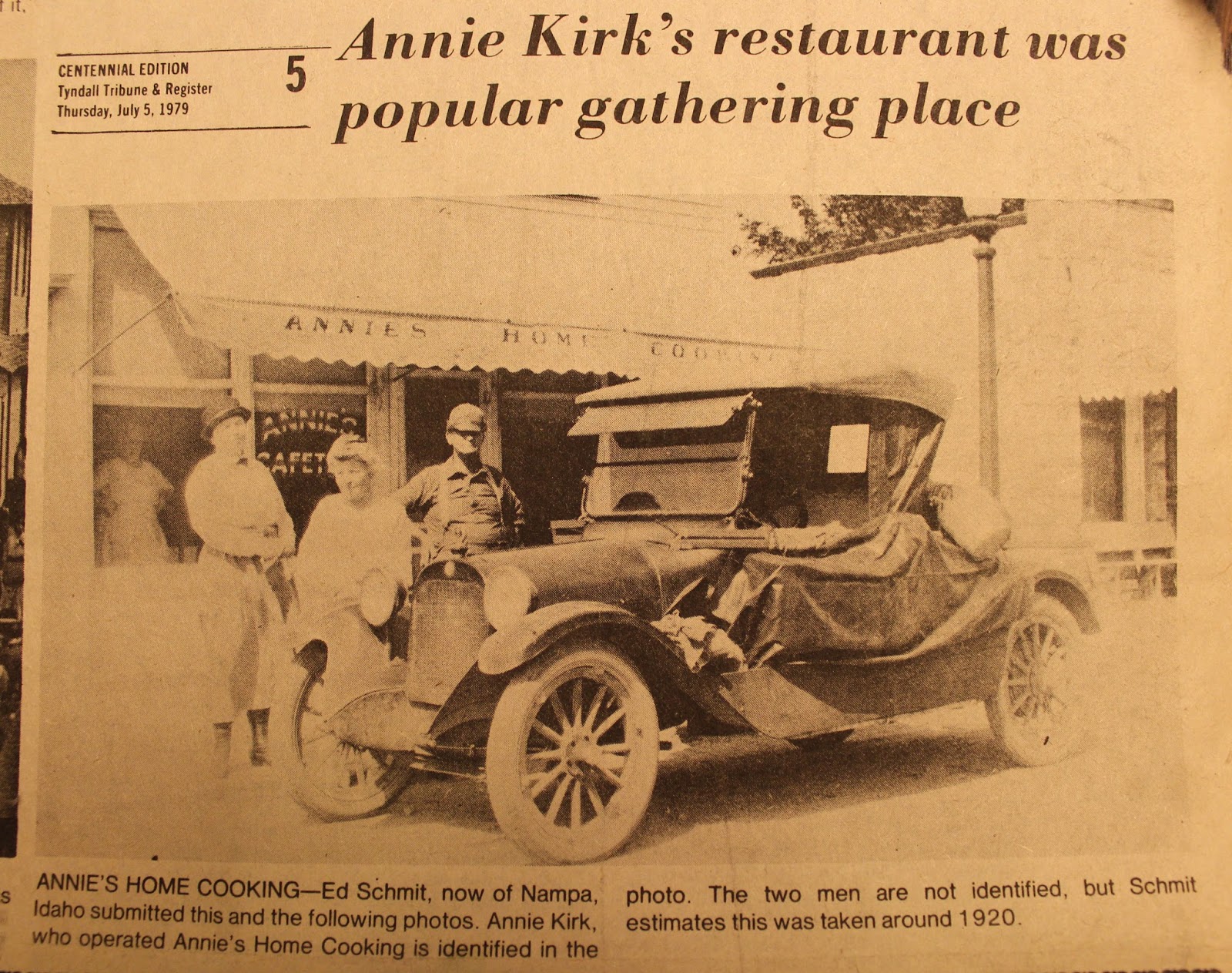 Annie Kirk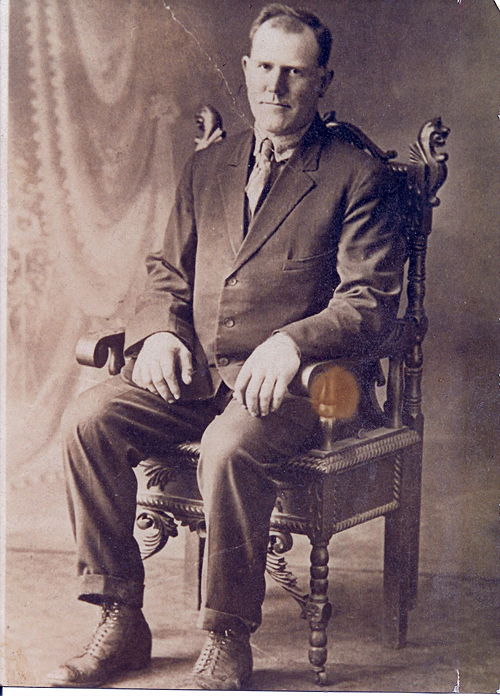 William Sheffield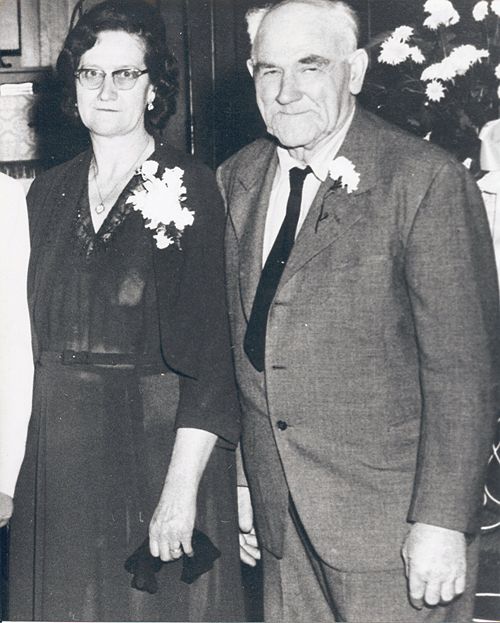 William & Dena Sheffield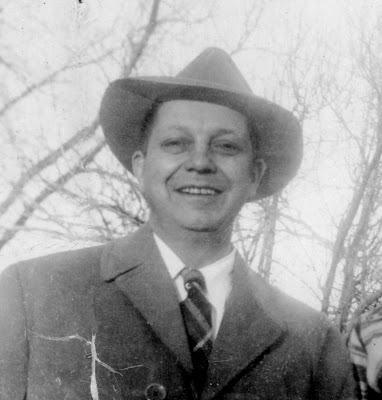 Frank Kelley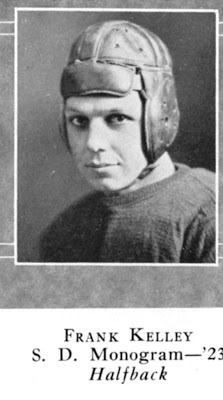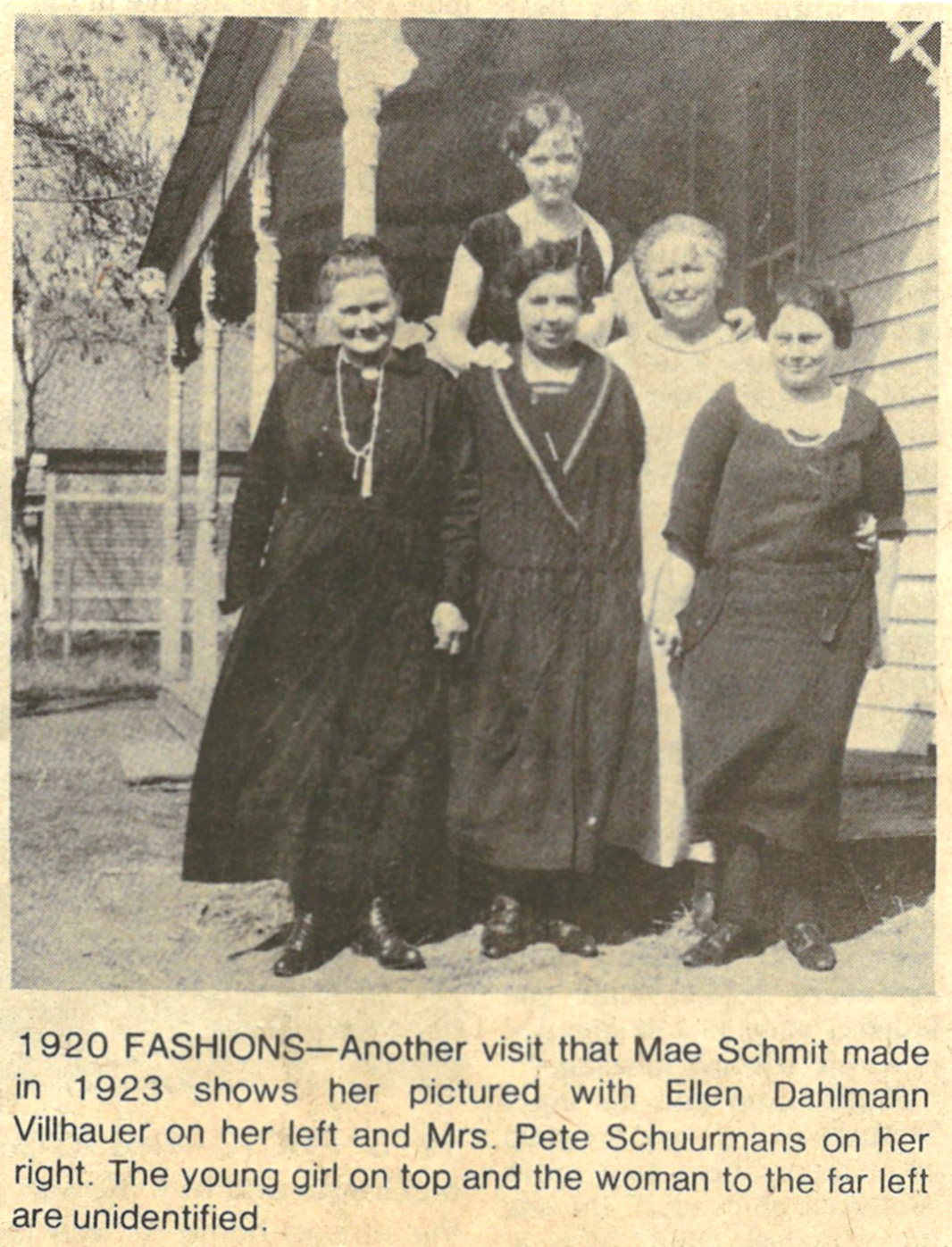 Mae Schmit, Ellen Dahlmann Vilhauer, Mrs. Pete Schuurmans - 1923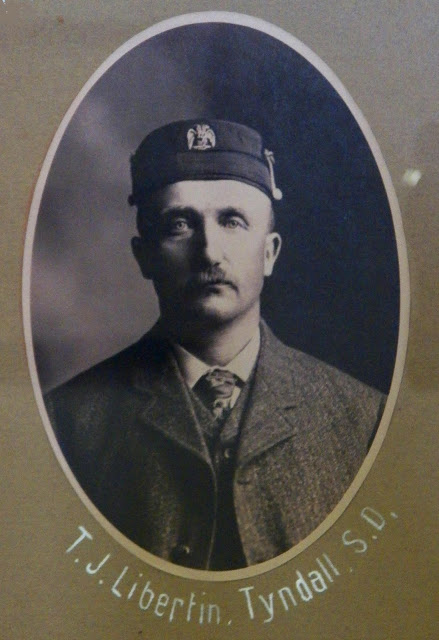 T. J. Libertin - May 1903
Masonic Temple in Yankton, South Dakota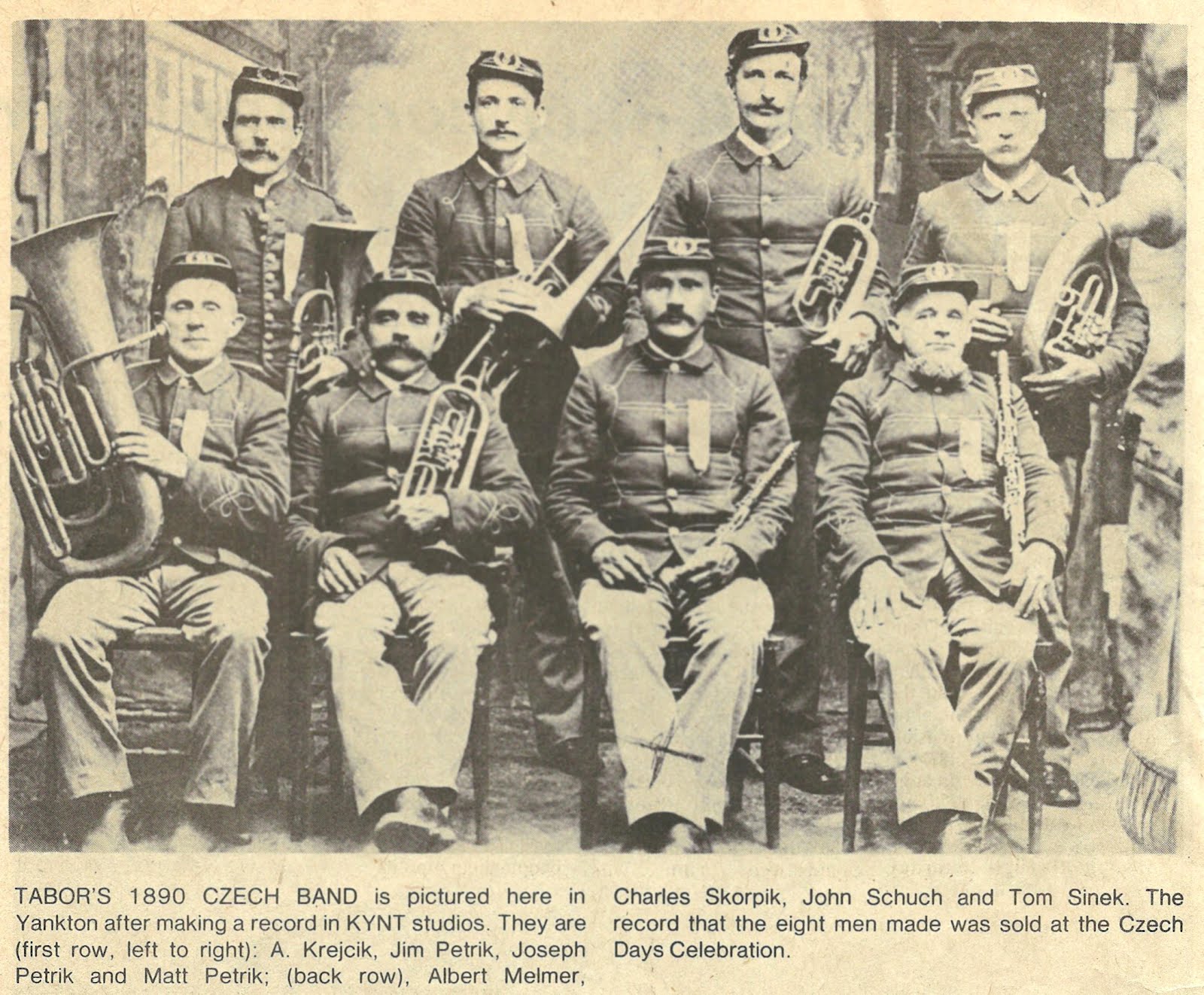 A. Krejcik, Jim Petrik, Joseph Petrik, Matt Petrik
Albert Melmer, Charles Skorpik, John Schuch, Tom Sinek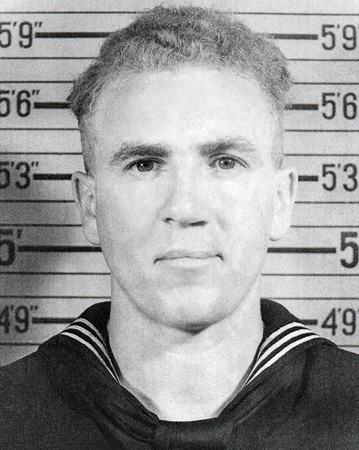 Stanley Henry Bangert, 1919-1944
Source: On Eternal Patrol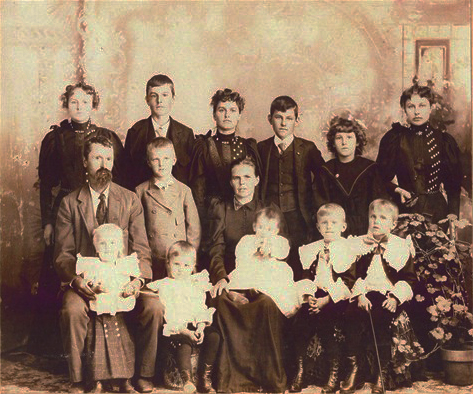 John Fridrich family, 1894, Tyndall, Bon Homme Co., South Dakota
Back row - Hattie, August, Bessie, John J., Emma, Mollie
Middle row - John Sr., Clarence, Josephine
Front row - Joe, Henry, Leo, Arthur, Albion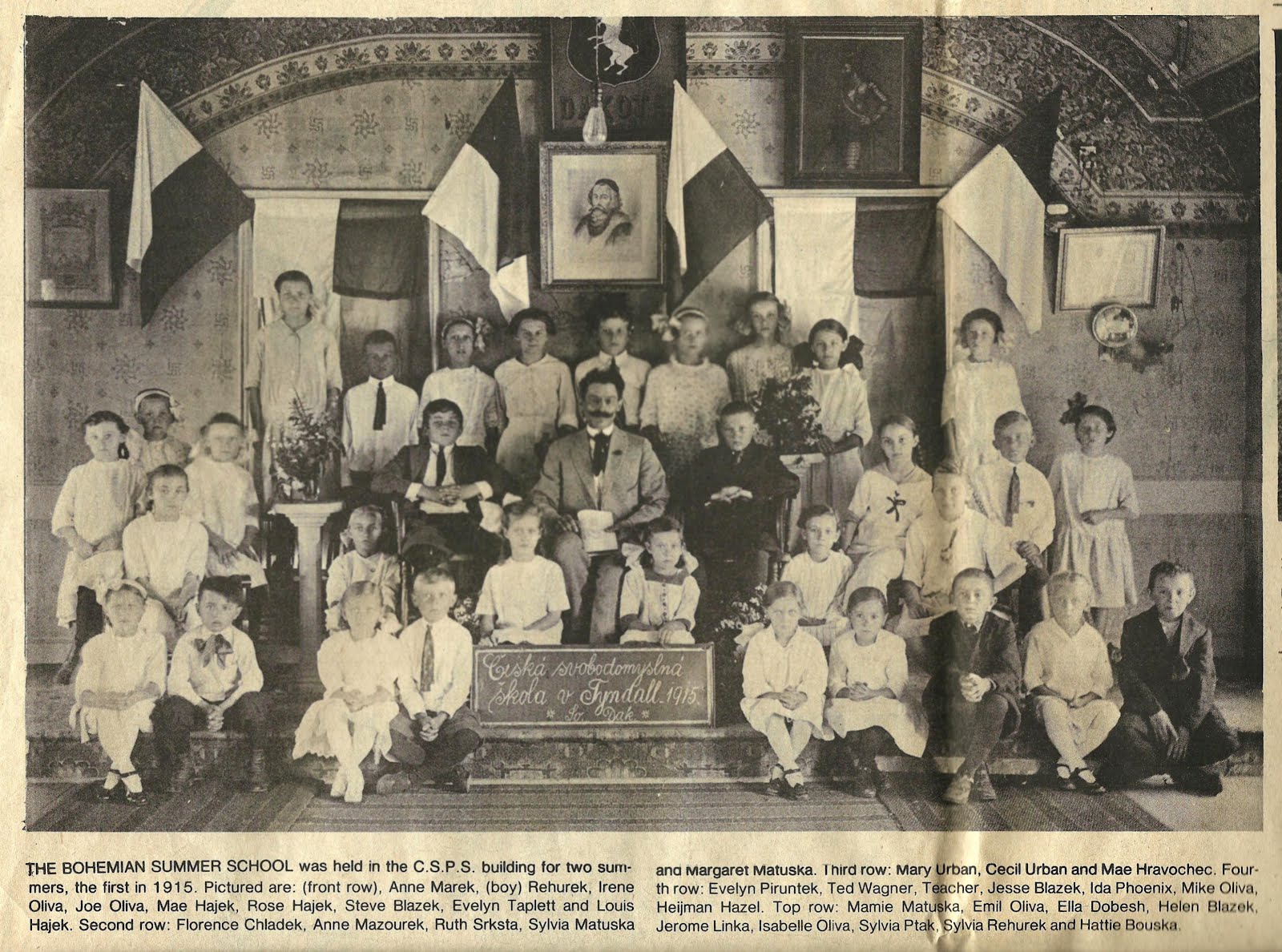 Anne Marek, (Unknown Male) Rehurek, Irene Oliva, Joe Oliva, Mae Hajek, Rose Hajek,
Steve Blazek, Evelyn Taplett, Louis Hajek, Florence Chladek, Anne Mazourek,
Ruth Srksta, Sylvia Matuska, Margaret Matuska, Mary Urban, Evelyn Piruntek,
Ted Wagner, Jesse Blazek, Ida Phoenix, Mike Oliva, Heijman Hazel, Mamie Matuska,
Emil Oliva, Ella Dobesh, Helen Blazek, Jerome Linka, Isabelle Oliva, Sylvia Ptak,
Sylvia Rehurek, Hattie Bouska

Mae Horn, Fern Strokein, Hulda Lehr Lubbers


Albert Kriz

Louis Chladeck ~ March 1909
Masonic Temple of Yankton, South Dakota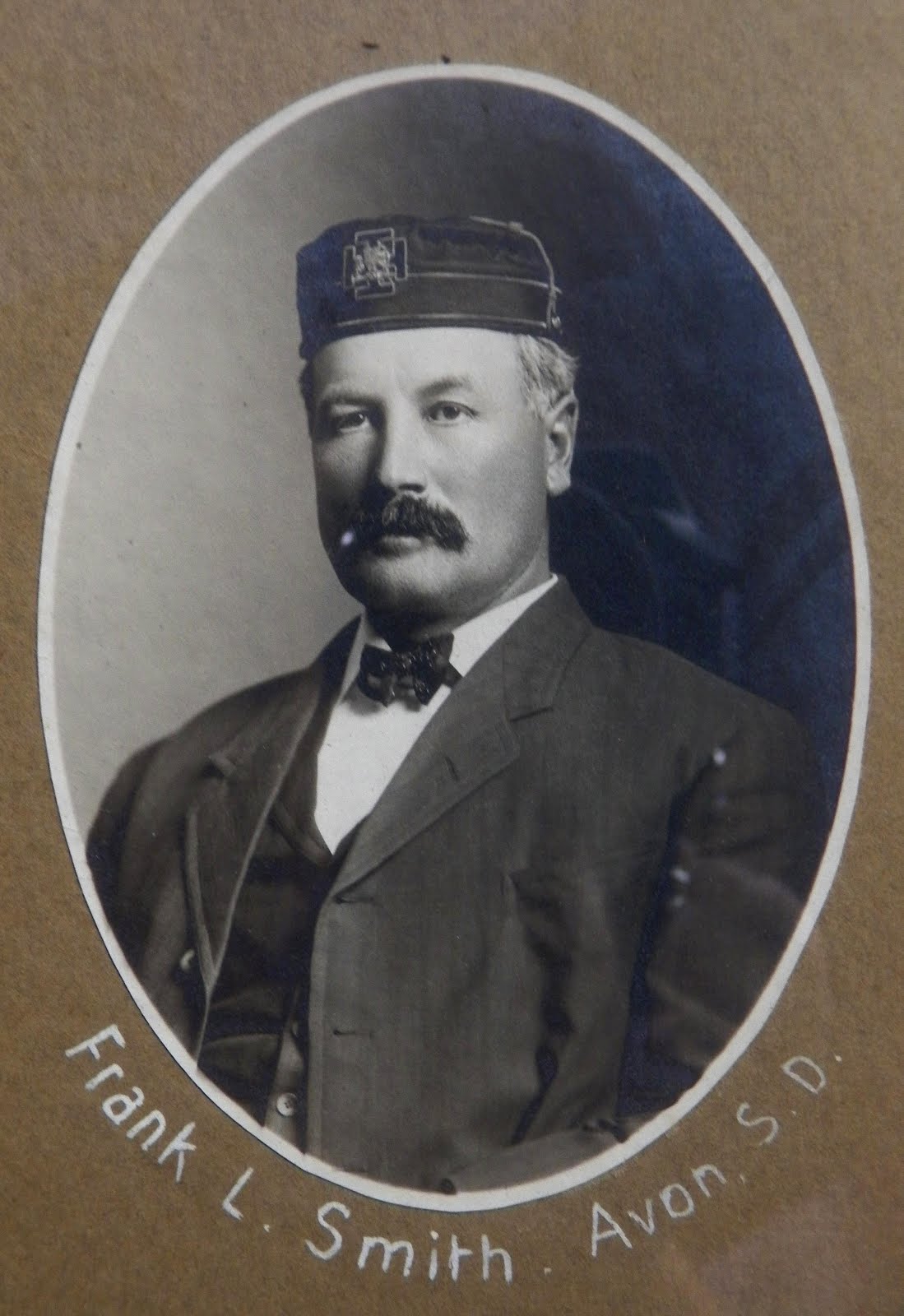 Frank Smith ~ November 1908
Masonic Temple of Yankton, South Dakota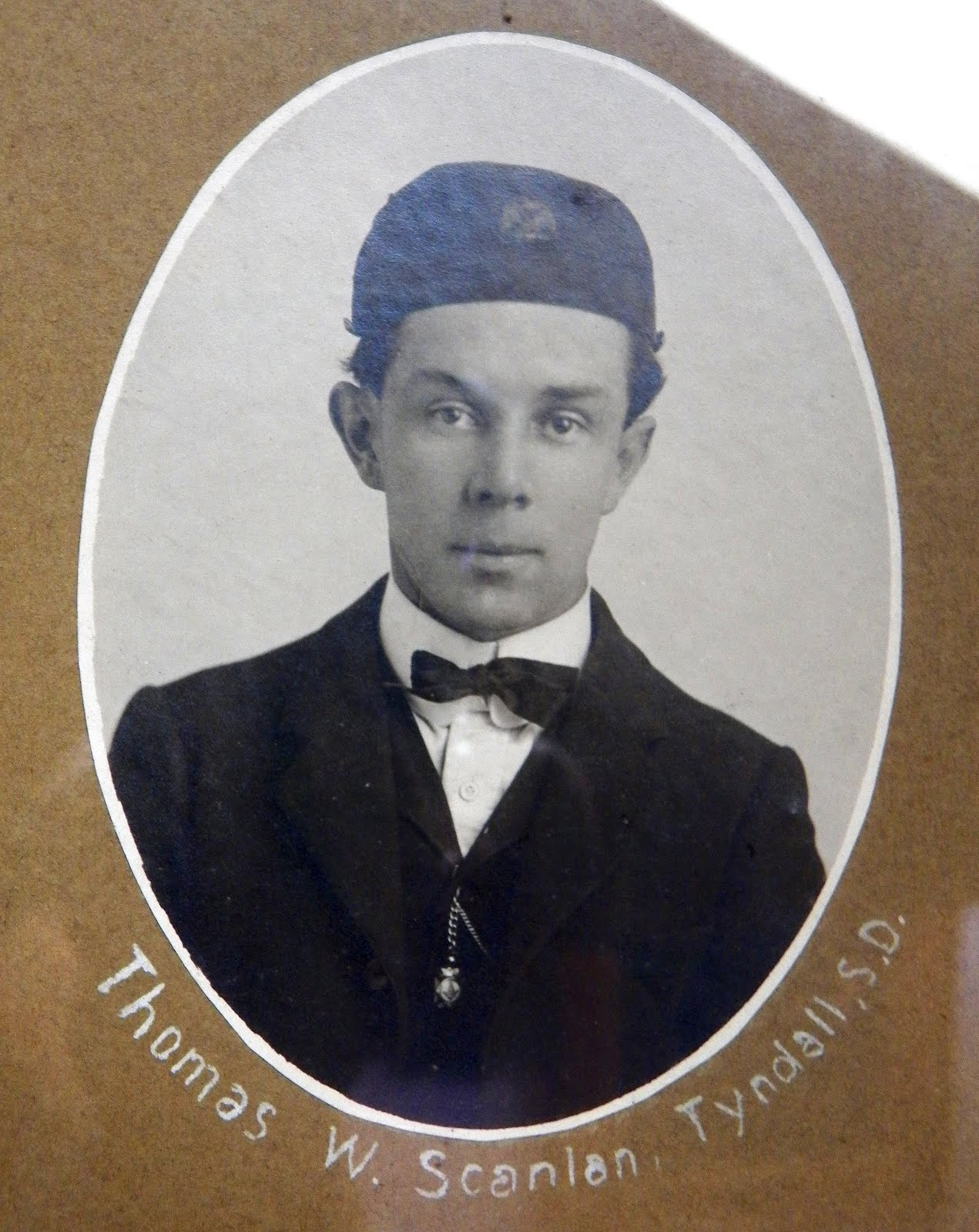 Thomas Scanlan ~ November 1908
Masonic Temple of Yankton, South Dakota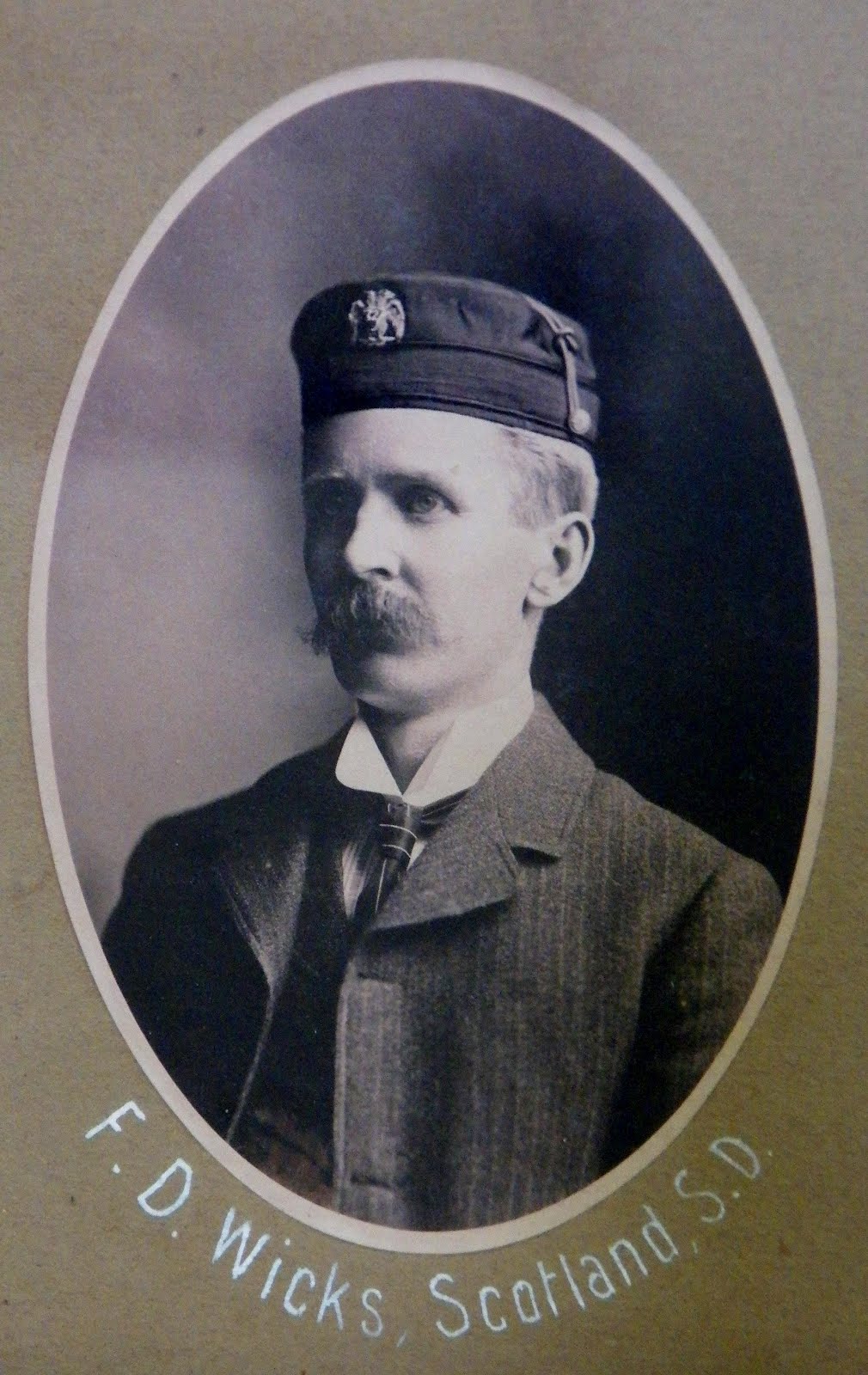 F. D. Wicks ~ May 1903
Masonic Temple of Yankton, South Dakota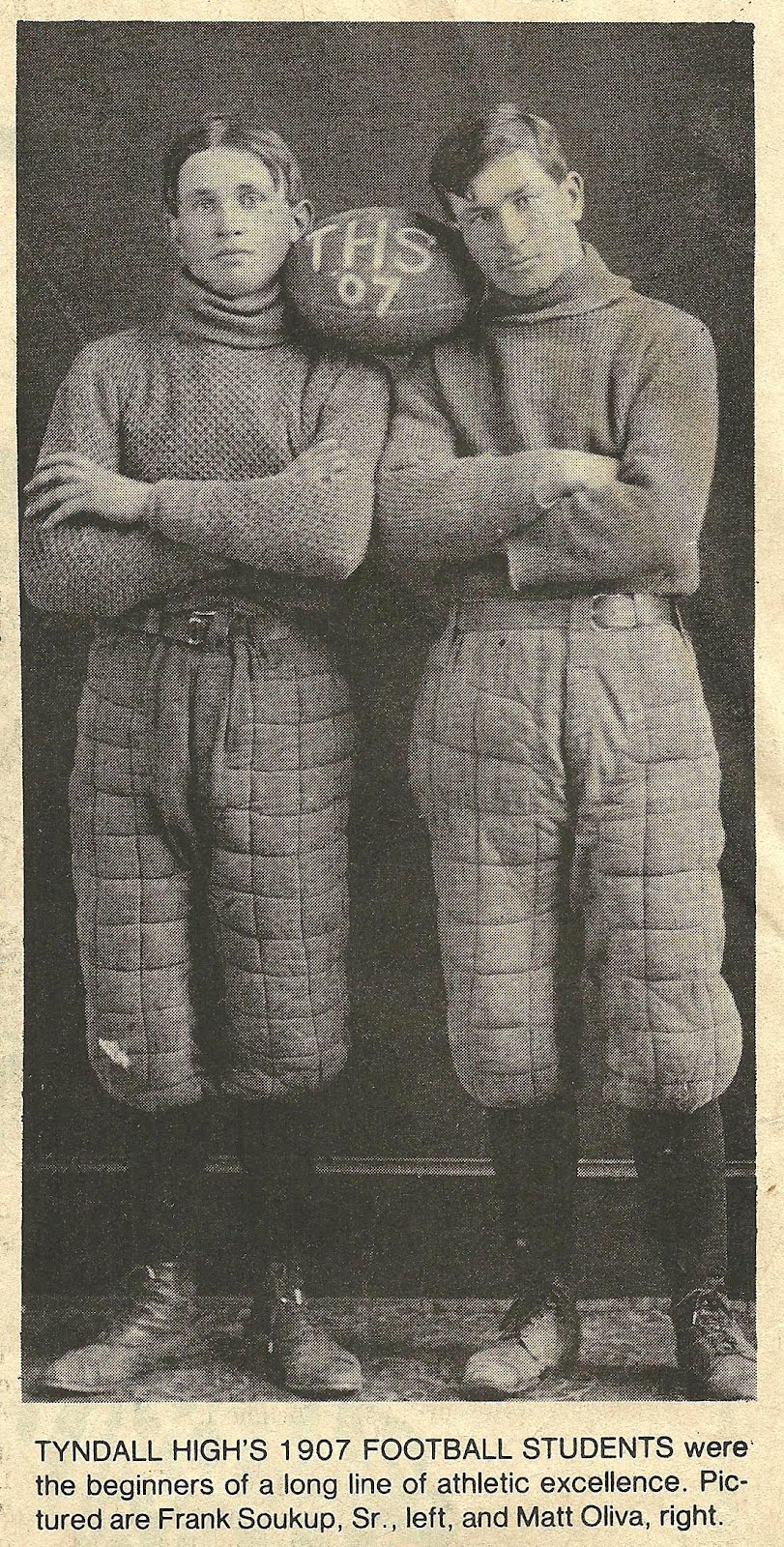 Frank Soukup, Sr. & Matt Oliva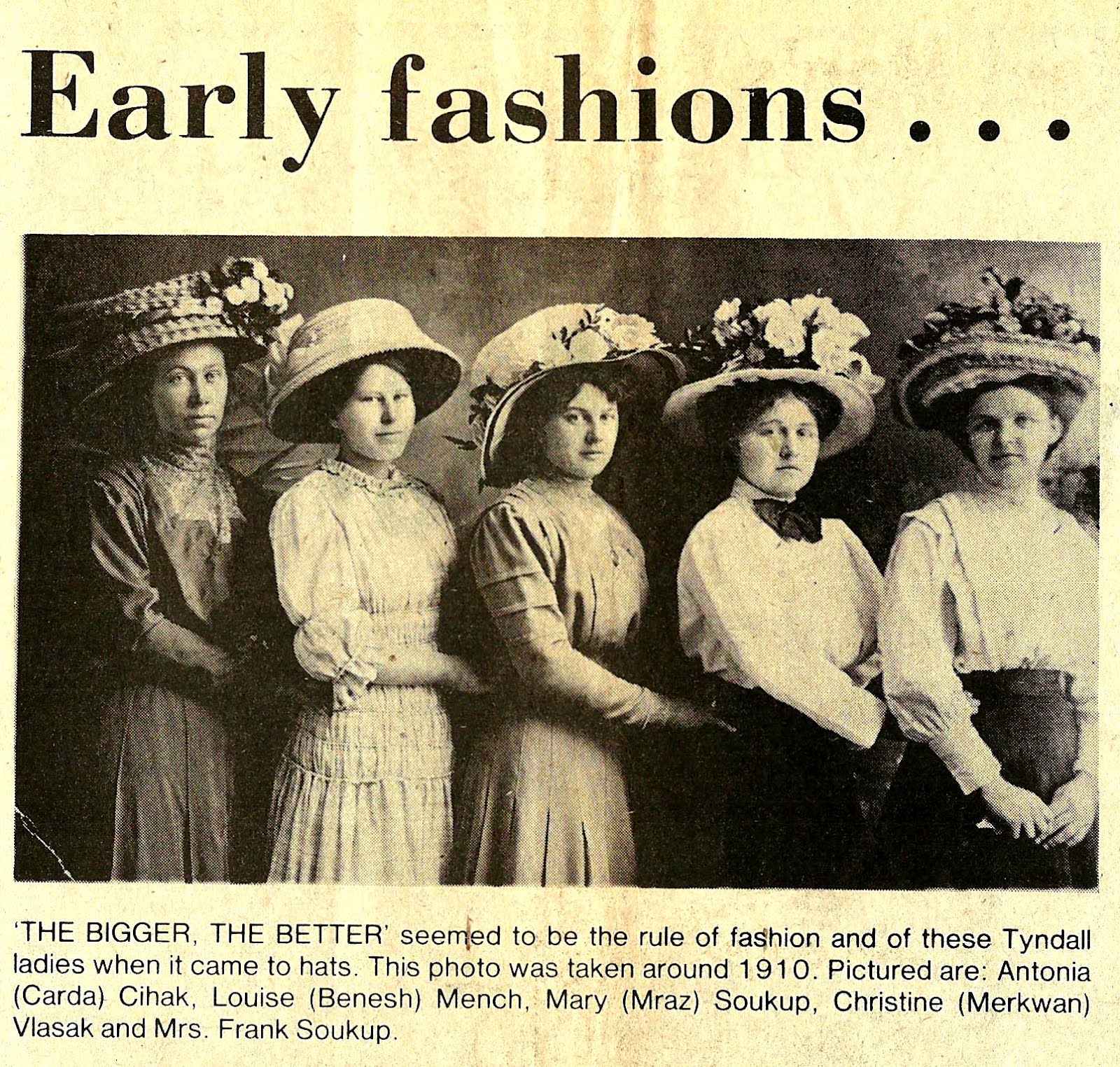 Antonia (Carda) Cihak, Louise (Benesh) Mench, Mary (Mraz) Soukup,
Christine (Merkwan) Vlasak, and Mrs. Frank Soukup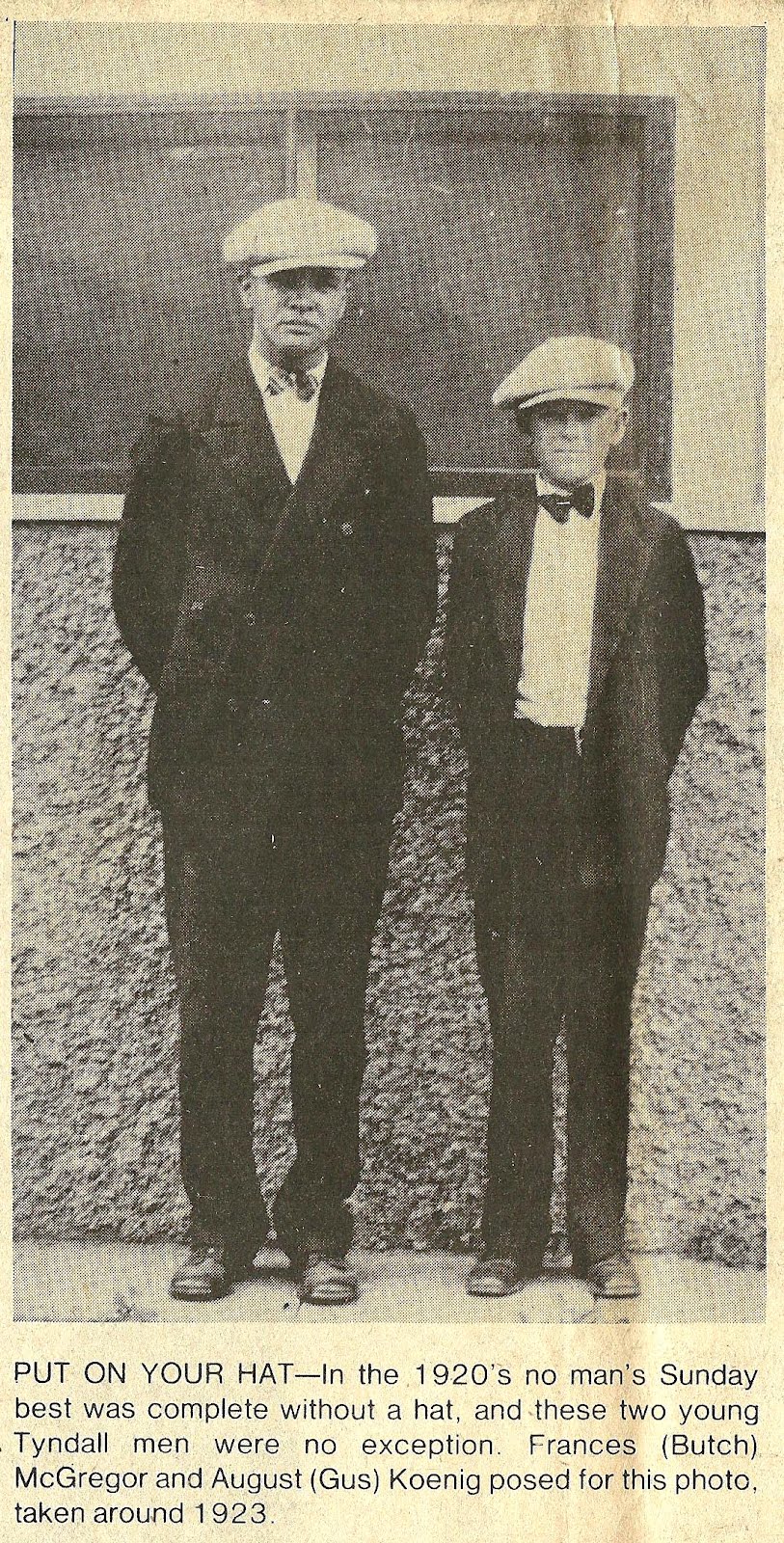 Frances (Butch) McGregor & August (Gus) Koenig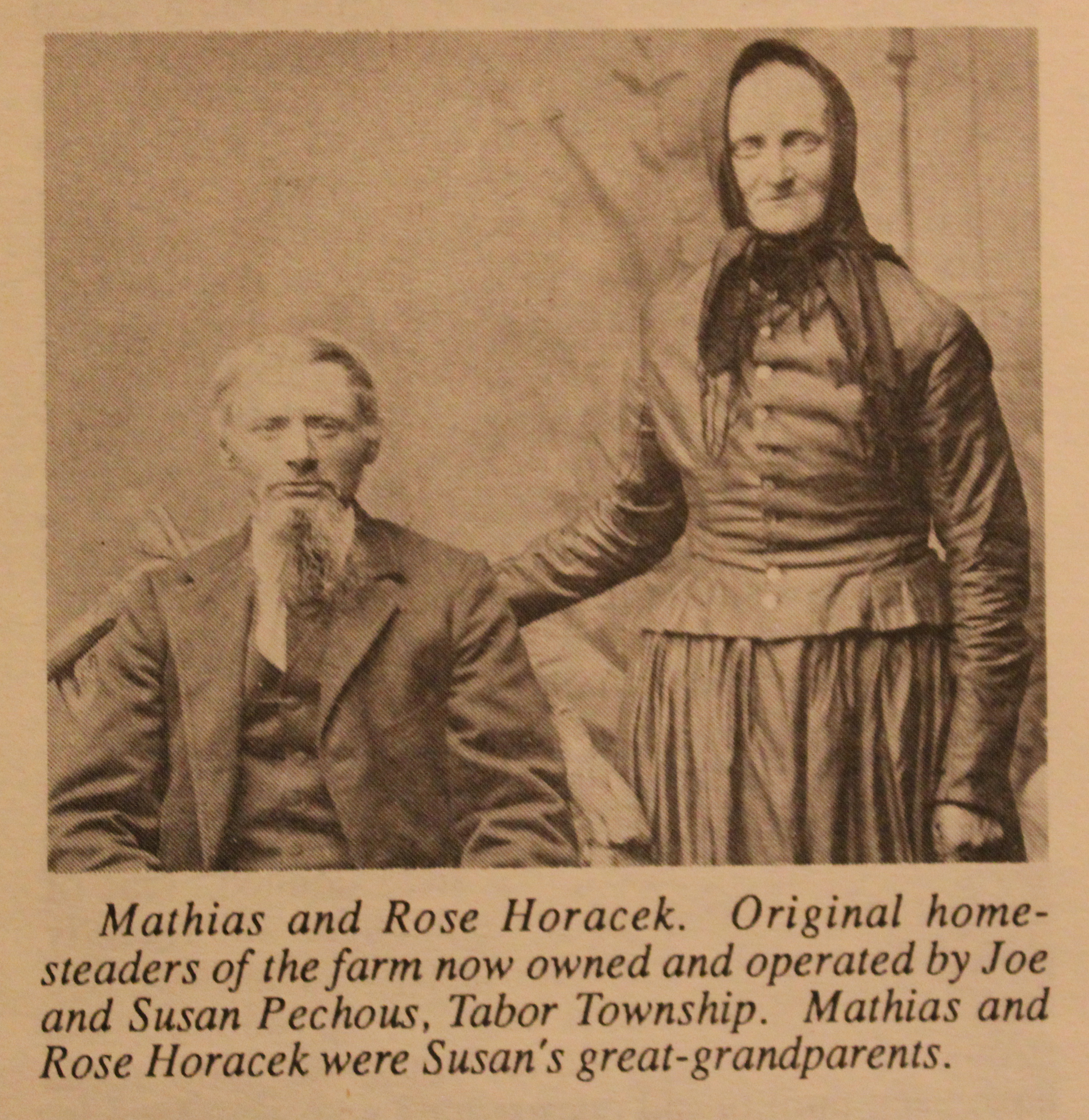 Mathias & Rose Horacek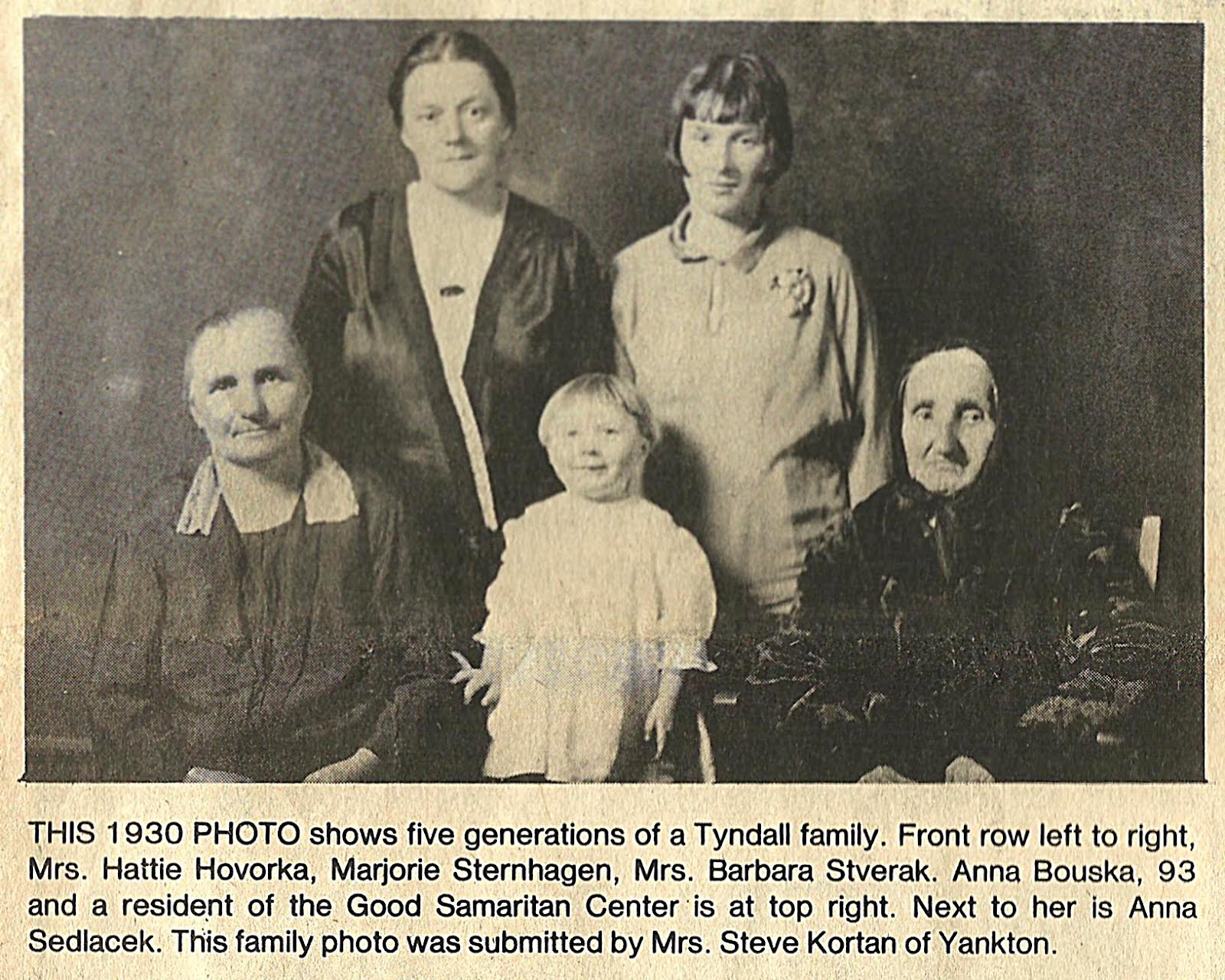 Hovorka, Sternhagen, Stverak, Bouska, Sedlacek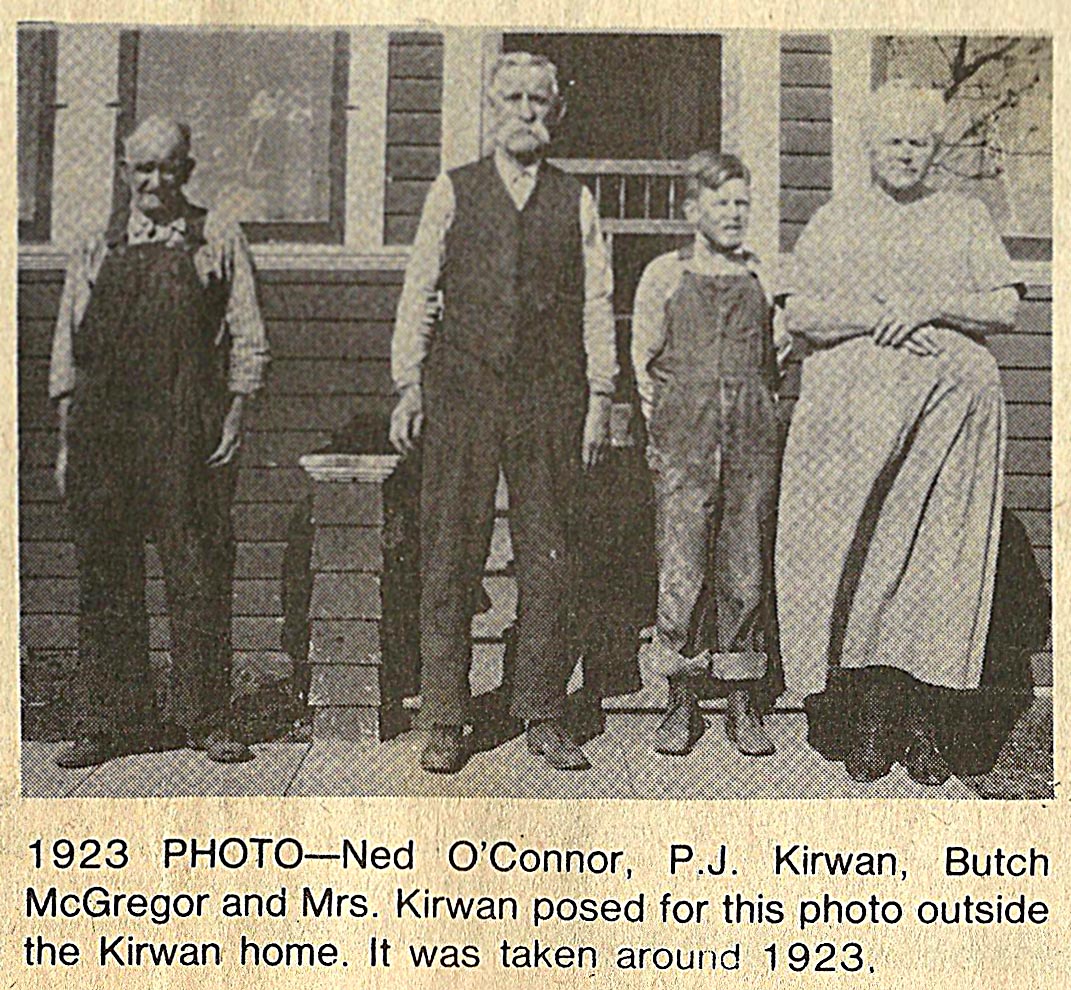 O'Connor, Kirwan, McGregor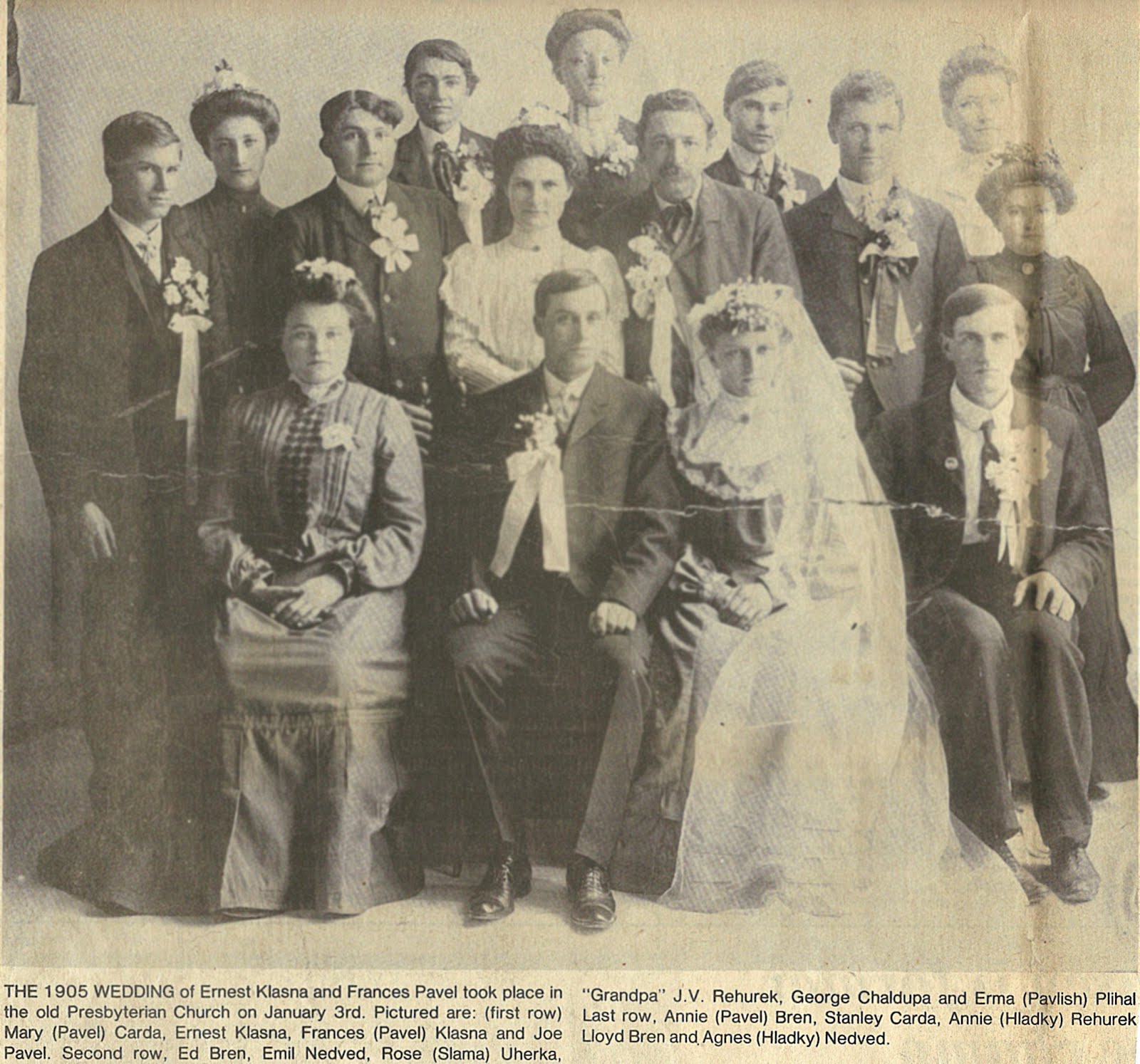 Klasna, Pavel, Carda, Bren, Nedved, Slama, Uherka,
Rehurek, Chaldupa, Pavlish, Plihal, Hladky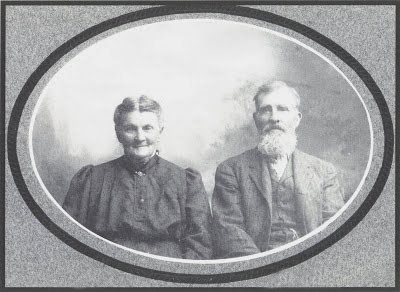 Isaac & Rebecca Luke ~ 1908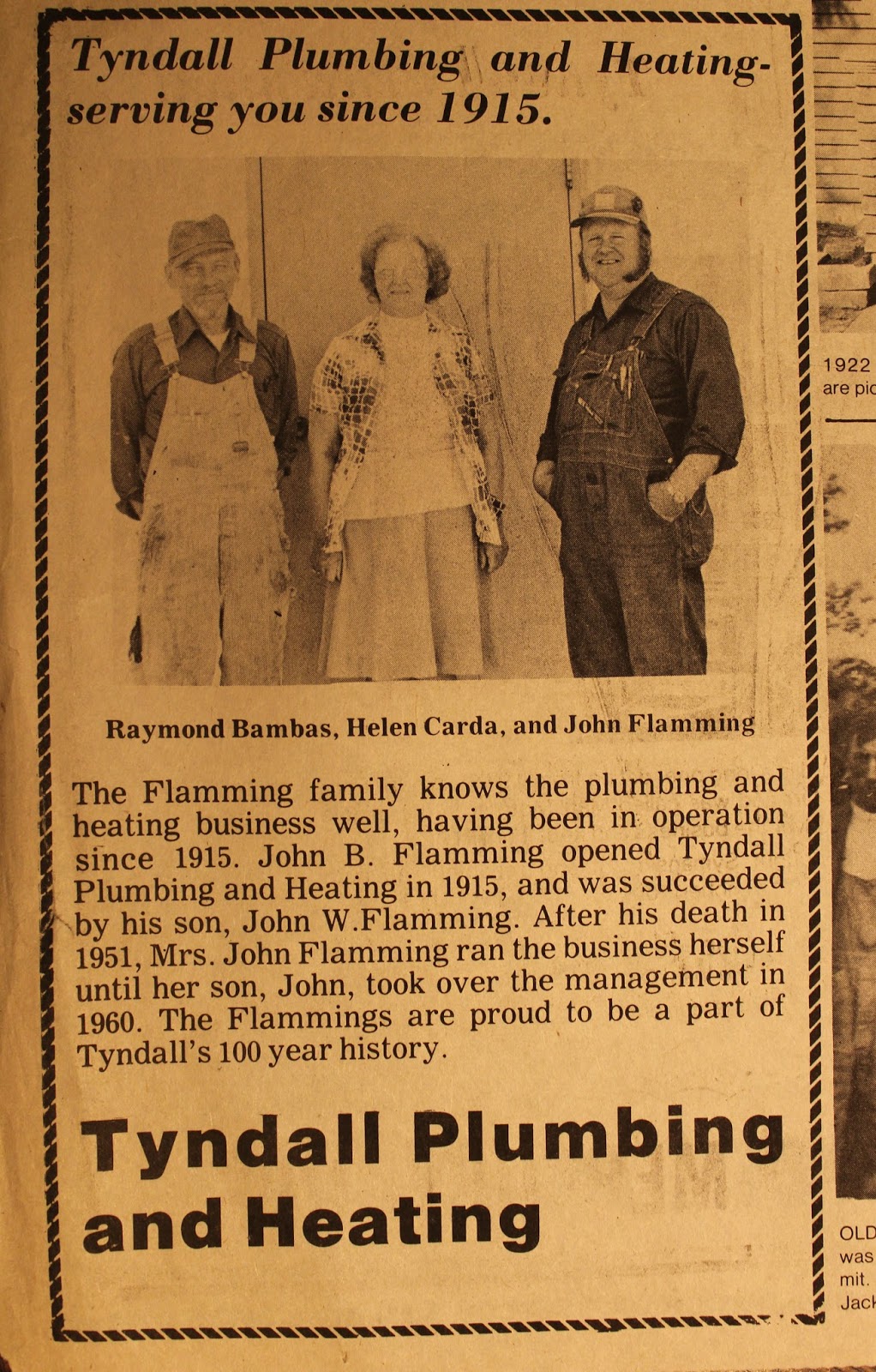 Bambas, Carda, Flamming

The Gardner House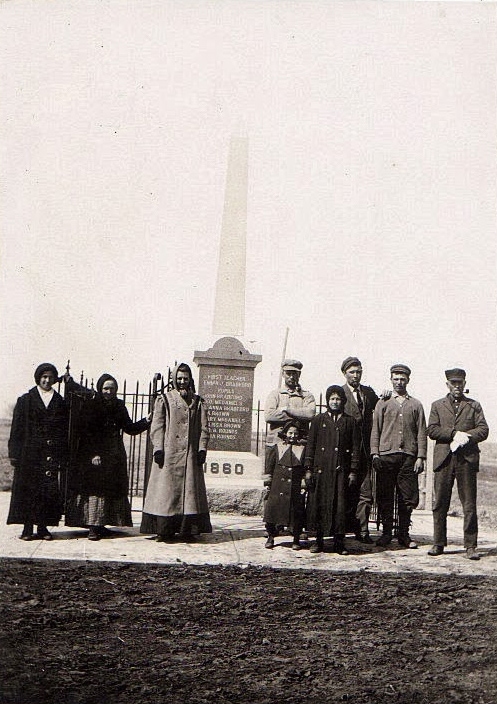 Standing in front of the memorial commemorating the first school house, teacher,
& class in Dakota Territory, located in Bon Homme County, SD.
Photo taken about 1915. ~ Names Unknown.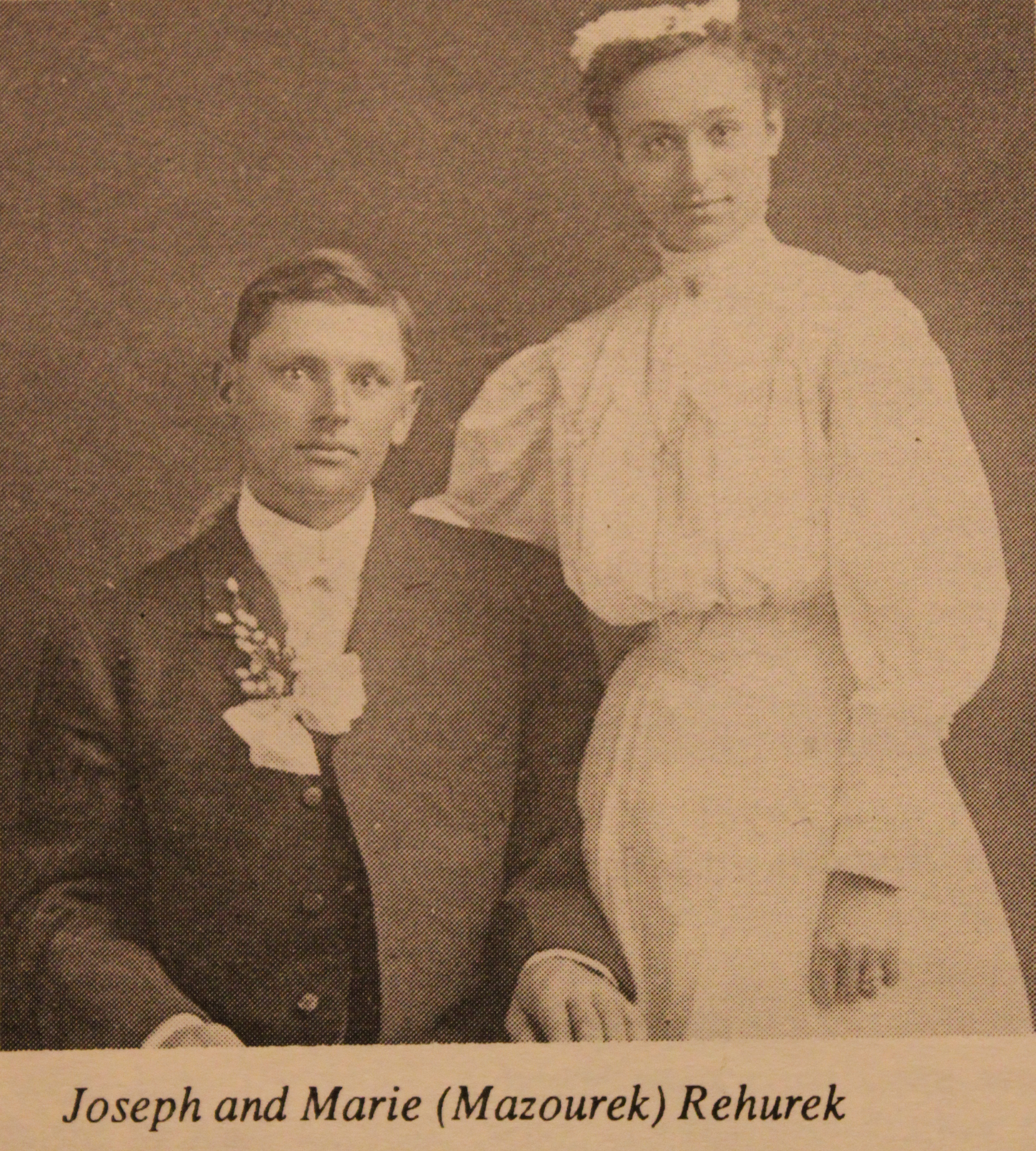 Joseph & Marie Rehurek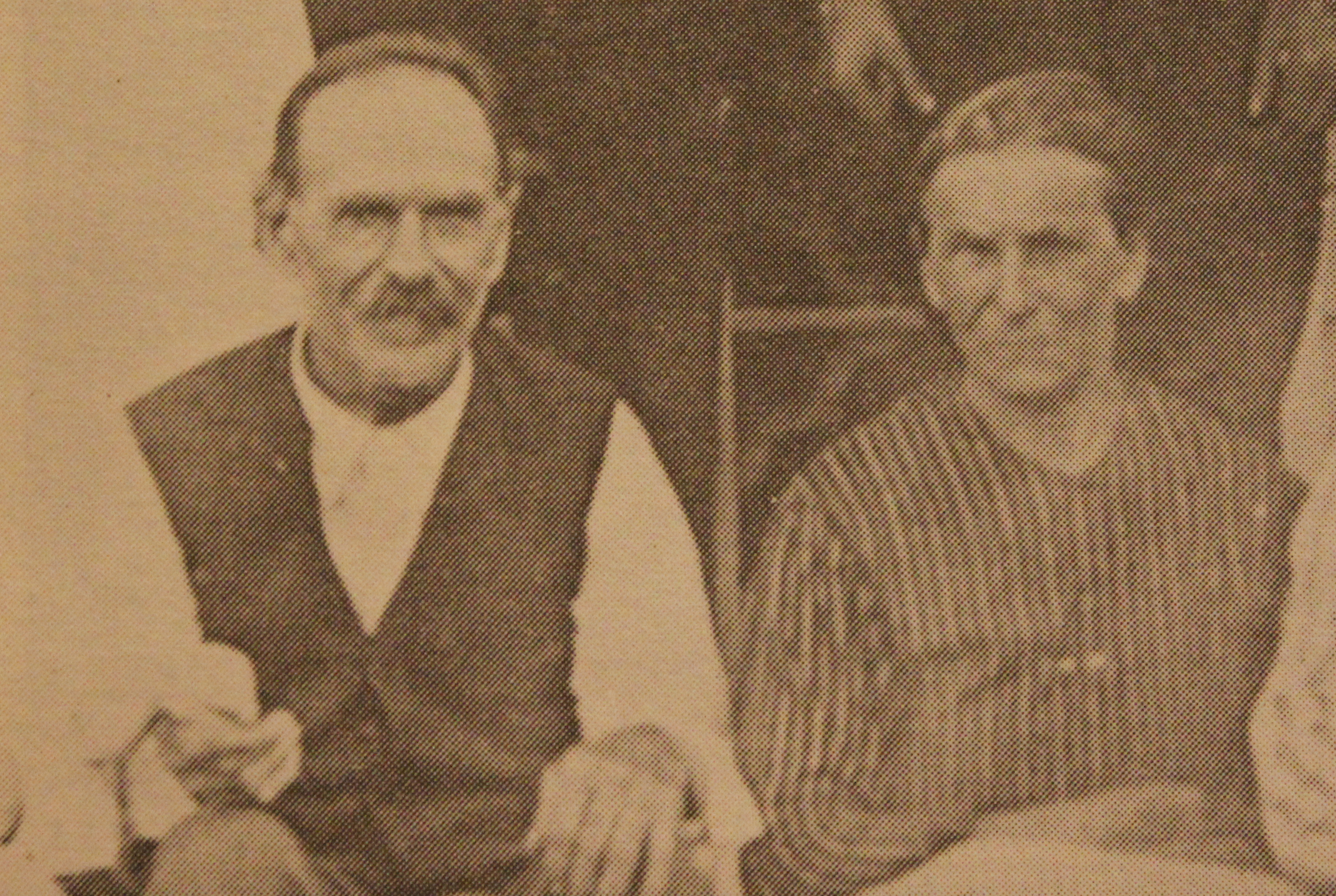 Karl & Josephine (Pesek) Skorpik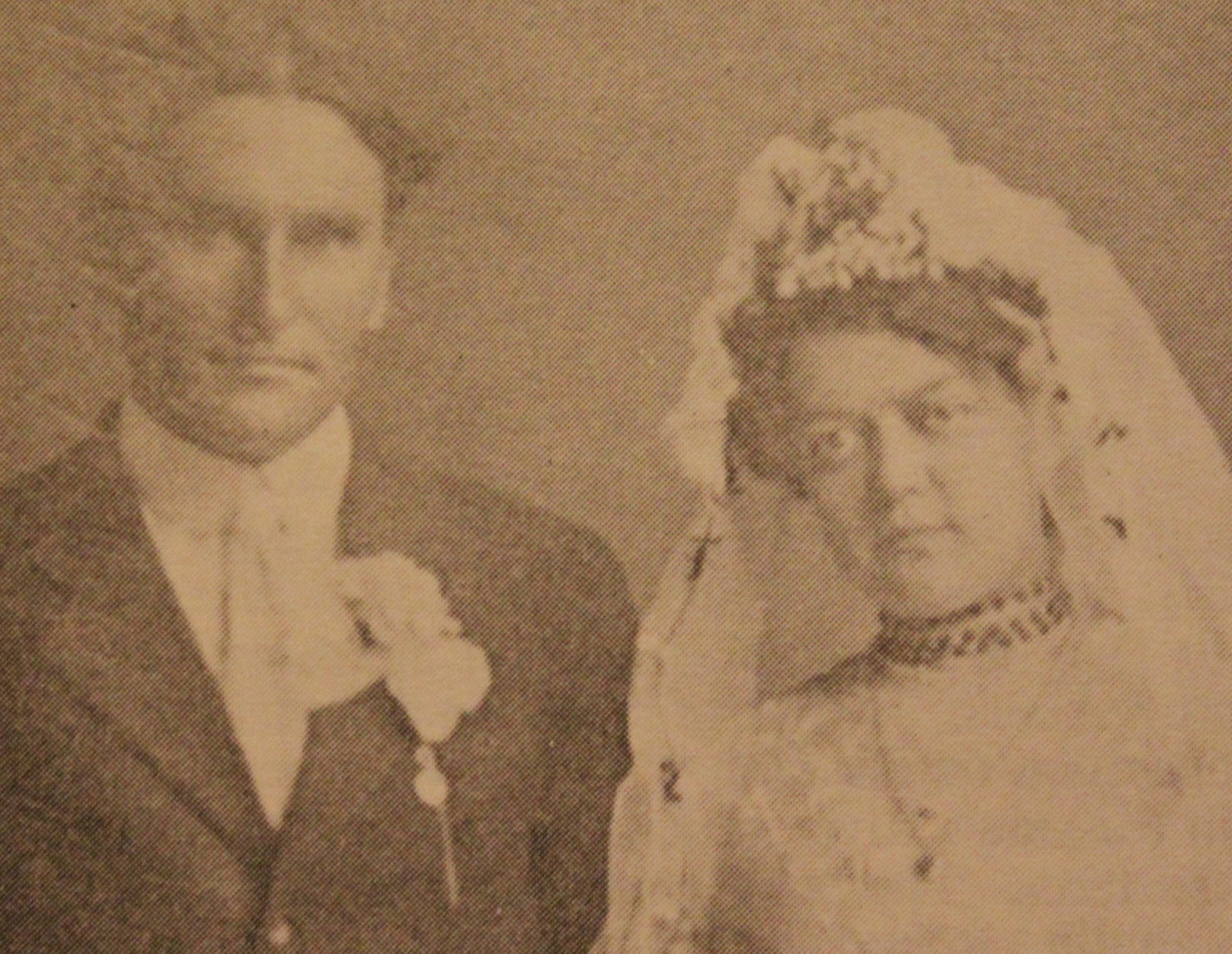 Charles & Rose Skorpik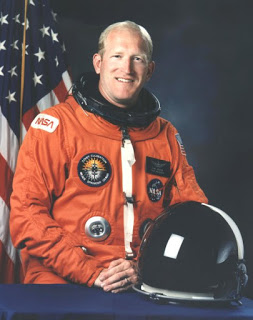 NASA Astronaut, Charles "Sam" Gemar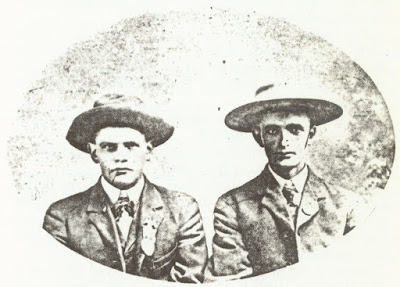 Fred Talsma and Gerard Jonkers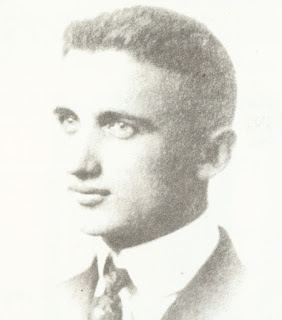 Alex M. Geist taught the Running Water School from 1916 to 1917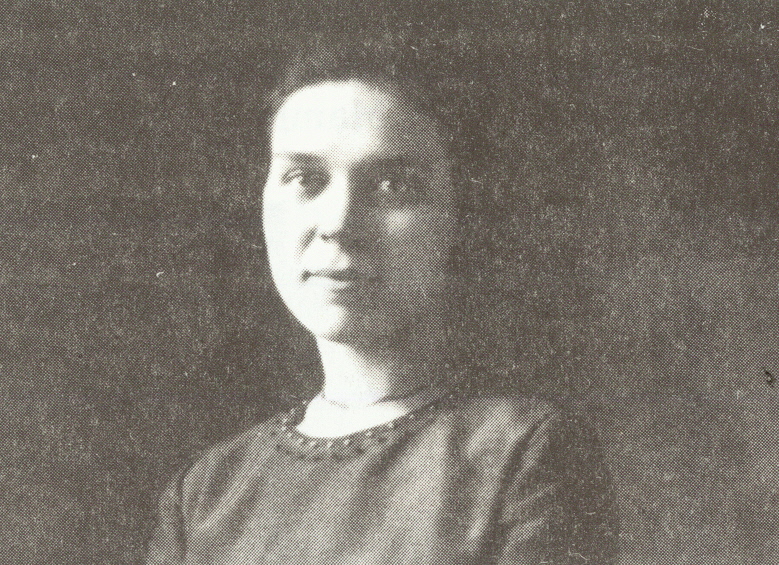 Blanche Buck (1918) was the first teacher in the new Running Water School.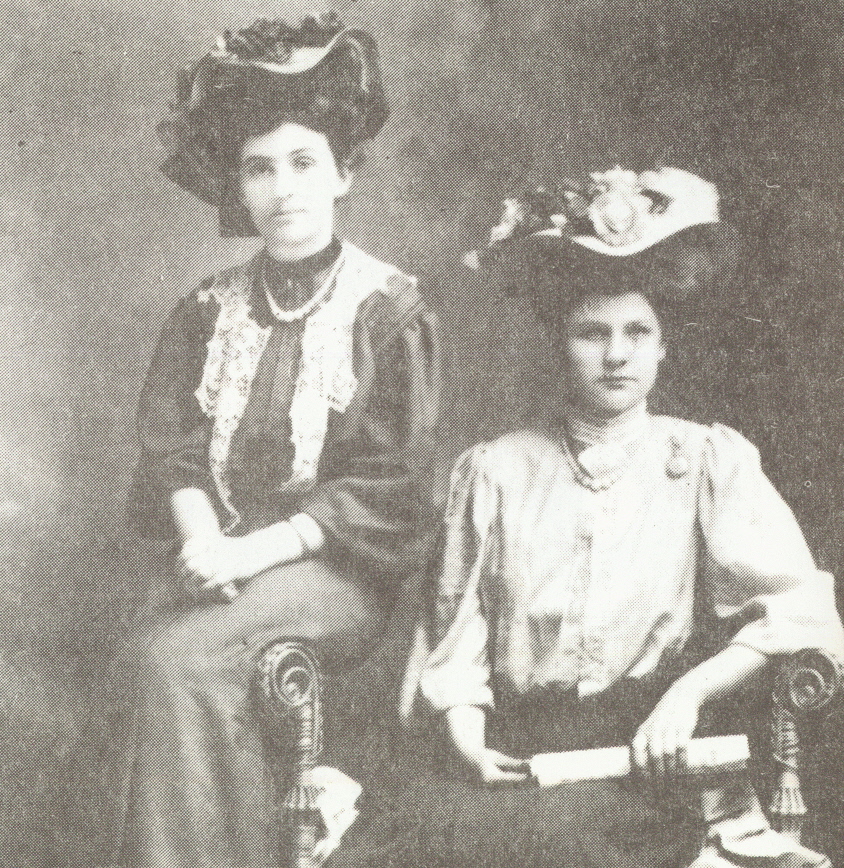 Marion Munn (left) and Anna Johnson (right)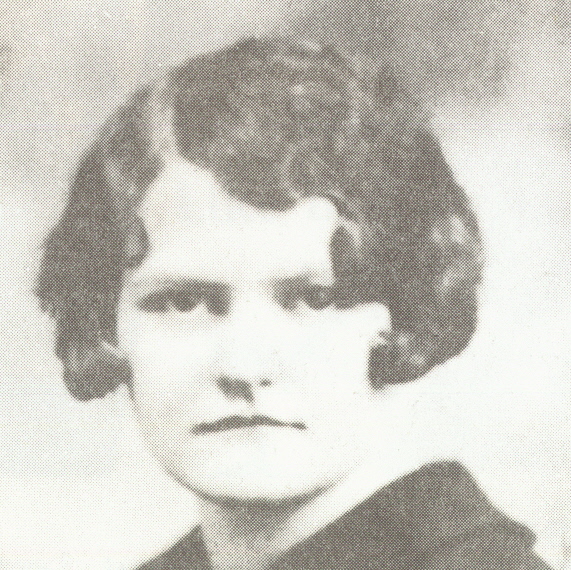 Margaret Malone, teacher in Running Water, 1928-1929 & 1930-1931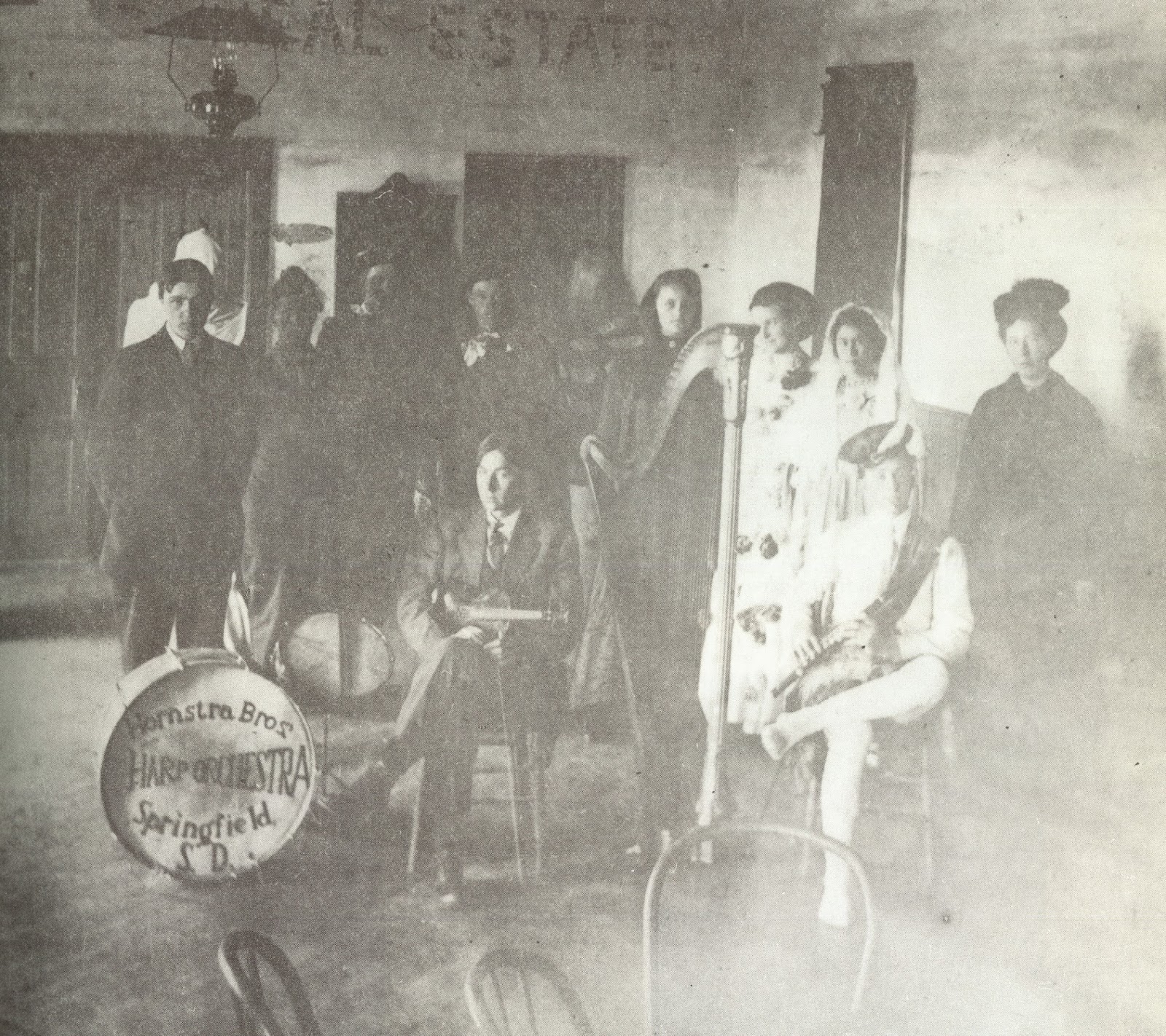 Hornstra Brother Orchestra
A. J. Hennies, drums; Ernie Hornstra, violin; Ed Hornstra, clarinet; George Hornstra, harp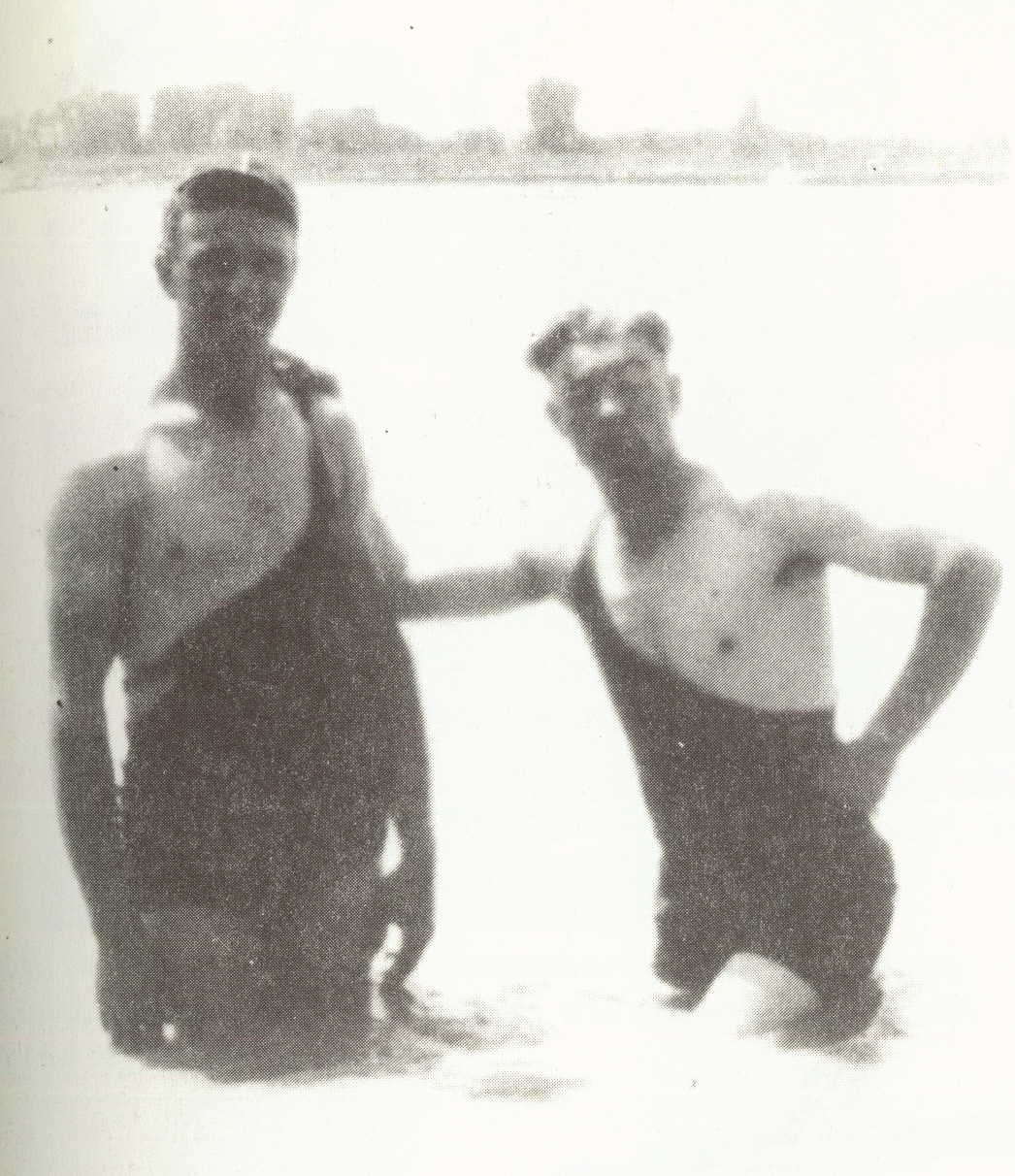 1929 ~ in the Missouri River at Running Water
George DeRoos (left) and Lewis Billman (right)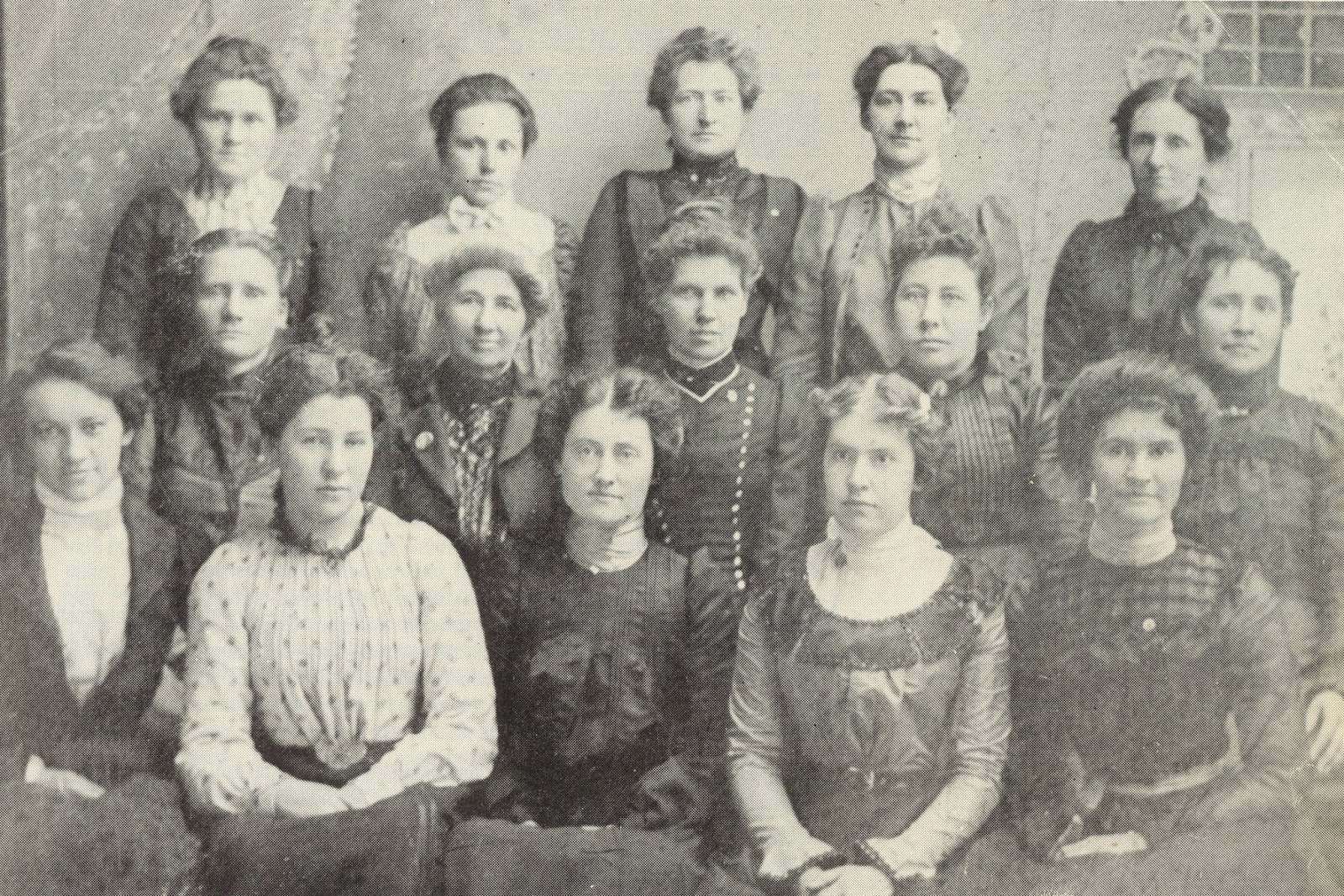 The Lady Maccabees of Bon Homme ~ 1902
BACK: K. Mulleague, Mrs. F. C. Byrne, Mrs. H. Silverwood, Nellie Torrence, Mrs. H. Beaman
MIDDLE: Mrs. Fanny Cogan, Mrs. Kountz, Mrs. A. Gardner, Mrs. W. Hanrahan, Mrs. Jack Glynn
FRONT: Carrie Petrik, May Hanrahan, Lizzie Kelley, Ethel Mallory, Eva Cogan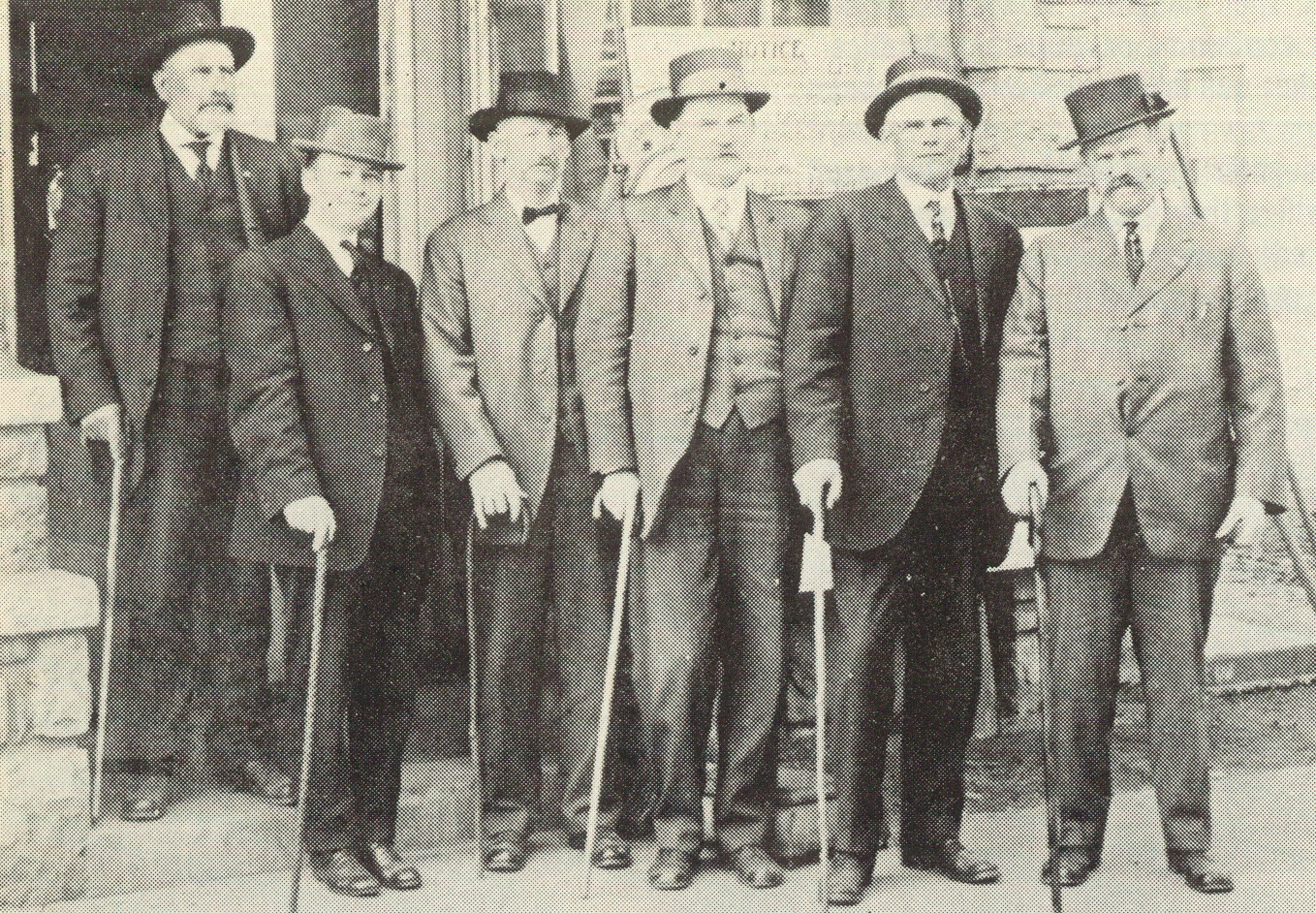 left to right: B. Bussey, A. Chastka, C. C. Stoddard, Bill Thompson, L. A. Eads, Billy O'Brien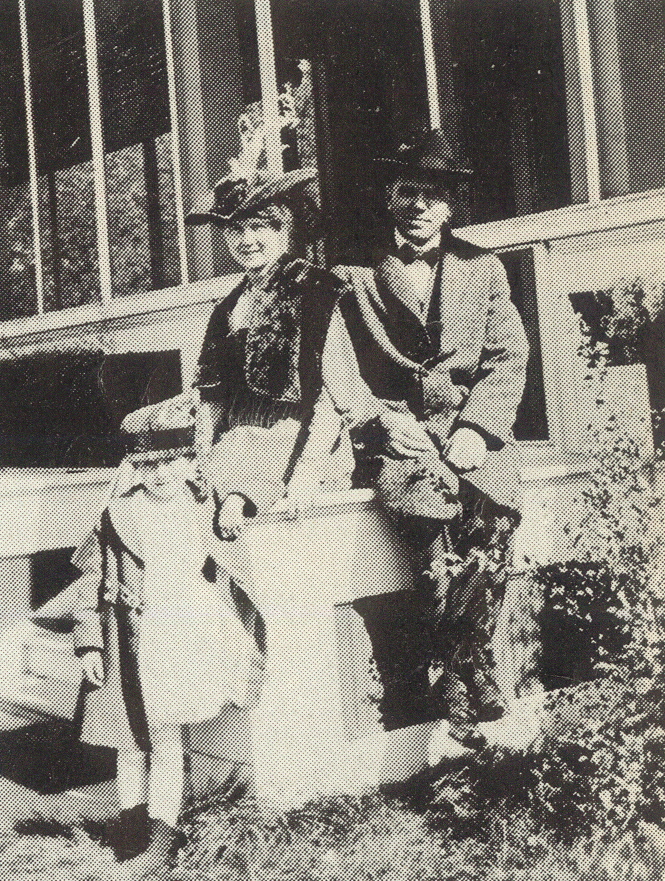 Frank & Helen Scoblic ~ 1917
F. M. Scoblic, long-time county judge and lawyer, came to Tyndall in 1906.
In 1954 he celebrated his 75th birthday while nearing the anniversary of 50 years in law.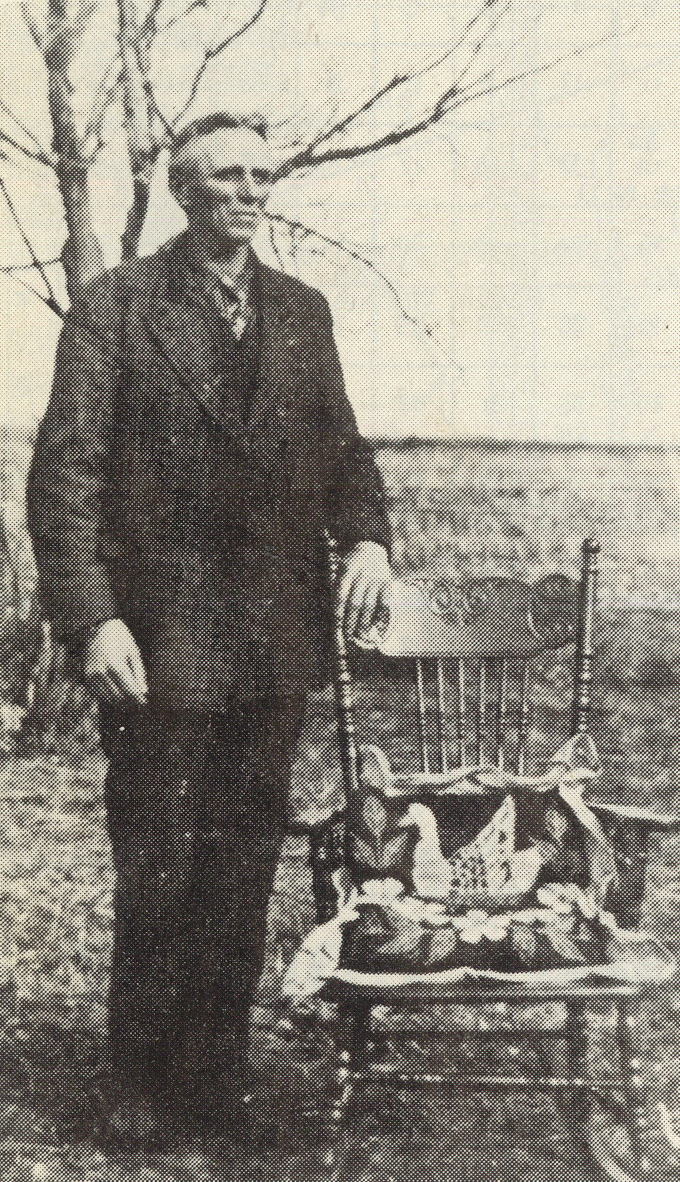 Gerrit P. Schuurmans (1911) arrived from Holland in 1892 with wife and young son Peter.
Applied for "second papers" in 1918 age age of 51, several years after wife died, leaving a young family of five children.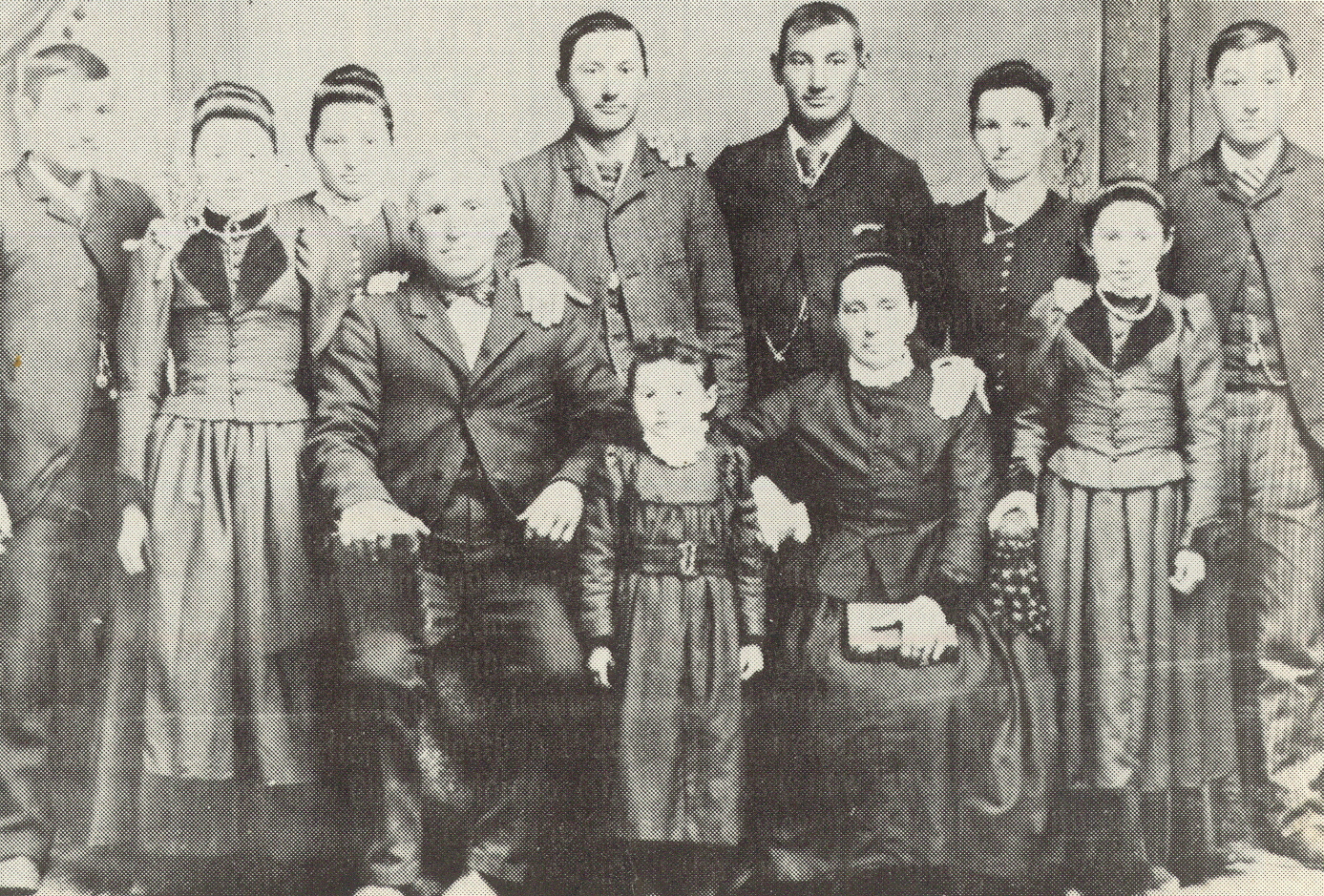 Vavruska family, Czech pioneers.
Frank (with hand on father's shoulder) applied for citizenship in July of 1873, renouncing allegiance to the Emperor of Austria.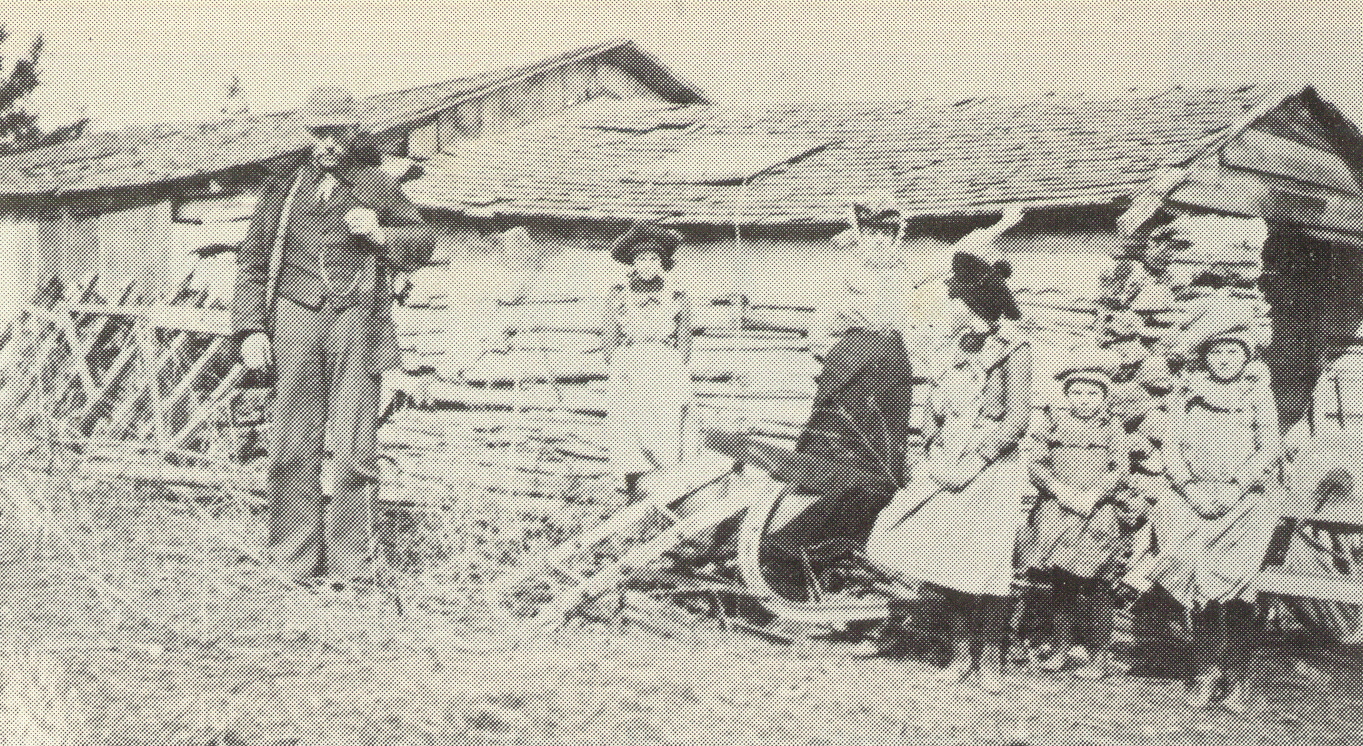 Original home of R. DeRoos family ~ 1903
L to R: father Rudolph, Annie, mother Gertie, Bessie, Maud (Mrs. Floyd Spohn), Tillie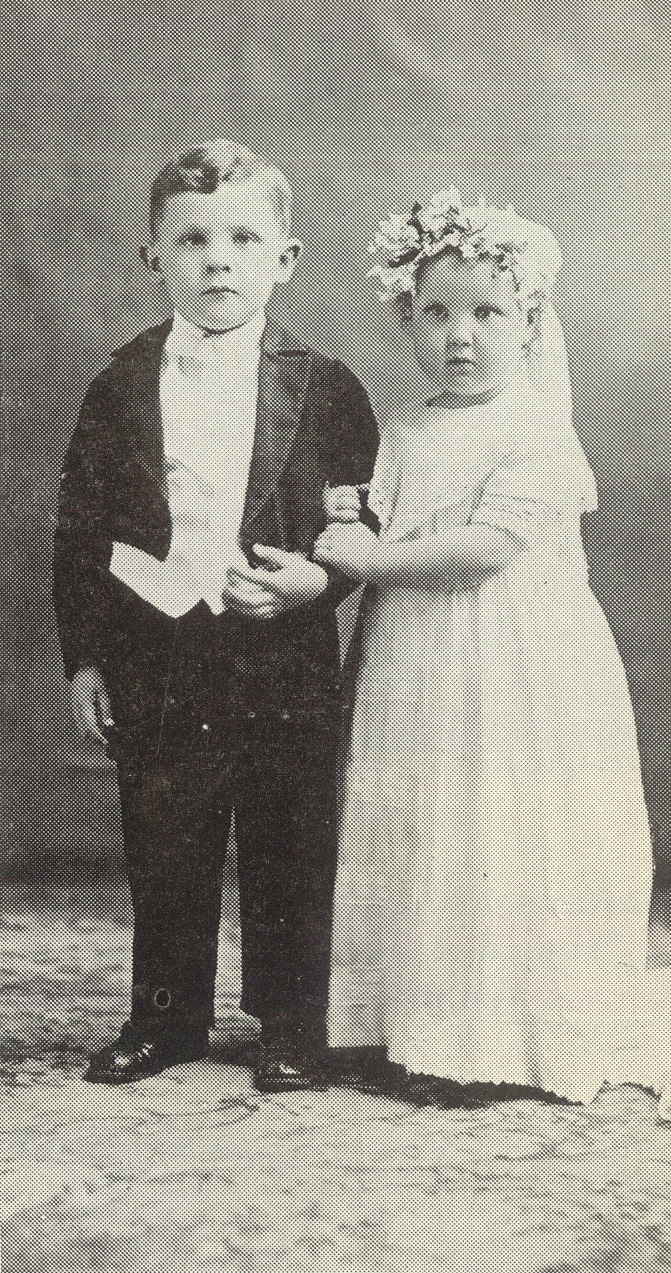 John Stilwill and Joy Shurtleff
Dressed for the home talent show, "The Midgets' Wedding."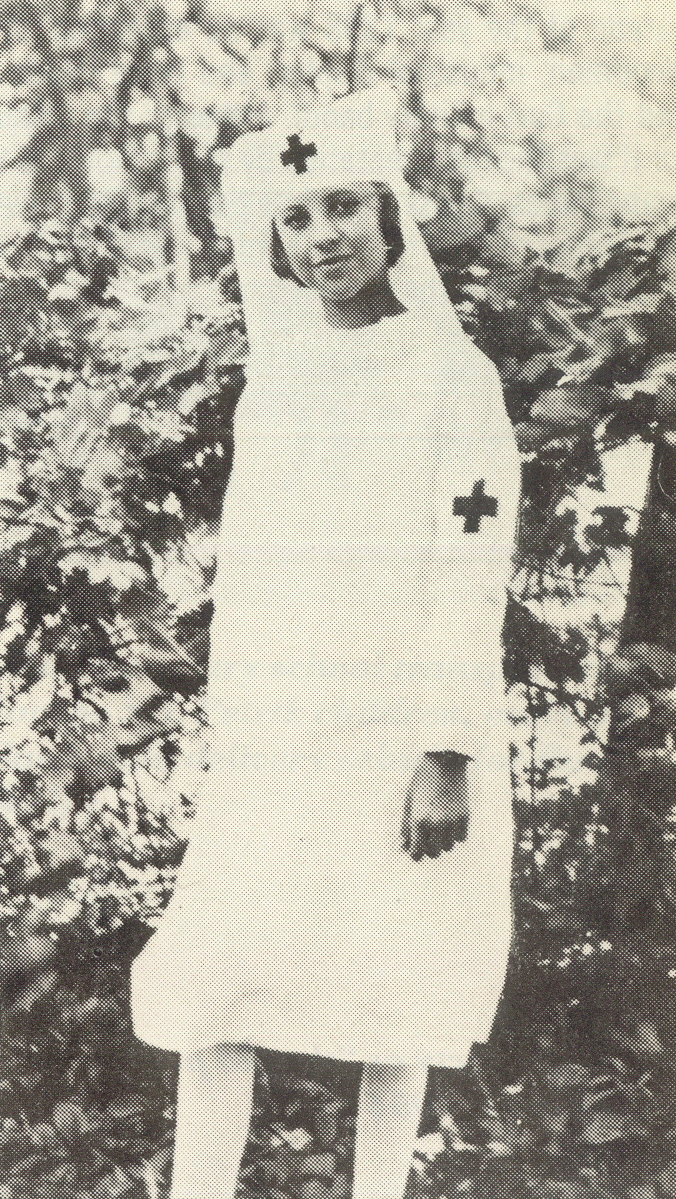 Ruth Robinson, age 9, dressed for a parade ~ 1918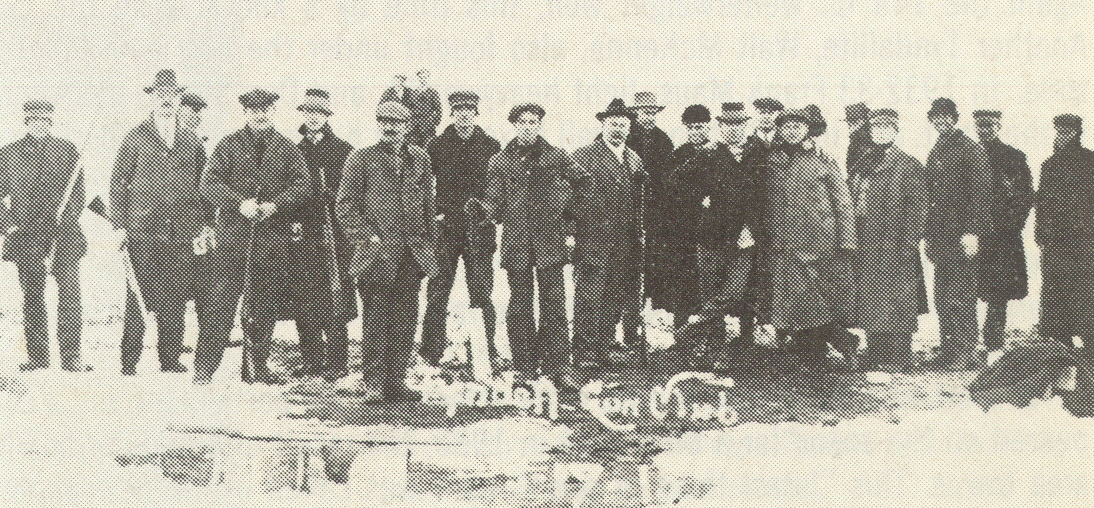 Tyndall Gun Club ~ March 17, 1915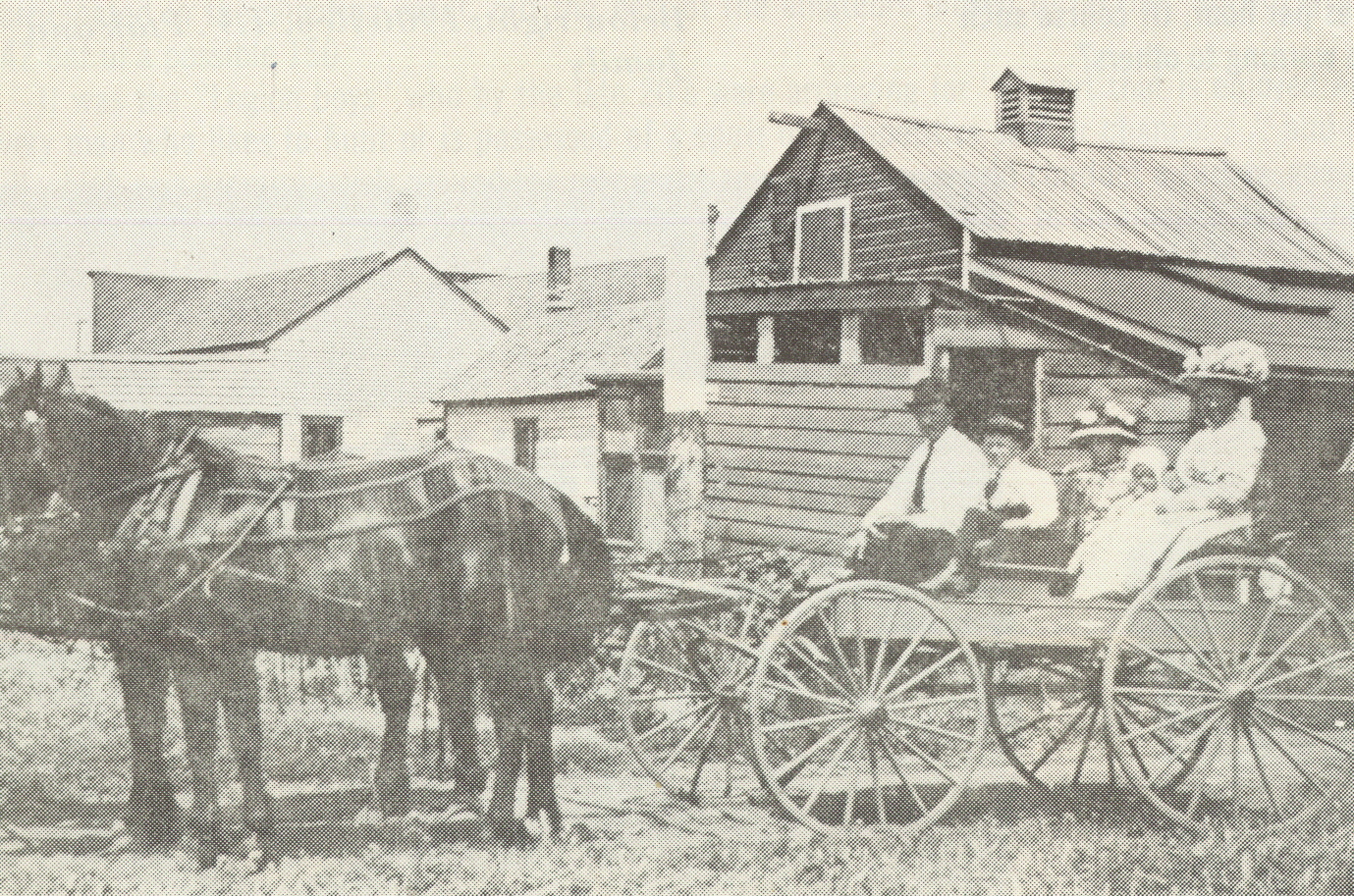 Frank Hladky family ~ July 4, 1910
Emil, Alice (Ruman), Matilda

Mr. and Mrs. T.V. Ptak and Ladimir in their 1906 Reo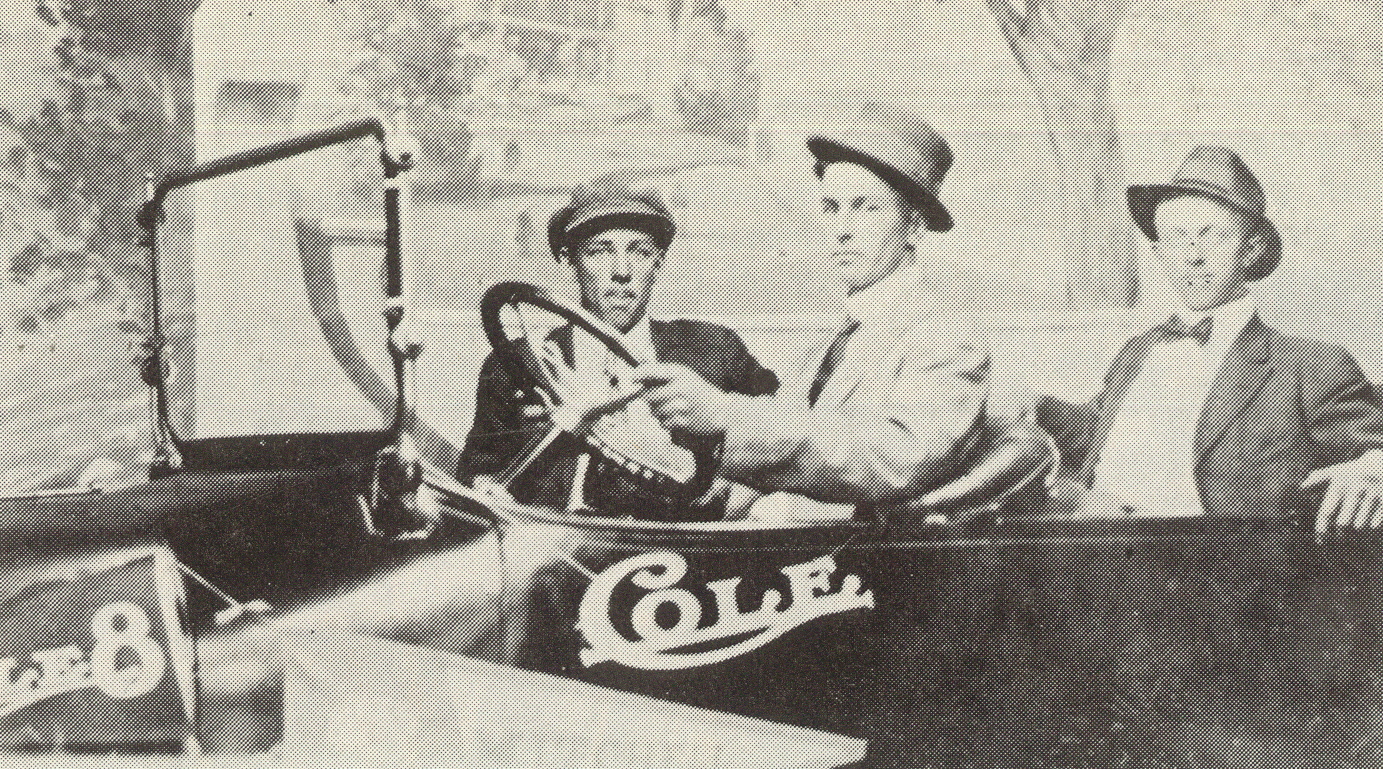 Leonard Jones, Hartford Ribble, Sam Schuurmans in a 1914 Model T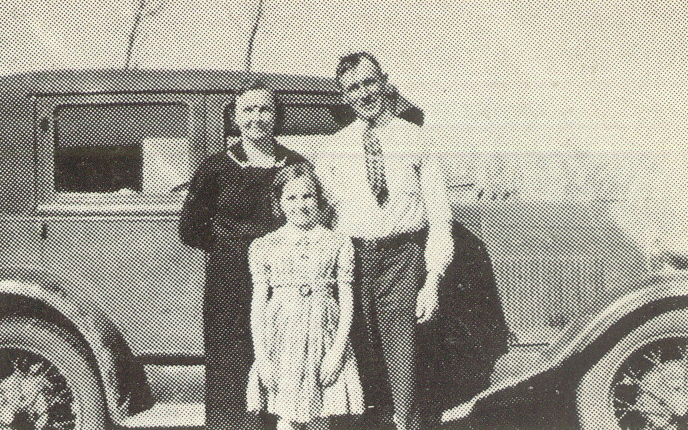 Joe Rezac Family ~ 1930s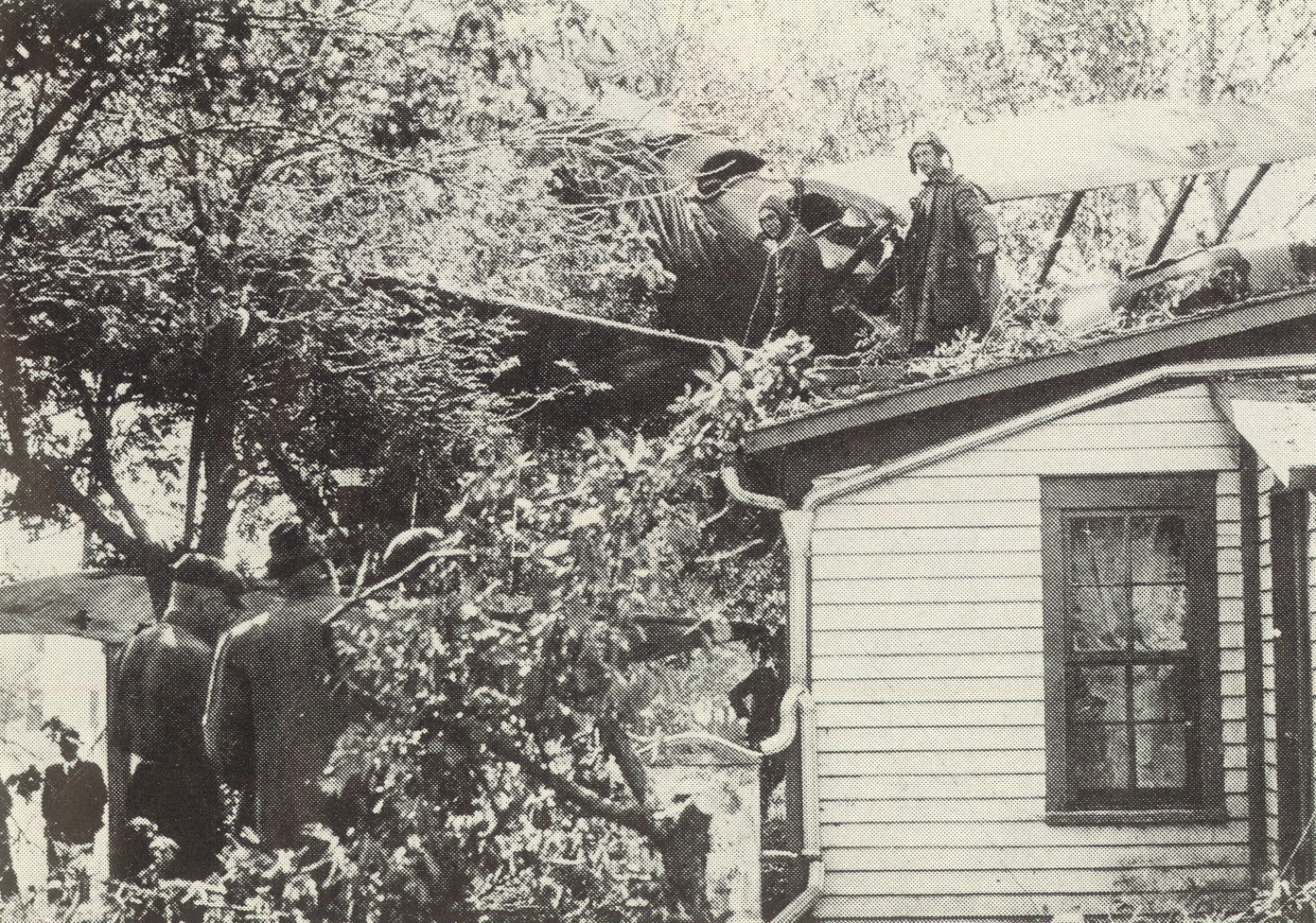 Lou Chladek (upper right)
finds himself in an unusual predicament as the result of a misfortune with his new Curtiss Jenny.

Charlie Morgan, Mgr. (not shown in photo)
L-R: Jim Zieser, Frank Kelley, Ed Metzger, Bill Pavel, Leo Kiehlbauch,
Charlie Cooley, Bob McKenna, Tom Murphy, John Pavel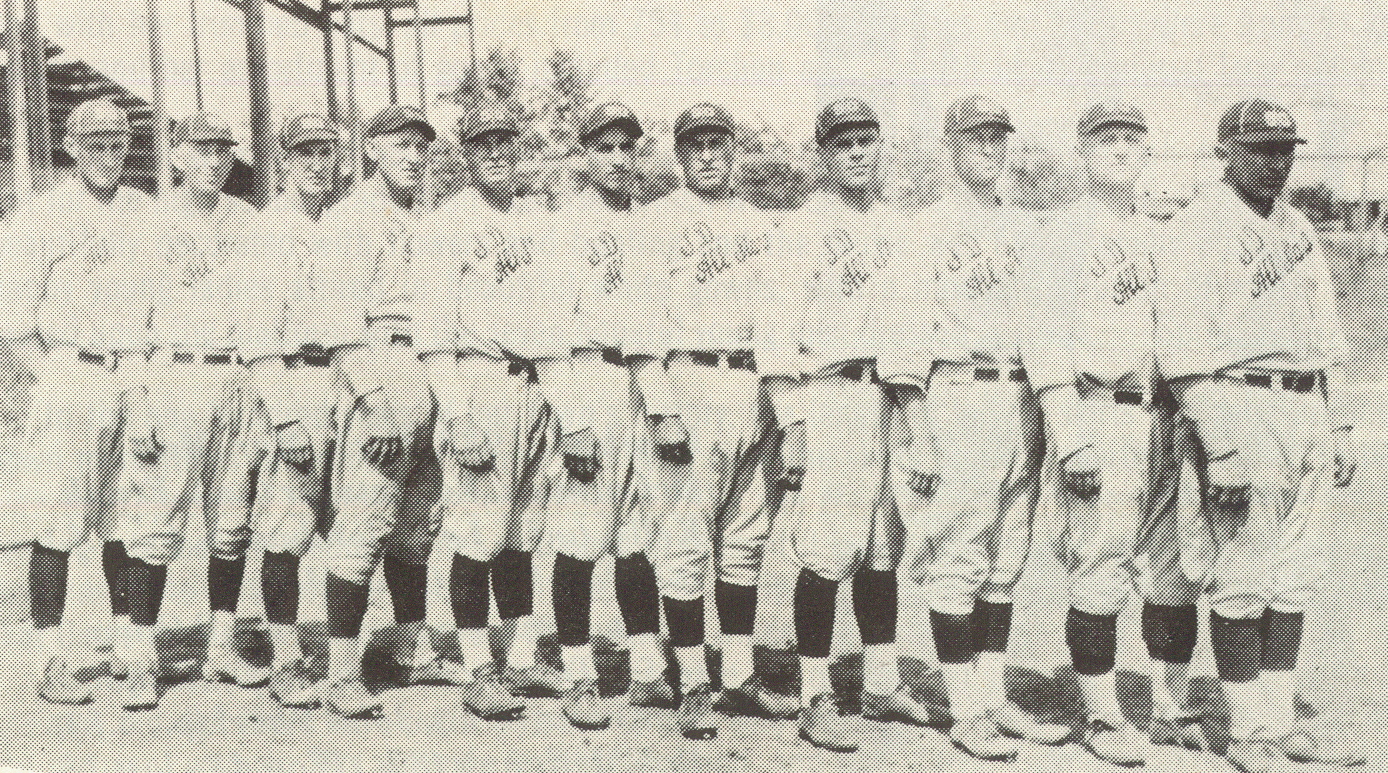 All Stars ~ May 16, 1929
Wm. Pavel, (p.), Herman Belitz (p.), Ed Metzger (c.), Nathan Leach (c.), Bob McKenna,
John Taplett (p.), Noel Pinard, Hig Ambroz, Ray Janda, Jack Kaberna, Fuzzy Heil


Bill Pavel, outstanding pitcher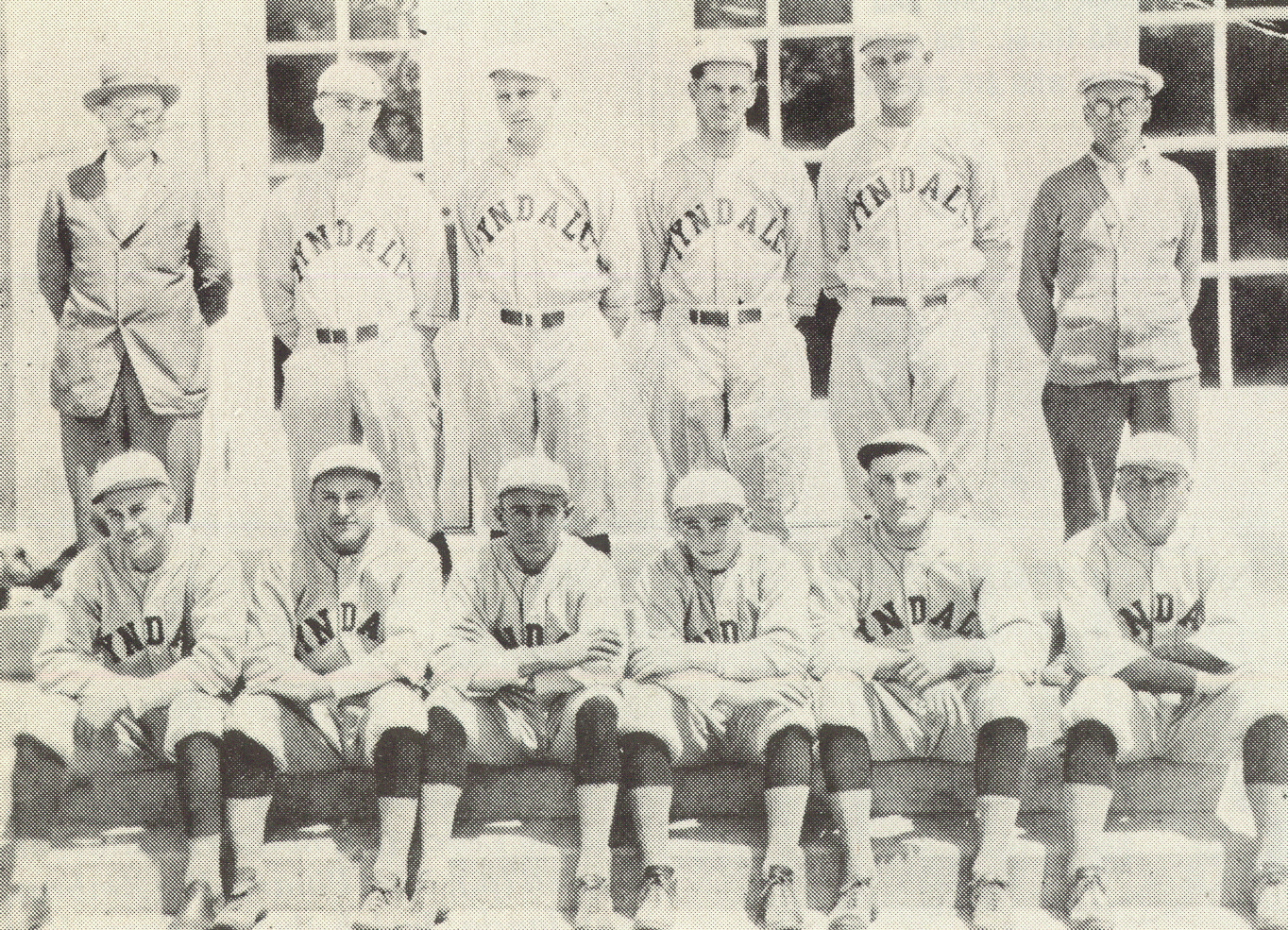 Baseball ~ 1933 ~ Won 43 , Lost 16
Back: Mgr. Matt McCormick, Ed Metzger (s.s.), Frank Kelly, (o.f.), Leo Kiehlbauch, (c., o.f.),
Bill Pavel (p.), Chas. Morgan, Mgr.
front: Chas. Cooley (c.), Emil Oliva (o.f.), Tommy Murphy (o.f.), Ralph McKenna (2 b.),
John Pavel (p., o.f.), Bob McKenna (3 b.)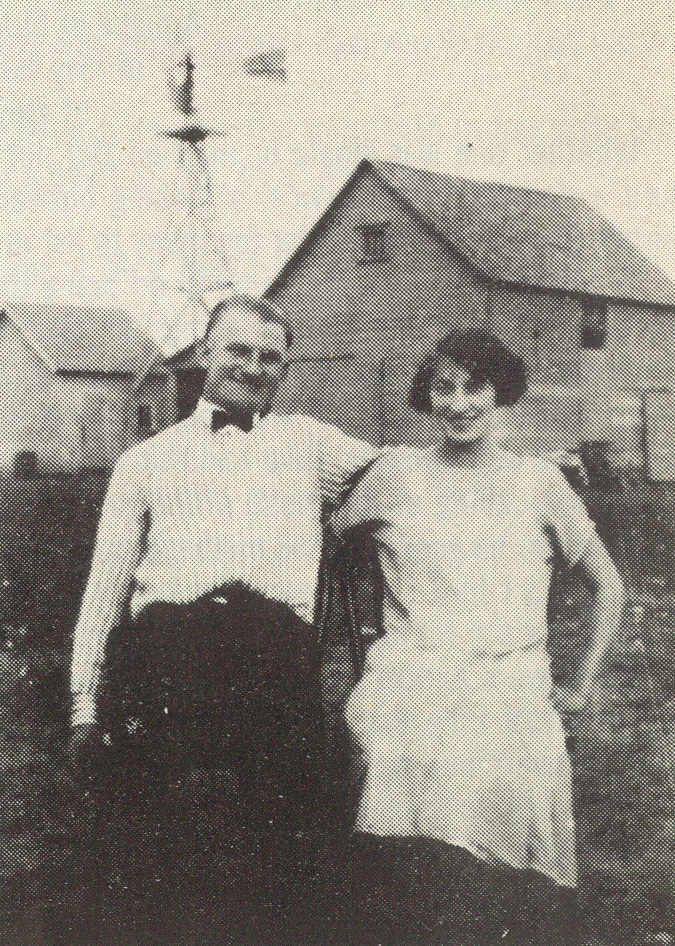 Bill & Hattie Simek Wedding Day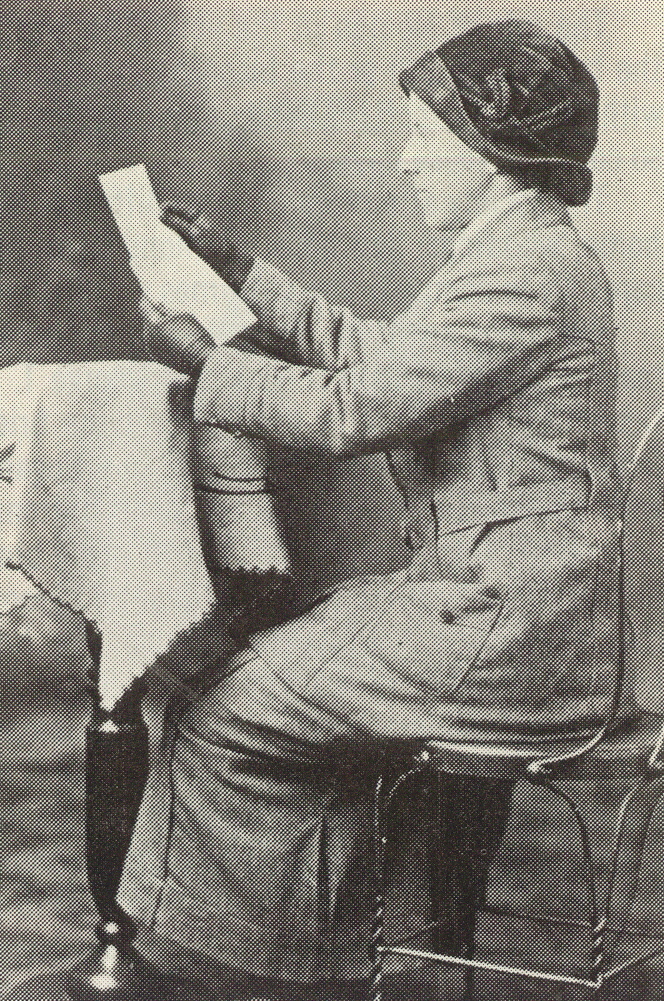 Anna Ryan ~ circa 1918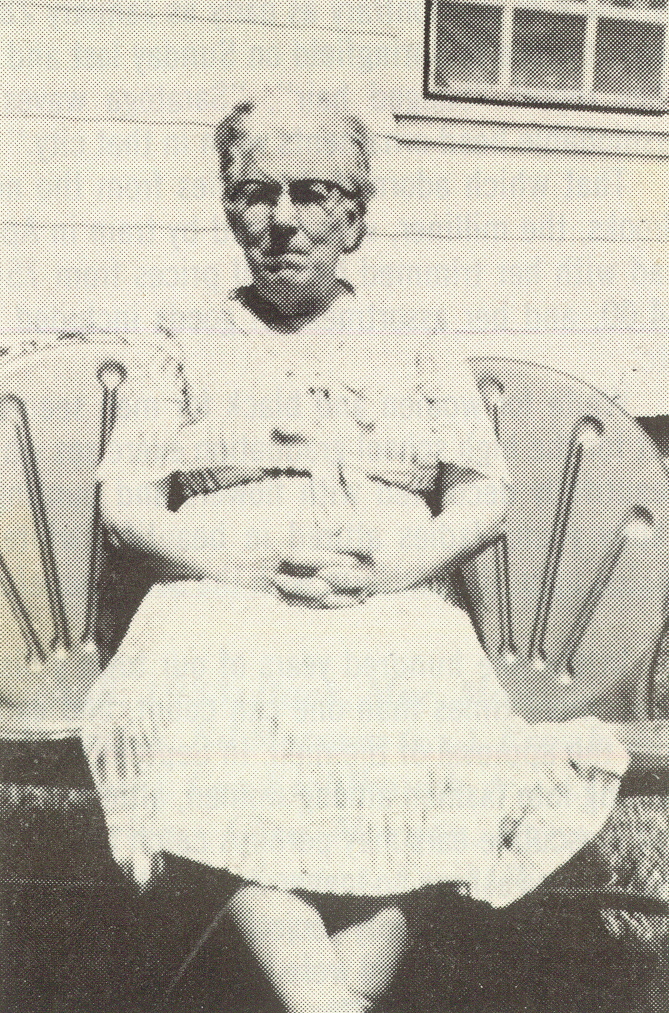 Anna Ryan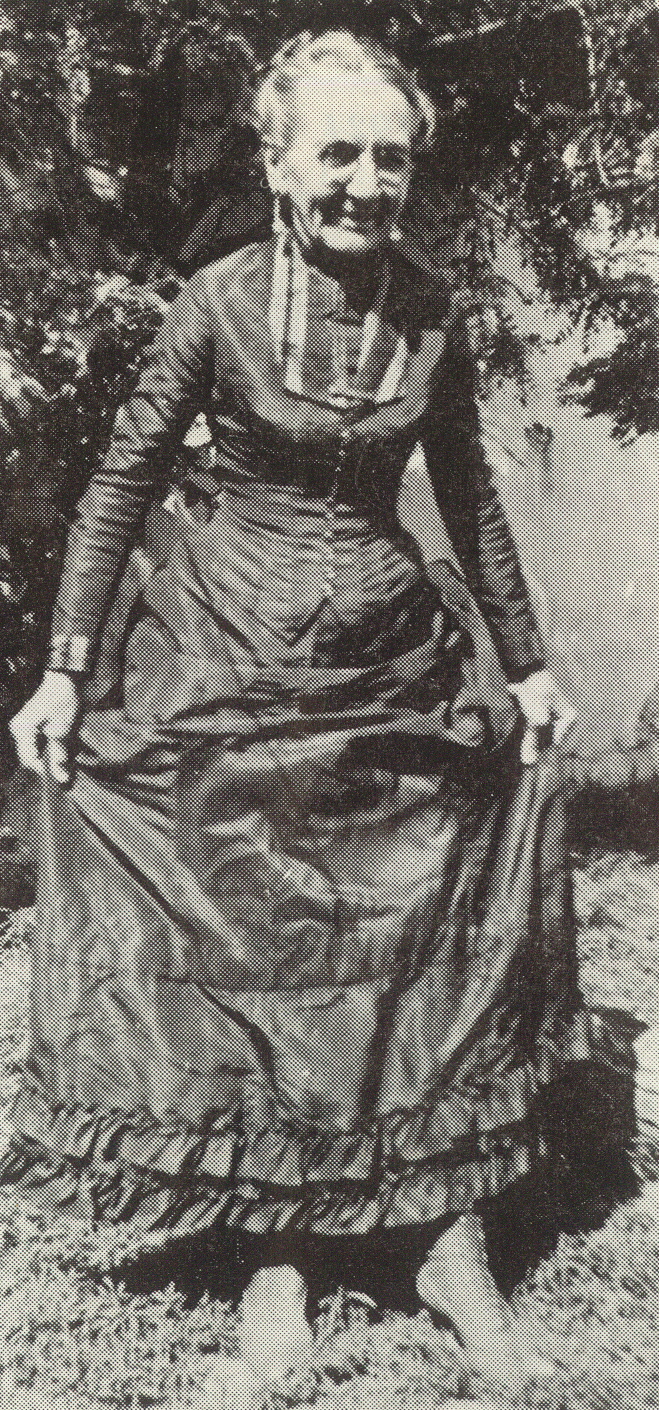 May 13, 1941 ~ 50th Anniversary of Rachel Chapter No. 11 O.E.S.
Carrie Bixby wearing brown grosgrain silk dress made and worn by Mrs. W. W. Byers in 1884.

Mrs. Carrie Bixby ~ Tyndall pioneer
Sioux City Journal - Tribune Publications Woman of Achievement of 1955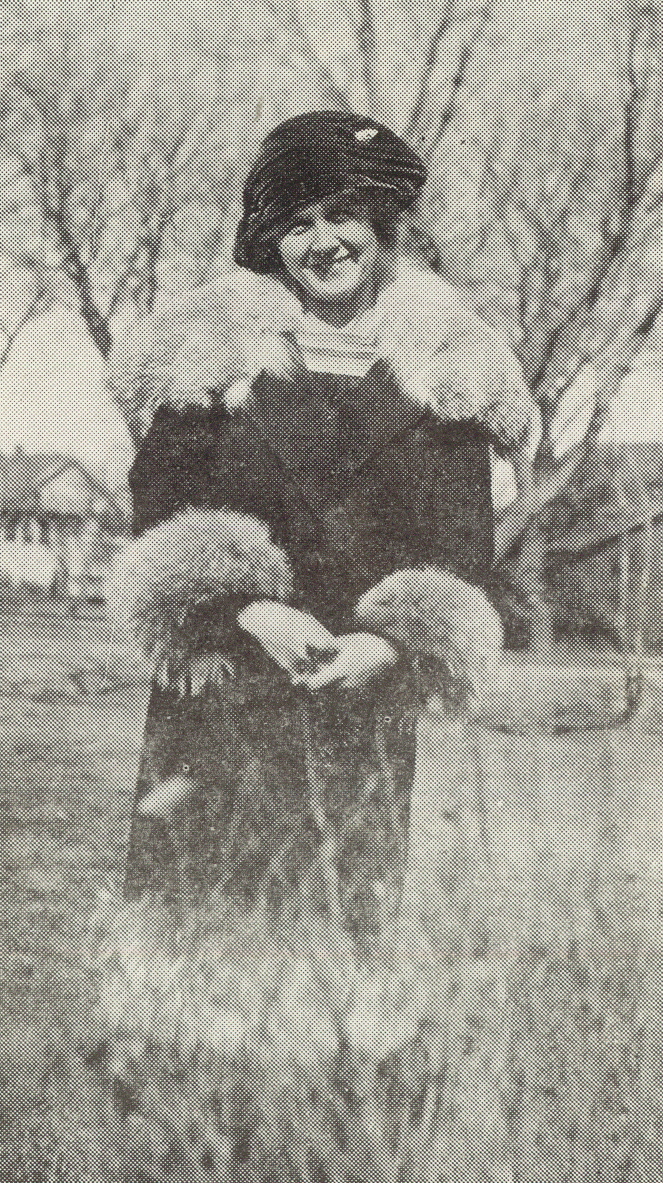 Helen Scoblic ~ 1924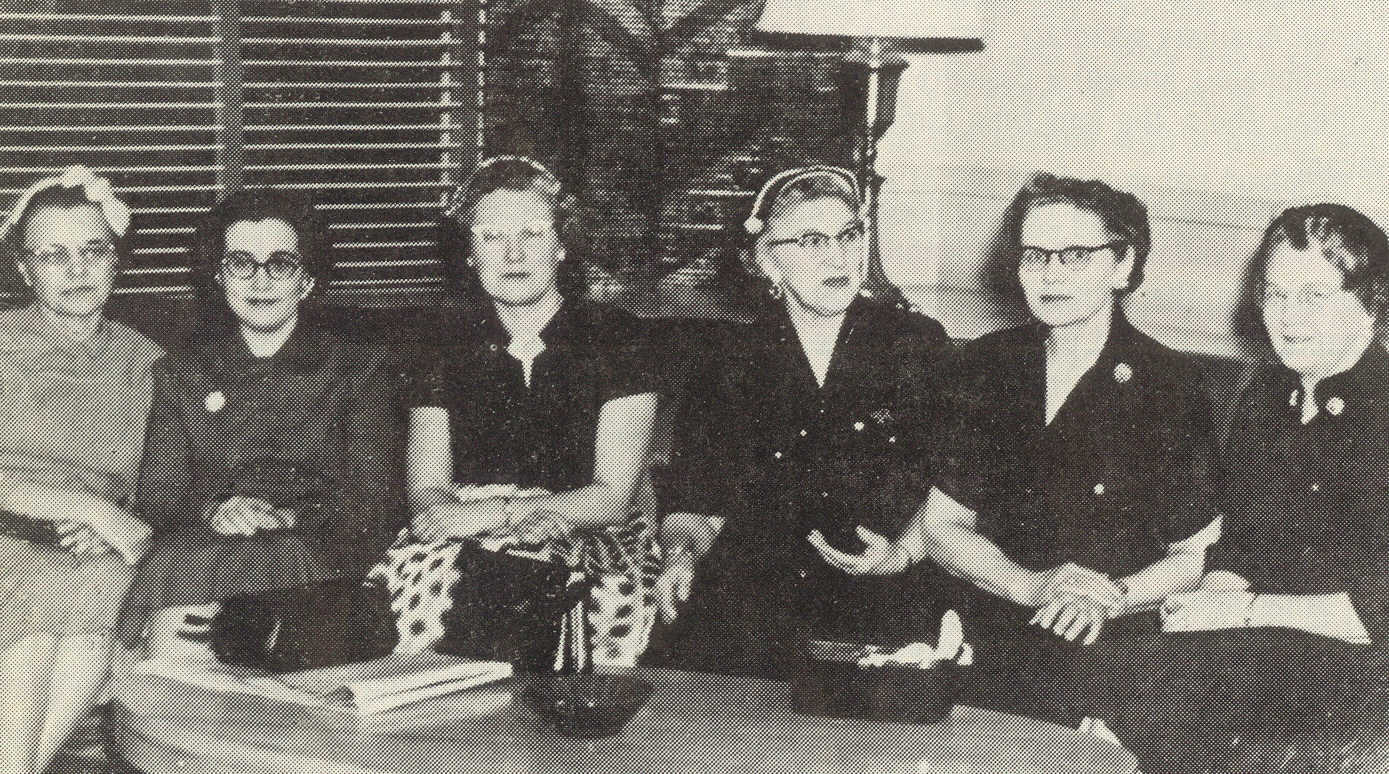 1950s
L-R: Ann Wacker, Jean Wilkinson, Cecelia Schuurmans, Maude Slater, Olga Trevillyan, Helen Scoblic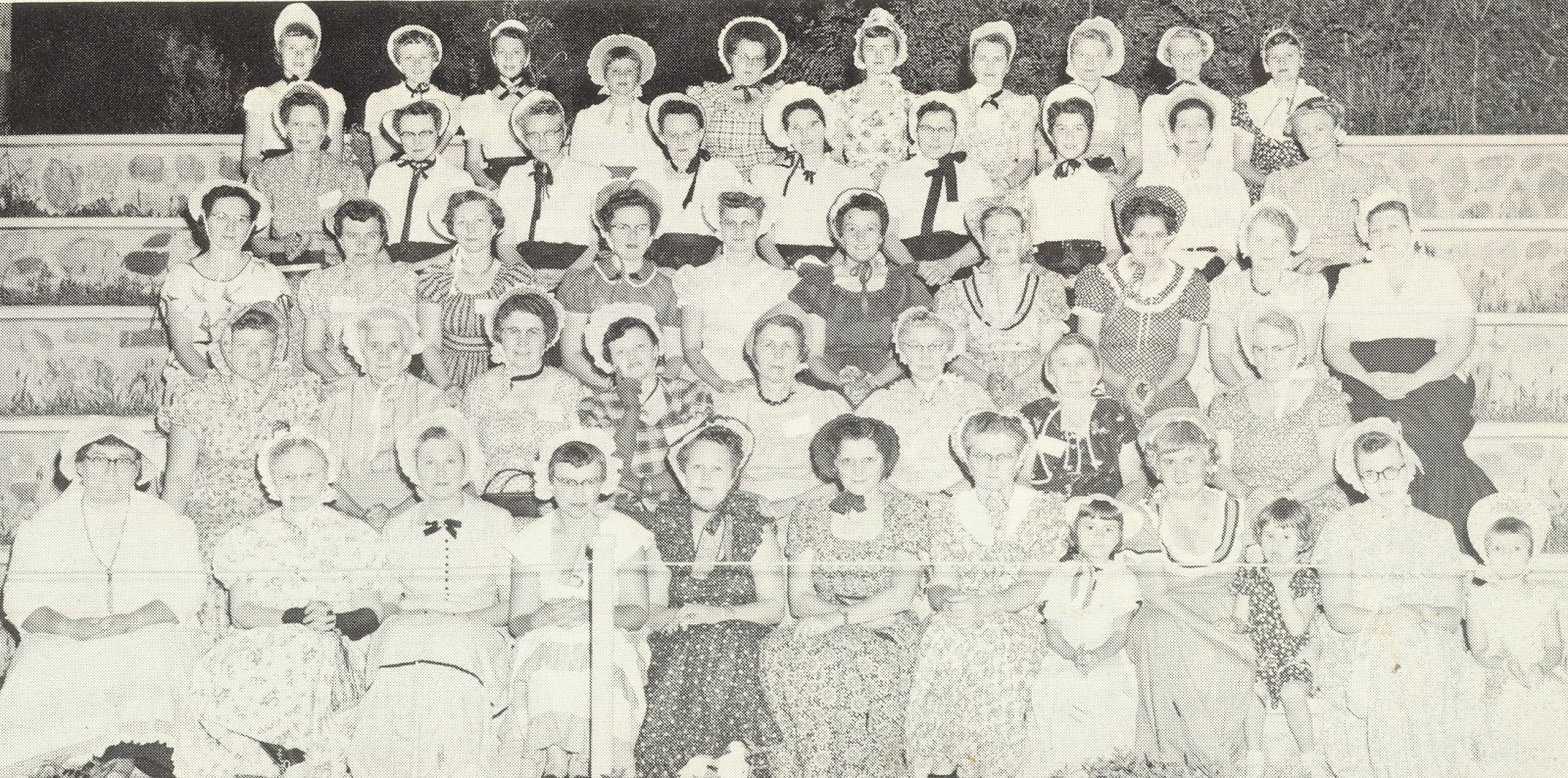 Ladies of Tyndall, Jubilee celebration Sunbonnet Club ~ 1954
Sitting on bleachers at high school athletic field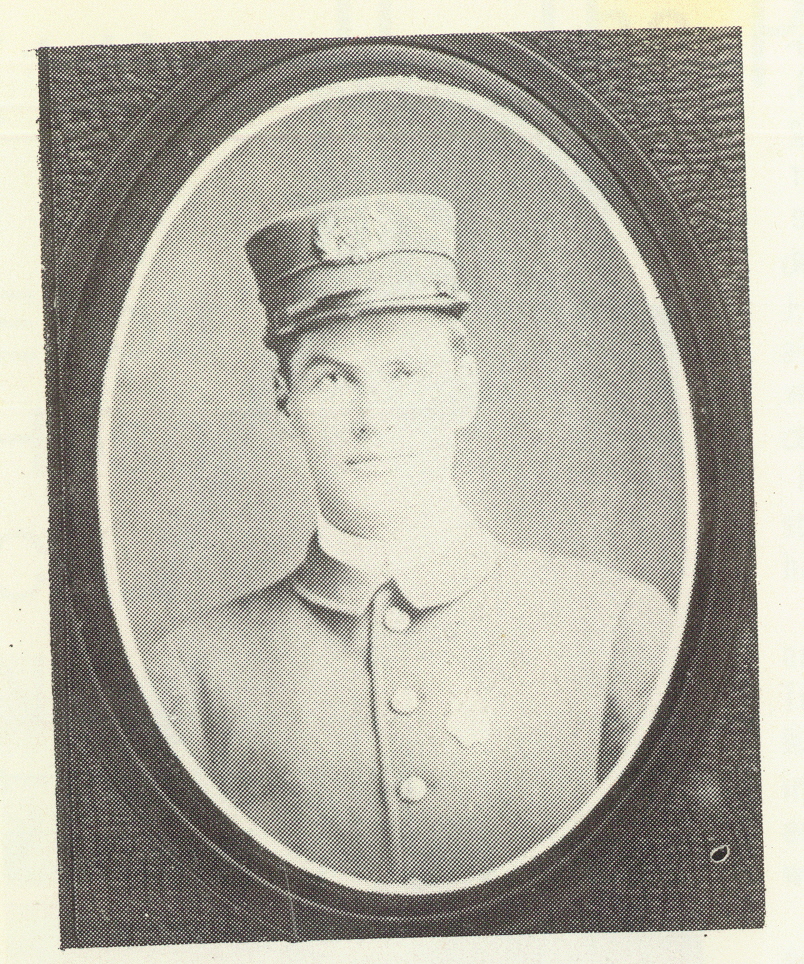 Robert R. Robinson, Tyndall Hose Co. No. 1 ~ early 1900's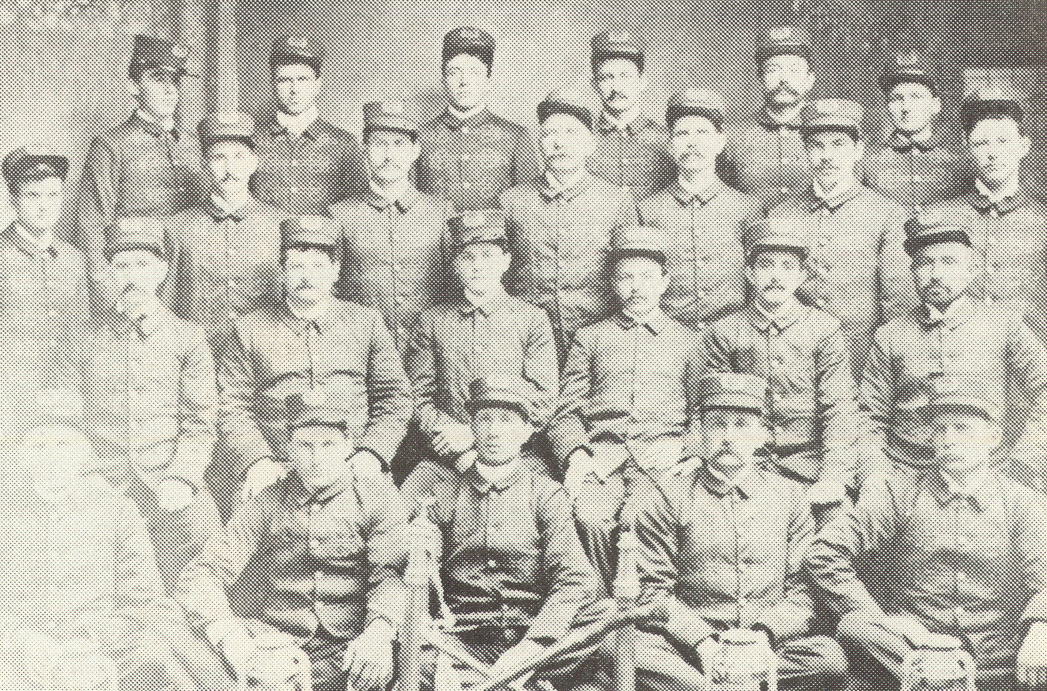 Elliott Hose Co, No. 1 ~ 1894
back: L.W. Krall, J.F. Oliva, Joe Novak, John Teutsch, Fred Moraveck, Jim Hersman
third: Morris Moser, Adolf Pesek, F.F. Srstka, Anton Musilek, James Austera, J.J. Hrachovec, V.S. Pechous
second: Wm. Metzger, W.M. Flamming, J.J. Chastka, Frank Dostal, V.J. Base, Anton Hajek
front: V.J. Ptak, Henry Orth, Joe Loesel-Chief, T.V. Ptak, S.J. Srstka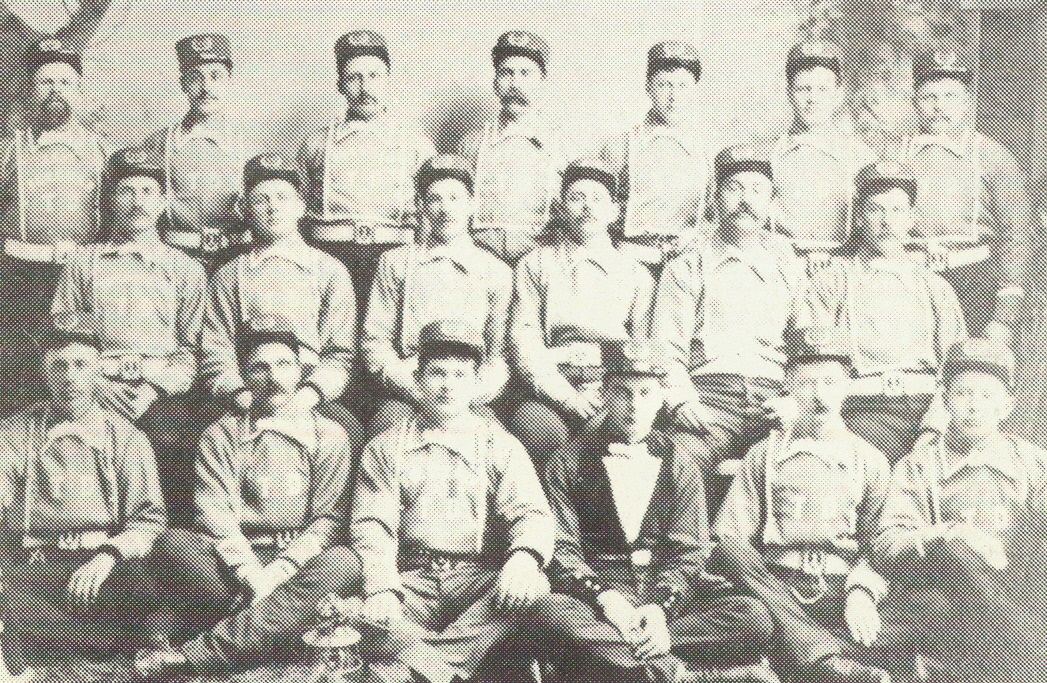 First Tyndall Fire Department ~ 1887
back: A.A. Thompson, J.P. Serr, Sil Wilcox, Asa Grant, Ed Anderson, Alex Berry, Dave Roose
middle: Albert Plumb, Tom Frawley, Wm. Nobles, Silas Jones, Pete Wagner, John Aitchison
front: Geo. Barker, Howard Hitchcock, Wm. Flamming, Fred Sturtevant, John Petrie, J.B. Flamming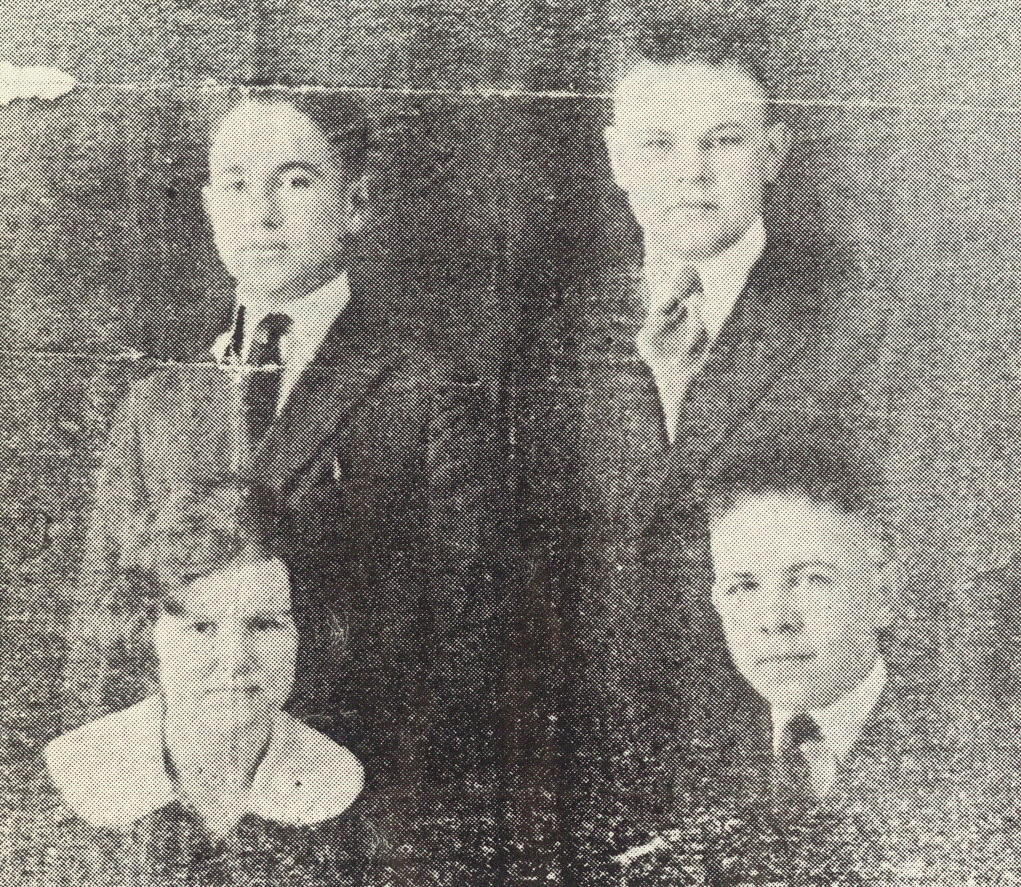 First Tyndall High School Debate State Champions ~ 1922
back: Lawrence Newmark, Leonard Chastka
front: Mable Thompson, Howard McBurney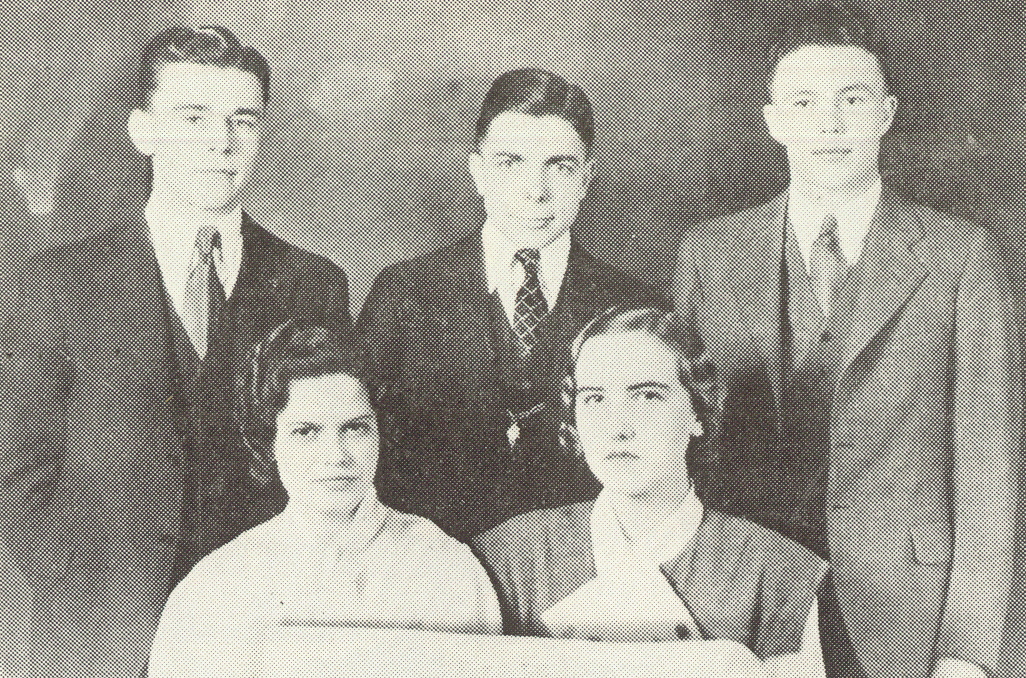 Tyndall High School Debate State Champions ~ 1933
back: Jonas Vilhauer, coach Glen Mills, Robert Halla
front: Marjory Collins, Helen Minow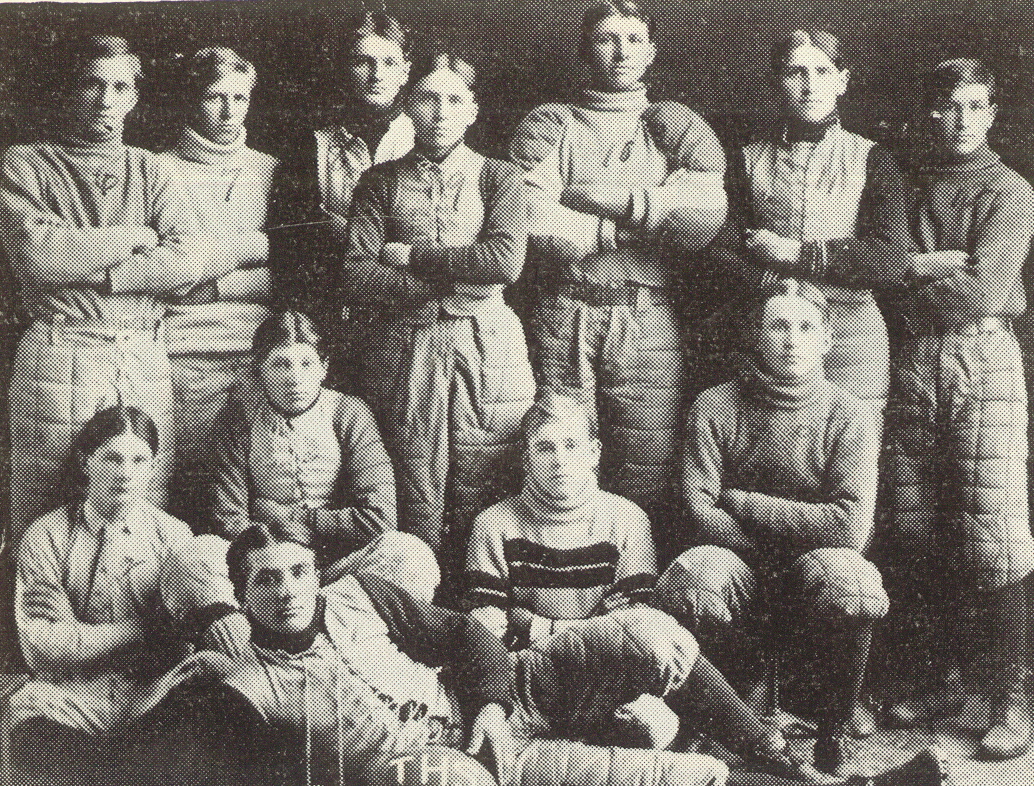 Tyndall High School Football Team ~ 1907
standing: Steele, Herb Sidle, Ed Hughes, Paul Weiser, Krause (from Russia), A. Kiehlbaugh, Matt (Mike) Oliva
seated: Wm. Flamming, Jake (Check) Bollinger, Ed. Colgan, Fr. Soukup
reclining: J. Oliva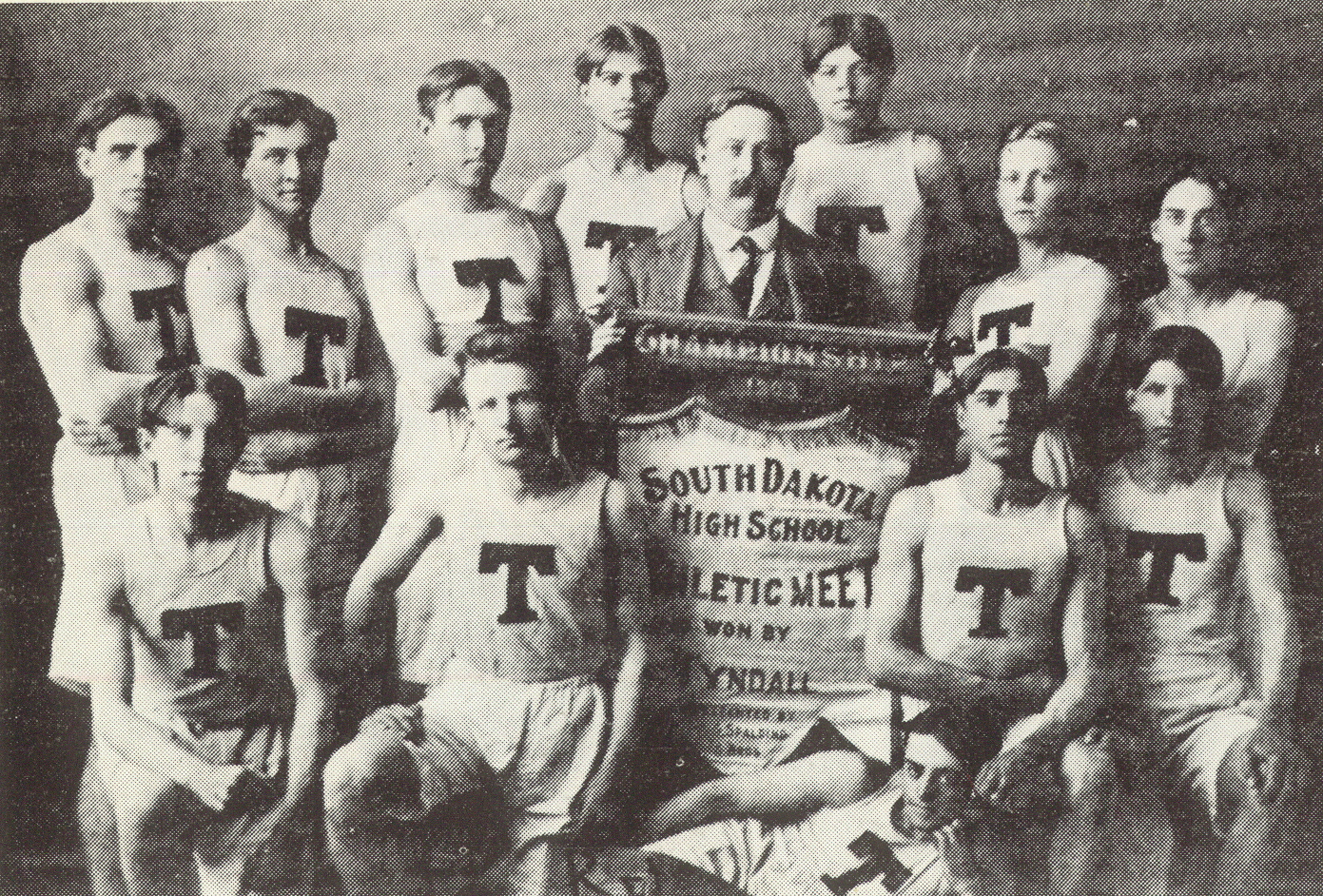 Tyndall High School Track State Champions ~ 1903
back: C. Kielbauch, Cole, Kirk, Abbott, W. Kielbauch, Johnson, Williamson
holding banner: Superintendent Clark
front: F. Sperb, J. Sperb, Fredrich, L. Chladek, Sunderlin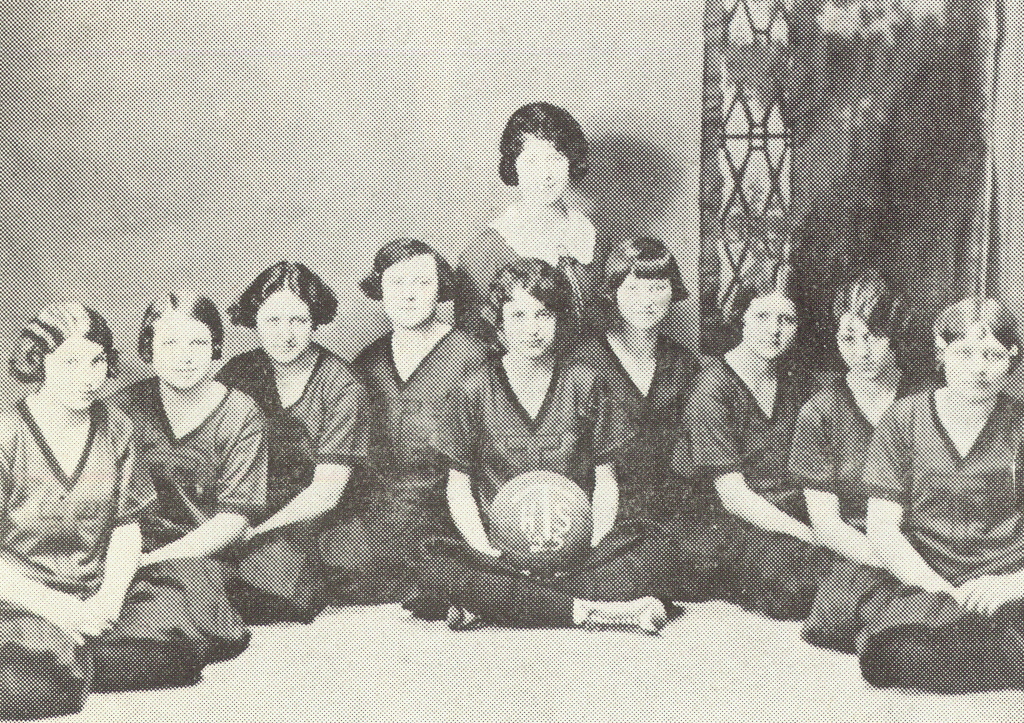 Tyndall High School Girls' Basketball ~ 1925
L-R: Agnes Hanrahan, Anne Hrachovec, Margaret Smith, Esther Glynn, Amelia Vavruska,
Ella Piroutek, Isabelle Wright, Abbye Wagner, Ethel Britton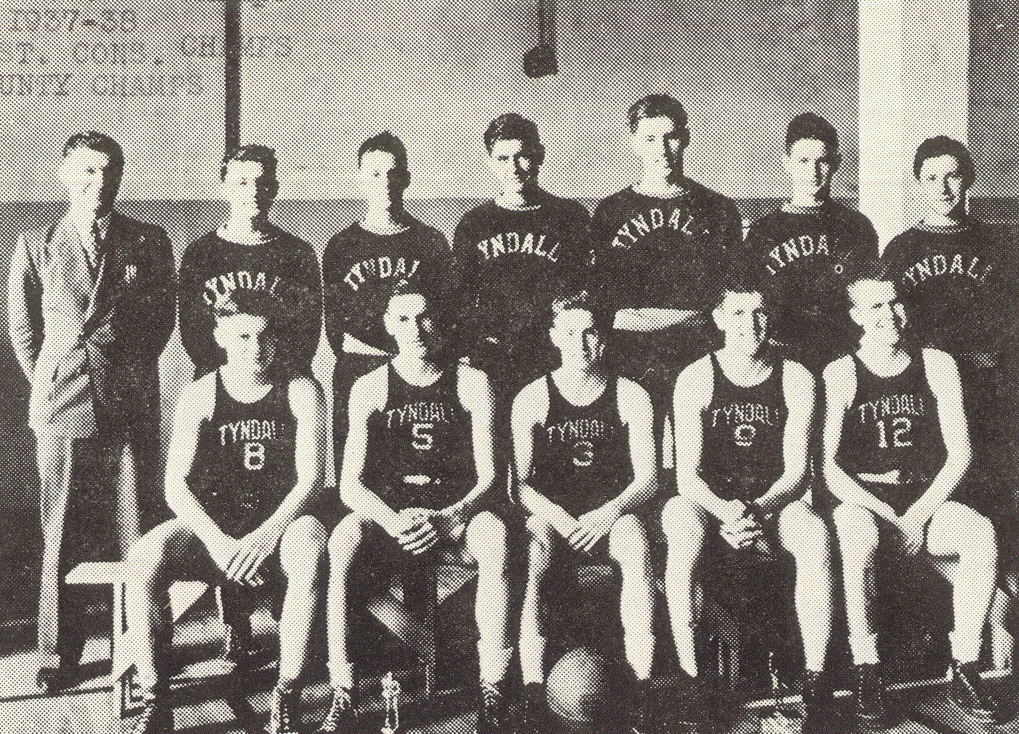 Bon Homme County Champs ~ Tyndall High School Basketball 1937-38
back: Coach Val Hladky, N. Schuett, R. Ptak, G. Robinson, W. Minow, E. Pompey, W. Bouska
front: E. Szymanski, H. Taplett, D. Laird, E. Schmoll, J. Wagner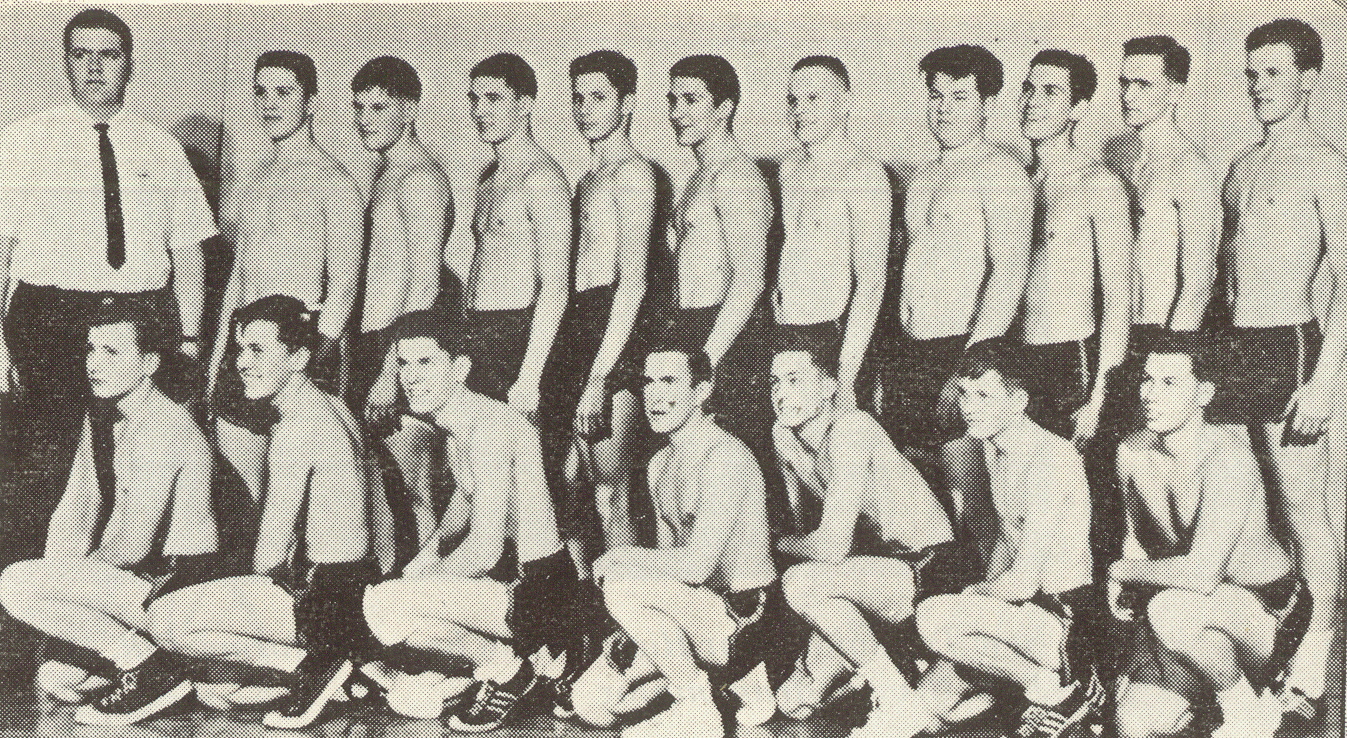 First Ever Tyndall High School Wrestling Team ~ 1964
back: Coach Jack Niesen, J. Hovorka, J. Post, M. Szymanski, G. Winningham, A. Hermanek,
A. Palsma, D. Jordan, R. Skorpik, R. Svanda, R. Herman
ront: R. Rothschadl, L. Ehrisman, J. McCann, M. Zwanziger, T. Hajek, R. Meyer, G. McCann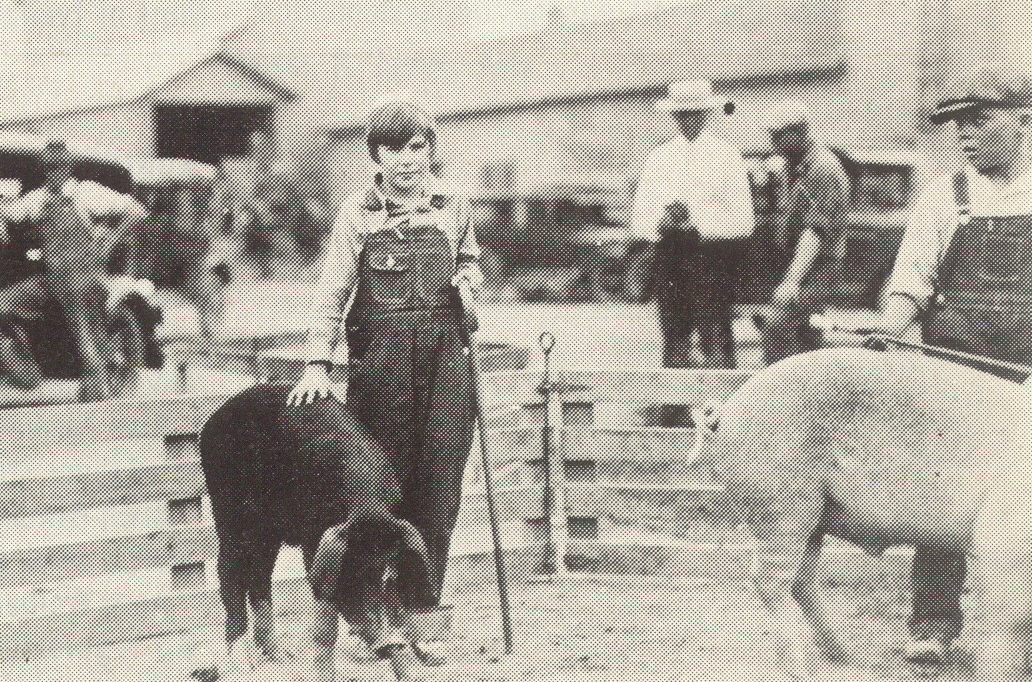 Bon Homme's First Achievement Day, September 1928
4-H Baby Pork Class
Eileen Glynn, Tabor, and Wm. Bambas, Tyndall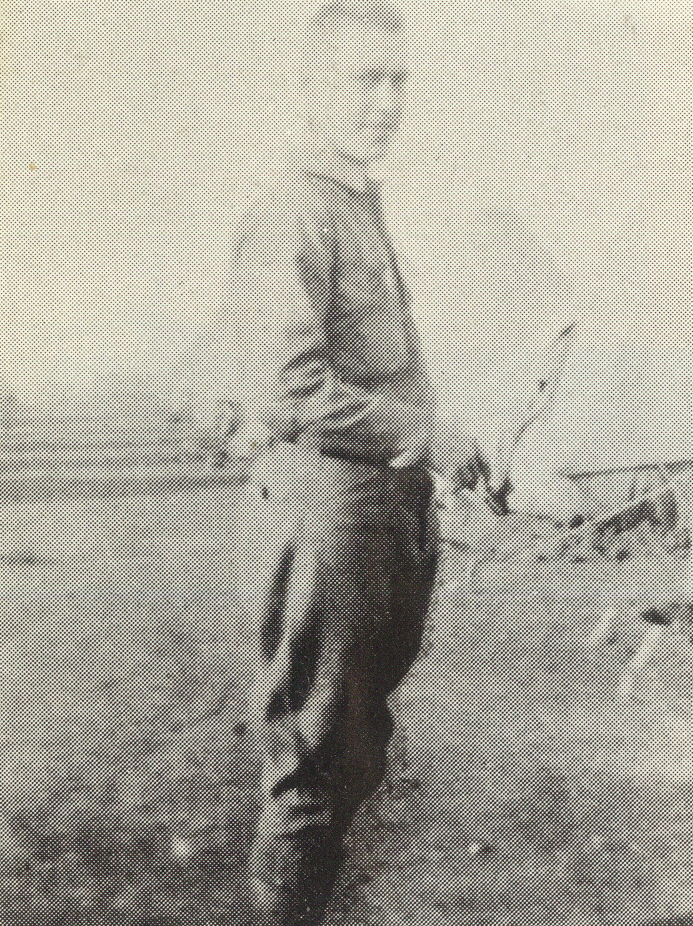 Stillman Pike, World War I


Stillman Pike Funeral ~ 1919

Mrs. Mary Ann Pike: editor, post-mistress, first Legion Auxiliary President
Mother of Stillman Pike.

James Wagner killed in action World War II.
Tyndall's American Legion Post became Pike-Wagner Post at that time.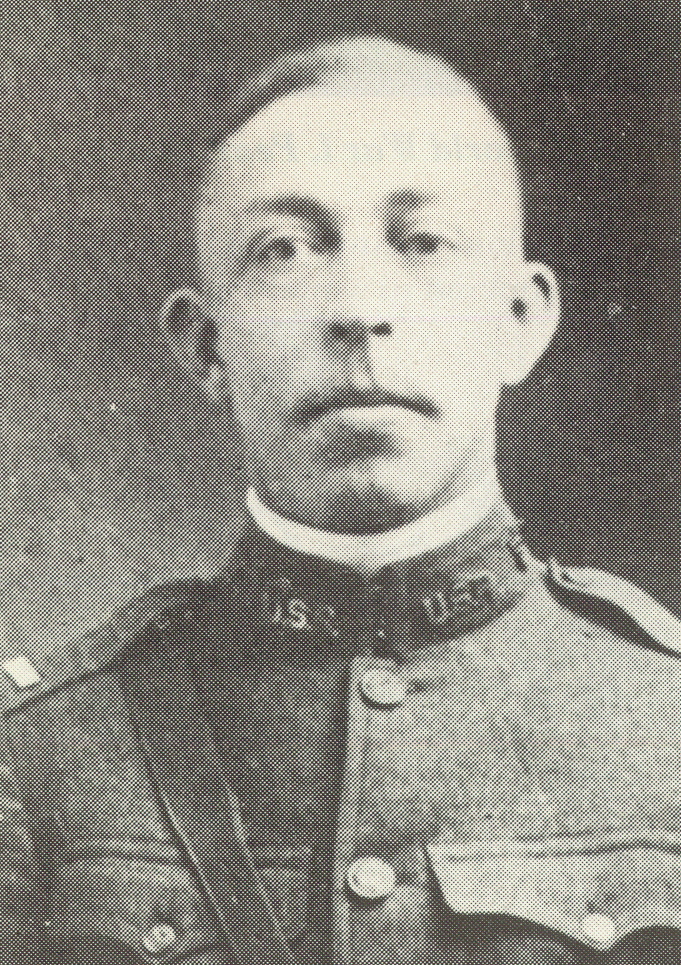 Dr. E. H. Boon ~ 1920
First commander of Tyndall American Legion Post No. 2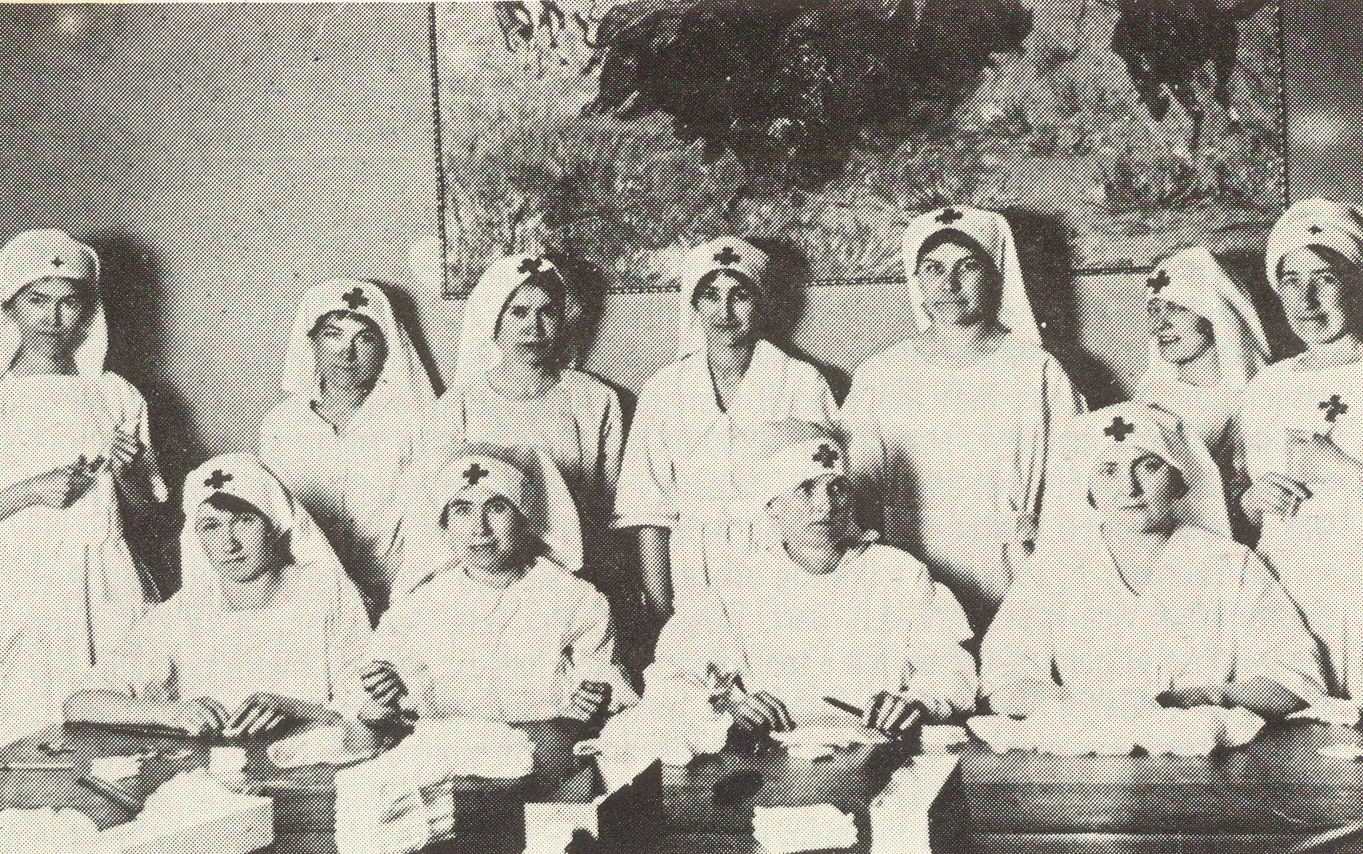 Nevele Club (eleven backwards) did Red Cross work in World War I.
Standing: Anna Post, Helen Hagarty, Laura Pricket, Clara Post, Maude Bussey, Lydia Bixby, Mrs. Calendine
Seated: Unknown, Anna Dwyer, Millie Curl, Christina Sykora