Biographies from the History of Dakota Territory, Volume IV
by George W. Kingsbury, 1915
James Nelson
Every state in the Union and almost every country on the face of the globe has contributed to the citizenship of South Dakota. An important element therein is that which has come from Denmark and of this class James P. Nelson is a worthy representative. He was born in that country January 18, 1870, and is today a wide-awake and active merchant of Yankton, where he is engaged in dealing in sewing machines and musical instruments, having now a business that in volume and importance exceeds all other enterprises of similar character in his section of the state. While born across the water, the greater part of his life has been spent on this side of the Atlantic. His father, Christian Nelson, brought his family to South Dakota in 1881, when his son, James P. Nelson, was a lad of eleven years and settled in Yankton and after living for a period there removed to Bon Homme county, where he still resides, devoting his energies to agricultural pursuits. He married Christina Powellsen and they became the parents of seven children.

James P. Nelson, the third in order of birth, is largely indebted to the public school system of Yankton for educational opportunities which he enjoyed and which prepared him for life's practical and responsible duties. When his textbooks were put aside he began dealing in sewing machines and as the years passed built up a good trade. When a decade had gone by he extended the scope of his business to include the sale of pianos as well as other musical instruments and he is now the largest dealer in this line in his section of the state.

On the 4th of March, 1901, Mr. Nelson was married to Miss Mary S. Christiansen, a native of Yankton and a daughter of Christian Christiansen of this city. The six born of this marriage are: Harvey, Vernon, Violet, Myrtle, Clifford, and Olive Virginia. Mr. Nelson belongs to that great band of people who make the automobile their chief source recreation. He also enjoys fishing and shooting and engages in those sports when opportunity offers. He is an independent republican, considering only the capability of the candidate at local elections, while on occasions when a national ballot must be cast he votes with republican party. He and his family adhere to the faith of the Lutheran church and occupy an enviable social position, having the warm friendship of many. Fraternally Mr. Nelson is connected with the Elks, the Odd Fellows, and the Maccabees, and he is a of the Commercial Club. Gradually he has advanced in his business career and has built one of the largest trades in musical instruments in the state. He enjoys an unassailable reputation for thorough reliability and his advancement has been based upon close application and unremitting energy. Moreover, he is classed with the progressive citizens of Yankton his district has benefited by his cooperation in many movements that have been resultant.
Olof Swenson
Olof Swenson, who carries on general farming on section 23, Hancock precinct, in Bon Homme county, is a native of Sweden, his birth having occurred in the province of Herjdallen in 1842. According to the custom of the Scandinavian people whereby the children take the father's Christian name, adding thereto the syllable son and thus forming their last name, the subject of this review as a son of Swen Paulson became Olof Swenson. His mother in her maidenhood bore the name of Engel.

Reared in his native country, Olof Swenson remained there until 1869, when he emigrated to the new world. He made the trip from Stockholm by canal to Goteborg, the principal seaport, across the North Sea to Hull, England, and by rail went to Liverpool, whence he embarked on a steamer of the Allen line for Quebec, sailing in June, 1869. He made his way direct from Quebec to Minnesota and lived in Wabasha county until he came to Dakota territory in the fall of 1873.

When Mr. Swenson settled upon his present place it was the only developed farm for many miles around. All was open prairie with not a tree in sight. His first house was built entirely of cottonwood lumber and shingles cut by a sawmill on the river nearby. For two or three years grasshoppers caused damage to his crops but somehow he lived through the hard times and ultimately gained a financial foothold. He was about two miles south from home when the blizzard of January 12, 1888, struck the country. He fought his way against the storm and at length reached his house, but many settlers were lost in going between their homes and barns. A family traveling through the country found shelter at the home of Mr. Swenson until the storm abated the following day.

When in Minnesota, Mr. Swenson was married to Miss Christina Olson, a native of Norway. Mrs. Swenson is very fond of flowers and quite successful in their cultivation. She has fine plants in the home throughout the winter, their blooms adding beauty and cheeriness. Four children have been born to Mr. and Mrs. Swenson, of whom two are living: Jonas, who remains at home and cultivates the farm with his brother-in-law, his father having practically retired; and Ida, the wife of Gilbert O. Blegen, who was born in Dane county, Wisconsin, October 15, 1874, and is a son of Ole Blegen, who was born at Guldbrandon, Norway, and in that country married Julia Moe. Mr. and Mrs. Blegen have one son, Clifford.

Mr. Swenson has been a stalwart republican since becoming a naturalized American citizen, for he believes that the principles of that party contain the best elements of good government. He belongs to the Lutheran church and his life has been guided by its teachings. For forty-two years he has lived in Dakota and the history of its development and progress is familiar to him from the period of pioneer times to the present. He has borne his part in the work of general development and his worth is widely recognized as that of a progressive farmer and public spirited citizen.
Merle McCain
Merle A. D'A. McCain is a member of the McCain & Joyce Mercantile Company. They conduct a general store including dry goods, hardware, farm implements, boots and shoes, and general supplies. In addition Mr. McCain owns land and is engaged in the cattle business. His home is at New Underwood, Pennington county. He was born in Clarion county, Pennsylvania, August 23, 1873, his parents being Adam B. and Lucinda M. (Thompson) McCain, who were also natives of Clarion county, the former born April 22, 1822, and the latter on the 22nd of February, 1828. The father always followed the occupation of farming although he taught school for a number of terms in early life. In the spring of 1882 they left Pennsylvania and made their way to Adams county, Iowa, where they lived for one year. They removed to Pennington county, South Dakota, August 6, 1883, and established their home near the present site of the city of Underwood, although the town had not yet been established at that time. Upon a place seven miles west of the town site they spent their remaining days and the father engaged in ranching and in the live stock business until death terminated his labors on the 11th of February, 1901. His widow survived and passed away in April, 1903.

Mr. McCain was the youngest of eleven children. He attended school near his home, coming in his boyhood days to South Dakota and was graduated with the class of 1895 from the Spearfish Normal School. Liberal educational training qualified him for life's practical and responsible duties and since starting out on his own account he has made wise use of his time, talents, and opportunities. He remained with his parents until he attained his majority and then took charge of the home ranch on which he continued until the spring of 1902. At that date he began clerking for I. H. Chase in a dry goods store at Rapid City and worked his way upward in that connection, proving his capability and demonstrating his faithfulness. Eventually he was made manager of the store and continued there until February 1, 1910, when he removed to New Underwood and engaged in general merchandising on his own account, associated with his nephews. At length he and Mr. Joyce consolidated their interests, and the business has since been conducted under the name of the McCain & Joyce Mercantile Company. They have a large general store carrying an attractive line of goods that finds a ready sale upon the market. Their stock includes dry goods, hardware, farm implements, boots and shoes, and general supplies. A liberal patronage is accorded them, and their trade is growing along substantial lines. They have ever realized that satisfied patrons are the best advertisement and their customers are ever ready to speak a good word for them. Aside from his mercantile interests Mr McCain is engaged in the cattle business and is the owner of a good tract of land. His interests are well managed, his enterprise is unfaltering, and difficulties and obstacles in his path seem to call forth more earnest effort in the attainment of the goal for which he is striving.

On the 21st of June, 1899, Mr. McCain was married to Miss Mary E. Reynolds, who was born near Albia, in Appanoose county, Iowa, a daughter of Joseph and Susan (Gladfelder) Reynolds, both of whom were natives of Iowa. In 1884 they became residents of Bon Homme county, South Dakota, and in 1889 went to Pennington county, settling about eighteen miles northeast of New Underwood, where the father engaged in ranching and in the raising of livestock. For a considerable period he was actively identified with business there but is now living practically retired, he and his wife making their home at Forest Grove, Oregon. Mr. and Mrs. McCain have become parents of three children: Lucile, Kenneth B., and Winfield B. all at home.

The parents are members of the Congregational church, and Mr. McCain votes with the prohibition party. These two associations indicate the high principles which govern him in his conduct, and he is at present serving as a member of the town board and does all in his power to further the legitimate interests of the community. His life commends him to the goodwill and confidence of those with whom he has been brought in contact, as his entire record measures up to high standards. In business affairs he is thoroughly reliable and straightforward and, as he values character building more than the attainment of success, he will not deviate from a course which he regards as right between himself and his fellowmen.
James Elliott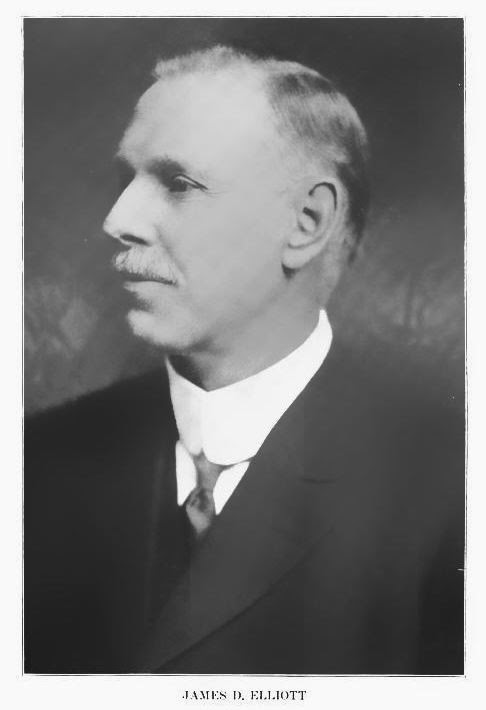 Through a period of forty-two years James D. Elliott has been a resident of South Dakota and in a profession where advancement depends solely upon individual merit and ability he has worked his way steadily upward until he stands as one of the eminent members of the South Dakota bar. In June, 1911, he was appointed United States district judge and in the same year removed to Sioux Falls, where he has since made his home. He has had other business interests, which indicate his ability and which have been features in winning for him his present substantial success but he has disposed of these in order to give undivided attention to his judicial duties, which he discharges with a most marked sense of conscientious obligation.

A native of Illinois, Judge Elliott was born in Mount Sterling, Brown county, October 7, 1859, and is the eldest son of William and Mary (McPhail) Elliott. The father, a native of England, was born in 1833, and in his youthful days accompanied his parents to the United States, the family home being established in Pittsburgh, Pennsylvania, where the grandfather, who is an expert mechanic, served for many years as superintendent of the Sligo Iron Works. About 1850 the family removed to Brown county, Illinois where the grandfather purchased land and devoted the remainder of his life to farming, dying at an advanced age.

William Elliott was educated in the schools of Pittsburgh and also began the study of law before removing to Illinois, where he continued his legal studies and was admitted to the bar. Later he removed to Mount Ayr, Iowa, where he entered upon the active practice of his profession, but soon after the outbreak of the Civil war he enlisted for active service in a Missouri regiment and was on active duty throughout the period of hostilities, being mustered out with the rank of captain. When the military chapter in his life history was ended he returned to Mount Ayr and resumed the practice of law, becoming one of the leaders of the Iowa bar, his pronounced ability gaining him eminence in the field of his chosen profession. He also served as a member of the Iowa legislature and left the impress of his ability and individuality upon the statute books of the state. In 1872, he came to the territory of Dakota, settling in Clay county, where he remained until 1883, when he removed to Hurley, Turner county, where he continued in the practice of his profession. In 1891 he was elected county judge of Turner county and accordingly removed his residence to Parker, the county seat. He made an excellent record upon the bench, his decisions being characterized by the utmost impartiality and a masterful grasp of all the problems presented for solution. He likewise served as a member of the constitutional convention and took an active part in the work preliminary to the division of the territory and its admission into the Union as the two states bf North and South Dakota. Originally a democrat, his allegiance following the Civil war was transferred to the republican party and for many years he has been a prominent figure in its councils. His life has indeed been one of far reaching influence and benefit in the various states in which he has made his home. He belongs to the Grand Army of the Republic and progress and patriotism might well be termed the keynote of his character.

His son, James D. Elliott, spent his boyhood in Iowa and attended the schools of Mount Ayr and Panora. After the removal of the family to Dakota he continued his studies in the public schools of Vermillion and also pursued a two years' special course under Professor Culver, superintendent of schools of that place. Ere his education was completed he pursued various tasks in order to defray his expenses, and after his more specifically literary course was finished he took up the profession of teaching, which he followed for three years. In the meantime he invested his savings in cattle, which he placed on his father's farm with the purpose in view of gaining sufficient funds to enable him to pursue a course of study in the University of Michigan. However, the memorable flood of 1881 carried away and drowned all his stock. A short time afterward he started with a team for the Black Hills, where he spent the following summer. In the fall of that year he returned home and became a teacher in the public schools of Lakeport, Yankton county, and later at Meckling, Clay county. On account of the havoc wrought by the flood he felt it necessary to return home and aid in retrieving the family fortunes. He entered upon the study of law under the direction of Colonel John L. Jolley and in 1883 entered the offices of Gamble Brothers of Yankton, with whom he continued his reading until his admission to the bar in April, 1884. He remained in the offices of Gamble Brothers until October of that year and then went to Springfield, Bon Homme county, where he entered upon the active practice of law. In 1885 he removed to Tyndall subsequent to the removal of the county seat from Springfield, and in 1887 he was elected state's attorney, which position he filled acceptably for four years. In 1897 he was appointed by President McKinley United States district attorney, serving continuously through both the McKinley and Roosevelt administrations. He continued as United States district attorney for the district of South Dakota for almost ten years, during which time he maintained his residence at Tyndall and practiced there, while his practice also extended to other parts of the state.

In January, 1910, Mr. Elliott was appointed by the Chicago, Milwaukee, & St. Paul Railroad and the Puget Sound Railroad as solicitor for the states of North and South Dakota and made his headquarters at Aberdeen. He continued thus organizing the work until June, 1911, at which time he was appointed United States district judge by President Taft and on the 14th of June he qualified for the bench. His labors as a jurist have been of the highest class. In the fall of 1911 he removed to Sioux Falls. He holds court at Deadwood, Pierre, Sioux Falls, and Aberdeen - two terms each year, and he has also done special work outside of his district through assignment of the presiding judge of the circuit. On his appointment to the bench he disposed of his various other interests, putting aside all business relations of a different character in order to devote his time and attention unhampered to his judicial duties. His opinions have won high encomiums from the bar, from the public, and from his fellow members on the bench in other sections of the state. Devotedly attached to his profession, systematic and methodical in habit, sober and discreet in judgment, calm in temper, diligent in research, conscientious in the discharge of every duty, courteous and kind in demeanor, and inflexibly just on all occasions, these qualities have enabled Judge Elliott to take first rank among those who have held the highest judicial office in the state, and have made him the conservator of that justice wherein is the safeguard of individual liberty and happiness and the defense of our national institutions. His reported opinions are monuments to his profound legal learning and superior ability, more lasting than bronze or marble and more honorable than battles fought and won. They show a thorough mastery of the questions involved, a rare simplicity of style and an admirable terseness and clearness in the statement of the principles upon which the opinions rest.

Judge Elliott has been a member of the lower house of the state legislature, having been called to that office in 1885, and he nominated Judge A. G. Edgerton for the office of United States senator when South Dakota became a state. He has always been a stalwart republican, active and prominent as a leader of the party in this state, and in 1896 he served as chairman of the republican state committee. He is well known to the party leaders throughout South Dakota, and his word carries weight in all party councils. Outside of his professional activities he had large land and stock raising interests and for several years was the president of the Security Bank of Tyndall. He now concentrates his energies entirely, however, upon his judicial duties and ranks with the ablest jurists of South Dakota. His mind is naturally analytical, logical, and inductive in its trend and as a lawyer he proved sound, clear-minded, and well trained. In his practice he prepared for defense as well as attack and was, therefore, seldom surprised by a statement of the opposing counsel. In the application of a legal principle he was seldom, if ever, at fault and there are few who are so careful to conform their practice to the highest standards of professional ethics.

On the 29th of May, 1890, Mr. Elliott was united in marriage to Miss Agnes Stilwell, a daughter of Charles H. Stilwell, a leading citizen of Tyndall. Their children are: Marion A., Douglas S., Hiram McPhail, and Mary H. Mr. Elliott is prominently known in fraternal circles. In Masonry he has taken the degrees of Bon Homme Lodge, No. 101, A. F. & A. M.: Scotland Chapter, R. A. M.; Yankton Commandery, K. T.; Yankton Consistory, A. & A. S. R.; and El Riad Temple, A. A. O. N. M. S. He also has membership with the Knights of Pythias and the Ancient Order of United Workmen and belongs to Sioux Falls Lodge, No. 262, B. P. O. E. From the age of thirteen years he has resided in Dakota and for forty-two years, therefore, has been an interested witness of the growth and development of the state. His own life is typical of the progress of the northwest. He passed through the period of hardship and difficulties in his own career equivalent to the pioneer experiences of the state. Then came the time when he gained a financial foothold as the result of his persistent and determined efforts, and gradually he has worked his way upward until he is now numbered among the men of affluence in Sioux Falls, while his position as a leading jurist of South Dakota is a most enviable one.
Julius Engel
Yankton county has been signally favored in the class of men who have occupied her public offices, for on the whole they have been loyal to duty, fully recognizing the obligations that devolve upon them and the opportunity afforded them for valuable public service. Such a one is Julius Engel, who in 1911 was elected county auditor for a four years term. He is also identified with the Yankton Realty Company, Inc., as its secretary and treasurer.

Mr. Engel was born November 19, 1887, in the county which is still his home. The family is of German origin, and his great-grandfather was among the number of German people who were invited by the Russian government to settle in southern Russia, many concessions being offered them to induce them to colonize that section of the country, such as release from military duty. They and their descendants became a wealthy, prosperous colony, but when the Russians sought to rescind the original agreement they left that country and after some investigation as to opportunities offered in the new world they settled in South Dakota about 1873. They have rapidly adapted themselves to the conditions of the country and have become splendid citizens. John G. Engel, father of Julius Engel, was among the number of the descendants of the German colony that went to Russia who left that country in 1873 and became residents of Yankton county, South Dakota. He still resides within the borders of the county, but after about twenty years active connection with agricultural pursuits retired from his farm in 1893. Soon afterward he became postmaster at Lesterville, filling that office until 1911. He then removed to Scotland, Bon Homme county, South Dakota, where he is engaged in the real estate business. He married Rosina Sayler, who was also born in southern Russia and in 1873 made the voyage across the Atlantic to the new world. They became the parents of thirteen children, of whom eight are yet living.

Julius Engel, who is the fifth in order of birth, was a little lad of about six years when his parents removed to Lesterville, where he spent his youthful days and there largely pursued his education in the public schools. Later, however, he attended the commercial college at Sioux City, Iowa, from which he was graduated. At the age of seventeen he became connected with the office of county clerk of Yankton county and has been continuously connected with county offices since 1905. His long experience has made him thoroughly familiar with the duties of the position of auditor and thus he was well qualified to take the management and control of the office when, in 1911, he was county auditor for a four years term, and he is now discharging the duties devolving upon him in a manner most creditable to himself and satisfactory to his constituents. The only business in which he has been engaged outside of his official duties is that of insurance and real estate, being now secretary and treasurer of the Yankton Realty Company, which was incorporated in May, 1914.

On the 17th of June, 1908, at Wausau, Wisconsin, Mr. Engel was united in marriage to Miss Violet E. Benedict. In social circles of the city they are well known and have many warm friends. In politics Mr. Engel has always been a stalwart republican, working earnestly for the party. He belongs to St John's Lodge, No. 1, A.F. & A.M., of Yankton and has attained the thirty-second degree of the Scottish Rite in Oriental Consistory. He also has membership with the Elks lodge No. 994 and is true to the teachings of these organizations, exemplifying in his life their beneficent spirit.
Albertis Parmenter
Albertis E. Parmenter, commonly known as "Bert", is now engaged in the abstract business in Scotland, South Dakota. He was a pioneer miller of Hutchinson county and was connected with that business until 1900. He was born in Erie county, New York, April 28, 1851, a son of Stillman and Catherine (Van Camp) Parmenter, likewise natives of the Empire state. The father was descended from one of the old Dutch families that early settled in the Mohawk valley.

Bert Parmenter remained at home until he reached the age of eighteen years and then went to Springville, on Cattaraugus creek, which forms the southern boundary of his native county, and for five years applied himself to learning the miller's trade. At the end of that time he left New York and came west. He arrived in Dakota in 1874, reaching Yankton on Saturday, June 13th, of that year. He anticipated the development of the great northwest into one of the most important grain producing regions of the world and was looking for a suitable site for a grist mill. The week following his arrival in Yankton he traveled up the Jim river and selected a site in the southern part of Hutchinson county, where he built a dam and erected the first mill between Yankton and the mountains. It was a small affair, having only two run of burrs, but it was sufficient for the time. It was completed in the fall of 1875 and was used to grind the crop of that year. It subsequently became too small, and a new structure was erected in 1885 that was much larger. The roller process was adopted and the capacity increased to one hundred and twenty-five barrels per day. The business was later incorporated as the Maxwell & Parmenter Milling Company, Mr. Parmenter's partner being his brother-in-law. In 1893 Mr. Parmenter bought out Mr. Maxwell and conducted the business as the A.E. Parmenter Mill until he sold it to the Mennonites on the 1st of April, 1900. In 1883 Mr. Parmenter moved into Scotland and has since resided in the same house. On the 12th of January, 1901, he entered upon his duties as registrar of deeds for Bon Homme county and at the same time took up the abstract business in which he has continued to the present time. He has an excellent set of abstract books and prepares most of the abstracts made in the county.

Mr. Parmenter was married in Yankton on the 2nd of September, 1879, to Miss Annie C. Maxwell, who came to this state with her parents from Dubuque, Iowa. Her father, John Maxwell, was a native of Montreal, Canada, while her mother, who bore the maiden name of Susan C. Languedoc, was a native of Quebec. The three surviving children of Mr. and Mrs. Parmenter are: John C., who married Miss Frances Valker, and is manager of the Farmer's Elevator and agent for the Chicago Milwaukee & St. Paul Railway at Blaha, this state; Eugenia, the wife of J.L. Meighen, judge of the county court of Bon Homme county; and Donald C., who was graduated from the Scotland high school with the class of 1915.

Mr. Parmenter achieved success as a miller, but he had to endure many of the hardships of pioneer life. The spring floods of 1881, coming at the close of the "winter of the deep snow" were unusually high and did much damage to the mill. The floating ice formed a gorge below Yankton and the high waters overflowed for many miles up stream. Jim river received its share, and the waters backed up so that for twenty-four hours the current ran up stream from the top of the eight foot dam. Later when the deep drifts of the Jim River valley melted in a warm spring sun a flood swept down upon the mill and carried away the flume, the wheelhouse, and the wheel, depositing them six miles down stream. Anticipating the rising waters, Mr. Parmenter had removed all flour and wheat from the mill to a safe place and thus minimized his loss. In the fall of 1878 a prairie fire swept through the valley and burned stacks of wheat and hay in the mill yard, and the mill itself was saved only by great effort. Mr. Parmenter's first experience with a real South Dakota blizzard was on January 12, 1888, one of the memorable days in the history of the state. His brother-in-law, who had been longer on the plains, had often spoken of them, but Mr. Parmenter rather fancied that they were but myths. This morning his brother in law remarked as the two walked down to the office that it was typical blizzard weather, although it was a warm sunny day. They had been in the office but a few minutes when their vision was limited to the glass of the windows and their hands were invisible at arm's length. The blizzard was on in earnest and it was with great difficulty that they were able to grope their way back to the house at nightfall.

Mr. Parmenter is a democrat in politics and has taken an active part in public affairs. Fraternally he belongs to the blue lodge and chapter of the Masonic order at Scotland. He has witnessed the great development of the state from the time that it was an unbroken prairie to the present, when it is a highly developed agricultural region dotted with thriving villages towns and cities. His reminiscences cover nearly the entire period of the existence of the state and territory, and his accounts of the early days are of great value in enabling the younger generation to realize to some extent the lives which their fathers lived in South Dakota in its pioneer epoch. Not only has he been an interested observer of the growth and development of the state but he has aided materially therein.
William Tupper
William H. Tupper was a well known citizen of Bon Homme county, and in his death the community lost a valued citizen, who from early days had been connected with the agricultural development of that region. He had arrived in Dakota on the 1st of April, 1883 being at that time a young man of twenty-seven years. He was born in Kane county, Illinois, near Aurora on the 7th of August, 1855, and was a son of William Henry and Katherine (Edmonds) Tupper, who were natives of Canada. His youthful days were spent under the parental roof, his education being acquired in the public schools, while the periods of vacation were devoted to farm work. He early became familiar with the best methods of tilling the soil and caring for the crops on an Illinois farm, and he assisted his father up to the time of his marriage.

It was on the 12th of October, 1882, that Mr. Tupper was joined in wedlock to Miss Louisa C. Stover, who was born in Center county, Pennsylvania, March 10, 1859, a daughter of George and Elizabeth (Thomas) Stover, who were likewise natives of the Keystone state. Her great-grandfather with two brothers blazed their way through the forests of the east and were the first settlers of Center county, Pennsylvania. In 1879 Louisa Stover went to Kane county, Illinois to join two sisters, who had preceded her, and later her parents also became residents of Illinois.

In the spring following their marriage, Mr. and Mrs. Tupper removed to the northwest, settling on a homestead near Plankinton. Hardships and privations awaited them, but with resolute spirit and unfaltering courage they endured hardships and trials and in time their perseverance won them success. They saved but one crop during the first six seasons, and on one occasion a prairie fire destroyed their haystacks, but although these were near the barn the building was saved. Finally hail on the 3rd and 4th of July ruined the fine crop and thus disaster stared them in the face until they took their belongings in wagons and made their way southward to Bon Homme county, settling in Running Water precinct, where Mr. Tupper purchased a homestead and timber claim which had previously been entered from the government. He thus became the owner of a fine farm of three hundred and twenty acres, in addition to which Mrs. Tupper owns another farm of one hundred and sixty acres near Wagner. At a later date the Plankinton farm was sold. After a few years, in which they met many hardships and privations, good crops proved the country to be habitable and from that time forward prosperity attended their efforts. In the early days the wind swept prairies were the scene of many a blizzard varying in intensity. In February, 1887, there was a storm that almost equalled that of January, 1888. Mr. Tupper, who was in town when the storm broke, started home but the intensity of the blizzard forced him to seek shelter along the way. He was also out in the storm of January 12, 1888, and he stopped once more at the same house where he had found refuge eleven months before. He found this only by chance in the blinding storm, for it was impossible to see a few feet ahead. Water was scarce in Plankinton and the wells, being shallow, often went dry so that in winter he frequently melted snow in order to water the stock. Thus in early times he endured many hardships and privations but prosperity came at last.

A few months after the arrival of Mr. and Mrs. Tupper in Dakota, her parents came to the territory reaching their destination in September, 1883. They, too, secured a farm, but this was sold after their deaths. During the early years in the settlement of the county, Mr. Stover burned hay and one winter burned corn, which was very cheap, ten dollars worth of corn giving out more heat than could be obtained from its value in coal.

To Mr. and Mrs. Tupper were born eight children, six of whom survive. George, who lives on the home farm in Running Water precinct, married Katie Dykstra, a Hollander. Frank, who is a graduate of the Springfield Normal School and lives in Wagner, married Ella Young. Ray, who is engaged in farming at Wagner, married Lora Shrawl. Bert is assisting his brother Ray. Mable is a graduate of the Springfield Normal School and now teaches in the Platte school. Grace attended the Springfield Normal School as a member of the class of 1915.

In his political views, Mr. Tupper was a stalwart republican and kept well informed on the questions and issues of the day but did not seek nor desire office. He held membership in the Methodist church and in that faith passed away July 12, 1897. His life was guided by Christian teachings and he was an honorable and upright man and enjoyed in a high measure the confidence and goodwill of his fellow citizens.
The Hitt Family
The Hitt family is one of the best known in Bon Homme county, where three brothers, Martin E., Thomas M. and Henry P., and a sister, Mrs. Elizabeth Wagner, reside and are among the largest landowners in that section of the state. The father. Rev. Thomas S. Hitt, was a native of Bourbon county, Kentucky, born February 14, 1797, a son of Rev. Martin Hitt, who was born in Virginia but as a young man crossed the mountains to Kentucky, later removing to Ohio. The family, which is of German descent, had lived for several generations in Virginia previous to the removal to Kentucky. Rev. Thomas S. Hitt went to Indiana in 1827 and seven years later settled in Ohio, both states being at that time but sparsely settled. There he won distinction as a minister of the Militant Methodist church. In 1837 he removed to Ogle county, Illinois, that region being then upon the western frontier, and in 1851 he established the Rock River Academy at Mount Morris, which for years was the most famous institution of higher learning in Illinois. Many of the prominent statesmen and business men of the Prairie state today claim it as their alma mater and are proud of its record.

Rev. Hitt married Miss Emily John, whose father, Robert John, was a son of John John, who resided in Philadelphia during the Revolutionary war. Robert John removed from Pennsylvania to Indiana, becoming a resident of the latter state in the early days of its history. Of the eight children born to Rev. Thomas S. Hitt four remained in Illinois and four came to Dakota. The two sons who continued to reside in the Prairie state both became prominent in political circles there. John was for almost forty years deputy United States collector of revenue in Chicago and Robert R. represented his district in congress for twenty-four years. He was assistant secretary of state under James G. Blaine and accompanied General Grant upon the latter's tour around the world.

Martin E. Hitt, the oldest of the family, was born in Urbana, Champaign county, Ohio, April 27, 1836. He was but a year old when the family removed to Illinois and the other children were all born in that state. He received his education in the Rock River Academy, established by his father and which he inherited after the latter's death. In September, 1874, he came to Dakota territory and secured a half section of land in what is now Bon Homme county under the homestead and timber acts. In the fall of the following year he settled upon the place and began its improvement. He has purchased additional land there from time to time and now owns almost a thousand acres. After the death of his brother-in-law, Captain Wagner, in 1898, his sister, Mrs. Wagner, took charge of his bachelor quarters and still makes her home with him. In 1913 he retired from active farming and he and his sister now live in Tyndall.

Thomas M. Hitt served in the Fourth Illinois Cavalry from 1863 until the close of the Civil war, participating in the fighting around Memphis and in other parts of the Mississippi valley. After the cessation of hostilities he learned stenography and was for a time employed in the department of the interior. Later he became private secretary for Governor Oglesby when he was elected United States senator from Illinois and subsequently served in a like capacity for Charles B. Farwell, United States senator from Illinois. In 1878 Mr. Hitt removed to Dakota territory and acquired a large tract of land, giving his attention principally to the breeding of fine horses. In 1894 he retired and removed to Tyndall, where he is still residing. He has never ceased, however, to take an interest in fine horses and always owns a few standard bred horses of the Wilkes stock. He finds much pleasure in driving and indulges himself in that regard almost every fine day.

Henry P. Hitt, the youngest of the three brothers who removed to this state, was born November 11, 1842, and came to Dakota territory in 1875 but remained only long enough to make entry on a claim He then returned to Illinois, where he remained for three years, but in 1878 permanently located here. He has also become a large landowner in Bon Homme county and derives a handsome income from his property At one time the three brothers and their sister, Mrs. Wagner, owned a tract of land in the western part of Bon Homme county extending on both sides of the road for a distance of six miles. The family is not only one of the wealthiest in the state but its members have also gained positions of leadership in their locality, where they are universally respected and esteemed.
Frank Wheeler
Frank L. Wheeler, a grain dealer of Scotland, Bon Homme county, is a native of the lake country of New York, a region famous for its beauty. His birth occurred May 20, 1859, in Seneca county, south of Seneca Falls, on the old Wheeler homestead situated on the west shore of Cayuga lake. His parents, Jonathan and Harriet (Ogden) Wheeler, were natives of the Empire state and the mother, who has now reached the advanced age of eighty-five years, is still a resident of that state, making her home in Geneva, at the foot of Seneca lake.

Mr. Wheeler of this review migrated west in the spring of 1880 and remained for a year at Winona, Minnesota, but on the 17th of May, 1681, he came to Huron, South Dakota, on the first train that made the trip with its own engine. Owing to a stretch of marshy ground transfers had to be made until a firmer track could be built and even this at places sank below the surface, the water rising behind the train as it proceeded on its way. Shortly after his arrival in South Dakota Mr. Wheeler opened a lumberyard in Hitchcock near where he took up a homestead, a pre-emption and a timber claim, remaining there until 1893. He was then for two years in business at Viborg and for three years at Howard, after which time, in 1898, he came to Scotland and entered the grain business, in which he has continued to the present time. He has a large elevator and is well equipped for handling all kinds of grain and farm produce. He also has elevators at Blaha and Plumba. His careful study of commercial and agricultural conditions and his systematic methods of carrying on his business are the causes of his gratifying success. In addition to his grain business he has other interests, including a controlling interest in the Peoples Telephone Company of Scotland.

Mr. Wheeler was united in marriage in Scotland in 1891 to Miss Ida Shaw, a daughter of Henry and Mary (Eckert) Shaw, who came to South Dakota in 1886. Mr. and Mrs. Wheeler have become parents of five children: Mary, a teacher in the Scotland schools; Floyd, who is associated in business with his father; Henry, who is now taking an engineering course at Vermillion; Frank and Harriet.

Upon coming to Scotland to reside Mr. Wheeler purchased the house in which he had been previously married. He is a member of the Masonic fraternity and has served as worshipful master and high priest. He fortunately escaped the blizzard of January 12, 1888, as he was on a visit in New York at the time. However, he had occasion to worry because of the great storm, as on his ranch at Hitchcock was a considerable herd of cattle in charge of a brother. In a little over one year from that time his farm was in the track of the worst prairie fire the Dakotas have ever known. On the 2d of April, 1889, the flames swept with appalling speed across the wide plains and at times leaped across half a mile of fire guard. The barn upon Mr. Wheeler's place was burned, but he considered himself fortunate to escape so well. With the usual American thrift and energy he has succeeded in business and is accounted one of Scotland's respected and prosperous citizens. He is a democrat in politics and is a member of the school board, having served as its president for ten years.
George Snow
When George W. Snow, a successful real-estate and insurance man of Springfield, South Dakota, first came to the territory, on the 24th of November, 1869, all that there was of Springfield was one family who were living in a dugout. Although he did not remain long on that visit, he returned the following year and settled permanently in the state, so that he is one of the earliest pioneers who are yet living.

Mr. Snow was born in Posey county, Indiana, on the 13th of December, 1842, and is a son of Augustus Frank and Catherine M. (Feit) Snow, the former born in Pittsburgh, Pennsylvania, on the 21st of March, 1816, and the latter in Baltimore, Maryland, on the 28th of July, 1819. Their marriage occurred in Posey county, Indiana, on the 4th of April, 1837, and they remained there until December, 1848, when they removed to Monfort, Grant county. Wisconsin. Their son, George W., enlisted in August, 1862, in Company F. Twentieth Wisconsin Volunteer Infantry, and served in the Union army until the close of the Civil war. He participated in the battle of Prairie Grove, Arkansas, on December 7, 1862; sieges of Vicksburg, Mississippi, and Mobile, Spanish Fort and Fort Morgan, Alabama, and other engagements. He was at Spanish Fort when the news came of Lee's surrender and Lincoln's assassination. Later his regiment was sent to Galveston to quell border disturbances and he saw service even in Mexico, the United States troops crossing the border to make peace between the insurrectors and the established authorities during the Maximilian regime. He was mustered out July 14, 1865, at Galveston, and was two weeks on his way home. In 1866 Mr. Snow attended the Patch Grove Academy in Grant county, Wisconsin, conducted by a graduate from Harvard, and subsequently took a course in a commercial college at Madison, Wisconsin. About this time his old captain opened a store in Dodgeville. that state, and Mr. Snow entered his employ as a clerk, remaining in that capacity until he came west in the spring of 1870.

Upon his first visit to Springfield Mr. Snow remained only long enough to file upon a claim a mile and a half from the present town site and then returned to Wisconsin. In May, 1870, together with five companions, he drove through Iowa by wagon, camping by the wayside and reaching Springfield, this state, in seventeen days. On his first trip he had no horse and was compelled to pay four dollars per day for a pony, and this experience taught him a lesson. Accordingly the party brought their own horses and wagons, driving through in 1870. Some of the young men established a sawmill on the fiats near Springfield and Mr. Snow purchased an interest in the enterprise. As the nearby timber was cut off, the mill was moved up the river from time to time until all the big timber upon its banks was manufactured into lumber. After proving up on his preemption claim Mr. Snow filed on a timber claim west of Tyndall, but later sold the relinquishment for one hundred dollars, which would not buy an acre of the place now. Later he filed on a homestead claim near the site of the present Springfield railroad station and in two years secured title to the same, his three years' service in the army shortening the length of residence required.

In 1876, with several companions, Mr. Snow went to the Black Hills and located a placer claim near Hill City in Palmer's Gulch, where they found enough gold to pay them fairly well, but, hearing of the fabulous strikes at Deadwood, they pulled up stakes and migrated to the new diggings. Their hopes were not realized, however, and they returned without the fortune that they set out to find. Provisions were very high in the Hills and the boys sold some of theirs, so much in fact that they subsequently did not have enough for themselves. Mr. Snow and one other returned to Yankton and with oxen took back two loads of provisions, returning by way of Fort Pierre. The Indians about that time became hostile and killed four men, one of these men being a man to whom Mr. Snow had been talking but a few hours before he was killed and scalped. The Indian uprising was so disquieting that the party left the Hills in October and went home, having been absent since the preceding April.

After his return Mr. Snow clerked for a time and then secured the nomination for treasurer of Bon Homme county on the republican ticket, while his employer, M. H. Day, ran for the legislature as a democrat. They campaigned together and both were elected. After serving for two terms, or four years, as county treasurer, Mr. Snow, in partnership with an uncle, Reuben Groot, opened a bank in Springfield, and for twenty years the institution was one of the prosperous and solid financial institutions of South Dakota. The partners experienced an old time bank robbery, in which the safe was dynamited and five thousand dollars in money was stolen. The perpetrators of the crime were apprehended and some of them are still serving out their sentence. At the end of twenty years of successful banking Mr. Snow and his partner sold out. He then turned his attention to real estate and insurance and is still engaged in that business, in which he has met with signal success. At one time or another he has owned nearly every tract of land in the township in which Springfield is located, besides many farms in surrounding townships and counties, and he still holds title to several thousand acres of fine farming and grazing lands.

Mr. Snow has been twice married. On the 19th of April, 1874. he was united in marriage to Miss Sylvia L. Tyler, the well known pioneer preacher, Rev. Ward, performing the ceremony. Mrs. Snow passed away in May, 1878, leaving a son, Harry, who died in August of the same year. In February, 1882, Mr. Snow married Mrs. Alberta M. Davison, nee Mead, by whom he has two sons: George G., who is associated with his father in the real-estate business and who attended the law school of the University of Michigan at Ann Arbor two years and the law department of Yale University for two years, graduating from the latter institution with the class of 1907; and Frank M., who graduated from the Springfield high school, attended an institution of higher learning at Colorado Springs for one year and was a student for a like length of time in the University of Washington and the University of Nebraska. He has since written for various journals in the west. Mrs. Snow died April 28, 1912.

Mr. Snow has been a factor in the making of his adopted state, having served as a delegate to the Sioux Falls Constitutional Convention in 1889 and as a member of the first state legislature. He has been a member of both branches of the legislature and used his vote and influence in that body to secure appropriation for the State Normal School at Springfield. He was also twice called to the lieutenant governor's chair and during both terms was able to further advance the interests of the school. His political belief is that of the republican party. Since 1867 he has been an Odd Fellow and has served in the state grand lodge as grand master and treasurer. In 1881 he became a Mason and has now taken the thirty-second degree in that order. He affiliates with the blue lodge at Springfield, the consistory at Yankton and El Riad Temple of the Mystic Shrine at Sioux Falls, in all of which branches of Masonry he has filled some of the chairs. He is a comrade of General Steed man Post, G. A. K., at Springfield, and in 1901 and 1902 served as department commander. There are few living today who have known Dakota earlier or more intimately than Mr. Snow and few have done more in shaping its affairs, not only in his home locality but in the state at large.
John Klemme
For many years John C. Klemme figured as one of the most prominent insurance men of Huron and his section of the state, and the agency which he established is still conducted under his name, although he has retired from active connection therewith. He is a well known figure in fraternal circles and is everywhere mentioned as one of the valued residents of Huron. His birth occurred in Franklin county, Indiana, in 1852, and in his youthful days he attended the country schools, but his education and training have been largely acquired in the school of experience. His father was Henry W. Klemme, a resident farmer of Indiana, who, in 1860, removed to Winneshiek county, Iowa, where he owned large tracts of land, being one of the leading farmers of that district. His last years were spent in Elma, Iowa, where he owned a fine residence. A native of Germany, he crossed the Atlantic in a sailing vessel, eight weeks being required in making the voyage. His wife, who bore the maiden name of Catherine Gasell, was also a native of Germany, having been born on the banks of the Rhine in Prussia. They became the parents of fourteen children, of whom thirteen, eleven sons and two daughters, are yet living.

John C. Klemme was a little lad of eight years when the family removed to Iowa, and in the usual manner of farm lads his boyhood and youth were spent. In 1878, when twenty-six years of age, he came to South Dakota from Vinton, Iowa, for the purpose of looking over the country. He made his way to Springfield, this state, and was well pleased with its prospects. He returned to Vinton for the winter, but in the spring of 1879 again went to Springfield, where he established a real-estate and insurance office, conducting business there for eight years. In 1886 he located in Huron, having taken up a tree claim that included what is now the southern part of the city. For many years he conducted an extensive insurance, real-estate and loan business in that city, having a very large and gratifying clientage. For thirty-four years he represented the Phoenix Insurance Company and established the Calumet agency in South Dakota and in Iowa. For twenty-two years he was special agent and adjuster for the Phoenix Insurance Company in North and South Dakota, and there is no phase of the insurance business with which he is not familiar. His agency was known as the Klemme Agency, and the business is still carried on under that name, although he has retired. The name has become a synonym for the highest standard of service along insurance and real-estate lines.

While at Springfield, South Dakota, Mr. Klemme was united in marriage to Miss Florence Sandison, of Vinton, Iowa, who passed away thirteen years later. A few years subsequent to her death Mr. Klemme wedded Mrs. L. E. Choate, of Yankton, South Dakota, who in her maidenhood was Miss Annie E. Edwards. Her father was one of the pioneers of the state, settling at Elk Point, Dakota, in 1860. Subsequently he moved to Yankton, where he established a dray line. His first home was a log cabin and the family met the usual experiences and hardships of pioneer life, but his business grew with the settlement of this state.

Mr. Klemme has always taken a very active part in the affairs of the city, is a public-spirited man and one whose interest has been of a most helpful character. He is prominently known in fraternal circles, holding membership with the Knights of Pythias, the Benevolent and Protective Order of Elks, the Independent Order of Odd Fellows and the Masons. He was largely instrumental in building the Masonic Temple in Huron and became one of its largest stockholders. He is ever loyal and true to the teachings of these organizations, exemplifying in his life the spirit of fraternity. He belongs to the Episcopal church, and he gives his political allegiance to the republican party. For four years he filled the office of register of deeds in his county and for five or six years was city treasurer of Huron, discharging the duties of both offices with promptness and fidelity. In every relation of life he has measured up to high standards of manhood and citizenship and in business his record is indeed an enviable one, winning for him the regard and confidence of colleagues and contemporaries. The rest which has come to him in his retirement from business is well merited, but, while he has put aside the more arduous cares of business life, he is by no means a recluse, for he takes a most active and helpful interest in the fraternal organizations with wrhich he is connected and gives generous, hearty and helpful support to all those measures which are a matter of civic virtue and civic pride.
Dr. Robert Jasmann
Dr. Robert Jasmann is a well known dentist residing in Scotland, South Dakota, where his birth occurred July 17, 1880. He has the distinction of being the first white child born in that town and is a son of Christian and Katherine (Vatz) Jasmann, who were natives of Russia, although of German descent. They came to this country with eighteen other families who sailed for America from Hamburg on the ship Cecelia in October, 1872. On the 24th of that month they landed in New York after a stormy voyage of twenty-one days. They passed the first winter with friends at Sandusky, Ohio, but the following spring continued their journey westward, arriving at Yankton, South Dakota, on the 13th of April. They located ten miles southeast of Scotland, forming what was known as the Odessa settlement. They were of deep religious convictions and in 1875 built a church. The parents of our subject took up their residence upon a half section of land in the Odessa settlement and followed farming until 1879. In that year a removal was made to Scotland and the father entered the mercantile business, conducting a general store. Later he sold out and engaged in raising high grade cattle until his death. Five children were born to him and his wife: Amelia, now Mrs. E. Geist, of Faulkton, this state; Emilie, who married Harry Wright, of Spokane, Washington; Robert, of this review; Wilhelmina, now Mrs. William Griess, of Shockham, Nebraska; and Elsie, a teacher in Aberdeen, Washington.

Dr. Jasmann entered the Scotland schools at the usual age and continued his education at the Wartburg Academy at Clinton, Iowa, for two years. Subsequently he took a three years' course in the Chicago College of Dental Surgery, being graduated therefrom in the spring of 1902. Not long afterward he opened an office in Scotland and has since remained there. He has built up a fine practice and is considered one of the best dentists in the state. A vacancy occurring on the board of dental examiners, Governor Byrne appointed Dr. Jasmann to the place, and upon the expiration of that term he was appointed for the full term of five years, which expires in 1919.

Dr. Jasmann was married November 26, 1908, to Miss Nina Wallace, a native of Monticello, Wisconsin, and a daughter of William and Elizabeth (Moore) Wallace. Mrs. Jasmann attended the South Dakota University at Vermillion, and subsequently engaged in teaching school there.

Dr. Jasmann is a Mason, belonging to the blue lodge and chapter at Scotland, the commandery and consistory at Yankton. He is a member of the International Dental Congress and the South Dakota State Dental Society. His wife belongs to the Presbyterian church and he attends its services. He finds needed rest and recreation in hunting and fishing and spent his vacation in the fall of 1913 hunting in the Black Hills. Although he is still a young man, he remembers the memorable blizzard of January 12, 1888, as he was in school at the time and his father sent a man to the schoolhouse to take him home.

He has inherited the courage and determination of his pioneer parents and under changed conditions is working with equal loyalty for the best interests of his community and state: He has won not only a high place in his profession but has also gained the esteem and goodwill of all who know him.
James Donnelly
There arc many progressive and successful farmers in Bon Homme county and among them is numbered James Donnelly, of Running Water precinct, who is one of the oldest residents of the county in point of years that he has lived in the state. He was born near Madison, in Dane county, Wisconsin, April 19, 1851, a son of Frank and Nancy (Keegan) Donnelly, both natives of County Monaghan, Ireland. They were married on the Emerald isle in 1850 and in the same year emigrated to America, settling in Dane county, Wisconsin, where the father, who was a blacksmith, worked at his trade. In 1861 they came to South Dakota with their family and the father took up a squatter's right in what was then known as Todd county, Dakota territory, but which was later added to Nebraska, it being situated in that part of Knox county, Nebraska, that lies between the Niobrara and the Missouri rivers. The region was not then surveyed and white settlers were few and scattered. In 1864 the government desired to assign that region to the Ponca Indians as a reservation and ordered the settlers to vacate. They had to move in 1866 but eventually Mr. Donnelly got pay for the buildings he had erected. He crossed the Missouri river, settling in Running Water precinct, Bon Homme county, Dakota. The stockade of the Ponca agency was erected on the land where Mr. Donnelly had settled as a squatter. Upon locating in Bon Homme county he took up both a preemption claim and a homestead claim and later filed on a timber claim, thus becoming the owner of a considerable body of valuable land. He resided upon his farm until 1901, when he and his wife removed to the cottage on the farm where his son James resides. The father passed away there October 1, 1902, at the age of seventy- six, and the mother died in April of the same year when seventy-seven years of age.

James Donnelly was a lad of ten years when he accompanied his parents on their journey from Wisconsin to South Dakota, which was made with ox team. They camped along the way and it was six weeks from the time they started until they reached the point on the Niobrara where settlement was first made. Our subject received valuable training in farm work and gained such scholastic knowledge as was afforded by the district schools of that time. At the age of eighteen years he began his independent career, herding cattle furnished by contractors for the Indians of the reservation. For six years he was thus employed, living in the open for ten months of the year, January and February being usually spent at home or at the agency. After his marriage, which occurred in 1873, he took up a homestead claim and resided on it until 1880, when he took up a timber claim, on which he has since lived. His residence was a log house until 1899, when he built a large modern dwelling. He owns four hundred acres of land on section 12, Running Water precinct, which is the home farm, and has eighty acres of pasture land on section 14, which is a part of his original homestead. He follows general farming and stock raising and as his methods are practical and his industry untiring his labors secure him a good annual income.

Mr. Donnelly was married in Yankton on the 23d of June, 1873, to Miss Kate Mulleague, a native of Ireland and a daughter of Barney Mulleague. Their family numbers- nine children. Francis A., residing on a farm two miles east of his father, married Josephine Dolin, by whom he has one child. James is the owner of a claim near Draper, in Lyman county. Winnie married Lawrence Malone, who is farming near Running Water, and they have two children. Annie, a graduate of the Fremont (Neb.) Normal School, is the wife of L. C. Dace, a resident of Fremont. May attended the State University of South Dakota at Vermillion and is now at home. Margaret was a student at the Fremont Normal School and later entered the State University of Nebraska at Lincoln, from which institution she was graduated and is now a stenographer in that city. Kate, a graduate of the Springfield Normal School, is employed as a clerk in the postoffice of that city. Zoie, who attended the Normal School at Fremont, Nebraska, taught school at Niobrara in 1913 and 1914, and her home school in 1915. Laura, who completes the family, is now attending the State University at Lincoln, Nebraska.

Mr. Donnelly is a democrat and his religious faith is indicated in his membership in the Catholic church. He enjoys looking back to the early days of his residence in the state and among his reminiscences is the account of a three days' storm in April, 1873. At that time he was at Green Island, Nebraska, herding horses. There were a number of disastrous floods, the worst, however, being in the spring of 1866. During the time of the Indian uprising many of the white settlers fled the country but Mr. Donnelly and his family found refuge at the Ponca agency. He remembers seeing Custer's men arrive by boat and secure lodgment in the homes of Yankton and has many other recollections that link the present with that past which seems so far away when the difference in the conditions of life is considered. As a pioneer settler of the state be is entitled to and receives honor and respect, and his personal qualities are such as to win and retain the friendship of those who are closely associated with him.
Cyrus Puckett
Cyrus C. Puckett is one of the representative men of Tyndall, South Dakota, where he is engaged in the practice of law and is also editor of an up-to-date and reliable weekly newspaper. His great-grandfather, Daniel Puckett, was a Quaker, who, hating slavery, removed from South Carolina to southeastern Indiana about 1800. His son. the grandfather of our subject, was Cyrus Puckett, who married Bettie Thomas, and they became the parents of Cyrus J. Puckett, who was born in Fountain county, Indiana, December 26, 1840. In 1848 the last named was taken by his parents from Indiana to Jo Daviess county, Illinois, the trip being made by team, as there were then no railroads in that part of the country. Although he was but eight years old at the time, he remembers a deer which was running about the yard of the hotel in Chicago at which they stopped, and he also remembers that a guest of the hotel placed him upon the deer's back and that the deer allowed him to ride there. An uncle of C. J. Puckett, Levi Coffin by name, kept one of the stations of the underground railway in Indiana, thus helping many escaping slaves to reach Canada and freedom. It was he who gave shelter to the original of the character of Eliza in Mrs. Stowe's "Uncle Tom's Cabin." The young woman in question actually made her escape across the Ohio river much as described in the famous novel and Mr. Coffin assisted her on her way north.

Cyrus J. Puckett married Elizabeth Deetz, a daughter of William and Mary (Kleese) Deetz and a native of Sullivan county, Pennsylvania. The Deetz family was early established in this country and all of its men proved their patriotism by active participation in the war of the Revolution. C. J. Puckett removed from Jo Daviess county, Illinois, to Hutchinson county, South Dakota, in 1884, buying three hundred and twenty acres of land situated two miles north of Scotland. He at once became recognized as a leader in progressive farming in the state and was the first to demonstrate that corn could be profitably grown here. He also set out the first orchard in the region and sowed the first meadow of timothy and clover. He was likewise interested in educational advancement and was one of the founders of Scotland Academy, serving also as trustee of the institution. In 1901 he took up his abode in Vermillion and there still makes his home. C .J. Puckett was twice married and by his first wife had three sons, namely: Frank, a banker of Hosmer, South Dakota; Walter, an agriculturist of Roundup, Montana; and Willard, who follows farming at Stillwater, North Dakota. To Mr. Puckett and his second wife were born two sons: Cyrus C. of this review; and Owen, a civil engineer of Edmonton, Alberta, Canada.

Cyrus C. Puckett was born in Jo Daviess county, Illinois, January 25, 1882, and was but two years of age when brought by his parents to Hutchinson county, this state. He received his elementary education in the common schools of the neighborhood and was later for two years a student in Scotland Academy and for one year in Warren Academy, Jo Daviess county, Illinois. His collegiate and professional work was done at the State University of South Dakota, located at Vermillion, where he studied for four years, being graduated with the Bachelor of Arts degree in 1905. While still a student in the university he spent the summers from 1903 to 1905 on a claim in Edmunds county, South Dakota, thus securing valuable experience and making enough money to partially pay his college expenses. After 1905 he entered the postal service at Vermillion and was identified therewith until 1909. He took up the study of law after 1907 and received the LL. B. degree upon the completion of his course in 1910. Upon his admission to the bar in that year he opened an olfice in Tyndall, where he has since been building up a growing law practice. In 1911 he formed a partnership with Dr. Klima and W. W. French in purchasing the Tyndall Tribune, which paper they have since published together. Mr. Puckett has charge of the editorial work, Dr. Klima the operating department and Mr. French the business management of the paper. It is a well edited and well conducted country weekly, giving to its subscribers not only a full account of local happenings but also keeping them informed as to the great events occurring in the world at large. Its editorials are potent forces in promoting many worthy enterprises and always seek the advancement of Bon Homme county and the state of South Dakota. As it has a wide circulation and is recognized as one of the best advertising mediums of the county, it is accorded a liberal patronage by local merchants.

Mr. Puckett is a republican in politics and his religious allegiance is given to the Congregational church. Fraternally he belongs to the Masonic order, being a member and master of Tyndall Lodge, A. F. & A. M, and likewise a member of the chapter at Vermillion. He also belongs to the well known college fraternity. Beta Theta Pi. He recalls the fearful blizzard which occurred January 12, 1888. He and his mother and two brothers were at home and were not exposed to danger, but a girl living with the family, who was at school, was obliged to remain there throughout the night, as it would have been tempting death to endeavor to return home. The stock was left unfed that night, as it was altogether unsafe to go out into the storm even to the barn. Mr. Puckett has proved himself worthy of his pioneer ancestors, and as a lawyer and editor is doing much to further the welfare of his county and state.
Mrs. Bridget Cogan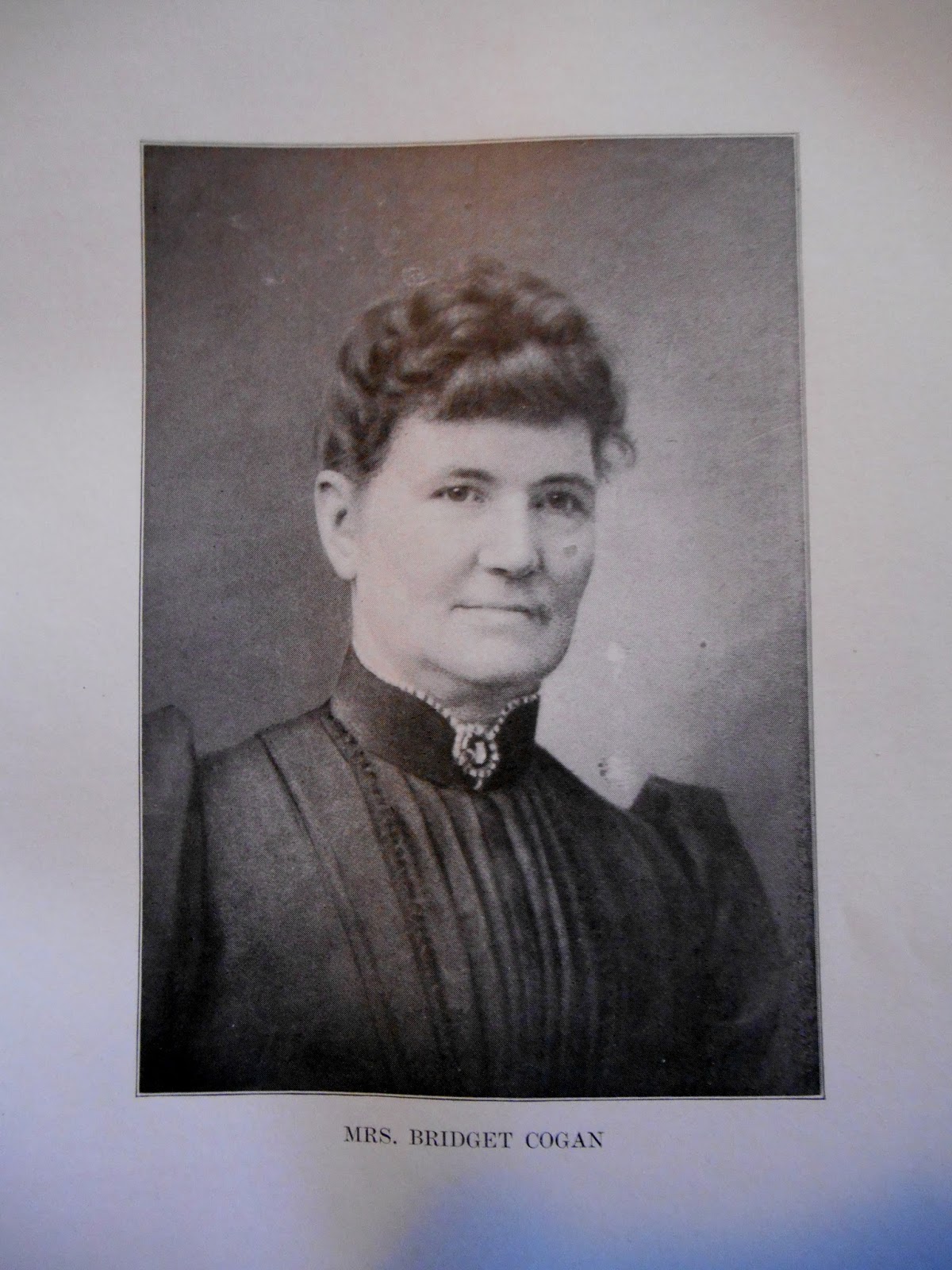 It is not the men of the country alone that make its greatness and that perform the arduous labor of developing a wild land into a region of civilization and prosperity. Although women play a very important part in the work of the world, it is but seldom that we stop and consider the greatness of their contribution to civilization. Mrs. Bridget Cogan, of Tyndall, deserves equal honor with the hardy men who braved the wilderness, as she came to the territory when it was yet young and established a hotel known from Iowa to the Black Hills and even to the Rockies for its good cheer and comfort. She has known intimately nearly all of the territorial officials, the judges and military officers of the early days of South Dakota and also the chiefs and head men of the Indians. She likewise was well acquainted with many of the noted border characters of pioneer times, some of them men who were the terror of Nebraska and the Dakotas.

Mrs. Cogan is a native of Ireland, born near Castlereagh, County Roscommon, December 19, 1840. Her father, Bernard Cole, was an extensive farmer, employing four men to cultivate his one thousand acre leasehold and two maids to care for his dairy. Even after being stripped of much of his holdings through losses incurred by going security for a friend, he still had a large number of acres leased when he disposed of his property preparatory to coming to America. He was not permitted, however, to carry out his plan of emigrating, as his demise occurred before the time to start. His widow, however, came to the new world with her children, Mrs. Cogan, being at that time but three or four years old. They embarked at Liverpool on a sailing vessel and after a stormy voyage of thirteen weeks and three days reached New York. At one time the ship was in such danger that the passengers were confined in the hold with the hatches battened down for a period of one week, from Sunday to Sunday without food or drink and so weakened were they that but few were able to stand when the storm abated and they were allowed to come on deck. The ship itself was in a bad condition, as two masts had been broken and washed overboard, and several leaks made conditions worse. The length of the voyage had exhausted the food supply and provisions ran so low that they were obliged to ask assistance of another merchantman and a man of war, but the food given them by the latter was so badly spoiled and infected with vermin that only starving people could have eaten it.

The mother, with her four sons and one daughter, settled on a farm a few miles from Newark, New Jersey, which is now, however, a part of the city itself. The children grew to maturity upon this farm and there the daughter, Bridget, married Michael Cogan, and there her only child, Andrew James Cogan, was born. Her husband was a native of Saratoga, New York, where his ancestors had lived since early colonial days. He died when his son Andrew was but a few months old. In 1857 Mrs. Cogan came to Portage, Wisconsin, where she resided for a year, after which she removed to Pike county, Missouri, making her home in that county for about ten years. She lived there during the trying period of the Civil war and was open in her advocacy of the Union cause, although it was far from a safe thing at that time to avow allegiance to the Union in Missouri, which was strongly in favor of slavery. Four of her brothers served in the Union army, one in Colorado, two in Alabama, where their regiment participated in many hard-fought battles, and one in the militia near his home.

After the war her brother Barney came west and in 1868 was plying his trade of blacksmith at the old town of Bon Homme, then a station on the stage route leading to the forts along the Missouri river. He sent for Mrs. Cogan to make a home for him and she reached Yankton, June 29, 1869. It so happened that her brother was then employed in Yankton on the new St. Charles Hotel. He did not believe that his sister had arrived when told that she was at the Merchants Hotel as she had not advised him that she was coming. On investigating, however, be found her there and they immediately made their way to Bon Homme, where they rented an old house constructed of cedar logs. Mrs. Cogan had her furniture sent from Sioux City by boat and soon had a comfortable home for her brother. She then had a large house built for hotel purposes. After a short time, however, a prairie fire destroyed the house with everything in It, Mr. Cole and Mrs. Cogan barely escaping with their lives. They remained in the house until the roof fell in and when they were then driven into the open they encountered almost equal peril from the burning grass and weeds, which set fire to their clothing up to their knees and blistered their feet. From the time that she first settled in Bon Homme, Mrs. Cogan was almost compelled to keep travelers over night, as there was then no hotel in the locality. She had been permitted to occupy the courthouse while her house was being constructed and after the destruction of her home by fire and the adjournment of the United States district court, she was allowed to use the courtroom as a hostelry until lumber could be shipped from Sioux City to erect a new building for that purpose.

Later she again occupied the courthouse so as to permit her house to be used as a store by Henry Davis and George Meade, who started the first store in Bon Homme. For many years the hotel which she ran was famous for hundreds of miles and was the stopping place of all men of consequence in the territory and later in the state, as well as the more humble traveler. Ministers of all denominations found a ready welcome and no charge was ever made for their accommodations. Some idea of the difficulties which Mrs. Cogan had to surmount in the conduct of her business may be gained when it is learned that it was at first necessary for her to carry water in buckets from the river, which was some little distance from the hotel. As this was a very slow and tiresome task, a team and wagon was later purchased and used to haul water and wood. After some time a well was dug adjacent to the hotel but a sufficient supply of water was not reached until the well had been sunk to the depth of eighty feet. At times, during sessions of the United States court, there were as many as sixty people sleeping in their own blankets on her dining room floor and often two hundred and fifty meals were served three times a day. As there were no bakeries, Mrs. Cogan was forced to bake all of the bread and pastry used in her own kitchen, in addition to preparing the other food consumed. As most of her guests were men of the frontier whose arduous work made it necessary that they have substantial food and a great deal of it, it is easy to see that the task of keeping a hotel was far from being an easy one. Mrs. Cogan, however, not only supplied an abundance of food of excellent quality, but also found time to speak a friendly word to each of her guests, whether he be a man of influence in the territory or a stranger without means. She was a stanch friend of the Indians and they sometimes encamped on her field a thousand strong, while a party of them often held one of their ceremonial dances at her door, which honor she usually repaid by giving them a sack of flour. Her Indian name was Tanka Waaeche Utah Tepe, which is translated as "the big white woman who keeps the eating house." To show his appreciation of favors shown him the famous chief, Sitting Bull, sent her a present of an immense hornspoon and a pair of moccasins trimmed with porcupine quills. The gallant General Custer was a daily guest at her hotel in the spring of 1876, when he was detained at Bon Homme by high water on the way to his last battle on the Little Big Horn river in Wyoming. Upon the removal of the county seat to Tyndall Mrs. Cogan closed her hotel and took up her residence in the new town, where she has since lived retired. Her son, Andrew James Cogan, established his newspaper plant at Scotland.

Mrs. Cogan has been a lifelong member of the Catholic church and contributes freely to its varied work. Her exemplary Christian character and her hearty cheerfulness, even when bearing burdens which few of the present generation are called upon to sustain, may well serve as an inspiration to all who learn of her life. She was reared in an old settled country and was accustomed to the comforts and refinements of civilization and her influence in the territory and state of South Dakota was one of the potent forces in softening and rendering more gracious the crude and sometimes rough life of the frontier. She had a sympathetic understanding of the conditions of the western country and realized that underneath the rude exterior there was a sincere and fine manhood, and this understanding enabled her to wield her great influence for good. Her personal interest in each of her guests and the excellent accommodations afforded by her hotel were rewarded by the warm place which she held in the hearts of many throughout the northwestern region. There is no one in South Dakota who has had a more eventful or more interesting life and her name deserves an honored place among those pioneers who, by their toil, laid the foundation upon which the present prosperous state of South Dakota has been builded.
John Muller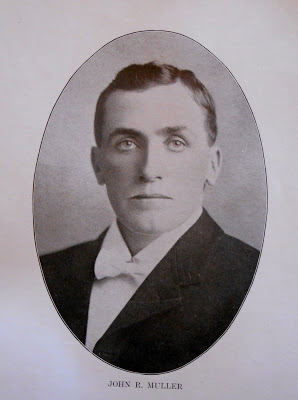 John R. Muller, a well known farmer of Bon Homme county, was born in Cassville, Wisconsin, January 6, 1869, and is a son of William and Mary (Grattan) Muller. His father was born in Alsace, France, now a part of Germany, May 27, 1837 and was only fourteen years of age when he came to this country in 1851 with his father William Muller, Sr. The journey was made in a sailing vessel which was three months in crossing the Atlantic, and after landing in New Orleans they proceeded up the Mississippi river to St. Louis where the father worked for a year or so. During this time they were joined by the remainder of the family. Later they removed to Davenport, Iowa where William Muller, Jr. was employed as a clerk in a general merchandise store. For some years he continued to work in the north during the summer months returning to St. Louis each winter. Subsequently he located at Cassville, Wisconsin where he secured a situation in a store and was thus employed for some time but later turned his attention to farming.

In 1873, he came to Dakota territory, and deciding to make Bon Homme county his home he preempted a homestead and also a timber claim, the latter on section 24, township 93, range 62, Hancock precinct. The preemption claim was located five miles west of Perkins, and the family residence was the first house built between Choteau creek and Springfield on the main stage line and mail route from Sioux City and Yankton to the Black Hills by way of Fort Randall and Fort Pierre. It was therefore natural that travelers should stay over night at the Muller home, and they entertained many who were journeying from the eastern part of the state to the west or were returning to the east. Their first residence was a log house with a dirt roof, but in 1876 a better house was built on the timber claim, the lower story being of sod and the upper story of timber. Still later a good frame house was erected which remained the family residence until the parents retired in March, 1903, and removed to Tyndall, South Dakota. There Mrs. Muller died in 1908. She was a native of Ireland and accompanied her parents on their emigration to the United States. Mr. and Mrs. Grattan first located in St Louis, Missouri but afterward removed to Grant county, Wisconsin. Since the death of his wife, Mr. Muller has made his home with a son who resides in Sioux Falls, South Dakota. They were the parents of eight children, six of whom are still living: William G., who is residing on Choteau creek; Henry A., who was educated at the State Agricultural College at Brookings and the State University at Vermillion and is now an attorney of Sioux Falls and state referee on banking; Mary, the wife of W.G. Trefiry of Trefiry, Idaho; John R., of this review; Katherine, now a teacher in the Minneapolis schools who attended college at Madison, South Dakota and at Yankton and was also graduated from the Springfield Normal School; and Gerald, who was a student at the South Dakota Wesleyan University at Mitchell and at the State Normal School of Springfield and was for several years superintendent of the Bon Homme county schools but is now principal of the schools at Emery, South Dakota.

During the first years of his residence in Dakota territory, the father endured many hardships and had many unpleasant experiences, but the 12th of January, 1888 is always especially vivid in his memory as he then narrowly escaped death by freezing. He with two other men were west of the river where they had gone to get hay, and although they started home as soon as the storm broke, by the time they reached the river the wind was so high that it swept the loaded wagons along the smooth ice of the river down stream and it was impossible to make any headway across the river. The teams were at length unhitched and all started for home, but Mr. Muller, who was ahead on foot, became separated from the others and when he learned that they had gone on without him he sought the best shelter obtainable and succeeded in finding a somewhat protected spot in the gulch where he trumped back and forth among the scrub oaks for twelve hours or throughout the night. By morning the storm had abated and he found a trail leading to his home. The determination and physical vitality that enabled him to survive such a night have been strong factors in his success, and the material prosperity that he has gained is well merited. He is freely accorded the esteem of his fellow citizens who honor him as a man of ability and integrity.

John R. Muller was about six years of age when he accompanied his parents on their removal to Dakota territory. He was reared chiefly in Bon Homme county where he attended the public schools and remained with his father upon the home farm until his marriage, being of great assistance in the operation of the homestead. He now owns the northwest quarter of section 24, township 93, range 61, Hancock precinct, and as his land adjoins the town of Perkins, it is especially valuable. It is not only favorably located but is also naturally productive, and its fertility has been conserved by wise methods of cultivation. Mr. Muller is progressive and alert and uses the latest improved machinery in his farm work which insures greater efficiency. His crops are excellent and as he studies the markets carefully he is able to sell to advantage. His residence is large and supplied with all conveniences, and the barn is commodious and is well arranged. There are two immense silos on the place, while a fine grove and orchards further enhance the value of the property.

Mr. Muller was married on Christmas Day of 1902 to Miss Julia M. Snow, who was born in Beloit, Wisconsin. Her parents, Charles and Mary (Henry) Snow, came to Dakota territory early in March, 1887, and settled in Bon Homme county. Both passed away in 1908 at Perkins. To Mr. and Mrs. Muller have been born three children: Mary, who died at the age of six months, Alice and Clara. Mr. Muller is a democrat in his political belief, and belongs to Mount Zion Lodge AF & AM at Springfield.
Dr. James Barber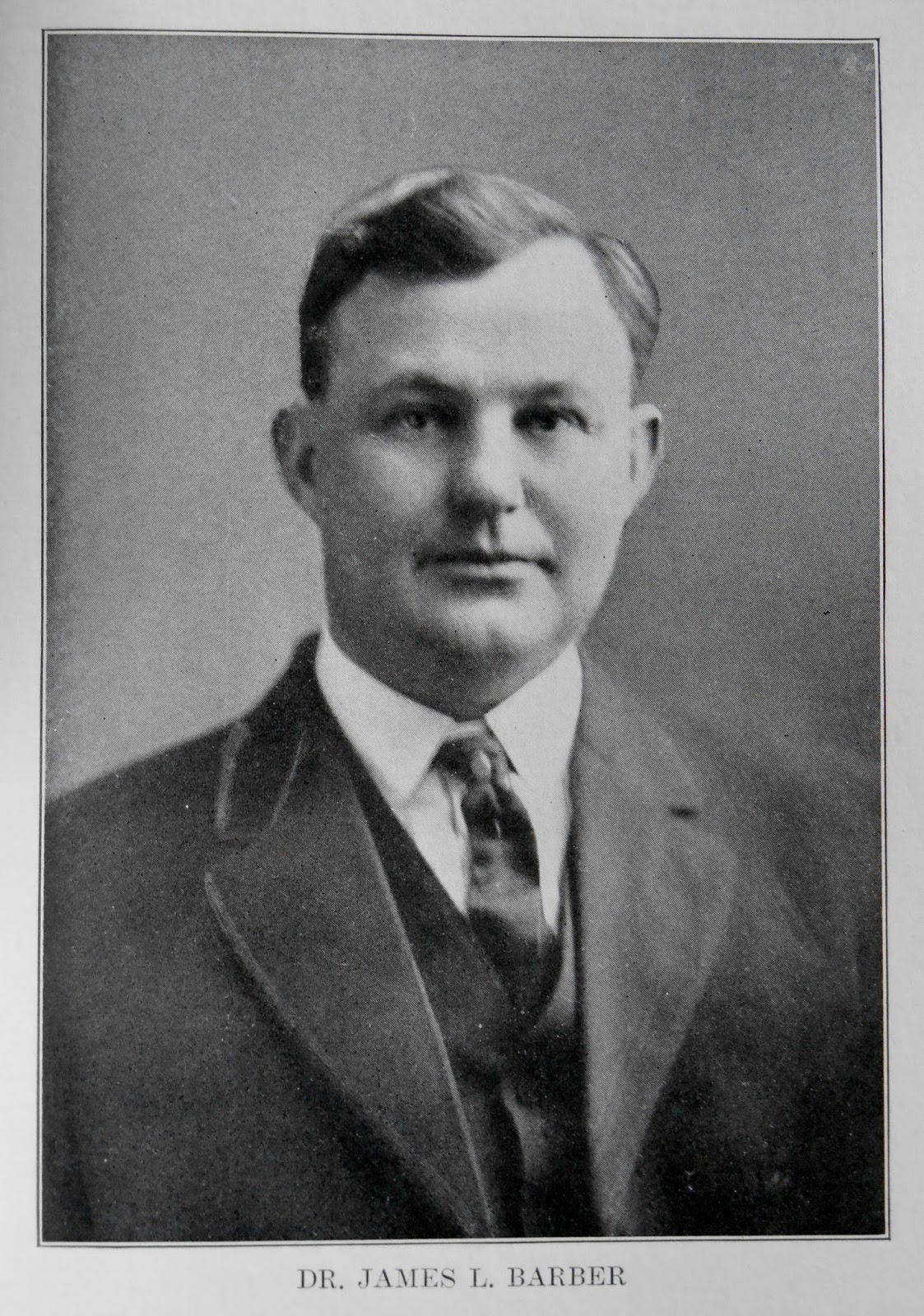 Dr. James Luther Barber, a prominent veterinary surgeon of South Dakota residing at Tyndall, has passed practically his whole life in Bon Homme county, although he is a native of Stephenson county, Illinois, born May 16, 1870.

His parents, David Watson and Anna E. (Crocker) Barber, are mentioned at greater length elsewhere in this work. In 1872, when our subject was but two years of age, the family removed to Old Bon Homme where James L. Barber lived until he was ten or twelve years of age. His father owned a store there and also a farm southeast of Tyndall. In 1833, the family removed to Tyndall and from that date until 1891, James L. Barber was employed in his father's store at that place. He then formed a partnership with his brother, Lewis, and together they engaged in farming and stock raising. In 1905, the family went to De Funiak Springs, Florida and Dr. Barber lived in the peninsular state for about fifteen months, but in 1906 entered McKillip's Veterinary College of Chicago from which he was graduated in April 1909 with a class of one hundred.

Returning to Tyndall, our subject entered into partnership with his brother, Dr. Lewis F. Barber who is mentioned elsewhere in this work, and with whom he had practiced during his vacations. They have one of the best equipped veterinary hospitals in the southern part of the state, and have gained an enviable reputation in their profession. On the 1st of July, 1913, Governor Byrne appointed Dr. James L. Barber state veterinary and superintendent of the live stock sanitary board. He only held the office a little over a year resigning on the 1st of September, 1914, as his duties kept him away from home about half of the time and as his private practice demanded his entire attention. During his incumbency in the office his work was entirely satisfactory to the state authorities and a credit to himself. He now has extensive farm property and other interests.

Dr. Barber was married in Broadhead, Wisconsin on the 29th of August, 1906 to Miss Mary E. Stair, a native of that state and a daughter of Henry and Mary (Chambers) Stair, who were natives of Virginia and Wisconsin respectively. To Dr. and Mrs. Barber have been born three children: Elsie E., Robert J., and Faith Eleanor.

Dr. Barber is a republican and has served for three terms as alderman in Tyndall. Fraternally he is a member of the Modern Brotherhood of America, and in his daily life exemplifies that spirit of fraternity which is the foundation of the order. He has never forgotten the unselfish devotion of his teacher in the Tyndall schools. At that time nothing higher than the ninth grade was included in the regular course, but the teacher gave freely of his time after school hours and gave the graduating class work in algebra, physical geography, and other sciences in order to give them a broader and more thorough training. The class shared their master's enthusiasm and made good use of the opportunities offered them and never ceased to feel grateful to him for his unusual interest in their welfare. Dr. Barber remembers vividly the great blizzard on the 12th of January, 1888 as he with otherpupils remained in the schooihouse all night without food save what was left from their noon day lunch. He has seen a great deal of the transformation that has changed South Dakota from a trackless treeless prairie to a region of cultivated farms and thriving towns, and has definitely cast in his lot with that of the state having great faith in its future.
John Williamson
John Williamson, a retired gold mill manager living in Tyndall, has had a great deal of experience in different parts of the world, his business interests taking him to three continents. He was born in Medford, New Jersey, July 23, 1845, a son of Benjamin and Susanna (Hoover) Williamson, natives of England and New Jersey respectively. When he was about seven years of age the family removed to Pike county, Missouri, where they resided until 1870. The father, being a spinner and weaver by trade, ran a custom woolen mill there. In 1870 they came to South Dakota, where John Williamson had preceded the other members of the family arriving in December, 1869. He came by rail to Sioux City, which was the end of the railroad and from that point traveled by stage to old Bon Homme changing horses about every ten miles. He located a claim about three and a half miles from Bon Homme and held it until 1913. In 1876 he went to the Black Hills, where he worked for about thirteen years. He did little prospecting but during his first year "grubstaked" a friend who prospected for the two but did not succeed in uncovering any profitable lead. Mr. Williamson secured a place in the mills for a time and in 1884 entered the employ of the Homestake Company, working in their mills, where his efficiency and faithfulness won him rapid promotion. He eventually became manager of milling and proved himself not only thoroughly acquainted with all processes employed but also a man of executive ability and a good judge of men. He was subsequently employed by Hyderabad Decan Company, a British mining company, as manager and for nine years was in charge of their mills at Hyderabad in the Decan district of British India. He went to his new place of duty by way of London in order to receive instructions and returned the same way that he might report and make final settlement with the company. He returned to Bon Homme county, South Dakota, but was not allowed to remain long in retirement, as the Ashantee Gold Mining Company, another British organization secured his services as manager on the 5th of October, 1900, for a period of eighteen months. He took charge of their mills at Obossa, some one hundred and twenty miles inland from the west coast of Africa. On his journey into the interior he was carried in a hammock by six natives. He adapted himself to the conditions of work and the class of labor employed and proved an able manager, but the enervating climate of the tropics sapped his strength and a severe attack of jungle fever so weakened him that he refused to remain after the termination of his contract. He then came to South Dakota and purchased three hundred and twenty acres near Tyndall, where he settled down and is now passing his days in retirement, enjoying the ease won by former toil.

Mr. Williamson is a republican in his political allegiance and staunchly supports the policies of that party. He has attained the thirty-second degree in the Masonic order and is a member of the Shrine. He won many friends in that organization, as he has many attractive social qualities. Although he has had extensive experience in widely separated parts of the globe, he believes that South Dakota offers opportunities the equal of those by any other part of the world and he does all in his power to promote the development of the state.
Friedrich Baumann
Friedrich Baumann is now serving for the second term as register of deeds of Hutchinson county and in that connection has made a most commendable and satisfactory record. He was born in South Russia, of German parentage, on the 4th day of June, 1861, a son of John Philip and Margaretha Baumann. In 1875 the family emigrated to the United States locating at Yankton South Dakota on the 23d of June of that year, while subsequently the father took up a homestead claim in Bon Homme county. There he was actively and successfully identified with general agricultural pursuits until called to his final rest in 1892.

Friedrich Baumann, who was a youth of fourteen when he accompanied his parents on their emigration to the new world, attended the German schools and after putting aside his textbooks assisted his father in the operation of the home farm until he had attained the age of twenty-three years. In 1885 he went to Scotland, Bon Homme county, there remaining until 1892 when he removed to Menno, Hutchinson county, where for four years he was engaged in the implement business. Subsequently he spent four years on a farm and then returned to Menno, where he began work as a painter and has since made his home. He is a stockholder in the Farmers' Land, Loan, & Grain Company and the Tripp Fair Association and has long been numbered among the substantial and representative citizens of his community. In 1912 he was elected register of deeds of Hutchinson county and made such an excellent record that he was again chosen for the office in 1914, being therefore the present incumbent.

On the 20th of February, 1880, Mr. Baumann was joined in wedlock to Miss Margaretha Horst, a daughter of John Horst. Their children are as follows: Friedrich G.; Ruben; Martha K.; Edelina M.; and Sarah and Lydia, twins.

Mr. Baumann gives his political allegiance to the republican party while his religious faith is that of the Free Reformed church. The period of his residence in this state covers about four decades and he has been not only an interested witness of its development but also an active participant in the work of progress and improvement.
Henry Stoller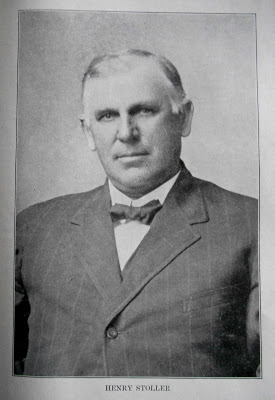 One of Scotland's most substantial citizens is Henry Stoller, president of the Bon Homme County Bank of Scotland. He comes of German ancestry and has manifested the reliability and thoroughness characteristic of his race. The Stoller family, previous to emigrating to America, had lived for several generations in the Russian dominions as the great grandfather of Mr. Stoller removed from Strasburg, Alsace to Russia over a century ago.

The Russian Czarina Catherine had offered special privileges to thrifty German farmers who would settle in the waste places of that vast country promising them immunity from military service and granting them the privilege of retaining their own language and the Lutheran faith. In the early 70's the century old promises were broken and thousands of long stablished families emigrated to the new world rather than remain in Russia. Dominic Stoller was one of the first to realize the trend of affairs and acted promptly selling his land which comprised some two hundred and forty acres by our measurement, and rcceiving therefore a much better price than those who sold later. Some who were tardy in disposing of their property received but a few dollars per acre. The Stoller family sailed in October, 1873 from Hamburg for New York on the Selesia, and after a stormy voyage of twenty-one days, landed on the shores of the new world. The first winter was spent in Sandusky, Ohio at the home of a friend who had preceded the family to the United States by several years. Leaving his wife and children in Sandusky, the father traversed the states of Michigan, Wisconsin, Minnesota, Nevada, Kansas, lowa, Missouri, Arkansas, and the Dakotas before deciding upon a permanent location. The opportunities offered in South Dakota, however, proved the strongest inducements, and in April, 1873 he settled four miles northeast of the present town of Lesterville, Yankton county on three hundred and twenty acres which he secured under preemption and homestead rights. He continued to reside upon his farm until his death, which occurred in 1876 as a result of injuries received in a runaway. Aside from the subjcct of this review there are two sons and two daughters of Dominic Stoller residing in this state. The mother, who was in her maidenhood Margaret Kost, was also of German descent. She passed to her reward November 1, 1900, at the age of seventy-three years.

Henry Stoller was born May 8, 1858, in the rural village of Rohrbach, near Odessa, Russia. He accompanied his parents to the new world and to the home in Yankton county, remaining with them until December 9, 1879 when he was married. He then filed on a homestead in Odessa township, Yankton county and resided there until moving to Scotland in March, 1913. Hewas a successful agriculturist as he used progressive methods and was energetic and industrious. In 1909, he purchased his first interest in the Bon Homme County Bank, and four years later he was elected president of the institution which is one of the strongest and most conservative banks in this section of South Dakota. As executive head of the institution he has manifested sound business judgment and wide knowledge of financial conditions. He has followed the difficult course of sane progressiveness avoiding alike hasty and ill considered advance. He has great faith in Dakota farm land and has invested much capital therein, being now the owner of eight hundred acres in Bon Homme and Yankton counties.

Mr. Stoller married Miss Christina Muehlbier, also a native of Russia and a daughter of David and Barbara (Kost) Muehlbier who were German residents of that country. Upon the refusal of the Russian government to longer grant the promised privileges and immunities, they too emigrated to the new world and reached the Dakotas in August, 1873. Fourteen children were born to Mr. and Mrs. Stoller, of whom eight survive as follows: Sophia, the wife of Gustav Mutschelknaus a resident of Scotland; Kate, now Mrs. August Mettler residing on a farm near Freeman; Helena, who married George Schamber of Odessa township; David J. of Odessa township; Beatha, the wife of A.A. Bertsh of Freeman; Eva, who married Leonard Ulmer of Menno; George F., who is living on the old farm; and Henrietta, now Mrs. Emanuel Bertsh living near Freeman. The mother of these children having passed away, Mr. Stoller was married the second time December 14, 1902, Mrs. Katherine Reich Herr becoming his wife. They are the parents of four children: William Henry, Emil Gustav, Albert Edwin, and Benjamin.

Mr. Stoller is a member of the Lutheran church under the jurisdiction of the Iowa synod, and exemplifies in his life the high moral teachings of the faith of his fathers. He has found in this country freedom and excellent business opportunities, and has made the best use of all the advantages afforded him. As agriculturist and banker he has won success and has also contributed largely to the prosperity of this county where he is recognized as a man of proven integrity and commendable public spirit. The republican party finds in him a stanch supporter of its principles, and his fellow citizens recognizing his worth and ability have called him to public ofiice. He served as county commissioner from 1907 to 1911, and was for two terms a representative in the lower house of the state legislature from Yankton county serving in 1901 and 1903.
W. "Jim" Bouska
W. W. Bouska is a clothier of Yankton, who to his many friends is known as "Jim", which indicates at once his close and friendly relation with those with whom he comes in contact. His business is located at No. 113 East Third street, and carefully directed enterprise and energy are bringing to him substantial success.

Mr. Bouska was born six miles west of Tabor in Bon Homme county, South Dakota, February 18, 1882, a son of James and Katherine (Pechous) Bouska both of whom were natives of Prague, Bohemia. The opportunities of the new world proved a strong attraction to them, and in 1868 they crossed the Atlantic and made their way to South Dakota, settling in Bon Homme county when it was a distinct wilderness. The family shared in all of the hardships and privations endured by the pioneers. Mr. Bouska took up a claim which he attempted to cultivate in the years when drought and grasshoppers rendered his labors futile. It required great courage to face such conditions and continue the work, but ultimately this season of hard times passed and after many years Mr. Bouska had transformed his property into a richly cultivated and highly improved farm. As his financial resources increased he kept adding to his holdings until he had finally accumulated eighteen hundred acres of land, making him one of the substantial residents of the state. Then with a handsome competence to supply all of his needs and indeed, with sufficient to furnish him the comforts and many of the luxuries of life, he retired and now lives in Tabor where he and his wife occupy a pleasant and attractive home. They were the parents of nine children, and it is a notable fact that the family circle yet remains unbroken by the hand of death. In order of birth these are: Mary, the wife of James Stule of Yankton; Lizzie, the wife of Vit Kocer of Tabor, South Dakota; Mrs. Josie Hinek of Tyndall, South Dakota; Daisy, the wife of Mike Vellek of Scotland, South Dakota; Toney, the wife of Will Brooks of Tyndall; Anna, the wife of Frank Monfore living in Springfield, South Dakota; Elsie, the wife of Chris Lang also of Tyndall; Clara, the wife of Anton Oliva of Tyndall; and "Jim" or W. W. of this review.

The last named was born and reared upon the home farm, and in the acquirement of his education attended the local schools and also St. Agnes school in Omaha, Nebraska while afterward he became a student in St. John's University at Collegeville, Minnesota being graduated from that institution at the age of eighteen years. He then came to Yankton and entered the employ of Harry Katz with whom he remained for two years. Later he was employed by various merchants in different lines until 1911 and during that period carefully saved his earnings until he had acquired a capital sufficient to enable him to engage in business on his own account. He then opened a clothing store at 113 East Third street of which he is still the proprietor. He carries a large and carefully selected line of and men's furnishings. In fact, it is one of the most complete stores in the city and keeps in touch with the most up to date styles and all the latest things which the markets afford. In addition to his other interests, he is a stockholder in the Yankton Brick Company.

In 1902 Mr. Bouska was married to Miss Emma Conrad, a native of Baltimore, Maryland, and they have two daughters, Evelyn and Lorraine. The religious faith of the family is that of the Roman Catholic church, and Mr. Bouska also holds membership in the Elks lodge No. 994 and with the Fraternal Order of Eagles. He may justly be called one of the self made men of Yankton as he started out empty-handed, and to the substantial qualities of industry and determination owes his success. Gradually by reason of his sterling traits and his faithfulness he worked his way upward and is today one of the successful and progressive young merchants of the city.
Peter Byrne
One of the most successful self-made men of South Dakota is Peter Byrne, an extensive landowner and influential banker of Bon Homme county. He was born in southern Ireland, July 7, 1846, of the marriage of Edward and Margaret (Landy) Byrne, who were also natives of that section, where the family lived for many generations. In 1851 Edward and Margaret Byrne emigrated with their family, which numbered five children, to America, making the voyage on a sailing vessel which made quite good time for those days. They embarked at Dublin and landed at New York and then went by rail to Chicago, which was then the western railroad terminus. From that city they traveled by wagon to Dubuque, Iowa, and as the roads were very muddy the journey was a tedious and unpleasant one. On the 1st of July, 1851 they reached Dubuque and the father bought eighty acres of land five miles west of that city.

On that farm Peter Byrne was reared to manhood and there learned the blacksmith's trade, which he was at length compelled to abandon, as he strained the wrist of his right hand - his hammer hand. In the spring of 1869, he came to South Dakota, reaching Yankton on the 7th of April. Sioux City was at that time the end of the railroad and from that point Mr. Byrne walked to the home of a friend near Vermillion, whence he went to Yankton by stage. He worked there for a year and then removed to Bon Homme county, filing on a preemption claim, which he proved up in due time. He also secured a tract as a timber claim east of Tyndall, but never made use of his homestead right, as by the time he was ready to do so he already owned more land than was allowed a claimant under that law. When he arrived in Bon Homme county he had a little capital, but the expenses of the first year or so of his residence in this new country, when his claim was not yet productive, used up his savings and he again started with no capital. During the early days he turned his hand to any honest work that he could find to do and one of his experiences was that of rafting cottonwood lumber across the Missouri river at Yankton for George W. Kingsbury, who was then building a new office for the Press and Dakotan. The good nature that the editor manifested when the raft was stranded won the admiration and friendship of Mr. Byrne, and the two men have remained fast friends since. Mr. Byrne began immediately to improve his land and as opportunity offered increased his acreage, but he did not confine his energies to agricultural operations, as he saw a profit in lumber and established a sawmill on the river bank at Old Bon Homme, rafting logs from the island and along the river bank for a considerable distance when the nearby supply was exhausted. He early turned his attention to stock raising and feeding and for years his annual shipments of cattle and hogs were much larger than those of the average stock raiser. He also set up a forge on his own farm and did his own repairing and sometimes work for neighbors. As the years passed Mr. Byrne purchased more and more land and is now the owner of nearly three thousand acres in this state and two thousand in Montana. He retired to Old Bon Homme some time ago and leased most of his land to long time tenants, retaining only enough on the home farm to provide him sufficient work to keep him in good condition.

Mr. Byrne is interested in a number of local enterprises and is vice president of the Security Bank at Tyndall, of which he is an extensive stockholder. He is one of the substantial men of his county and has considerable influence in financial circles there, due not only to his wealth but also to his business acumen and practical wisdom.

Mr. Byrne was married in 1874 at Old Bon Homme to Miss Annie E. Lindley, a native of England, who with her parents emigrated to Wisconsin in 1870. The following year she accompanied her mother to Bon Homme, which has remained her home since. To Mr. and Mrs. Byrne have been born three children. Frank now owns and operates a farm a few miles west of Old Bon Homme. Alberta, after graduating from the high school at Yankton, attended the State Normal School at Springfield for two years and the State Normal at Aberdeen for the same length of time and will in the near future graduate from Yankton College. Alice is the youngest of the family.

Mr. Byrne is a democrat and is a communicant of the Catholic church, while his wife and daughters are members of the Congregational church. He was in much of the terrible blizzard of January 12, 1888, as he had one hundred and fifty head of stock exposed to the storm and on a faithful horse made his way to the cornstalk field where they were. After seeing to the safety of his stock, he returned to the house and gives the greater part of the credit for his safe arrival there to his horse. Like most of the early settlers Mr. Byrne's residence for the first two years was a log house but at the end of that time he erected a more commodious frame dwelling. His place is now one of the best farming properties in Bon Homme county, and Mr. Byrne derives a good income from its operation. He has planted a number of groves which have grown rapidly and which give protection from the wind and from the heat in the summer months. Although he takes just pride in the material prosperity that he has gained through his own efforts, he values even more highly the esteem and respect of his fellowmen which are freely accorded him.
Francis Harrison
Francis W. Harrison, deceased, was a farmer of Bon Homme county. He was born in the village of Buxton, near Sheffield, England on the 13th of April, 1837, and learned the marble cutter's trade in his native land, his family still having in their possession several brooches which he carved out of jade and marbled onyx, in which exquisite skill is displayed. One of the most notable pieces that came from his hand while working in the old country was an inlaid table top for the Duke of Wellington.

In 1858, Mr. Harrison came to America reaching Dane county, Wisconsin on the 18th of November. On the 13th of October, 1861, he was married, and in 1864 enlisted in Company G, Thirty-eighth Regiment, Wisconsin Volunteer Infantry, for service in the Civil war. His command was assigned to the Ninth Army Corps and during the Richmond campaign was in action nearly every day around Petersburg. The regiment participated in the last engagements with Lee prior to his surrender and after the conclusion of peace took part in the grand review in Washington. Mr. Harrison then returned to Dane county, Wisconsin, where he farmed until the spring of 1867. On the 6th of May, he and his brother, Charles and William Slater, all of whom had married daughters of Thomas Abbott, started with their families in wagons for Dakota reaching Yankton on the 4th of July. The journey was a very tedious one, as the roads were hub deep in mud, especially in Iowa, and as there were no bridges over any of the streams. Purgatory Slough was perhaps the worst place encountered and it took a whole day to cross it, although it was but a half mile wide. All of the goods were carried across on the shoulders of the men through water breast deep and it required three teams to draw each wagon through the slough. The women and children were seated in the wagons on seats placed as high as possible above the muddy water.

Upon reaching old Bon Homme Mr. Harrison's sole wealth, besides his outfit, was one paper dollar, which at that time was below par. To add to his difficulties one of his horses died the first night after reaching his destination. For a few days the settlers occupied an old log house in Bon Homme which had been abandoned and converted into a stable. As soon as possible the three men in the party filed on claims on James river, but later found that they were held by adverse claimants. A second filing was made on Choteau creek, but their final location was near Bon Homme. In the vicinity of that town Mr. Harrison of this review secured an eighty acre tract of land, thinking that would be ample for the needs of his family. Practically the whole country was open for settlement and he could easily have taken more if he had so desired. He did later, securing an additional eighty acres under a soldier's warrant, but never filed on a preemption or timber claim. Soon after his arrival he found work at the Ponca agency and earned enough to tide the family over the winter, and the next spring he began farming. He was very successful as an agriculturist, and he gained a good income from his land at the same time conserving its fertility by wise methods of cultivation. He passed away on the 13th of April, 1912, on the homestead near Bon Homme church.

Mr. Harrison was married October 13, 1861, in Dane county, Wisconsin, to Miss Martha Abbott, a native of Yorkshire, England, born March 18, 1839. Her parents were Thomas and Anna (Dunley) Abbott, who were born August 7, 1809 and November 8, 1813, respectively. In December 1847 they embarked on a sailing vessel bound for New Orleans by way of Jamaica, and after landing in the Crescent city they made their way up the Mississippi and Illinois rivers to Peoria, Illinois, whence they started across country. At Ottawa, Illinois, Mr. Abbott left his family and proceeded on foot to Wisconsin where Samuel Clark, a friend, lived. Mr. Clark went to Ottawa with a wagon and took the family to their destination in the Badger state, arriving there on the 1st of June, 1848. Mr. Abbott passed away June 25, 1892, and his wife died August 27, 1865. To Mr. and Mrs. Harrison were born seven children, three of whom were natives of Wisconsin. Four of the seven survive: Florence, the wife of Frank Bussey, of Cleveland precinct, Bon Homme county; James, of Bon Homme precinct; and William and Walter, sketches of whom appear elsewhere in this work. After her husband's death, Mrs. Harrison had a residence of her own upon the farm operated by her eldest son. She performed well her part in the early development of Bon Homme county, and was entitled to the honor and respect which she received. She passed away November 26, 1914. The demise of Mr. Harrison was the occasion of much sincere regret, and his memory is still cherished by those who were privileged to be his friend.
August Koenig
The life of August Koenig of Tyndall illustrates what may be accomplished in the land of freedom by one who comes as a stranger to our shores but is possessed of the attributes of thrift, industry, and sterling honesty. He was born November 2, 1845, in the city of Mainz, on the Rhine, his parents being John and Susan (Hoffmann) Koenig who were lifelong residents of Germany. The father was an expert in vine culture and in wine making among the famous vineyards that cluster upon the steep mountain sides bordering the Rhine.

August Koenig passed his boyhood and youth in his native city and there learned the stonecutter's and mason's trade. Not liking the idea of losing three years of his life serving in the army, he ran away from home after being drafted, and his sudden departure without permission from the military authorities made his return impossible without serving a term in military prison with perhaps an additional heavy fine. He made his escape in a boat down the Rhine as far as Cologne and with six companions crossed the border into Belgium and embarked at Antwerp in a sailing vessel bound for New York. After a stormy voyage of forty-eight days he landed in the eastern metropolis in 1864 and, having purchased a ticket through to Chicago, he proceeded at once to that city where he secured employment at his trade at good wages. A year or so later he went to Joliet, Illinois, where he worked until 1869, and then removed to Ackley, Iowa working at his trade there for a time. Subsequently, he located on a farm which he had purchased near that town. In the spring of 1876 he made a prospecting trip as far west as Bon Homme county, South Dakota and spent a few days at Springfield. In the spring of 1880 he arrived in Yankton, which at that time was the end of the railroad, and shortly afterward purchased four hundred and eighty acres of land in Albion township, Bon Homme county, four miles southwest of Tyndall, to which he added from time to time until his ranch contained fourteen hundred and forty acres devoted to the raising of grain and stock. For some years he shipped cattle and hogs, often disposing of ten or twelve carloads during the season. Even during the dry year he suffered no loss, as he had ready money at his command and purchased thirteen car loads of stock and also shipped feed by the car load. The succeeding year he was able to make a large shipment of fine cattle and hogs, which brought good prices, while his less fortunate neighbors had nothing to sell.

Mr. Koenig was married in Ackley, Iowa in 1870 to Miss Caroline Minow, who was born in the village of Lelehin, eight miles from Berlin, Germany, and is a daughter of Christian and Marie (Somerfield) Minow. In 1869 she emigrated with her parents to America, the family settling at Ackley. Mr. and Mrs. Koenig have five children, the oldest of whom was born in Iowa and the others in Bon Homme county, this state. They are as follows: Louis, who is engaged in farming six miles west of Tyndall; Clara, the wife of Robert Biersdorf of Tyndall; Elizabeth, the wife of Frank Bussey, living a mile west of Tyndall; Johan, a farmer living two and a half miles from that town; and Emil, who occupies the old home farm. All are well established in life and are an honor to their parents and a credit to the state in which they live.

Mr. and Mrs Koenig remained upon the farm until their children had married and left for homes of their own. They then retired and purchased a comfortable residence in Tyndall. Here they now enjoy a well earned rest and the comforts secured by former years of industry. Mr. Koenig has taken a very active and influential part in public affairs and was thrice elected on the democratic ticket to represent his district in the state legislature, although normally it gave a majority of from three hundred to four hundred to the opposing party. He served during the sessions from 1891 to 1895 and again during 1903. His official record is a credit to himself and the district which he represented, for he left office as he entered it - with the entire confidence of those he represented. He and his family are members of the German Lutheran church and he is also identified with the Knights of Pythias, and at one time was an Odd Fellow.

In the early years of their residence in this state the family experienced many of the hardships and trials which fall to the lot of the pioneer. They had a taste of the middle western climate during the "winter of the deep snows" and saw the devastation made by the floods of the following spring, which, however, were not as disastrous to them as to the dwellers in the valley. At the time of the blizzard of January 12, 1888, Mr. Koenig was forty rods from the house but managed to reach home without difficulty. The prairie fires often threatened destruction but were beaten out without serious loss. On first coming to Bon Homme county, Mr. Koenig built a log house in which the family resided for a few years but later this was replaced by a good frame residence and when they left the farm he had one of the best improved places of the county. Stables had room to accommodate twenty-four head of horses, while one hundred and eighty head of cattle found ample shelter in buildings provided for them. Sheds for machinery cribs and a granary completed the equipment of this model farm. To be rounding out a well spent life such as Mr. and Mrs. Koenig are doing, to have peace and plenty on the journey through, and to feel and know that one's neighbors hold them in the highest esteem, is to have attained the best that may be enjoyed by pilgrims on life's journey.
W. Norman Rapalee
W. Norman Rapalee is proprietor of an extensive and growing marble and monument business at Yankton which he established in 1908 and has since successfully conducted. He is a product of the northwest and possesses the enterprising spirit that has ever dominated this section of the country. His birth occurred in Bon Homme county, South Dakota, October 15, 1878. His father, Daniel W. Rapalee, a native of the state of New York, served as a soldier in the Union army enlisting when but fourteen years of age as a member of the Eighty-fourth Illinois Volunteer Infantry, with which he was connected for about two years. In 1874 he arrived in Dakota territory, establishing his home in Bon Homme county, where he became owner of a farm having four hundred and eighty acres, which he homesteaded and preempted. Not a furrow had been turned nor an improvement made upon his place at the time when the land came into his possession, but with resolute spirit he undertook the task of transforming the prairie into productive fields and for twenty years successfully devoted his attention to general agricultural pursuits. In 1894, however, he retired from farming and entered the marble and monument business, later settling in Sioux City, where he still makes his home. His wife who bore the maiden name of Fannie Crenshaw Prior is now deceased.

After mastering the elementary branches of learning taught in the district school near the old home farm upon which he was reared, W. Norman Rapalee became a student in the Tyndall high school, from which he was graduated with the class of 1897. Later he pursued a business course in Sioux City and his practical training along business lines was received under the direction of his father whom he assisted in the monument and marble business. After acquainting himself with the trade through actual experience in the work of marble cutting, he went upon the road representing the business as a traveling salesman and thus he gained further valuable knowledge and experience. In 1908 he came to Yankton where he embarked in a similar business on his own account, and such has been the growth of the undertaking that he is now at the head of the largest enterprise of the kind in the state. His patronage covers a wide territory and the excellence and attractiveness of the output insures a continued and gratifying patronage.

On the 17th of August, 1910, Mr. Rapalee was married to Miss Jennie M. Scace, a daughter of Frank and Lillian M. (Buser) Scace of Primghar, Iowa. Mrs. Rapalee is a graduate of the Cedar Falls Normal College and for a short time was a teacher in the Yankton schools. By her marriage she has become the mother of one child, Norma Olivette. Mr. and Mrs. Rapalee attend the Congregational church, and he belongs to several fraternal organizations including the Masonic Odd Fellows and Elks lodges. He votes independently when casting a ballot at local elections but when national issues are involved supports the principles of the republican party. He is a member of the Commercial Club and is in hearty sympathy with the purposes of that organization. He enjoys hunting and motoring but never allows recreation to interfere with the performance of his business duties. His success is due to fair dealing and close application, and he ranks today among the most prominent of the city's younger generation of business men.
Henry Muller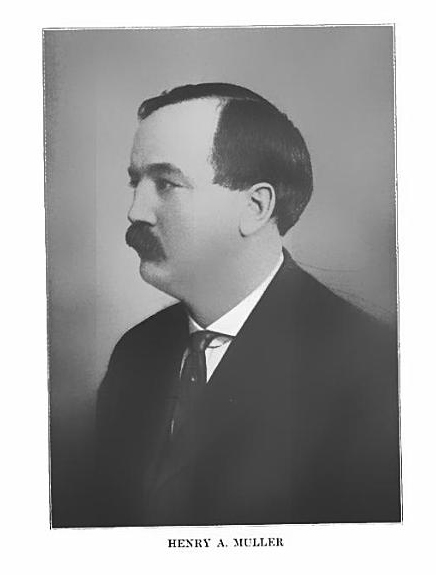 Henry August Muller is widely and favorably known in Sioux Falls, South Dakota, and its surrounding territory, as member of the legal firm of Muller & Conway, which has been in existence for many years. He has handled many important cases since he opened an office here and has proven an able lawyer of wide knowledge who readily makes himself master of a situation and who is ever loyal to the interests of his clients. Since May, 1901, he has also acted as United States referee in bankruptcy.

Mr. Muller was born in Cassville, Grant county, Wisconsin, August 4, 1865, and is a son of William and Mary (Grattan) Muller, the father a native of Alsace Lorraine, then a province of France, and the mother of Queens county, Ireland. William Muller came to America in 1849 at the age of twelve years and now makes his home in Sioux Falls with his son, Henry A. The paternal grandfather was also named William Muller and was of French birth, while the grandmother was a German. Our subject is one of a family of five sons and three daughters, of whom four sons and two daughters are living.

Henry August Muller began his education in the common schools of Cassville, Wisconsin at the age of five years and continued there until 1873, when the family removed to Bon Homme county, Dakota, where the parents had preempted both a homestead and timber claim of one hundred and sixty acres each. Here Mr. Muller continued his education during two winters in a country log schoolhouse two miles from his home, his teacher being Maggie Hogan, who received in remuneration for her services the magnificent salary of fifteen dollars per month. Teachers at that time, however, even if they were not as well qualified as those of the present, gave the best in them to their pupils. In January, 1886, when he was about twenty one years of age, he entered the Agricultural College at Brookings and after attending for five terms commenced teaching six miles south of Scotland, this state. He made his headquarters in Scotland and every day rode six miles to his school on horseback. At night he recited to Professor Alexander Strachan, of the Scotland Academy, in Latin, algebra, history, composition, and rhetoric for two years, and in 1889 entered the State University of South Dakota at Vermillion, where he remained until March, 1891.

In April of that year, while on the home farm, he was kicked in the face by a horse, this unfortunate accident confining him in a hospital for one year. After his recovery he came to Sioux Falls in March, 1892, and entered the law office of Powers & Conway where he applied himself so diligently to the study of law that in November, 1892, he was admitted to practice before the bar of the state. In the fall of 1893, the firm of Fawcett, Muller, & Conway was formed, which lasted eight months and then became the firm of Muller & Conway, as it continues today. His partner, Daniel J. Conway, is an able lawyer of wide reputation. The firm has been one of the strongest in this part of the state, and they have handled successfully a number of the more important cases in Sioux Falls.

On January 2, 1900, in Thorntown, Boone county, Indiana, Mr. Muller was united in marriage to Miss Alice E. Bassett, a daughter of Alonzo Bassett, who was an agriculturist by occupation and passed away in the '70s. He served as a sergeant in the Civil war with the Seventh Wisconsin Volunteer Infantry and was twice wounded. Mrs. Muller was born near Fond du Lac, Wisconsin, and after graduation from a normal school at Aurora, Illinois, was for a number of years a successful and popular teacher before her marriage. She later read law and was admitted to the bar of the state enjoying prestige as an able practitioner. She now conducts a school of stenography and typewriting in Sioux Falls.

In his political views, Mr. Muller is independent endorsing candidates according to their qualifications and not according to their affiliations. He stands high in the Masonic order, being a Knight Templar and Shriner and having reached the thirty second degree in the Scottish Rite. He is a member of the Dacotah Club. The feature standing out most strongly in Mr. Muller's career is his tenacious purpose in achieving success. All his attainments must be ascribed to his unflagging energy. He pursued his education under adverse circumstances and continued it in spite of handicaps. Yet he succeeded, and he has won for himself a place worthy of his efforts.