Biographies from A Touch of Tripp
by The Tripp Study Club, 1976
Christian Kaul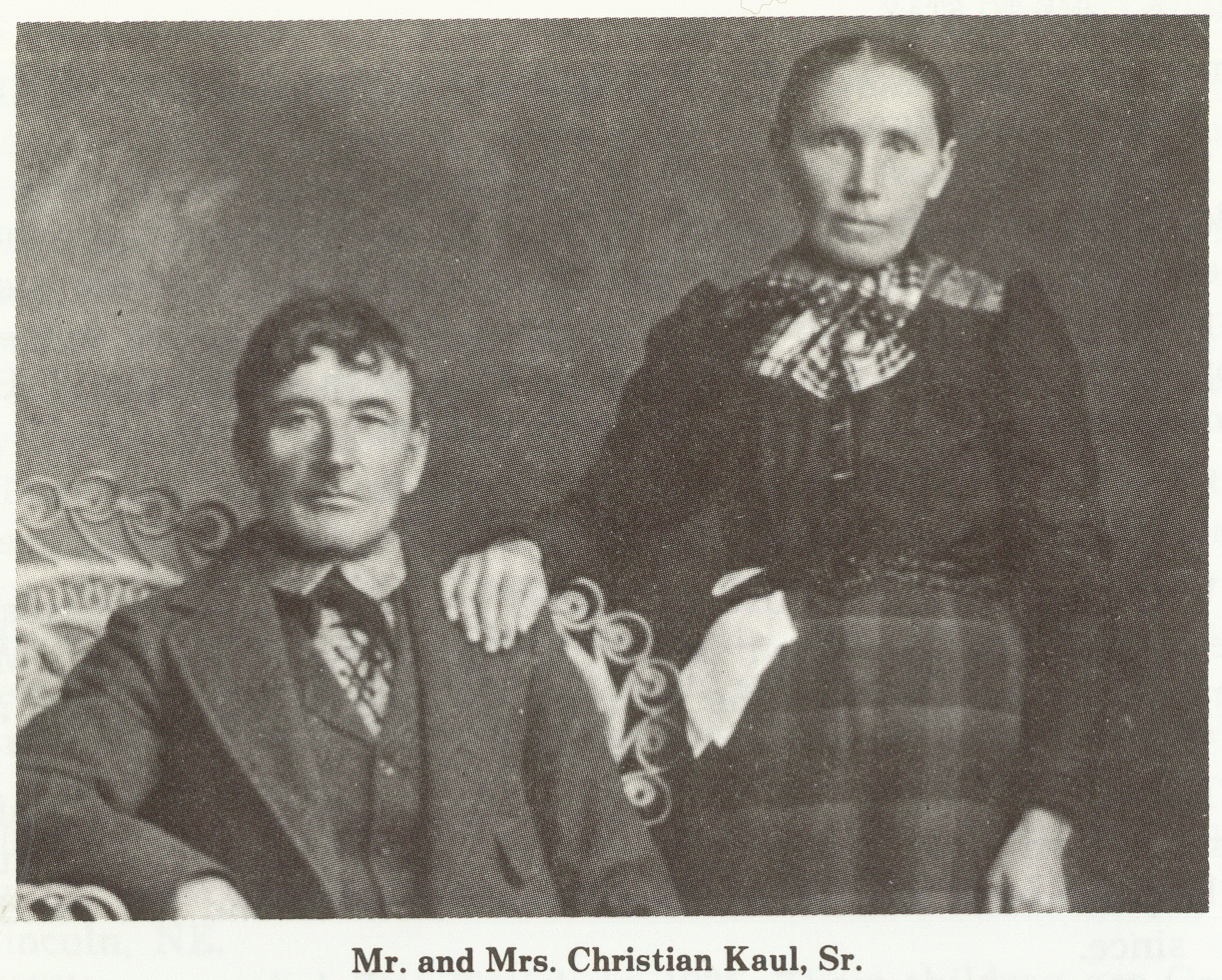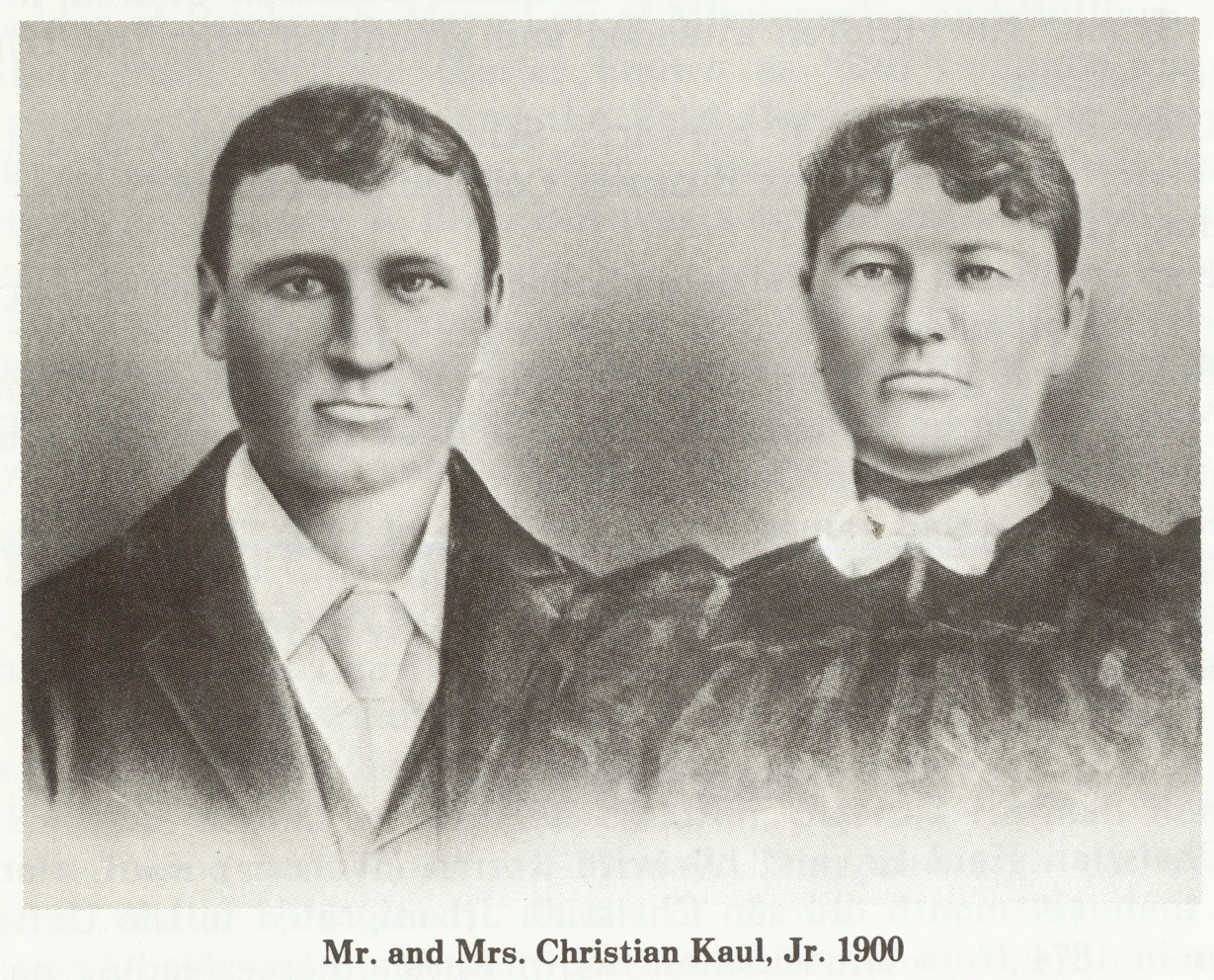 Christian Kaul Sr. and his wife Rosina (Weisser) Kaul, along with their six month old son Christian Jr. migrated to the United States in 1874 from Gluecksthal, South Russia, homesteading near Tyndall, to begin their new life in the new world.

Eight children were born to the couple, they are: Eric (Mrs. Adolph Hieb); Rosina (Mrs. Jacob Hauck); Fredericka (Mrs. Jacob Stoebner); Pauline (Mrs. Julius Hieb); Katharina, Christina, and Elizabeth.

In the year of 1888, Katherina, Christina, and Elizabeth froze to death in the great blizzard. Due to this tragic experience, the family moved to Tyndall to forget this tragedy. After five years they returned to their farm.

Christian Sr. passed away in 1926 and his wife in 1933.

Christian Jr. married Christina Hieb and continued to live on the farm with his parents. they had eleven children. They were: Julius, deceased; Theodore, deceased; Regina (Weisser); Benjamin; Edna (Bauder); Ruben; Ruth (Brietkreutz); Herman; Esther (Weisser); Clara (Vilhauer); August, deceased.

Christian Jr. lived on the farm until 1945, when he and his wife moved to Tripp, where they resided until their demise - Christian in 1946 and Mrs. Kaul in 1956.

The homestead is occupied by Herman Kaul and his family. This is the third generation to live there. Many changes have been made on the old homestead. It will be interesting to note how many more years it will remains as the Kaul homestead.
Christian Hieb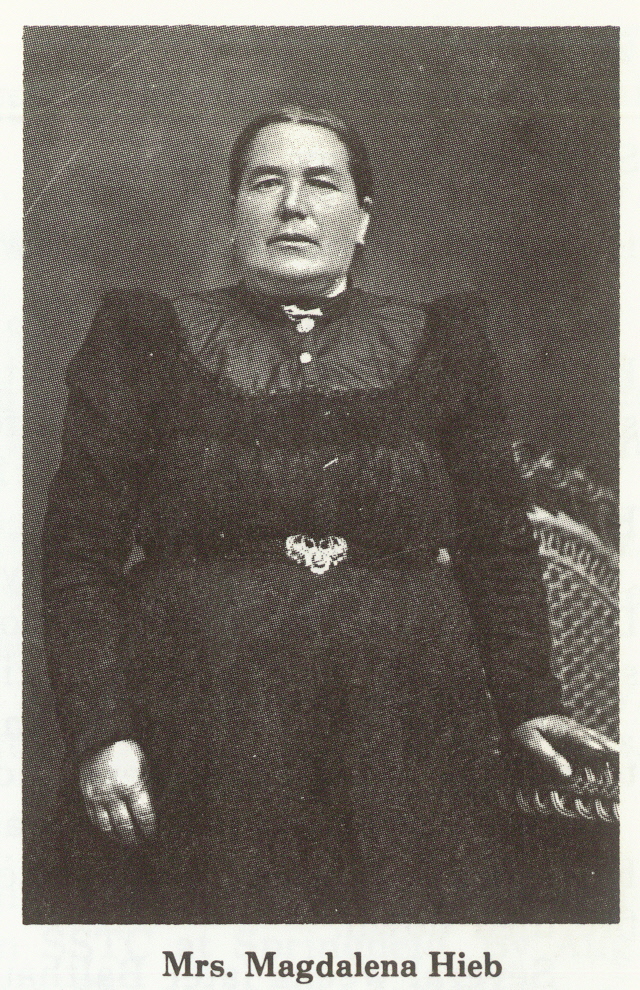 Christian Hieb and Magdalena (Neiffer) came to America shortly after their marriage, along with Magdalena's parents, Mr. and Mrs. Michael Neiffer. Magdalena and her brother John were the only children. John stayed behind in Russia, being the eldest and also reluctant to try the new venture. He did come to America several years later.

The Hiebs and the Neiffers came westward and settled in Bon Homme County, during Ulysses S. Grant's administration, 1869-1877. Their first home was a sod house, which housed both families and the animals. Scotland and Yankton were the nearest towns. Flour and other necessities were transported by walking to and from town.

Chris and Magdalena were poor, but the two families together overcame many obstacles. Their first child died at the age of three, and since there were no cemeteries, he was buried on the homestead.

There was no money to buy a team of horses, so Chris purchased one ox and a cow, which he used to work in the fields.

In 1875, Chris helped organize the Immanuel Reformed Church. He donated some acreage for the new building. He was not in good health and passed away at the age of 49, in 1903. He and Michael Neiffer are buried in the church yard.

Children of the Hieb family were as follows: Katharina (Mrs. Ludwig Guthmiller), Tripp; Christina (Mrs. Chris. Kaul), Avon; Magdalena (Mrs. John Schwiegert), Dallas; Adolph, Harrold; Lydia (Mrs. Baltzer C. Hieb) Tripp; Christian, Lehr, ND (later in CA); Jacob, Lehr, ND (later in CA); Karolena (Mrs. John Nagel), CA; Emanuel, Fredonia, ND.

After the death of Chris, Magdalena continued on the farm with the help of her children. In 1912, she married Jacob Groshaus, from Avon. Her farm was sold to Ed. Ehresman and is a present occupied by Mr. and Mrs. Ben Schmoll, and they have preserved much of its original setting.

Magdalena lived with her daughters after Mr. Groshaus's death. She passed away in 1928.
Balthasar Hieb
Balthasar Hieb, son of Christian and Katherina (Gross) was born December 14, 1882, in the Emanuel Creek vicinity. He was wed to Lydia Hieb, Jan. 18, 1906. She was the daughter of Christian and Magdalene (Neiffer) Hieb.

The couple farmed three years southwest of Tripp. During this time Arthur and Helmuth were born.

The last part of Oct. 1909 they moved to Kramer, ND, where they purchased a farm. While living there, Edwin, Emma, and Alfred increased the size of the family.

They came back to Tripp in Oct. 1917 where they again farmed.

On November 22, 1943 they moved to the town of Tripp, where he had hoped to gain his health. He was taken to St. Joseph Hospital in Mitchell, where he died April 23, 1944.

His wife Lydia was put to rest March 28, 1952.
Christian Hieb
Christian Hieb, son of Balthasar and Karoline Hieb, was born Dec. 19, 1856.

Katherina Magdalena Grosz married him, Dec. 28, 1878, at Springfield.

They moved to a farm, purchased from John Leahy, on March 13, 1897. It was known as the David Leahy Homestead.

Here they had four sons, Stephen, Balthaser, Fred, and Konrad, and a daughter, Caroline.

In the fall of 1892 they moved to Butte, NE, where Jacob was born the following years, on Aug. 30, 1893.

Three years later they moved back to their farm. Here they had a daughter, Christina, and two sons, August and Julius.

Christian heard that land was cheap around Kramer, ND. He sold his farms and purchased a section near Kramer, in 1903.

In 1923 they moved back to Tripp, where they purchased a home south of the school. Here they remained until Katharina died.

Christian then made his home with his sons Stephen, until death in July 12, 1929.
Balthasar Hieb
Balthasar Hieb was born in a small village in Russia on Nov. 16, 1812. He married Karolina Ohlhauser in Russia. Together they had three sons, Stephen, Jacob, and Christian; and five daughters.

When war broke out in Russia, they feared that they might lost some of their children, so they brought their family to America. Several other families came along, including his brother Jacob.

They obtained farms from a land company at Tyndall, which were in the Emanuel Creek vicinity.

Karoline lived until Dec. 1906.
Ludwig Guthmiller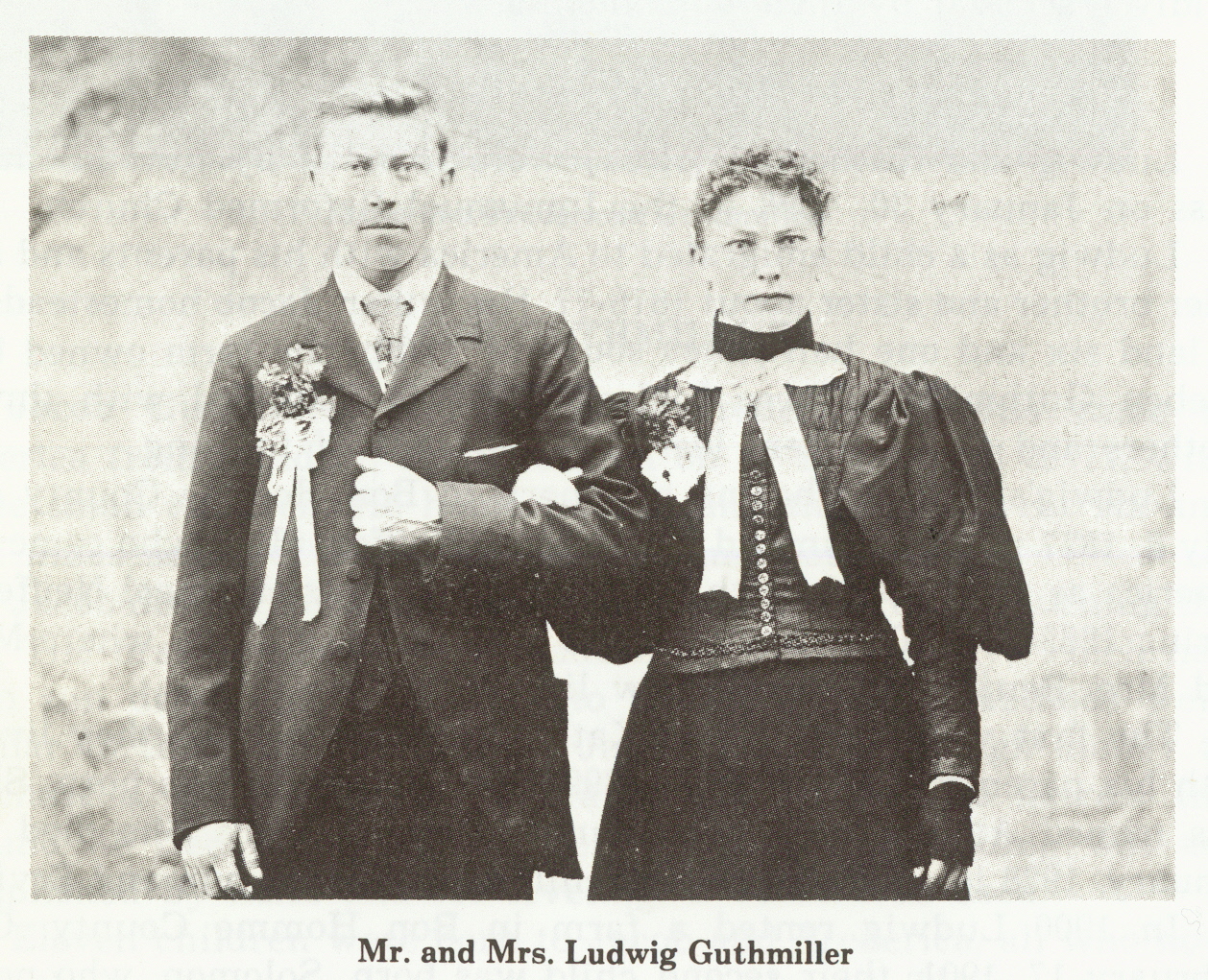 Ludwig and Katharina (Hieb) were married by Rev. Michael Nuss on January 30, 1898 in the Immanuel Reformed Church.

Ludwig as a child emigrated to America with his parents and older brother and sister about 1876-77. His father, Jacob homesteaded on land six and one half miles south of Tripp, the farm owned by Rueben Guthmiller. There Ludwig grew to manhood with three brothers and seven sisters learning the trade of farming.

Ludwig's wife Katharina was born in Bon Homme County on July 8, 1877 to Christian and Magdalena (Neiffer) Hieb who came to America as newlyweds with Magdalena's parents (Michael Neiffer) during 1869-1870. They homesteaded land south of Tripp where Mr. and Mrs. Benjamin Scholl now live.

The first year Ludwig and Katharina were married they lived with his parents. On March 26, 1899, their first child was born. She was named Athalia who later married Henry Tesky. She died in January, 1928 leaving three small children: Leona, Alvin, and Ervin.

In 1900 Ludwig rented a farm in Bon Homme County. On February 17, 1901, their second child was born, Solomon, who now with his wife lives in Tripp. In 1901 Ludwig homesteaded a claim in Oak Hollow township and purchased some other acreage. He moved in 1902 with his wife and two small children. Nine more children were born on the new farm: Samuel, Emanuel, Otto, Bertha (Mrs. Ervin Buchholz) in Tripp, Carl on the home farm, Konnie and Leo deceased.

Ludwig was enthusiastic and industrious. He and his wife and family worked hard, yet all took time out to hunt and fish. His first gun still is in the family and usable. His rod and reel lay in the deep waters of Lake Andes (put their by one of his children accidentally.)

Ludwig became involved in the affairs of his township and community. For many years he was township supervisor, treasurer of Oak Hollow school for 15 years, shareholder of Tripp Farmers Union, Farmers Elevator and Lumberyard. He was a religious man taking an active interest in the welfare of his church. In 1907 he helped organize and build the New Salem Church south of Delmont located southwest of Delmont.

Today, Ludwig and Katharina sleep in the country churchyard among their many other friends who were members of that congregation. Ludwig passed away March 26, 1924, and Katharina on June 17, 1939. Although long gone, a legacy of memories is fondly remembers by their children.
Jacob Guthmiller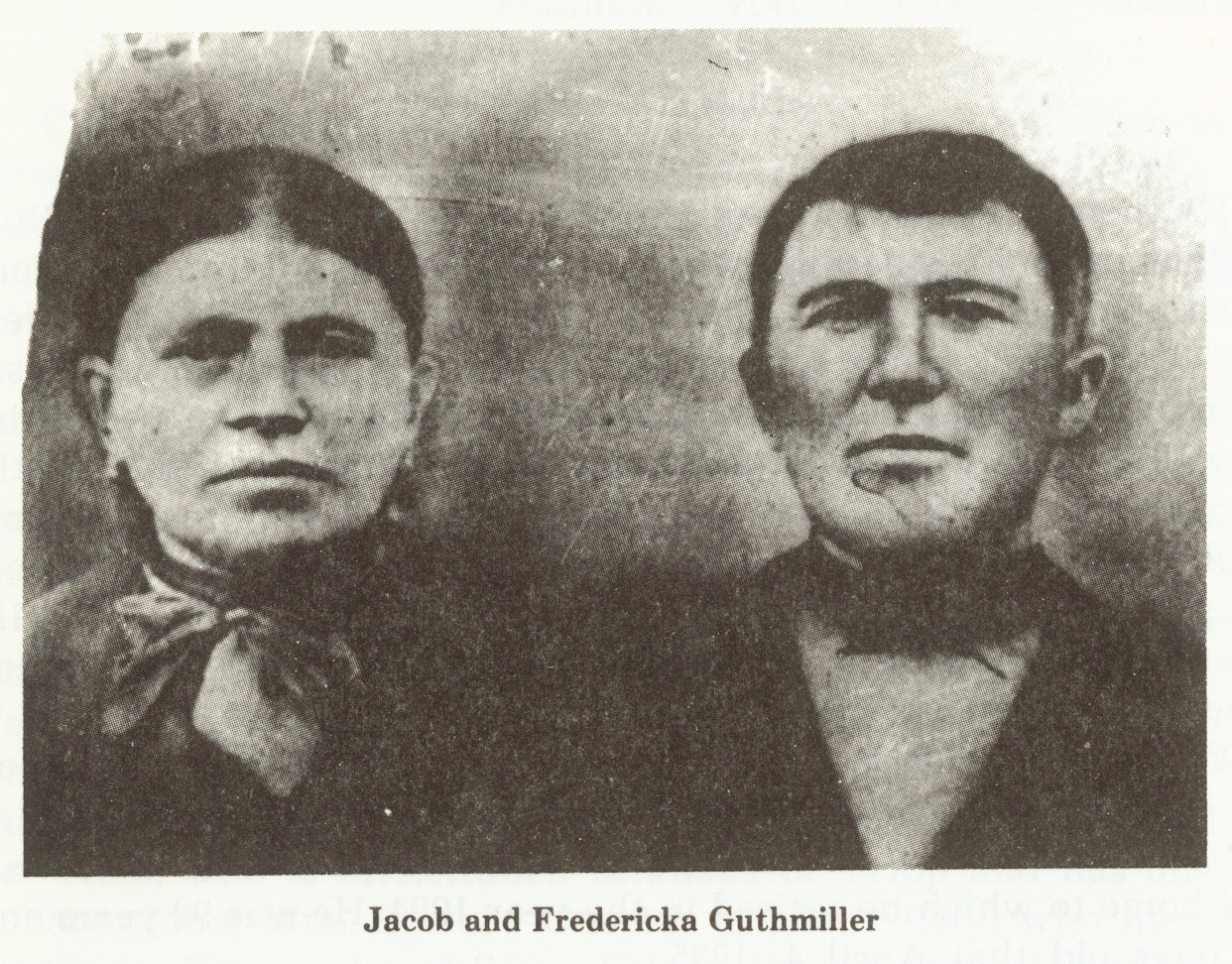 Jacob Guthmiller and his wife Fredericka (Rott) came to America from Neudorf, South Russia on or about 1876 or 77, with three small children. He homesteaded land that same year six and half miles south of Tripp in Bon Homme County.

Jacob devoted most of his life to erecting a farm and turning the sod. The first buildings were made from mud and hay, which had been sun dried and then cut into blocks. Farming methods were similar to those used in Russia. Jacob did have enough money to purchase a team of horses and a breaking low. To harrow the ground he tied plum thickets behind the team. Seeding was accomplished by hand and for leveling a board was used.

Eleven children were born to Jacob and Frederica, all who now with their parents have gone to join the blessed. Their names are: Jacob, Jr., Wolsey, SD, Katharina (Mrs. Henry Renke), Zap, ND, Ludwig of Tripp, Karolena (Mrs. John Buechler), Zap, ND, Frederick, Tripp, Christina (Mrs. George Goehring), Lodi, CA, John J. Tripp, Emelia (Mrs. John Pudwill), Avon, Lydia (Mrs. Henry Hoff), Tripp, Maria (Mrs. Henry Hoff), Tyndall, Mathilda (Mrs. Charley Pietz) Tripp.

Jacob and his family were devout members of the Immanuel Reformed Church.

In 1908 Jacob turned over most of the responsibility of the farm to his son John but continued to live on the farm with them until Fredericka's death on March 24, 1913. Jacob later married Sophia Kraft and with her retired to Tripp until his death on February 3, 1924. Sophie died in 1933.

Ruben Guthmiller, a grandson of Jacob continues on the homestead.

Little is known of the hardships in the lives of Jacob and Fredericka: as was the custom, unpleasant matters were not told to the children. To be a pioneer you had to be strong. America was a new world and a different way of life. Passports and immigration papers were either lost or destroyed. A fire burned the summer kitchen on the old homestead; thus many articles of interest were lost, including the highly treasured spinning wheel.

Although long gone, remnants of this family's survival is still vividly discussed by their descendants.
John Dewald
John and Magdalena (Krein) Dewald came to America in 1879 from Neudorf, South Russia, with their family of five sons and two daughters: John, Jake, Adam, George, Ludwig, Eva, and a small daughter who accidentally swallowed poison and died. They homesteaded on a claim seven miles south of the present site of Tripp, the farm now operated by Keith Dewald, a great-grandson.

Hard work, long hours and working together made it possible for each son, as he married, to move onto land of his own. The brothers worked together until all had big farmsteads of their own, all in the same general vicinity. Ludwig, the youngest, was to remain on the homestead and care for his parents until their death. The brothers even owned a threshing machine together. They would thresh their grain and haul it to Tripp in horse drawn wagons.

In those years, livestock would be brought in to the stockyards and shipped out in carload lots. Therefore, if a railroad car came in which was too loaded with hogs, the neighbors would go together so as to gather enough hogs to fill the car. These were hauled to the railroad in wagons. Cattle, which were going to be shipped, were usually driven to town on the hoof. One year, when George Dewald planned to ship a bull along with a herd of cattle, interesting things began to happen. Because the bull was a mean animal, it was decided to load and drive him into town in a wagon. Once in the wagon, the bull considered the situation and decided to make some changes. He tipped the wagon, demolished the wagon box, and walked to Tripp with the rest of the cattle.

Today, sophisticated machines and tractors have replaced the horses and simple machines used in farming the Dewald land. Some of the great grandsons of John and Magdalena Dewald are still on those early farms. Others have gone into other fields of work and are settled in the almost every part of the United States.
Fred Finck
Fred Finck was born to Conrad and Catherina (Preszler) Finck March 10, 1883, on the Finck homestead northwest of Tyndall. Here he grew to manhood helping with the farming and building up the homestead. In February of 1909 he married Lydia Vilhauer. They made their home on the farm eight miles northwest of Tyndall near his father's homestead. For the sum of $300.00 Fred built their first small frame house. In 1920 a much larger two story house was constructed. Many years later that home was sold and was moved into Tripp after the top story had been removed. Mr. and Mrs. August Wiederrich now live in the home. Fred and Lydia had nine children.

Paul married Lenora Nusz and they have three children: Leroy, Melvin, and Janet (Mrs. Duwayne Weisser). Paul lives south of Tripp on the farm homesteaded by John Widerrich, Sr. in 1889.

Herbert and Ruben are in California. Edward is in Wisconsin and Leo lives in Washington. Meta (Mrs. Leo Hisek), Linda (Mrs. Julius Schmidt), and Leonard are in Tyndall. Neil married Jean Wiederrich and they farm 9 miles south of Tripp.

In January, 1947, Fred and Lydia Finck moved to Tripp to live with Lydia's mother (Rosina Vilhauer) while Fred was building the new home. Before the holidays of that year Fred and Lydia moved into their new home. The Ben Doblers now live in that home. Fred began to work in the Tripp Lumberyard. He worked there for almost seven years. Fred was one of the original stockholders.

During their married years, there were many ups and downs including the dry years, grasshoppers, hail, and too much rain and many illnesses. The family worked hard together. Lydia would raise poultry and sell eggs and live poultry. One Saturday after they owned a Dodge touring car, Lydia and Fred were going to Tyndall to do some trading. They loaded the eggs and as they came to the top of the hill near the golf course the car tipped over and there were eggs all over the side of the road. All Lydia was concerned about were the eggs. They salvaged some that weren't broken. When help came, the car was set back up on the wheels and they went to town to shop.

Due to ill health of this wife, Fred and Lydia moved into the Tyndall Good Samaritan Home on March 3, 1967. Later they moved into the Tripp Good Samaritan Home. On February 6, 1971 Fred Passed away at the age of 87 years and 11 months. Lydia is still living in the home.

During his lifetime Fred served as county assessor in Bon Homme County for many years. He served on church boards and committees and the rural school board. He was a man with many interests and in the welfare of people and the community. Fred was a lifetime member of the Reformed Church.
Conrad Finck
Conrad Finck was born to Christian and Rosina (Hauser) Finck on January 24, 1851, in Cassel, South Russia. He married Catherina Preszler in Cassel, South Russia, in 1872. In 1876, Conrad and Catherina came to America with the older children. They homesteaded on a claim northwest of Tyndall. Jerry Finck, a great grandson, in on the farm at the present time.

Their first home was built of clay, stones, and straw. Years later a frame home was built. Those early years were hard years as they had to go as far as Yankton for supplies. At times Conrad walked this distance which required many days. About twice a year they would go for supplies in the lumber wagon with the team.

A few years later, Conrad's father, Christian, and his mother, Rosina, came to America. Since all the land around the Tyndall area had been homesteaded, he went farther west and homesteaded the farm on which Eldon Schneider now lives. Conrad's parents were old and of poor health. They soon found it too difficult to work the land and keep up the payments; Conrad took over the loan.

Some years later a small frame house was built on the homestead where Conrad and his wife and family lived. the mother and father moved into this home and spent the remaining years of their life there. In 1904, the mother died and in 1911, the father died. Both are buried in the Immanuel Reformed Cemetery, south of Tripp.

Conrad and his sons would drive the 10 miles to farm the former homestead of his father's. In those days all the work was done with horse drawn machinery and a great deal of hand work. When the son, Christ, married Katie Thum, they moved on to the farm and made it their home for many years. They had 3 children. Due to the ill health of Katie the family moved to Tripp for 2 years before going to Lodi, CA, to live.

Conrad and Catherina retired from the farm in March of 1913, moving to Tripp. They lived in the home where Mrs. Edwin Hoff presently lives. On Dec. 19, 1917, Conrad died. Conrad was a kind and generous man. He was especially kind to the grandchildren when they stayed with them during the time they attended Bible School.

Catherina continued living in her home as long as she was able to care for herself. When her daughter's first husband died, she, Albina, and her daughter, moved in with her up to the time she again remarried and moved onto a farm near Parkston. Catherina then went to live with another daughter, Christina (Mrs. George Dewald). On May 22, 1927, she died shortly before her three children from Lodi, CA could get to her beside. They both lie in the Tripp Frieden's Reformed Cemetery.

Conrad and Catherina had twelve children. Two died in infancy. The other children were: Elizabeth (Mrs. Andrew Goehring), Daniel, Christina (Mrs. George Dewald), Christ, Rosina (Mrs. Gottlieb Mettler), Magdelena (Mrs. John Merkel), Fred, Jacob, John, and Albina (Mrs. Emil Mehlhaff), the sole survivor living in Lodi, CA, at the present time.
Ernest Kotas
Ernest Kotas, born in 1885 in Carroll County, IA, came to South Dakota in 1908 and settled on a farm five miles west and two miles north of Tripp. His father purchased the land in the fall of 1907. The first year, his sister Carrie kept house for him. She is still living, at the ripe old age of 95, but is confined to a hospital in Jefferson, Iowa, with a broken hip.

In 1909, Ernest married Mary Dangel at Scotland. Mary and Ernest farmed this farm until 1915 when they purchased the farm now owned and operated by Ralph Kotas.

Ernest and Mary reared five children. Two daughters and three sons endured many hardships along with the pleasant times of those years. During the dirty thirties, there wasn't much feed for cattle: thus hay was made from thistles and tumbleweeds. Some days, the wind blew soil, darkening the sky. When the wind subsided, the fences posts were half-buried. it was worse than a snowstorm. Amid all these disasters, somehow the faith in South Dakota always shone in the eyes of both Mary and Ernest.

Ernest purchased the first automobile ever owned in this area. The car was an E.M.F.: it had no heater, no roll up windows and no radio. In winter, air-conditioned with its snap-on curtains which were attached to the top; and in summer, it was "suffer from the heat" if you chose to go visit relatives or friends.

Mr. Kotas served on the school board and on the township board, advocated better roads leading to country homes. There were no radios or television to bring news. The only source of news was the Sioux City Journal.

As years passed, things became brighter. The family of five was growing up. Newer methods of farming were seen. A home electrical plant was installed, bringing the end of cleaning lamp chimneys. Finally came the Rural Electrification Association.

The family left home, Letta married Jordan Walz, Charlotte married Ivyn Hawley, John married Leona Hauck, William married Evelyn Hauck and Ralph married Helen Breitkreutz. At the time of Ernest and Mary's death there were eleven grandchildren and one great grandchild.
Kasper Mikusska & Whitmore "Mike" Mikuska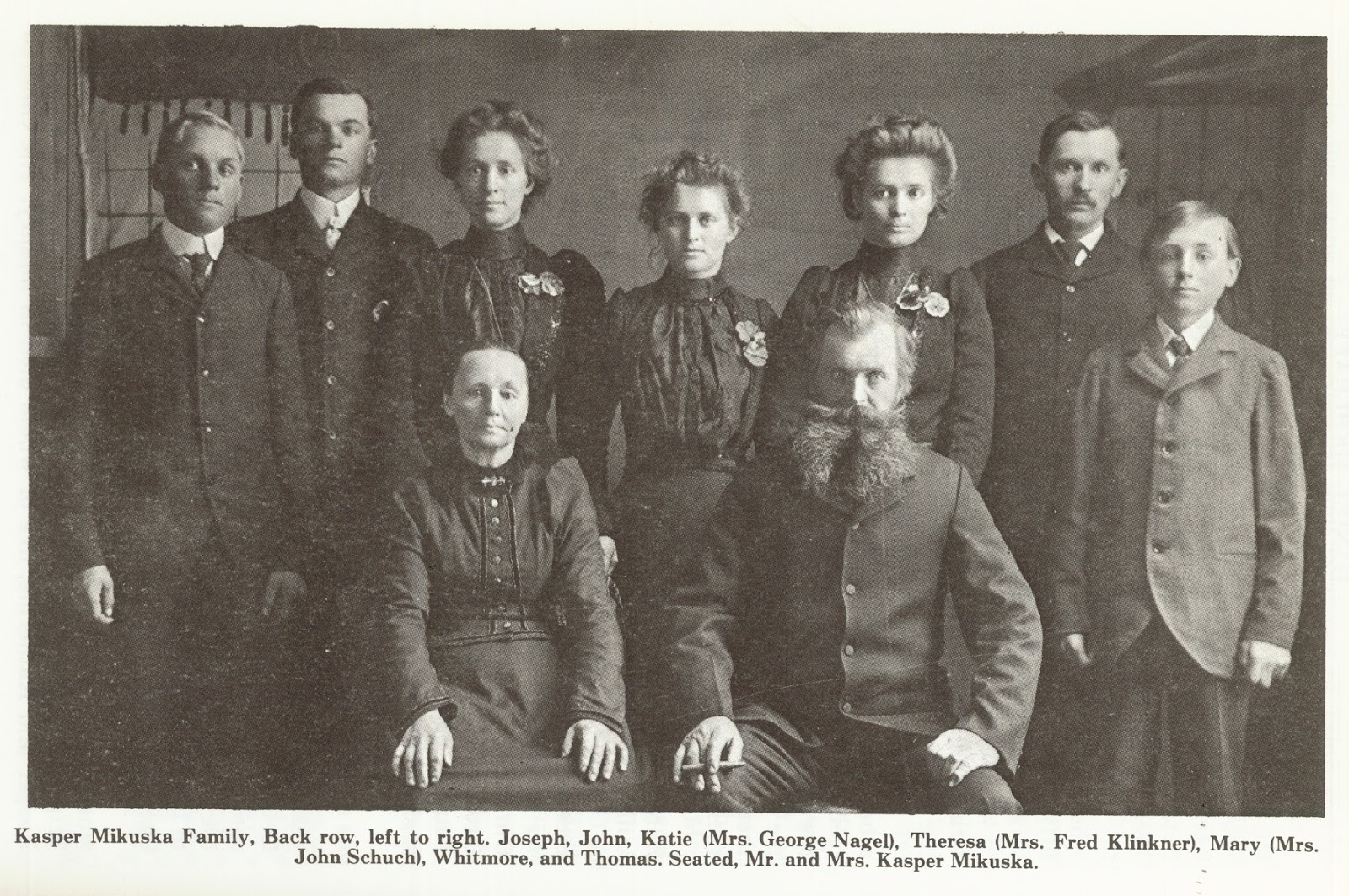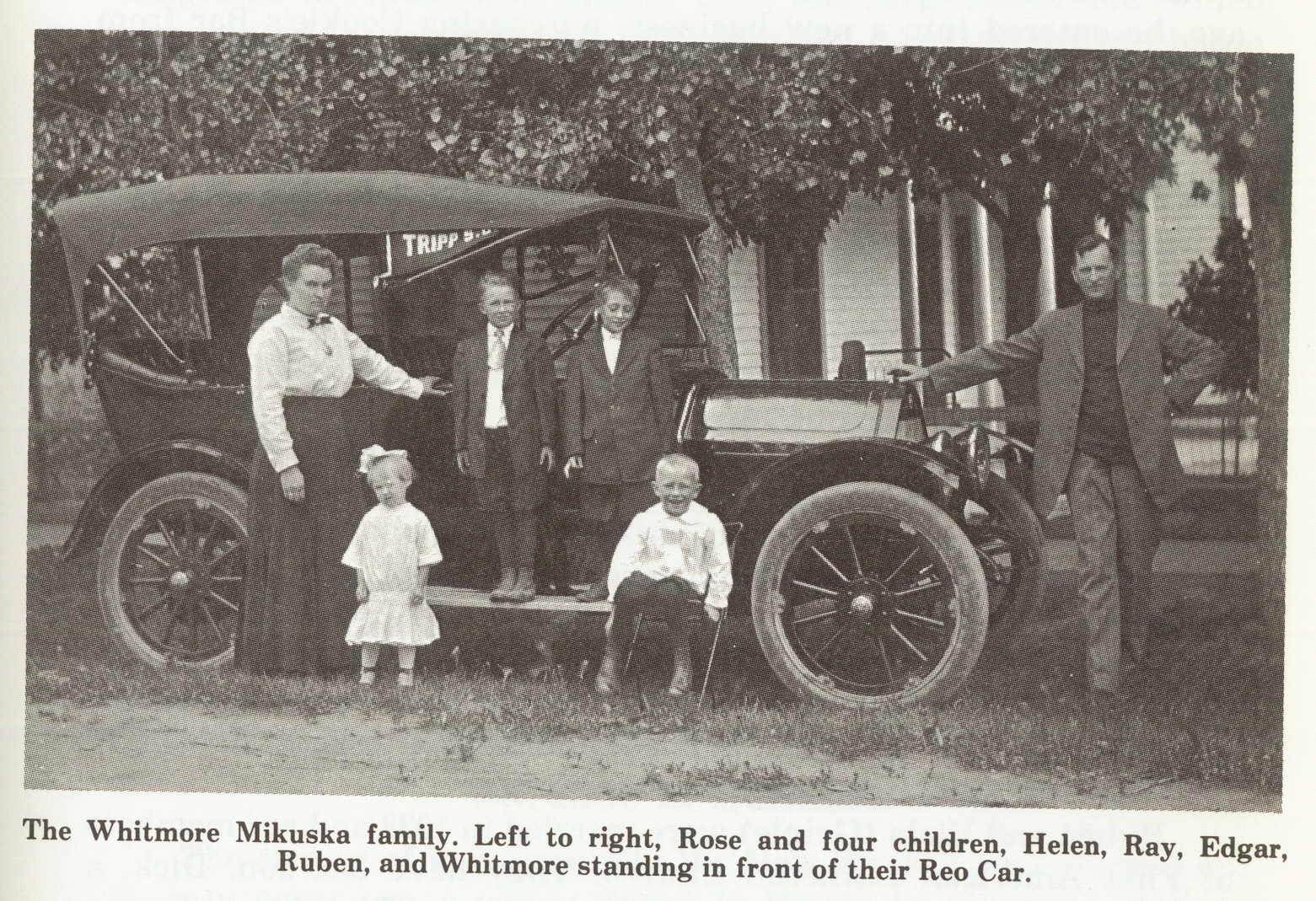 Kasper Mikusska was born in Cakove, Czechoslovakia, in the year 1849. He was married to Katherine Mikuska, born in 1850 in Germany. (It is interesting to note that Katherine's name was spelled Mikuska and Kasper's Mikusska. They were no relation - they met when, as young people, they were sent to foreign countries to learn the languages of those countries.) They lived in Budejovice, Czech., where they worked in a glue factory.

They emigrated to America in 1879 and settled north of Tabor, where they lived for twelve years. They then homesteaded south of Tripp, where they lived for 33 years. Thirteen children were born to Kasper and Katherine, five of whom died in infancy. The children are: Barbara (Mrs. Joseph Thaler), Mary (Mrs. John Schuch), Theresa (Mrs. Fred Klinker), Joe, John, Whitmore, and Thomas, all deceased. Still living is Katie (Mrs. George Nagel), 97 years young, and residing in a nursing home in Winner.

Mr. Mikusska was one of the best known early pioneer settlers in the county. His business and political activities gave the family a wide acquaintance. He retired in 1909 but continued as a beekeeper, selling honey to the Sioux City Biscuit Co. During his retirement, he built two rock houses, using one as a hen house and one for this bee supplies. One of theses rock houses still remains on the home place. An interesting hobby of Kasper was the making of brooms from broom corn and weaving baskets from willows. He died in 1922 at the age of 72 years.

Whitmore (Mike), son of Kasper and Katherine, was born in the village of Vien Bohemia in 1879. He came to America when the homestead was taken by his parents. At the age of 16, he went to Armour where he clerked in a store for eight years. Returning to Tripp, he took a position with Wildermuth and Schaefer. In 1901, he went to Avon where he clerked in a store for about a year, then returned to Tripp to work for Wildermuth and Mayer. In 1903, he engaged in business for himself, continuing for thirty years. His store, Mikuska's Store, was a little white building on Main Street, a general mercantile store. This building gave way in 1916 in the fine brick edifice which still stands, a memorial to his business sagacity.

In 1904, he was united in marriage to Rosie, daughter of Paul Wildermuth. To this union three sons and a daughter were born: Raymond, Edgar, and Ruben, residents of Tripp, and Helen (Mrs. Edmund Warnke) of Sheridan, Wyo. Mike died suddenly on October 24, 1933, at the age of 54 years.

Edgar E. Mikuska ("A" to his friends and business associates) was born in 1906, reared and educated in Tripp. This bicentennial year will mark his 49th year as a business man in this community. Since 1927, he has owned and operated an independent service and bulk station. This stucco establishment, which his father helped to build, still remains at the southeast end of main street. Eleven years ago, he entered into a new business, purchasing Cookie's Bar from his uncle Thomas. He and his wife Meta can be found there, serving the people of this community.

"A" and Meta (Zeitner) were married in 1935 and are members of First American Lutheran Church. They have two children: Jim, married and teaching in Linden, Mich.; Judy (Mrs. Harlan Konrad) of Watertown. "A" and Meta are life long residents of Tripp. They remember much of the past of this community, are involved in its present happenings, and hope to continue to serve future citizens of Tripp.

Ruben Mikuska was born in 1908. Upon graduating from Tripp School in 1927, he went to work for his brother "A" at the service and bulk station. This year will mark his 49th years pumping gas, driving the bulk truck and greeting the people of Tripp.

It is interesting to note that Ruby joined the Tripp Fire Department in 1924 at the age of 16. He was an active fireman and was Fire Chief for 15 years, retiring when he had completed forty years of service. Now he is on the active honor roll and has a total of 53 years to his credit as fireman in the community.

Ruben and Viola (Geigle) were married in 1938 and are members of First American Lutheran Church. They have one son, Dick, a Drafting Instructor and resident of Stuart, Florida, and one grandson, Ken.

Helen (Mrs. Raymond Warnke) was born in 1912. She graduated from Tripp Schools, and those school days in Tripp were spent in helping in the store and at home. In 1935, she married Edmund Warnke and moved to Sheridan, Wyo. Five children were born to them: Tommie, a contractor in Sheridan; Rose Marie (Mrs. James Buckley), living in Sheridan; Wanda Lou (Mrs. Ronald Bodine) of Torrington, Wyo., Edmund, a contractor; Jonnie, with the Port of Entry, State of Wyoming. They have ten grandchildren.

Raymond was born in 1905. He, too, graduated from the Tripp Schools and in 1924, went to work in his father's store. After his father passed away, he took over the business and continued in this line until 1967 when the contents and interior were destroyed by fire. Presently, he is a part time worker for the Gedney Company.

Ray and Lillie (Sommerfeld) were married in 1935. they have two sons: Bruce, married and employed with the SD State Highway Department at Mitchell; Joel, Computer Specialist for GW Foods, Norfolk, NE.
Matthius M. Lippert
Grandfather Matthius M. Lippert was born Sept. 11, 1842 in Neudorf, South Russia, and married Rosina Weber, who was born in Kassel, South Russia. Before coming to America, three sons were born: John, Fred, and Jacob.

While in Russia, Matthius M. Lippert was a farmer during the summer season, and a wagon maker through the winter season.

On June 9, 1879, the Lippert family came to Yankton, to the end of the railroad going west. Matthius Lippert then homesteaded seven miles south of Tripp in Bon Homme Co. With the $210.00 he brought along from Russia, he was able to buy a yoke of oxen, an old lumber wagon, one cow, and pay $14.00 for his homestead filing fee.

Other children born to the Lippert family after moving to America were Christina, Magdelena, Lydia, Matthius, Emelia, and Louisa.

In order to do the farming the Lippert's oldest son, John, would lead the oxen while Mrs. Lippert would handle the walking plow with the breaker bottom. At the same time, Mr. Lippert would be working for some of the richer farmers in the neighborhood, and would be gone for a month at a time.

In 1886, Matthius Lippert sold the farm, and bought another farm two miles east of Tripp where his son Jacob, and wife, Marie Winter, later farmed.

Jacob Lippert's family consisted of one son, Ammon, and nine daughters, Luella (Weisz), Ruth (Weber), Linda (Dewald), Atia (Holbeck), Esther (Weisser), Velora (Uttecht), Verna (Schilling), Violet (Fody), and Freida (Wieger). Their son Ammon is at present living on the Lippert farm. Ammon married Clara Vetter, and they have three sons: Maurice, Glenn, and Douglas, all living in the Tripp area. Luella Weisz, Ruth Weber, Linda Dewald, and Velora Uttecht, also are residents of Tripp. Linda's son, Maynard Dewald farms south of Tripp.

John Lippert married Christian Warnke and settled on land northwest of Tripp in Kulm Township. To this union was born Bertha, Christiana, Edward, Leona, Louisa, Elsa, Raymond, Johnny, Harold, and Raymond Walter. Raymond Walter married Nettie Mehlhaff and lives on the same farm in Kulm Township as his father, John. Henry Lippert, Harold's son, is also living on a farm west of Tripp and is the vocal music teacher in the Tripp Public Schools. Elroy Lippert, son of Edward, farms west of Tripp.
Magdalene (Stoebner) Weisser
Magdalene Stoebner was born April 21, 1863, and married Mattis Weisser. They farmed for some time in the area of the Danzig Baptist Church, which is located northwest of Tyndall. The family decided to give up farming and go into business. They operated hardware stores.

Magdalene and Mattis had six sons and six daughters. Their twelve children are listed below, not necessarily by age:

(1) Jacob, died at the age of six in the 1888 blizzard.

(2) Lydia, who changed her name to Mae, married Guy Ray and they live in Seattle.

(3) Rose, married Adam Rueb. They farmed about four miles northwest of Tyndall.

(4) Paul, married Blanch Sweat. He was employed in the family hardware store.

(5) August, single, worked in Washington, D.C.

(6) Kathryn, single, worked in the Tyndall Post Office for about 25 years.

(7) Bertha, single, was employed in a general merchandise store in Tyndall.

(8) Esther, single, served as Register of Deeds and Treasurer in the Tyndall Courthouse for many years.

(9) Leo, married, and worked in the family hardware store in Tyndall.

(10) Fred, married to Emaline Balvin, and worked as a truck driver in Sioux City.

(11) Jacob, died at the age of 18 of complication from a ruptured appendix.

(12) Emma, married Albert Miller. They worked on a ranch near Midland, and then farmed near Tyndall. Their children are Virginia, Daryl, Minor, and Joyce.

Magdalene (Stoebner) Weisser died on December 24, 1934, at the age of seventy-one. She is buried with her husband in the Tyndall cemetery.
Frederich Stoebner
Frederich Stoebner, and his wife, Magdalene (Schmidt), were married in Kassel, Russia, November 23, 1875. They came to America with her parents, Gottlieb and Elizabeth Schmidt, and in 1876 settled in Bon Homme County near Tyndall where they farmed until April of 1919. At that time they retired and moved to Tripp. Frederich lived in Tripp only a short time when he became ill and died on May 14, 1919. Magdalene, his wife, passed away Sept. 10, 1944.

Their eleven children are: Katherina, who married John Hieb; Christina, wife of John Guthmiller; Lydia, wife of Jacob Liebert; Jacob F., married Fredericka Kaul; Andrew, married Amelia Vilhauer; John, married Hertha Teske; Rosina, married Jacob Roth; Paulina, married Conrad Losing; Christian, married Helena Schneider; Amelia, married Chris Roth; and Bertha, wife of August Sattler.

Their homestead is the farm now occupied by a grandson, Raymond (son of Christian Stoebner) and his wife, Erna Stoebner.

Jacob F. Stoebner and Fredericka Kaul were married Dec. 8, 1908 and settled in Bon Homme County 9 1/2 miles south of Tripp. They farmed there until Dec. 14, 1944, when they retired and moved to Scotland. On May 29, 1950, Jacob passed away. In 1951, Fredericka moved to Tripp and lived there until she passed away Oct. 26, 1963. They were blessed with four children:

(1) Helena, passed away April 10, 1926 of scarlet fever.

(2) Edna, married Otto Herr, Jan. 13, 1931, and farmed north of Tripp until the fall of 1970, when they retired and moved to Tripp. Their children are: (a) Ruth, married Ruben Baltzer, Jan. 12, 1951. They have two daughters, Rochelle and Patricia, and farm near Olivet. (b) Maydean, married Arlo Dewald, June 12, 1955. They have three children, twin girls, Mary and Terry, and one son, Steven. they farm south of Tripp. (c) Lucille, married Duane Haase, Sept. 5, 1958. Brian and Mark were born to them, Mark died in infancy. In the fall of 1973, they adopted a daughter, Cheryl. They farm south of Paulina, IA. (d) Willmer, married Wilma Bietz Aug. 17, 1958. They have four children: Nancy, Janet, John, and Amy. They live in Tripp. (e) Harvey, lives in Sioux Falls.

(3) Ida, married Philip Winckler, Dec. 19, 1935, and farm ten miles south of Tripp. They had four children: (a) First born died in infancy. (b) Alton, married Delores Delzer and farms south of Tripp. Their children are: Kim, Lori, Lisa, Susan, David, and Paul. (c) Goldie, lives in Tyndall. (d) Rosie, married Richard Wootton and lives in Yankton. Their children are Joan and Terry.

(4) Herbert, married Gertrude Kiehlbauch, March 26, 1943. They live at Balaton, MN and have one son, Darrell.
Gottlieb Schmidt
Gottlieb Schmidt and his wife, Elizabeth M. Koerner Schmidt, came to the United States from South Russia in the year 1871 with their five children: Magdaline, Andrew, Elizabeth, Gottlieb, and Adam. Adam was a six year old lad when they arrived in this country. His parents homesteaded eight miles northwest of Tyndall, in Bon Homme County, with little materially to go on. They farmed the best they could with what they had. They lived in a sod house and had to go to Yankton for their supplies. Yankton was the only town to the territory at the time. Sunday church services were conducted in various homes in their neighborhood.

The blizzard of 1888 was unexpected. A bright and sunny morning turned into a very old day with a raging blizzard. Adam and his brother, Andrew, were on their way to turn out the cattle when the blizzard hit. The storm was so bad that they lost their sense of direction within a very short time. While walking, trying to find their house, they met three of their neighbor's children who were trying to get home from school. The children were very cold and tired, unable to navigate. Adam and Andrew told them to stay at the fence line while they tried to summon help. When the men found they were unable to find help, they followed the fence line back to where the children were waiting. they carried the two smaller children and led the third, hoping they might be lucky enough to find the house. This was, of course, of no avail. The oldest child died from cold and exposure, so they had to leave her along the fence line. The child Andrew carried died while they were walking, and the child Adam carried died shortly after they found some haystacks and a barn.

Meanwhile, the men's parents tried everything possible to direct them to the house - struck dish pans to make a noise, fired the shotgun at various times, hoping the boys might hear them. Finally, the mother lit a lamp and set it in the window, hoping the boys might see it. While the sons were waiting in the barn, they did see a dim light which guided them to the house. They were nearly frozen - feet, hands, ears, cheeks, and noses, all frost-bitten. Needless to say, everyone was glad to see them. They had been on in the storm from eight o'clock that morning until five o'clock that afternoon.

On February 9, 1890, Adam married Wilhelmina Teske, who had come to this country with her parents from Paris, Bassarabia, when she was thirteen years old. They made their home with Adam's parents for a short time.

In 1902, they bought a farm from the Derheims which was located fives miles southwest of Tripp. The farm is still owned by the Schmidt's. Adam's son, Henry (now deceased) inherited the farm which is now owned by Henry's son, Maynard.

Adam and his wife were blessed with ten children; two died as infants, one as an adult. Gottlieb married Theresa Lehr of Tripp, Paul married Christina Mehlhaff of Menno, Henry married Annetta Zeeb of Menno, Samuel married Ruby Hoff, Christ married Edna Hofer, Bertha married Walter Kludt, and Pauline married Victor Guthmiller, all of Tripp.

In 1920, Adam and his wife moved to Tripp. In 1928, he purchased the Hoff Hardware, which was managed by son Sam. Later, Sam purchased the store from his father and operated it until his retirement.

Adam enjoyed good health until his death in May, 1945, at the age of 79 years. His wife died in July 1958, at the age of 89 years.
Frantisek Tucek II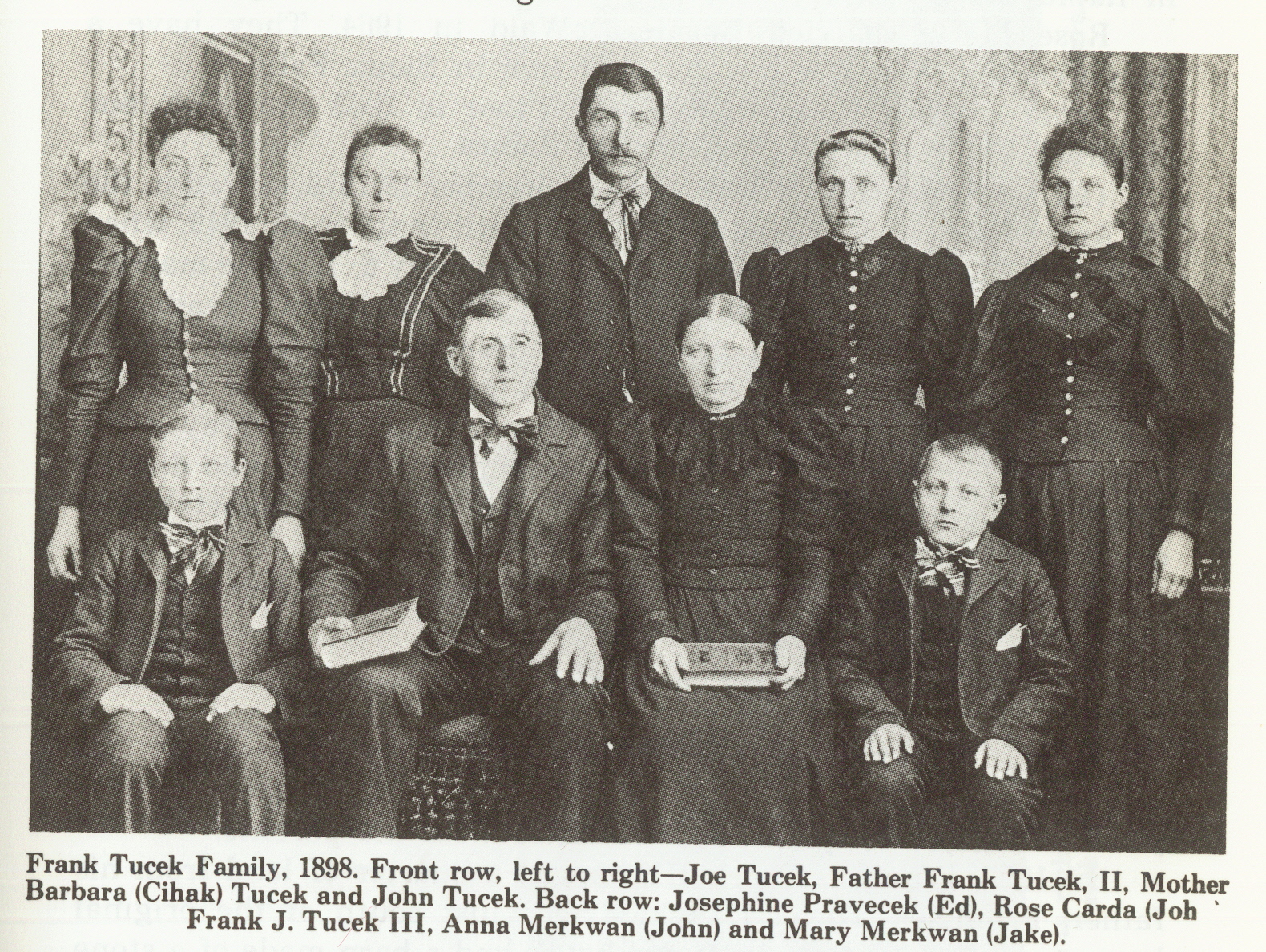 Frantisek Tucek II was born January, 1838, to Rosalia (Schanelec) and Frantisek Tucek I, in Bazejovic, Tabor, Czechoslovakia. He married Barbara Cihak, who was born February 1848, to Marie (Soucek) and Frank Cihak of Drahnetice, Tabor, Czechoslovakia. They were all baptized in the Catholic faith and were all farmers and very poor. The two eldest children went to school in Czechoslovakia and for their daily meal would get one pattie made of potatoes and flour. The older girl shared half of hers with her brother.

In 1869, Frantisek Tucek II and Barbara applied for a passport and came to Yankton in 1883 with their five children: Anna, Frank III, Mary, Rose, and Josephine. They stayed at Barbara's relatives, homesteaded on a place one and one half miles southeast of Tripp and built a sod house. They used a walking plow and oxen to break the land and pulled branches to drag it. They made a well but were always short of water. Frank II worked for older settlers who were far from home and needed water. Barbara took a stone boat and barrel pulled by oxen and walked as much as five miles to get some water.

They also raised a few ducks, geese, and chickens and used the feather to make bedding. They stripped the feathers of the quills to make them softer. During the summer months, the eldest daughter Anna would work out to earn money and her brother, Frank III herded cows for the Kortan and Travnicek farms. Cow chips were stored in the shed for winter fuel.

A two room stone house was then built and three more children were born on the homestead: Joseph, John, and Thomas. Thomas died of diphtheria when just a young lad. Their children married and some moved to other vicinities.

(I) Anna married John Merkwan of Tabor, a widower with three sons. To this union were added five children including a set of twins.

(II) Mary married Jacob Merkwan of Dante. They had eight children also including a set of twins.

(III) Rose married John Carda of Tripp and moved to the Lake Andes area. They were the parents of thirteen children.

(IV) Josephine married Edward Pravecek of Tyndall, later moving to the Winner area. They had five children.

(V) Joseph Tucek homesteaded near Geddes. He married Stella Carda of Tripp. They had a son Leo and a daughter Hattie Van Der Pol.

Of course all wasn't work. They also had entertainment. They congregated in the Bohemian vicinity of Vodnany, where there was a store, a dance hall, and a church. It was nine miles and the youngsters would walk to church and others joined them on the way. A few times a year they started dancing after the church services before walking all the way back home, early the next morning.

(VI) John Tucek was born on Nov. 8, 1888, on the homestead. On Nov. 15, 1910, he married Rosie Simek, born March 11, 1891, to Jacob and Ana (Stanek) Simek, near Tabor. To this union three children: Marie, Elsie, and Edward, were born. They took over the farm work and his parents lived with them. In 1925 the two brothers John and Frank III built identical new homes. The old house is still being used as a garage and for storage.

(I) Marie Tucek, born Feb. 28, 1912, married James J. Sykora in 1934, and lived on a farm two miles southeast of Tripp. They were blessed with three children: Hattie, Harold, and Ernest.

Hattie married Edgar Magera in 1956. They have four children: Kathleen, Jack, Nick, and Michael. Edgar is associated with the Kansas City Life Insurance. He presently serves as Mayor of Tripp.

Harold married Patricia Friederich of Parkston, in 1962. They live in Pierre and have two children: Monty and Gina.

Ernest married Pamela Lee of Lesterville, in 1968. They live in Scotland and have a daughter Angel.

(II) Elsie Tucek, born Dec. 8, 1914, married Frank Sykora, in 1935 and lived on a farm east of Tripp. In 1945, tragedy struck the family when her husband Frank, died, leaving her with three small children: James 7, Rose Marie 2, and Janet 10 months. They moved in with her parents on the farm for about two years, then the John Tuceks retired and moved to Tripp in 1948. John died at the age of 73 in January 1961. Mrs. Rose Tucek continues living with Elsie.

Elsie's son, James L. Sykora, married Gloria Stiefel of Tripp in 1955. They have four sons: Barry, Brian, Gregg, and Robert and live in Rapid City.

Rose Marie married Bernie DeWald in 1964. They have a daughter Wendy and a son Jon and live in Sioux Falls.

Janet married Kenneth Rezac of Tabor in 1963 and have four children: Valorie, Lynn, Joseph, and James.

(III) Edward Dave Tucek, born September 18, 1918, served in the US Army four years, from June 18, 1941 until October 28, 1945, when he received an honorable discharge. On February 6, 1944, he married Gwendolyn May Poston of Sacramento, CA, at Reno, Nevada. To this union four children were born: Sandra Kay (Mrs. James Lubenow) and son John Allan and daughter Jamie Lee of Minneapolis, Judith Ann (Mrs. Donald Sharkey) and sons Troy Allen and Todd Christopher of Mitchell, a daughter Dorothy, who died in infancy and a son Michael John and wife Lynn (Reinhartz), and daughter Carried Lynn of Mitchell.

Frantisek II passed away in 1922 at the age of 84. Barbara passed away in 1929 at the age of 81.
Frantisek Tucek II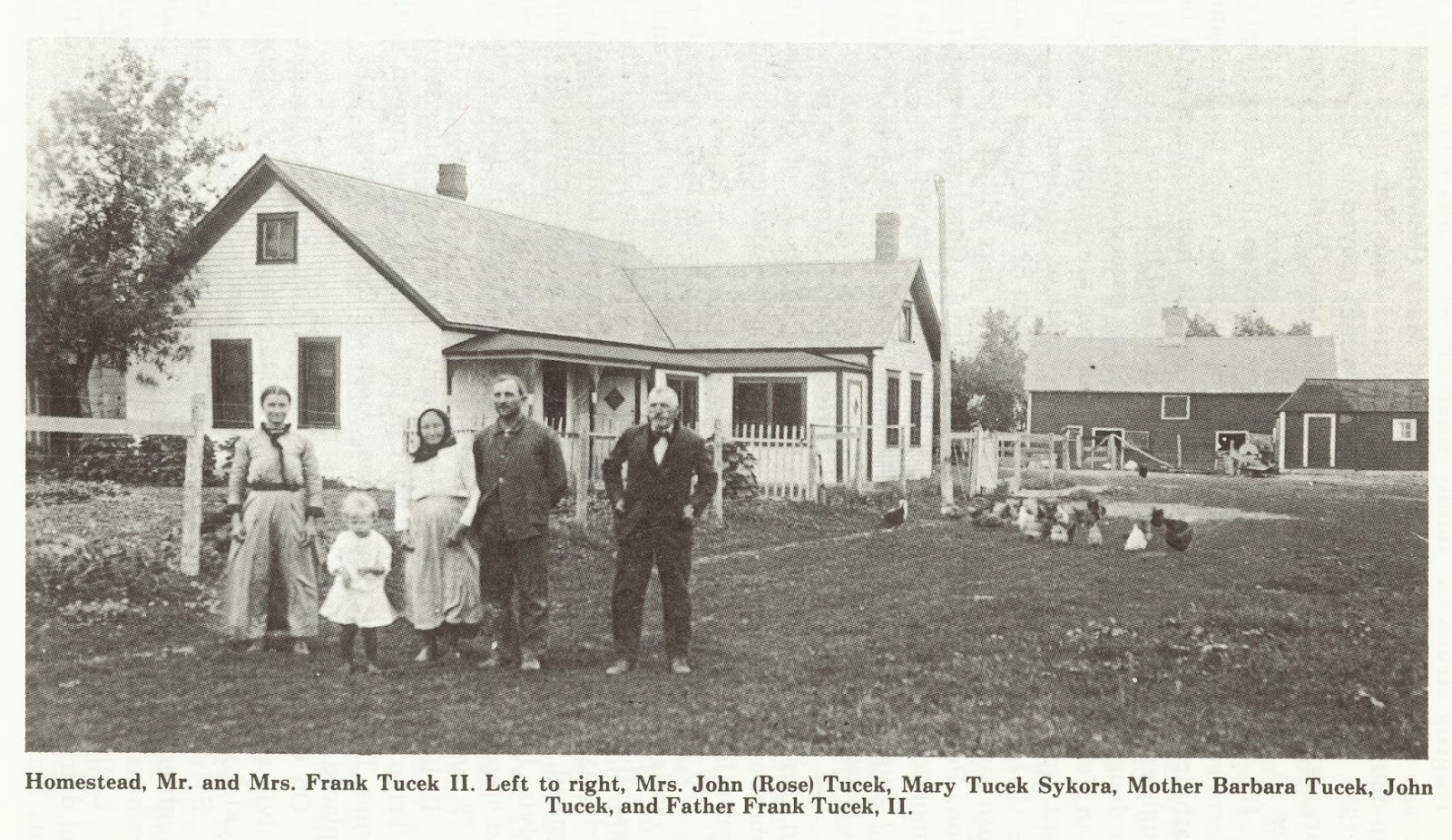 Frank Tucek III was born on December 8, 1873, and was nine years of age when he came to America with his parents.

In 1897, Frank J. Tucek III, bought a quarter of land from his father, Frantisek Tucek II, which was just south of the original homestead. There was a little sod house and a barn made of a stone wall with a roof of branches and grass. With the help of his family, he built a three room stone house. Also in 1897, Frank III married Anna Dvorak, who was born in Czechoslovakia, and had come to American at the age of six with her parents John and Katerina (Tupa) Dvorak, who homesteaded the place known as the James Sykora farm.

Frank III and Ann had four children: Christina, Mary, Rose, and Frank IV. The first year was very rough. They had no money. In desperation, he went to Ted Schleissman, who owned the Merchandise Store. He asked if he could borrow ten dollars. "What for?" asked Ted. "To pay for my grocery bill that I had charged at my relatives store. He keeps sending notices by mail, adding on the interest and postage." Ted handed him the money and said he could pay it back when he had it, and was welcome to buy at his store anytime, which he did.

Tragedy struck the family when his wife Anna died in 1927 at the age of 49. Frank III later married Mary (Mikuska) Schuch. A step-daughter, Mary Ann "Mamie" married Jake Nehonsky of Tripp in 1935. After Mr. Nehonsky died, "Mamie" moved to her daughter Margaret and Willmer Baumiller's farm near Parkston, where she lives in a trailer home.

(I) Christina Tucek married Albert Slaba in 1913. They lived on a farm southeast of Tripp and had five children: After her husband's death in 1946, she continued living on the home place with her daughter and family. They moved to Scotland following the death of her daughter's husband in 1973. Mrs. Slaba passed away at the age of 78 in February of 1975. Surviving children are William Slaba, Delmont, and Alvin Slaba, Mabel Kronizl of Scotland.

(II) Mary Tucek married Charles Carda Sr. and lived on a farm southeast of Tripp. They had five children: Clara Plihal, Elsie Kocer, Leona Podzimek, Sylvia Krcil, and Charles Jr. Charles married Irene Honomichl in 1956. They farm on the home place and are parents of two daughters, Mary Kay, Teresa, and son Kevin. Mrs. Charles Carda Sr. passed away in 1951.

(III) Rose Tucek married Charles Slaba of Armour in 1928. They had three children: Leona Bruner and Charles Jr. of Geddes, and Robert of Lake Andes. In 1966 she passed away and her husband died a year later.

(IV) Frank W. Tucek IV was born January 26, 1912, on the farm two miles southeast of Tripp, where he has resided all his life and is presently living. On September 30, 1935, he married Tillie Plihal, at Vodnany. Her parents were Anton and Frances (Jambor) Plihal of Tyndall. Frank IV and Tillie are parents of four children: James, Sylvia, Lillian, and Eileen. They farmed and lived with his father and stepmother. His father Frank III passed away in 1952 at the age of 78, and his step-mother died in 1956.

In 1945, Frank III and Tillie bought a farm seven miles southeast of Tripp. A new home was built in 1959 which is now known as the James Tucek farm. Since then, most of the buildings have been replaced.

On October 14, 1959, James married LaLanie Lee, daughter of Melvin and Esther (David) Lee of Lesterville. They have a daughter Vicki Lynn and two sons Randall and Terrence.

Sylvia married Lars Jezek in 1961. They have a son Thomas and daughters Cynthia, Connie, and Cheri. They farm and dairy northeast of Tripp.

Lillian married Paul Schlechter of Scotland in 1969. They farm and dairy southeast of Tripp. They have a daughter Wendy and two sons Mark and Darren Lee.

Eileen married Paul Serr in 1974 and lives in Rock Springs, WY, where she teaches.
John Wiederrich, Jr.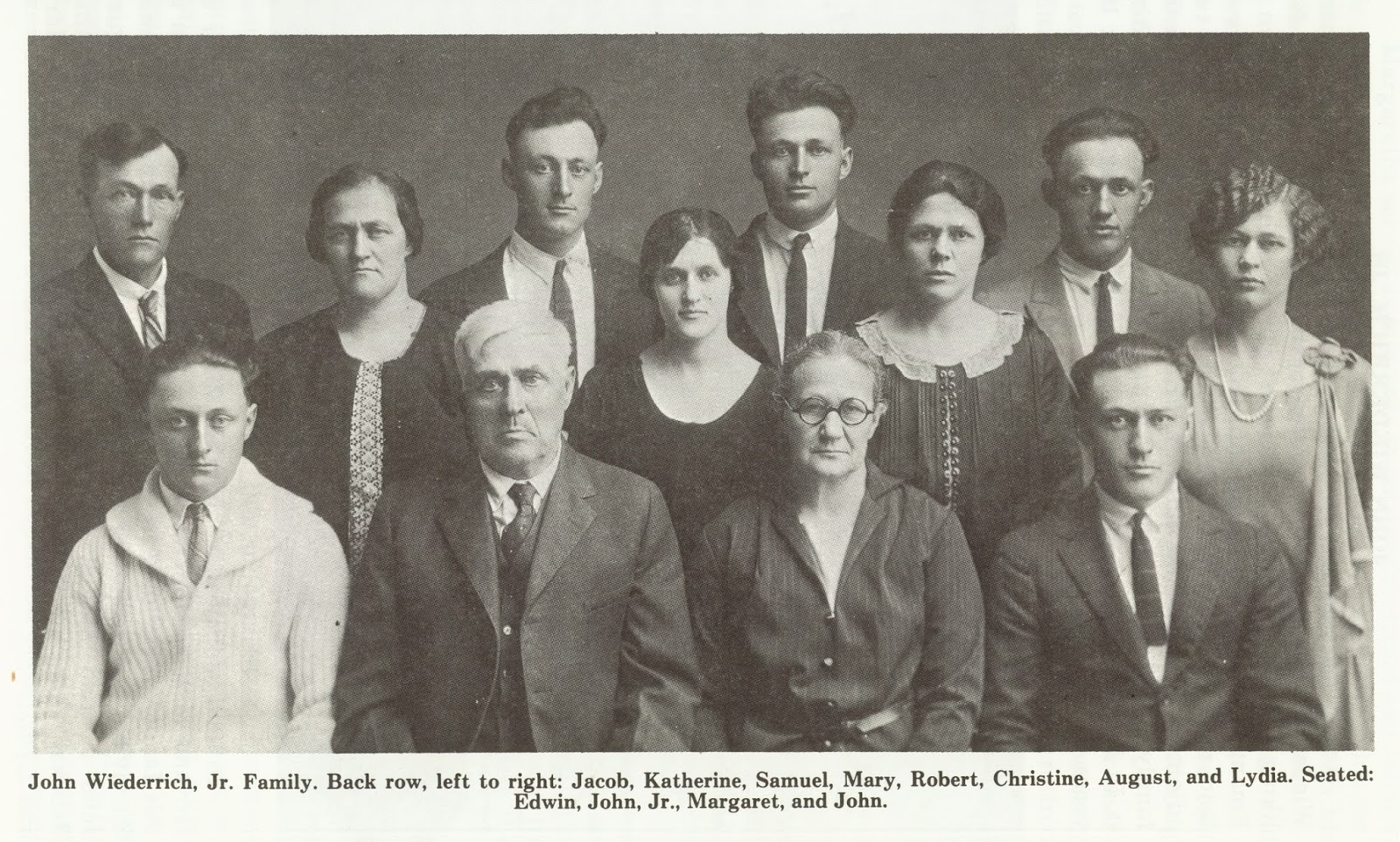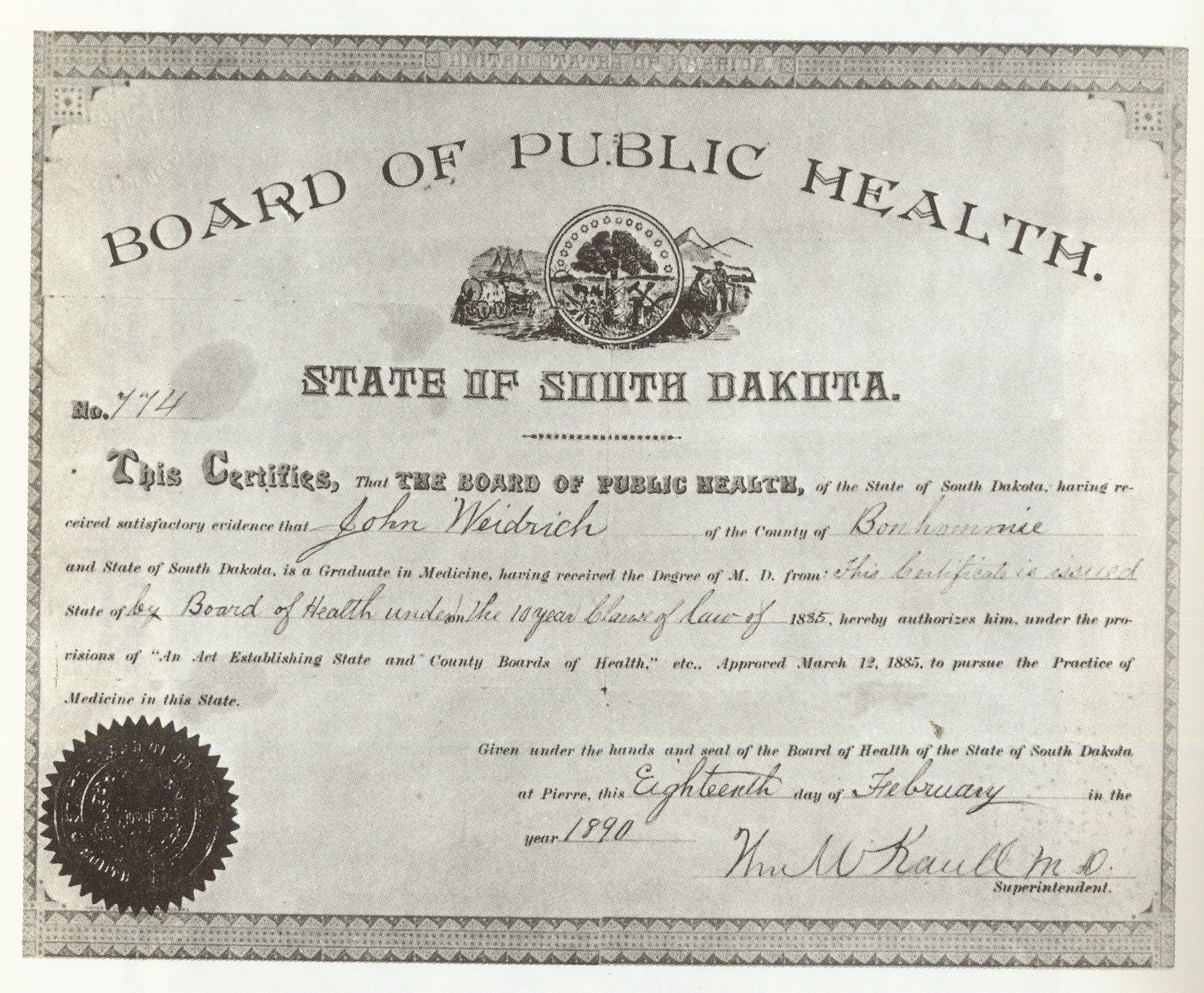 Johann Wiederrich, Jr. came to America with his father, Johann Wiederrich, Sr. in 1874 and settled near Yankton for two years. No liking it there, they moved northwest as far as what is now known as Emanuel's Creek where Johann, Sr. homesteaded two quarters of land, now owned by Ervin Fischer, Johann, Jr. homesteaded on two adjoining quarters and built his farm there. That land is still in the family with Edwin Wiederrich's daughter and her husband operating it. In 1976, it will have been owned by the Wiederrich family for 100 years.

In 1881, Johann, Jr. married Margaretha Vilhaur, daughter of Mr. and Mrs. Jacob Vilhaur. There were thirteen children born to this family, three died in childhood, one in the diphtheria epidemic. Surviving children were six sons: Jacob, Samuel, Robert, August, John J., and Edwin, and five daughters: Katherine, Christina, Rebekah, Mary, and Lydia. Only three are still living: August, Mary, and Lydia.

Margaretha served as midwife to the neighborhood and Johann, Sr. the doctor, having had a certificate issued to him in SD. This certificate remains with the family papers. Johann, Sr. along with his son, August, was the bone setter or chiropractor for the community.

Some of the medicines that Johann, Sr. compounded and prescribed are still being copied and used by people today.

There are many stories of hardship and humor that are told over and over when the family gets together, and they enjoy hearing and reliving them.

Margaretha died September 23, 1928. In 1930, Johann, Jr. married again. He took for his wife, a Mrs. John Wiederrich, formerly Elizabeth Bollinger, from Monango, ND. That same year, he retired from the farm to establish residence in the town of Tripp, where they hoped to lived for many years. Providence ruled otherwise as he died on August 14, 1933 at the age of 77 years.
Peter J. Winckler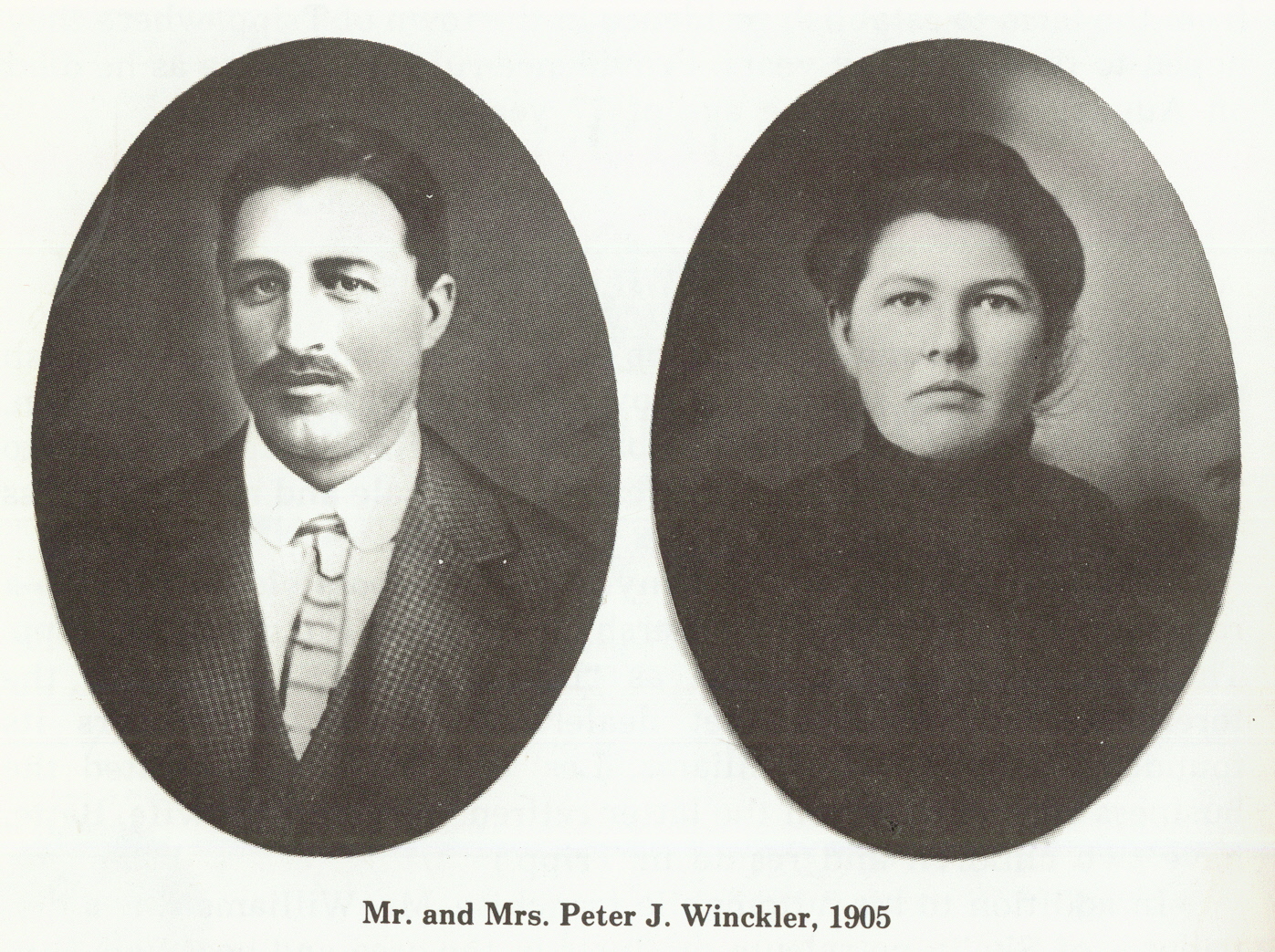 Peter J. Winckler was born January 24, 1880, thirteen and one half miles southeast of Tripp on the farm his father homesteaded when he came to America from Russia. His parents were Jakob and Katherine (Heibel) Winckler. Here he grew to adulthood. In 1905, he married Eva Hieb, daughter of Jakob and Margarette (Lehr) Hieb. She was born September 30, 1882. They raised nine children to adulthood. Laura died of blood poisoning at the age of 15. They continued farming until 1946, when their youngest son married and moved on the farm.

Peter and Eva's church was a very important part of their life. They not only supported it, but also took an active part in it. It was because of these strong church ties that they choose Tripp to retire in rather than Tyndall where they traded for many years. Tyndall didn't have a Reformed Church and Tripp did. He purchased the Theodore Schliessman residence where Walter Rembold now resides.

Eva died in 1959 and Peter J. in 1964.

Two of his children still call Tripp, "Home." They are his eldest son, Albert, who farms five miles south of town and his youngest daughter, Rebecca, Mrs. Erwin Hoff, who lives in town.
John Wiederrich, Sr.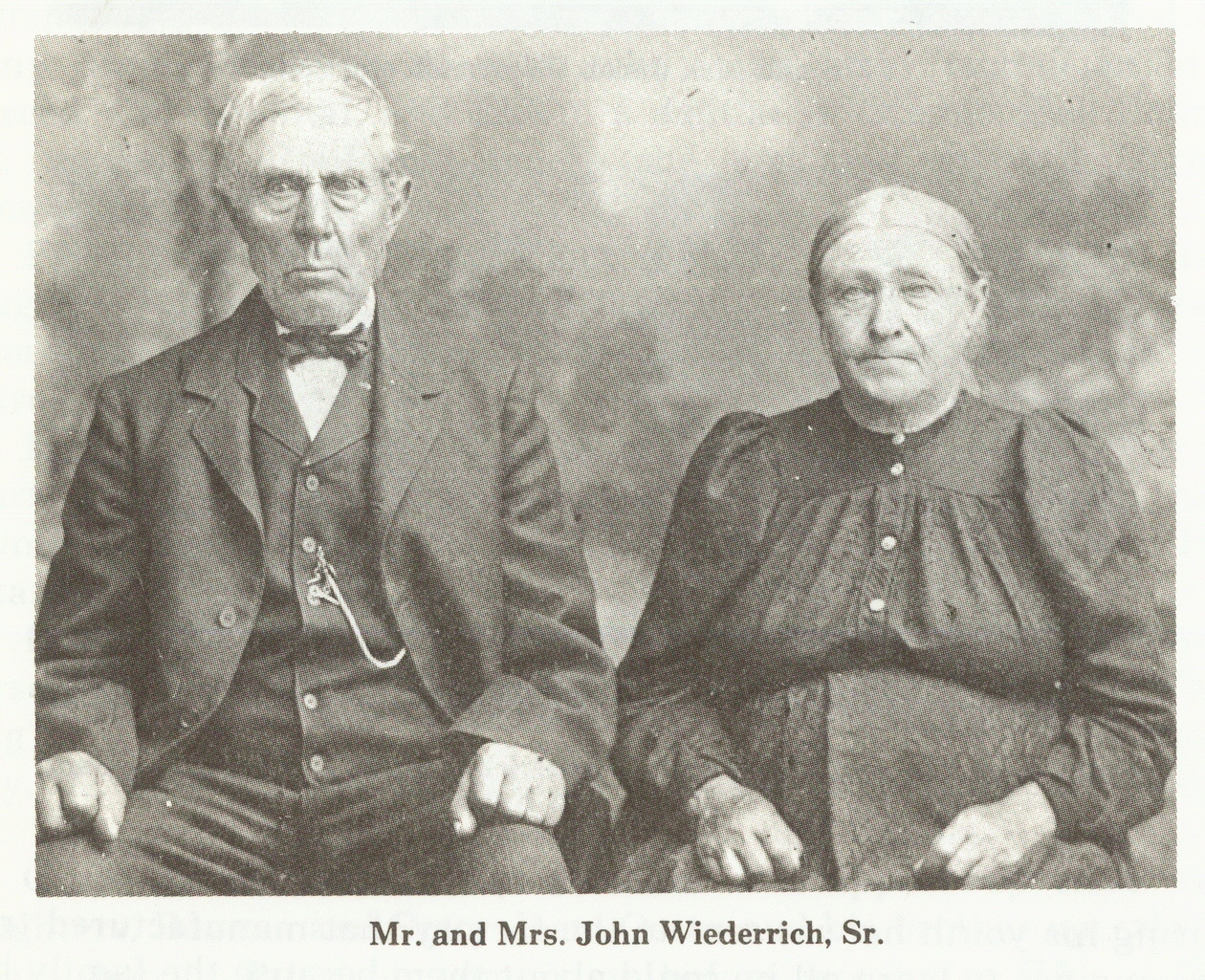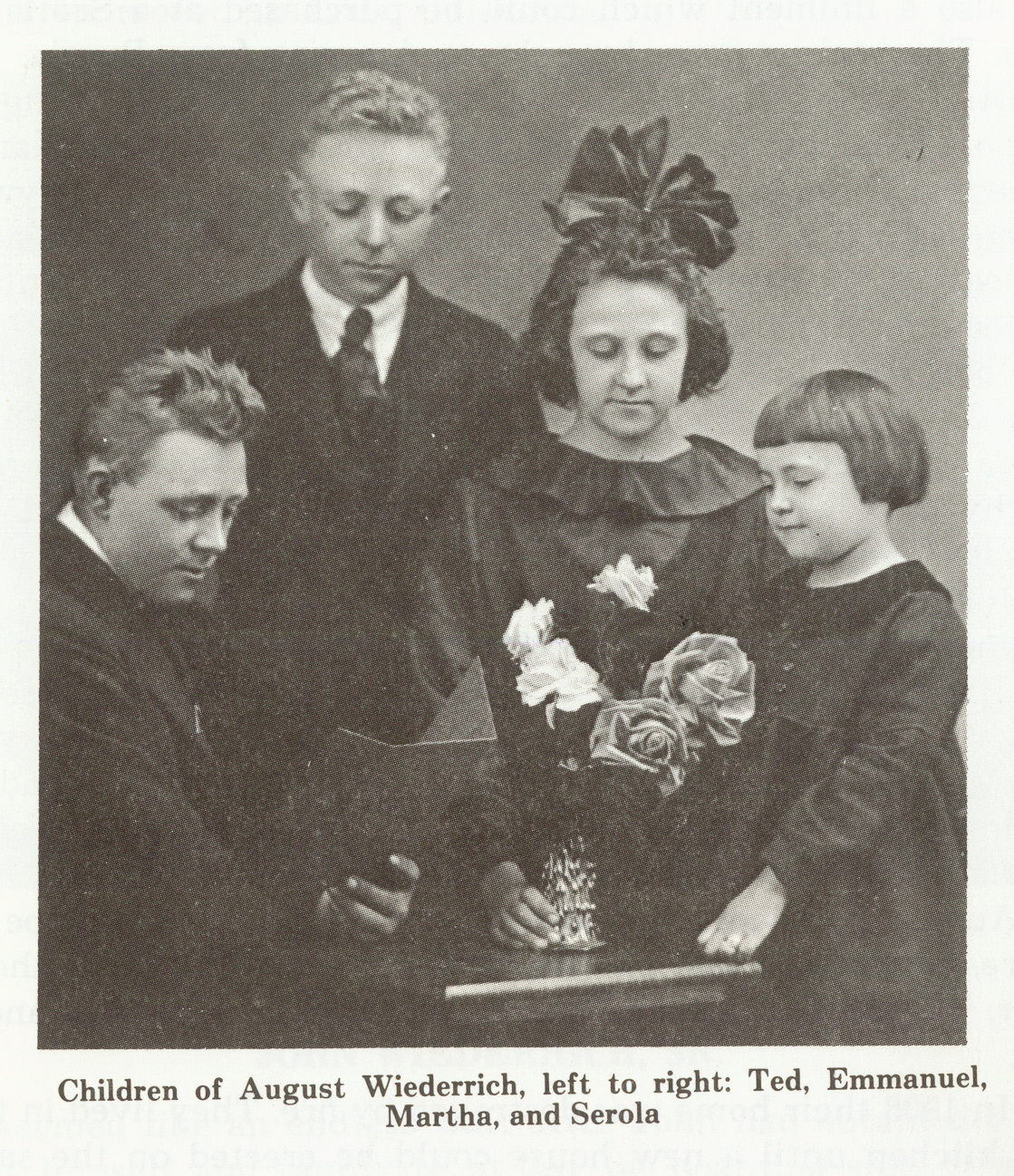 It seemed like an endless wait after John had obtained a passport for himself and family to at last be boarding ship to sail to America. It was in September of 1874, that John Wiederrich, Sr. his wife, Christine (Graf) and their five children left Neudorf, County of Tierspol, Province of Cherson, South Russia. They arrived in Yankton, Dakota Territory, in December 1874, along with other German immigrants.

After farming near Yankton for two years, he obtained two homestead claims five miles south of what is now the town of Tripp. He decided to build their first house near a little lake so they would have an ample supply of good water, as they had many water problems near Yankton. The problem continued to plague them as numerous wells were dug before one was found up near the horse barn that wasn't bitter.

Although John was mainly a farmer, he was known for his ability to set bones. He was so good at it that in fact, several medical doctors in the area helped him to obtain a certificate of medicine so they could refer their patients with broken bones to him. He even softened breaks that had healed improperly, rebuke them and set them straight. John made a salve known as "Wiederrich Black Salve" and also a liniment which could be purchased at a Scotland drug store. The recipes were brought to America from Russia.

Still in possession of his descendants are the following papers: passport to America (which exempted him and all descendants from all further Russian rule, and gave them the right to go anywhere in the new world to make their home), the original homestead deeds, application for citizenship, the actual citizenship document, Doctor of Medicine Certificate and the land he homesteaded.

John and Christine were blessed with seven children: Christine, John Jr., Jacob, George, Martin, Magdalena, and August. Martin and Magdalena were not listed on the passport and there is no record as to why or when they died. The youngest son celebrated his first birthday aboard ship.

John purchased homestead claims from two other men in years to come and also twenty acres of land from his son, John Jr., because he built his buildings to close to him that part of his house was on John Jr.'s property. In 1900, he sold one tract of land to his youngest son, August. In 1907, he sold August the original homestead, but he and his wife continued to live there with their son until their death. He died later that year and Christine died in 1909.

August married Marie Heihn in 1899. Their first hope for the future, twins, was laid to rest in the grove of trees by the house. Later, Theodore, Emanuel, Martha, and Serola were born and raised here.

In 1908 their home was destroyed by fire. They lived in the summer kitchen until a new house could be erected on the same site.

For some twenty years during the school term, they boarded the teachers who taught in their school district.

In 1940, August purchased the house that Lawrence Heisinger now lives in and retired from farming. He died in 1953 and his wife, Maria in 1967.

Emanuel and Theodore took over the farming. Theodore farmed the land west of town and Emanuel the home place.

Theodore married Ella Fischer of Tripp in 1932. They were blessed with two children, Janice and Keith. Keith died in infancy. Ted farmed until 1936, when he left to attend the National College of Massage and Physio Therapy in Chicago. Upon completion of his studies, he located in Mitchell.

Emanuel married Emma Schneider of Tyndall in 1928. They were blessed with two children: Duane and Judy. In 1944, they purchased a cafe and a pool hall and bowling lanes in Tripp. They sold it in 1945, and moved to Mitchell.
George Wiederrich, Sr.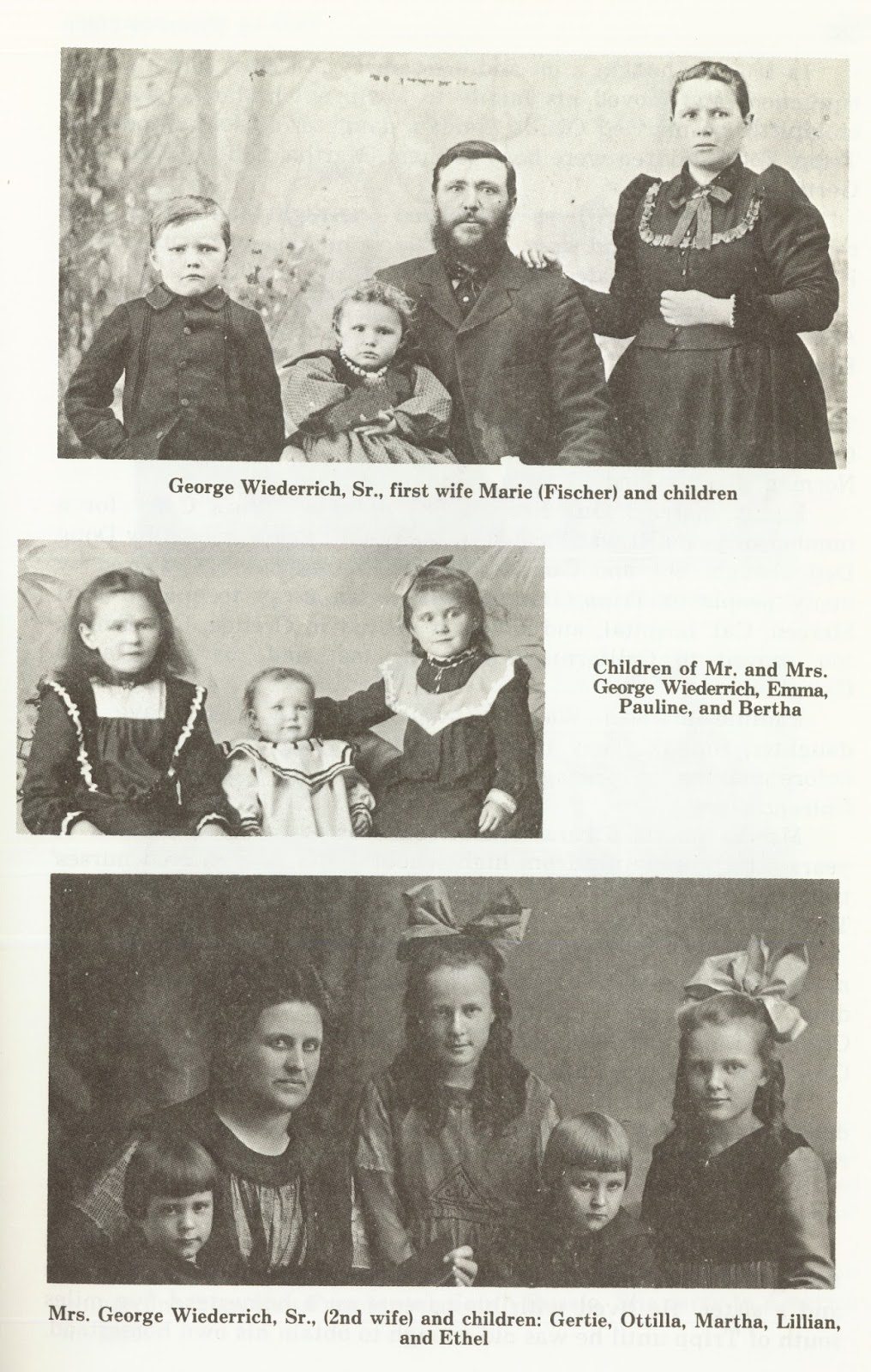 George Wiederrich, Sr., was born in Neudorf, South Russia, in 1866. He came to America at the age of 13 with his parents, three brothers and a sister. He lived at home until he was old enough to obtain a homestead claim for farmland five and one-half miles south of Tripp (the Paul Finck farm).

In 1890, George married Maria Fischer, who was born in Friedenstahl, South Russia. To this union were born four children: George Jr., Bertha, Emma, and Pauline.

In 1902, he bought a lot and a creamery in Tripp; sold his farm equipment and moved his family to town. After Maria's death in childbirth, he married Ottilia Sandau, daughter of John Sandau of Tripp. Four children were born to them: Martha, Lillian, Ethel, and Gertrude.

George's creamery was vandalized one night and rather than repair it, he sold it and went into the farm implement business with P. J. Hofer. He operated this until his death in 1918.

George Jr. married Helen Herr in 1912. They had two daughters: Adeline and Virginia. He was co-owner of the Wiederrich and Hoff Hardware Store in Tripp. He died in 1964; Helen in 1961.

Bertha married Rudolph Eggert in 1919. They farmed west of Tripp for a number of years before selling their farm and moving to California. They had four children: Cuba, Genevive, Lois Marie, and Norman. Bertha died in 1965; Rudolph in 1955.

Emma married Gus Brandt. She operated "Em's Cafe: for a number of years. It was located in the building now owned by Doug Deffenbaugh. She and Gus had two sons who are remembered by many people of Tripp; Donald, who is an xray technician in a Merced, Cal. hospital; and Eldon, a dentist in Orange, Cal. Emma, too, moved to California where she met and married Harold Campbell.

Pauline married Walter Antholz in 1897. They have one daughter, Smilax. They ran a bakery in Tripp for several years before moving to Chicago so Walter could go to a School for Chiropractors.

Martha taught a rural school south of Tripp for a number of years after graduating from high school. Later, she entered nurses' training in Omaha. She married Don Tata. They had one son, Jim Tata.

Lillian and Ethel left Tripp shortly after graduation to enter nurses' training. Lillian married Carl Waugh in an 'Airoplane Wedding;. They had one daughter, Carleen. Lillian still resides in Sioux City, IA. Ethel married Robert Lierman and they live in Carmicheal. They have two children, Robert, Jr. and Sandra.

Gertrude married Oscar Maruska of Tripp. They have two daughters, Deanna and Betty Jean. Oscar and his brother operated a repair shop in Tripp for some time before moving to CA.
Jacob Wiederrich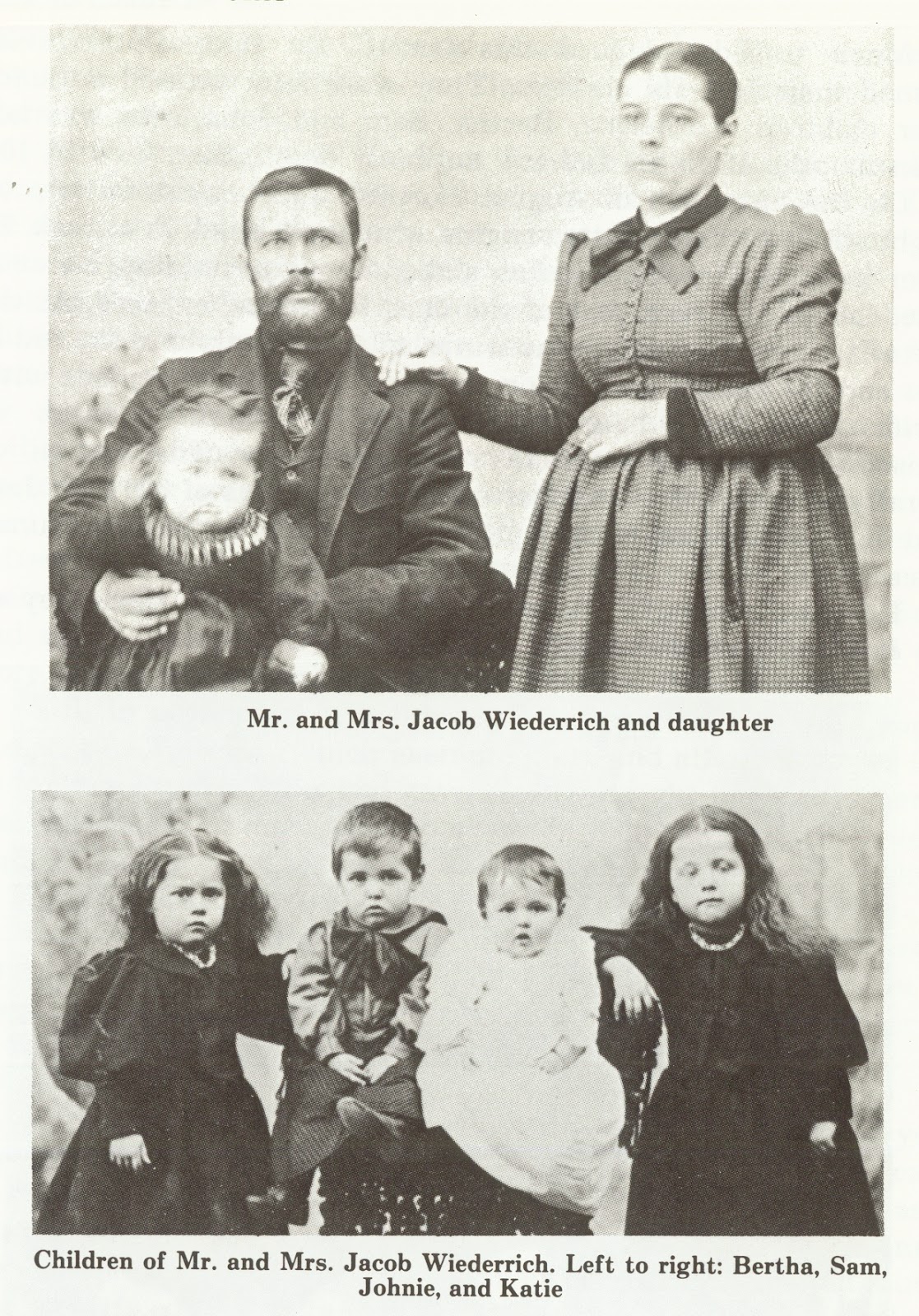 Jacob Wiederrich was born in Neudorf, South Russia. In 1874, at the age of fifteen he came to America with his parents, three brothers and a sister. He lived with his parents on a homestead five miles south of Tripp until he was old enough to obtain his own homestead. During his youth he was sent to the factory that manufactured traction engines to learn all he could about them because the family had purchased one. There wasn't a serviceman in the area and he was the only single male at home that was able to be gone for a period of time.

In 1886, he was married to Katherina Buckenberger who was an immigrant from Neu Freudental, South Russia. She came to America in 1885.

Much tragedy plagued this family. By 1892, diphtheria had claimed their first six children. They were later blessed with four other children: Katherina, Bertha, Sam, and John who was born seven months after his father's untimely death. Sam died in 1898.

On the afternoon of August 25, 1896, Jacob went to help two neighbors with their traction engine which was stuck in a creek. The water in the boiler was too low and the engine, standing on an incline, caused the back part of the flues to become exposed. As they started to rock the engine, the water splashed back onto the red hot flues and the sudden generation of steam caused it to explode with a terrific force. Both neighbors were killed instantly. Jacob was bruised and scalded internally and externally. The engine was literally torn to pieces and scattered over a radius of 300 feet. Jacob died on the following Saturday. There were 200 teams in his funeral procession.

Katherina married Frederick Hieb in 1902, and then they and the children moved to Lodi, California.