Biographies from the History of Yankton County South Dakota
by Yankton County Historical Society, 1987
Barbara (Teply) Behensky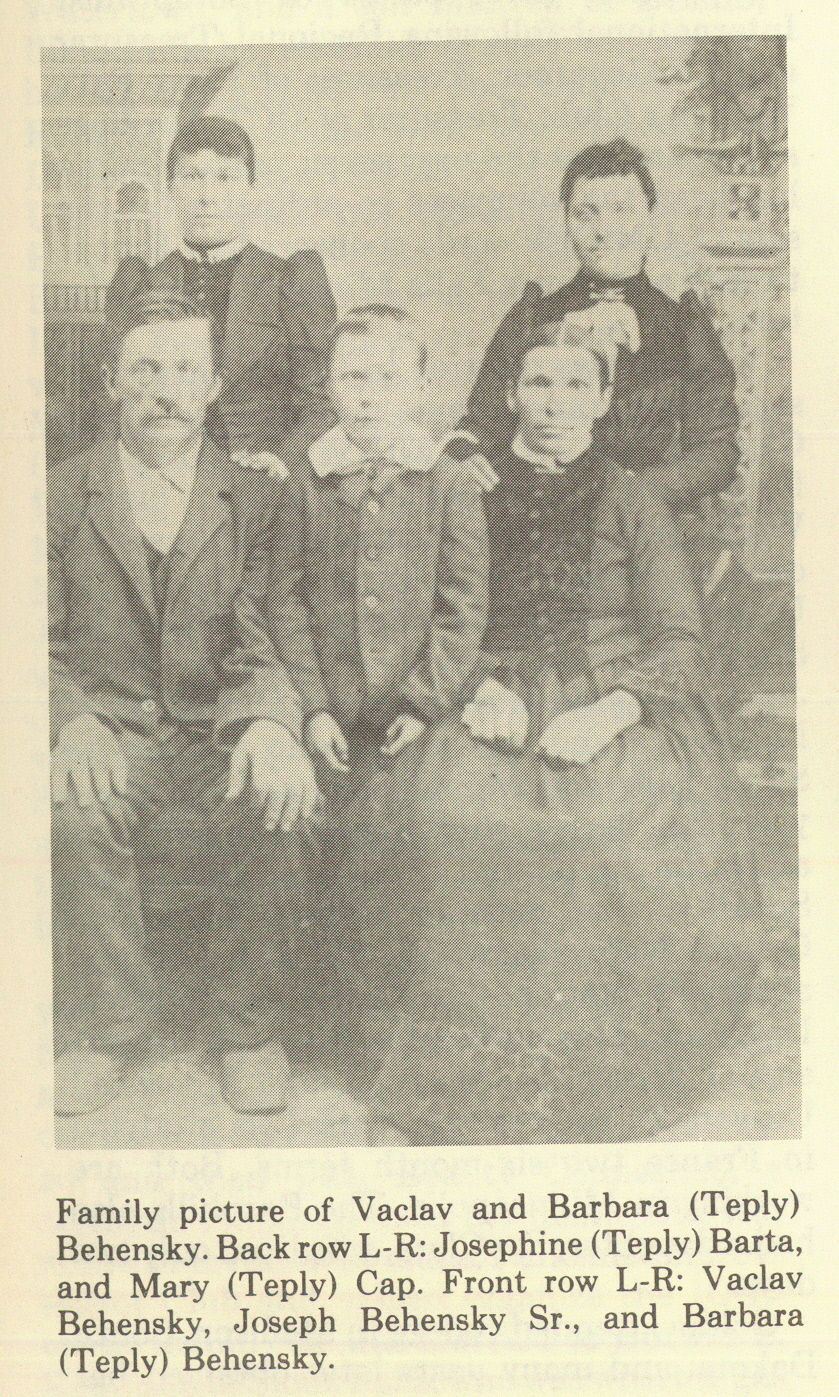 Barbara Teply was born in Radetice, Czechoslovakia in 1846. She came to the United States with two daughters, Josephine, age ten, and Mary, age eight. Mary remembers dancing on the boat; it took one month to make the trip. They worked in New York baking bread for four or five months to earn enough money to come to Dakota Territory.

Barbara Teply came to Yankton about 1879, married Vaclav (James) Behensky (born in 1847). They had one son, Joseph Behensky I, born September 13, 1884, making him over 100 years old at the time of this writing. They were farmers living in Yankton County. About 1906 they moved to Tabor, South Dakota, into a house that had been a schoolhouse. It is now the oldest public building built in Dakota Territory. This house is preserved by Czech Heritage Preservation Society, Inc., Tabor, South Dakota. The house was moved next to the post office by June 1977.

Barbara and Vaclav had a cow, pigs, and chickens while living in town. This was permitted at this time. Barbara (Teply) Behensky died in April 1928, Vaclav Behensky died in February 1929; both are buried in Tabor.

Josephine Teply, born in 1873, married Frank Barta I and lived in Yankton County on a farm. Eight children were born to them: Frank II, Mary married Joe Halasek, Emil, Barbara died at 16, John, Sylvester, Helen married William Koupal, and Wesley. Josephine (Teply) Barta died June 27, 1950, and is buried at Tabor with Frank Barta.

Mary Teply (my grandmother) married Frank Cap II on November 13, 1894. Both are buried at Tabor, South Dakota.

by Leona (Mazourek) Cwach
Joseph & Anna (Rada) Behensky, Sr.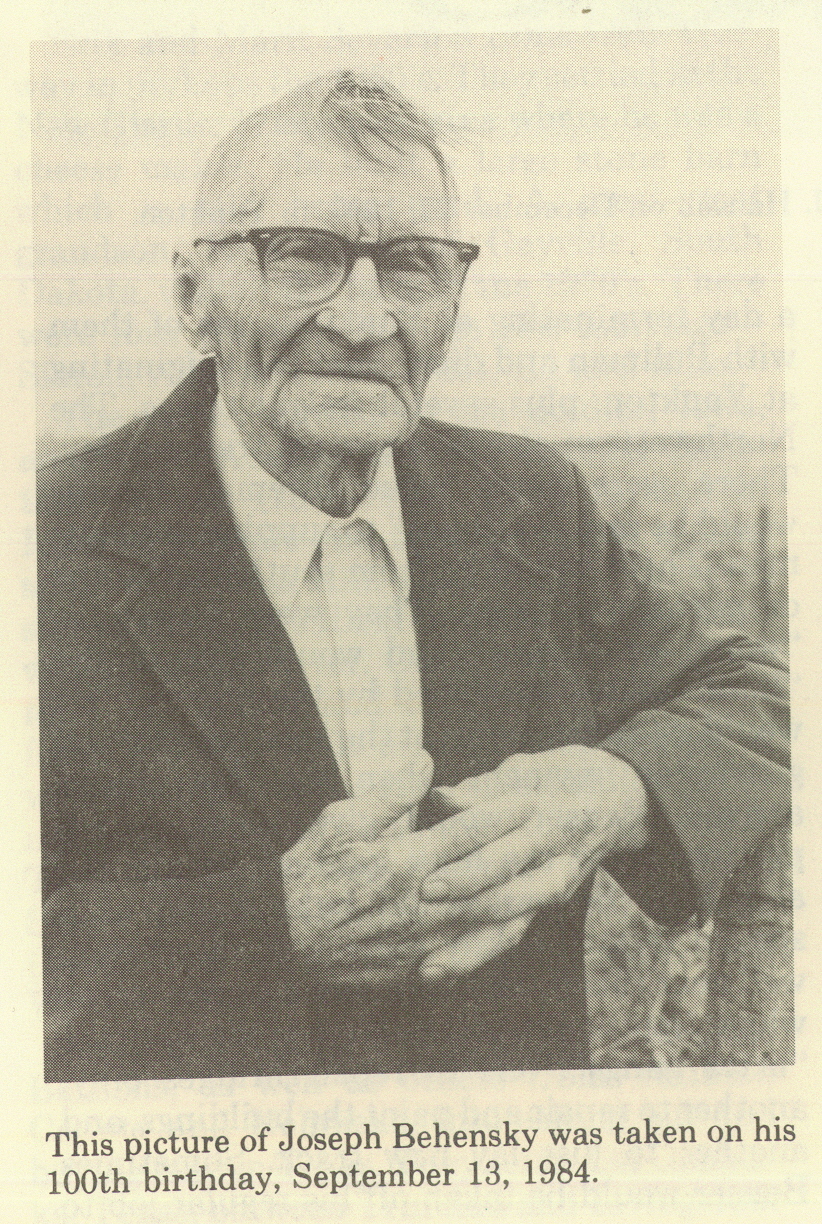 Parents of Joseph Behensky, Sr. were Barbara (Teply) Behensky and Vaclav Behensky. Barbara Teply was born in Pisek, C1zechoslovakia near Radetice, Czechoslovakia. Vaclav Behensky was born in Budovic, Czechoslovakia. He came to Dakota Territory and worked as a farm hand for Joseph and Katherine (Teply) Hlavac. Barbara Teply came a year later with daughters Josephine and Mary. They homesteaded about two miles west of Utica, South Dakota, Ziskov Township, Yankton County, in about 1880.

Their son, Joseph Behensky, Sr. was born September 13, 1884. He celebrated his 100th birthday, September 13, 1984, at the Legion Hall in Tabor, South Dakota. All of his 100 years spent in the country. He remembers the early days when he worked his fields the had way with a horse-drawn walking plow and cultivator. He farmed 200 acres and purchased 120 acres more in 1910. He appreciated having a tractor, which was a great help. Later he purchased a McCormick Deering with steel wheels that had lugs. He used it to run a threshing machine and had a crew of neighbors for many years.

Life wasn't easy for him and his family during the depression years in the 1930's, with no crops and lots of grasshoppers, but he didn't give up because he loved farming and outdoor life so much. He said he just had to hang in there. There were lots of house parties for entertainment in those days. He only went to school through the fourth grade, but practical experience trained him for his life's work.

Joseph, Sr., was married to Anna Rada (B. 7-10-1888; d. 8-16-1949) on February 6, 1906 by Monsignor E. A. Bouska at St. Wenceslaus Church at Tabor. They had a son Joseph, Jr., (b. 3-9-1909; d. 5-28-1956) and two daughters, Francis and Helen.

Joseph, Jr., married Elsie Maruska September 21, 1946. They had a son, Donald (b. 9-9-1952, d. 10-2-1960) and a daughter, Charlene Behensky (b. 5-9-1950) who married Arthur Vaith on September 16, 1972, at Lesterville, South Dakota. Their children are Sarah, Kristie, Kevin, and Joseph.

Frances Behensky (Sister M. Florence) is at Notre Dame Academy, Omaha, Nebraska. She was born May 19, 1911.

Helen Behensky, born March 31, 1922, married Frank W. Zdenek on October 7, 1941. They have six children, four daughters and two sons. (1) Anna Mae Zdenek, born July 6, 1943, married Marvin Engstrom January 4, 1964. Their children: Lynette, Michelle, and Nicole. (2) Jeanette Zdenek, born July 5, 1947, married Ron Matuska June 24, 1967. Their children: Todd and Bradley. (3) Marcine Zdenek, born April 27, 1951, married Roger Henderson July 1, 1972. Their children: Jodi and Sean. (4) Joan Zdenek, born October 13, 1956, married Rick Kline June 21, 1975. Their children: Sara and Melanie. (5) Larry Zdenek, born March 17, 1959, married Crystal Oliver July 26, 1980. Their children: Jaycob, Cole, and Janelle. (6) Randy Joe Zdenek was born May 14, 1964.

Mr. Behensky still lives with his daughter-in-law, Elsie, on a farm near Utica, South Dakota. He encourages the young people to stay on the farm so they may reap the same fruits which that land has shared with him in the last 100 years.

by Helen (Behensky) Zdenek
Laddie E. Cimpl
The eldest of seven children born to Ladislav A. and Lillian (Hamberger) Cimpl, Laddie was born April 6, 1917, at Tabor, South Dakota.

In 1932, when he was 15, Laddie moved to Yankton to work with his great-uncle John Marek at a meat market, where he was paid $2.00 a week. He attended high schools at Tabor and Yankton, and after high school, he went back to Tabor to work for his dad's meat market. He later traveled to Norfolk, Nebraska, where he learned the wholesale end of the meat business by working for Roman Packing Company.

Laddie served with the United States Navy during World War II; and while stationed in Hawaii, he worked in food procurement. Back home after the war, he and his siblings became more involved in the family meat business, eventually establishing Cimpl Packing Company in Yankton in 1949.

On September 30, 1946, at St. Mark's Catholic Church in Lake Andes, he married Doris Connelly. They have two daughters: Kathleen (Kay) Cimpl, a medical librarian in LaCross, Wisconsin; and Colleen Cimpl (Mrs. Bill) Chase, a teacher in Yankton Public Schools. Bill and Colleen have two sons, Michael and Mark.

Since 1949 Laddie has actively served as president of Cimpl Packing Company.

by Laddie E. Cimpl
Ladislav A. Cimpl
Ladislav A. Cimpl was born June 19, 1893, in Czechoslovakia. He emigrated to the United States, leaving Krucemburk, Bohemia, then departing from Bremen, Germany, by boat, the "Prinz Friedrich Wilhelm." He arrived in New York on November 25, 1909.

From New York, Mr. Cimpl traveled to Friend, Nebraska, to work for Philip Kasal. Tabor, South Dakota was his destination, followed by a trip to Delmont, South Dakota, to work for a farmer in order to learn the English language. While he was employed there, he slept in the barn, accompanied by a family of rats. In an effort to tell the farmer about his "roommates", Mr. Cimpl searched for the appropriate word in his dictionary, then told his boss there were "German mice" in the barn. The farmer was highly insulted by the news, but it was soon straightened out when Mr. Cimpl finally came up with the right word.

Mr. Cimpl married Lillian Hamberger, who was born September 10, 1889, in Tabor. Their wedding took place on February 15, 1916, at St. Wenceslaus Church, Tabor. The couple has seven children: Laddie, now president of Cimpl Packing Company, Yankton; Mrs. Hayes (Angeline) Balvin, Tyndall, South Dakota; Leonard, who owns and operates the elevator in Tabor; John, vice-president and plant superintendent of Cimpl Packing Company; Jim, secretary-treasurer and head of sales and production of Cimpl Packing Company; Emanuel, Columbus, Nebraska, where he is associated with Columbus Hydraulics; and Donald, a certified public accountant in Omaha, Nebraska.

The elder Cimpl began his career in farming in the Tabor area. Due to the poor economic conditions of the Great Depression, he left the farm, moved to Tabor, and started a meat market. The business eventually expanded to Lesterville and Wagner.

With the help of three of his sons, Laddie, John and Jim, the Cimpl meat markets developed into Cimpl Packing Company of Yankton. Ladislav A. Cimpl was associated with Cimpl Packing Company as a cattle buyer until he died of a heart attack on December 16, 1959.

Tabor's Czech Days were dedicated to Mr. Cimpl in 1964. This tribute was written in his honor:

"This man gave much of his time to the betterment of Tabor, and the surrounding community. He was a leader in his church and in the fraternal and social life of Tabor ... He loved Czech music, song, dramatics and customs, and did much to promote these things. Although he was very proud of the land of his birth, he was even more proud of being an American and his patriotism was beyond the slightest reproach ..."

His wife Lillian died on February 12, 1973.

by Laddie Cimpl
Wenceslaus & Roma (Hannon) Cimpl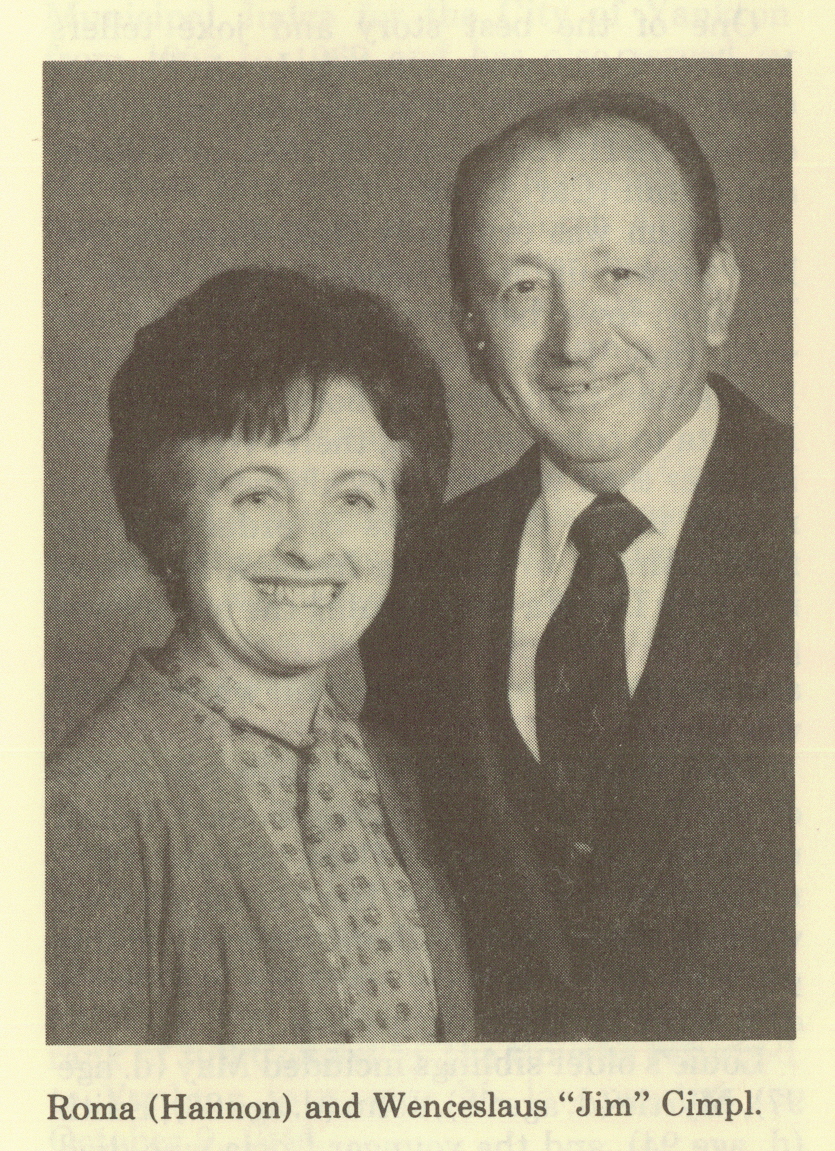 Wenceslaus (Jim) Cimpl was born September 13, 1926, at Tabor, South Dakota, the third youngest son of L. A. and Lillian (Hamberger) Cimpl. He went to St. Wenceslaus grade school and the first two years of high school at Tabor. The last two years of high school he went to Wagner, South Dakota, and managed a meat market there that his parents owned. He graduated in 1944.

He then went to Yankton where he worked for his uncle, John Marek, in the Standard Market on Broadway. In 1946 the Cimpl Brothers bough the store and Jim managed it until they closed it in 1959. Cimpl Packing was built in 1948 and the brothers' ambitions were directed to the meat industry.

Jim married Roma Hannon October 4, 1949. Roma was born to Walter J. and Marie (Hansen) Hannon at Woonsocket, South Dakota, July 19, 1927. To this union two daughters were born: Pamela (Mrs. Stuart Tiede) of Sioux Falls, South Dakota; and Nancy (Mrs. Tom Gallagher) of Arlington, Virginia. There are two grandchildren, Amy and Joseph Tiede of Sioux Falls.

Jim and Roma have been active in their church and community over the years.

by Mrs. Roma Cimpl
Sanford & Agnes (Hacecky) Fuks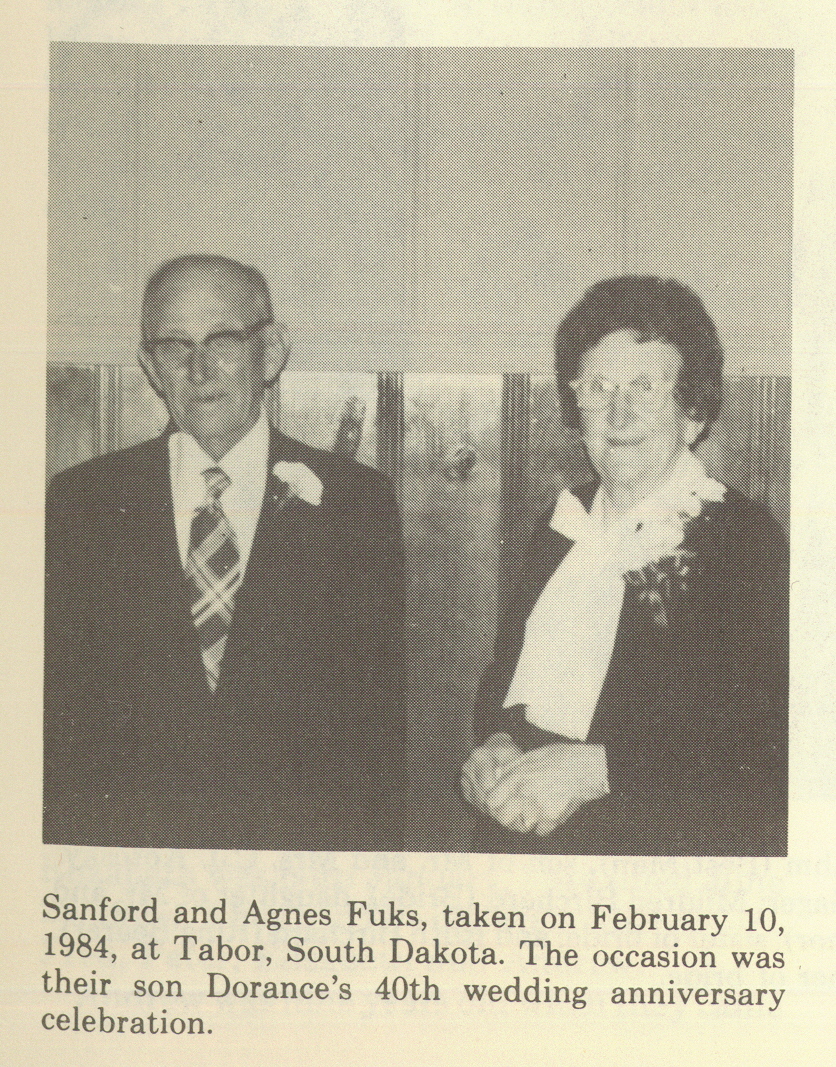 Sanford Fuks was born March 15, 1897, to Joseph (1872-1929) and Pauline (Chladek) Fuks (1872-1964) near Tabor in Yankton County. He was one of ten children born to them. One son, John, died at birth of an infection from using a colored string to tie the navel cord. He is buried beside his grandparents, Joseph and Anna Fuks, in the cemetery by the Lakeport Church. There were five other boys in the family: Sanford (1897-1984), Joseph (born 1899), Emil (born 1903), Albert (born 1909), and Donald (born 1915), who died in 1941 at the age of 26. There were four girls: Lillian (1902-1946), married George Hejna; Clara (born 1905), married Harry Peterka; Gladys (born 1907), married Ward Fishbeck; and Edna (born 1912), married Daniel Petrik (1911-1954). After his death she married Robert Prather and lived in Nevada.

Sanford was raised on a farm and farmed all his life east of Tabor. He attended the Dewey rural school. He married Agnes Hacecky on March 19, 1919.

Agnes was born February 16, 1901, to Frank (1862-1919) and Anna (Cap) Hacecky (1864-1919) near Yankton. She was one of ten children born to them; three brothers, Frank, Edward, and Charlie; and six sisters, Christina, married Frank Hlavac; Mary, married Joe Pechan; Carrie, married Edward Lane; Annie, married Frank Lane; Katie, married Victor Cwach; and Hattie, married Emil Killian. Agnes attended the Novak rural school and after her marriage to Sanford, moved to a farm in the Tabor area. Two sons were born to them, Dorance Sanford on June 15, 1920, and Alvin J. on April 26, 1921.

Sanford's father died suddenly of a heart attack in 1929 at 57 years of age, and his mother died in 1964 at 93 years of age. They are buried in the Yankton Cemetery. Their son Donald, who died in 1941, is buried beside them.

Agnes' parents died during the terrible flu epidemic in 1919. Her father died in January of 1919, and her mother in February, 1919. They are buried in the Catholic Cemetery in Tabor.

Sanford and Agnes farmed all their married life, and both of them died suddenly of heart attacks on the farm where they lived, Agnes on May 3, 1983, at 82 years of age; and Sanford on March 29, 1984, at 87 years of age. They are buried in the Garden of Memories Cemetery in Yankton.

They were both very active all their life and until the very end. Agnes was very well known in the community for her cake baking and artful decorating ability. She made many cakes for weddings, anniversaries, birthdays, and any other event or occasion that called for one, especially for every important occasion for family members. Sanford did trucking for many years for neighbors, friends, and family members. They had to be busy and never wanted to think of leaving the farm and retiring. Mom milked cows by hand, then separated the milk and sold cream to many friends and neighbors till just a years before she died. She raised her own ducks and chickens and had laying hens, selling eggs to customers, too. Dad loved having hogs and continued this, too, till a couple of years before his death.

by Ella Stark Fuks
Dorance S. & Ella V. (Stark) Fuks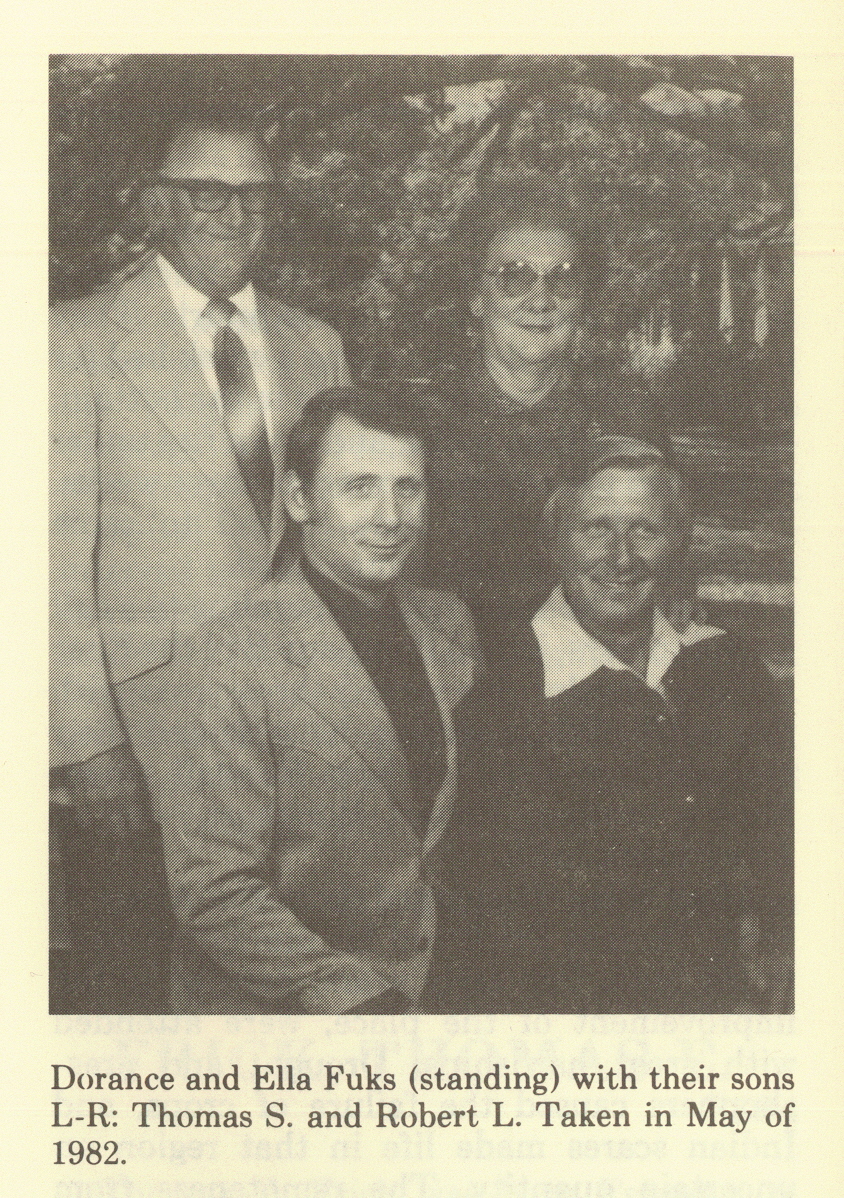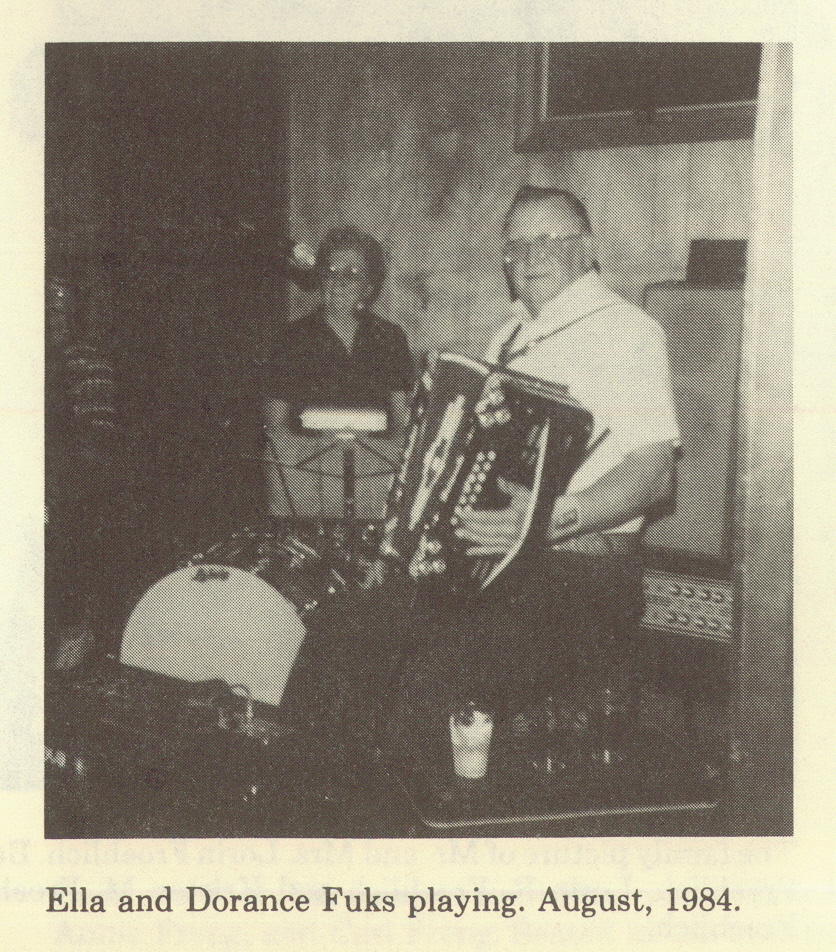 Dorance Fuks was born June 5, 1920, to Sanford and Agnes (Hacecky) Fuks in Yankton County near Tabor, South Dakota. He attended the rural Peterka Grade School, then three years at Utica High School (they only had three years there) and graduated from Yankton High School in 1938.

I, Ella V. Stark, was born January 3, 1921, to Peter J. and Petra Knudsen Stark on a farm near Utica, Yankton County. I attended the Utica Grade School, had three years of high school there, and graduated from Yankton High School in 1938.

Dorance and I were married February 10, 1942, at the Martinus Lutheran Church, rural Utica. We moved to a farm 4 1/2 miles west of Utica, and have lived and farmed there since. We have two sons, Robert Lee, born July 26, 1946; and Thomas Sanford, born March 31, 1951. The boys both attended the Dewey Grade School, rural Lesterville, and graduated from Tabor High School. Robert took four years of college at Springfield. Robert has three children by his first marriage, Amy Ruth (born April 28, 1970), Amber Rae (born July 25, 1972), and Robbie Dorance (born September 16, 1976); and one son Lee Aaron (born October 8, 1984) with his second marriage to Marsha Ewalt of Volin, January 15, 1985. Thomas married Diane Kloucek of Tabor April 12, 1975, and they have two daughters, Barbara Kaye (born January 31, 1976), and Sherlyn Jo (born April 4, 1980).

Besides farming, Dorance has worked at the Yankton Livestock Sales Barn for nearly 30 years. Around 1960 Dorance organized a band, "The Czechers." He had played the button key accordion by ear since a teenage. Our son Robert played drums for him along with other local musicians. After Robert was no more at home, Dorance needed a drummer, and it was then that I had to learn to play the drums. We play for weddings, anniversaries, etc., and at clubs like the Elks, Moose, and VFW in a radius of 100 miles or so from our home. I do the vocalizing for the band, too. We have three or four other musicians playing with us most of the time and have become very well known and busy. What started out to be just more or less a hobby has become a full time job for us every weekend.

Dorance has one brother, Alvin, born April 26, 1921. Both of his parents, Sanford and Agnes Fuks, are deceased. His mother died May 3, 1983, and his father died March 29, 1984 - only 11 months apart. They both died from heart attacks and are buried in the Garden of Memories, Yankton, South Dakota.

I have one brother, Homer, born December 10, 1908. He married Annetta Hauck February 10, 1932. My four sisters are: Evelyn, died at birth; Viola, died at 5 years of age (September 5, 1911 - September 16, 1916); Hazel, born December 23, 1916, married Alfred Hauck October 20, 1936; and Florence, born February 22, 1922, married Edward Walloch November 14, 1940.

My parents, Peter and Petra Stark, are both deceased, too. Peter died March 31, 1968, and Petra died January 15, 1958. They are buried in the Yankton Cemetery, as is their daughter Viola.

The histories of Sanford and Agnes Fuks and Peter and Petra Stark are in this book, too.

by Ella Stark Fuks
Wilbur & Elizabeth Foss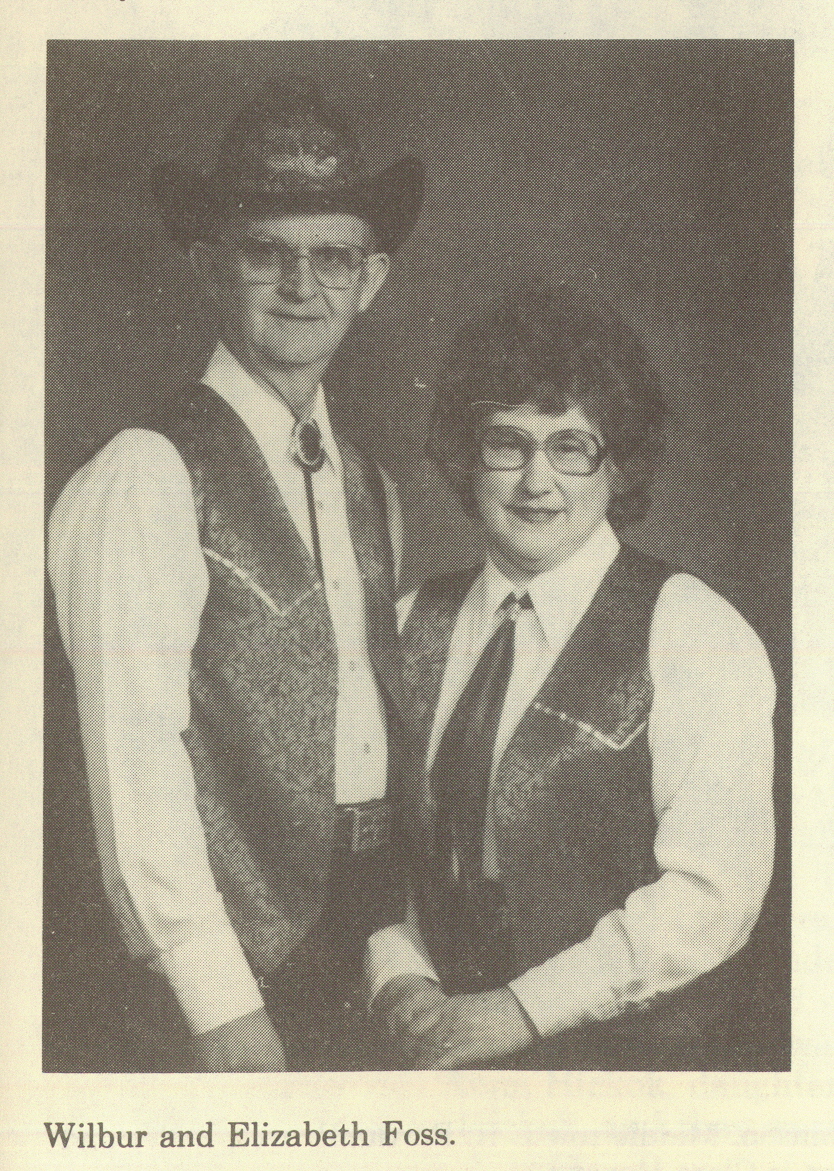 Wilbur Foss was born June 15, 1921, in Hutchinson County south of Freeman, South Dakota where his parents, Jarle and Inga (Jorstad) Foss, farmed. An incident on this farm probably changed the course of Wilbur's life. The three-year-old fell asleep in the grain field; not seeing the boy, his father accidentally ran over him with the grain binder, resulting in the loss of three fingers and his thumb. Because Wilbur was so young he became very accustomed to his loss and never considered it a handicap. He played baseball with the Yankton Terrys (1945-46) and Scotland teams as pitcher and right fielder. His honeymoon in June 1946 had to be postponed because of some baseball games. In 1984 Wilbur was inducted into the South Dakota Amateur Baseball Hall of Fame.

Wilbur and Elizabeth Foss, with daughter Nancy Elizabeth, came to Yankton to live on June 13, 1963. They had lived in Scotland, South Dakota for seventeen years, where Wilbur and Elizabeth operated a Coast-to-Coast Hardware Store. Elizabeth also taught English and music at Scotland High School. When the new Valley State Bank opened in Yankton, October 1962, Wilbur became a stockholder and Vice President. Due to his political commitment of serving as State Senator from Bon Homme and Charles Mix Counties from 1961-1963, he was unable to take his job at the bank until April of 1963, and the family moved here in June of 1963.

Wilbur was involved in many organizations: United Fund, Red Cross, Mental Health, Director of Dakota Hall (Indian Sports Teams), Yankton County Historical Society, Kiwanis, Saddle Club, Boy Scout Review Board. Elizabeth served as secretary for the Yankton Area Community Concert Board for ten years, taught piano and voice for forty years, was a member of Yankton Federated Women's Club, treasurer of Yankton County Republican Women, President and Vice President of the American Historical Society of Germans from Russia local chapter, the Homestead, chartered in Yankton July 14, 1981. Nancy Foss, a junior in high school when the family moved to Yankton, was active in music (soprano soloist, lead in "Amahl and The Night Visitors", 1965), was a basketball cheerleader, band member and active in Trinity Lutheran youth activities.

In 1973 Wilbur organized the South Dakota Old Time Fiddlers and the South Dakota and Open Fiddle Contest. The contest attracts several thousand fans and as many as ninety contestants. In 1984 an accordion contest was added. The South Dakota Old Time Fiddlers, a group of about forty fiddlers, Guitarists, accordionists and singers, play for about fifty jamborees every year in the four-state area (South Dakota, Nebraska, Iowa, and Minnesota) for centennials, county fairs, benefits, retirement homes and Senior Citizen Centers. Wilbur and Elizabeth have been inducted into the South Dakota Fiddlers Hall of Fame.

Wilbur, at sixty-two years of age, semiretired from the Valley State Bank in January, 1984 after twenty-one years with the bank. Elizabeth also retired, having been a piano teachers for forty years.

Nancy, Mrs. William Penk, lives in Hopkins, Minnesota with her husband, an architect, and two children, Ryan William and Emily Yoon. The family participates in a musical organization called, "The Festival Singers", presenting six concerts per year in the Minneapolis area.

by Elizabeth Foss
Frank J. Fejfar
Frank J. Fejfar was born September 12, 1853, to Frantisek and Franciska Fejfar in House #40 in the small village of Ubislavice Stav, Bohemia. Sometime between then and 1859 the family moved to Svatojansky Ujezd, Bohemia, and it was from there that they decided to emigrate to the United States. Their decision to leave Bohemia could have been due to the Prussian invasion of their village in 1866 during which they ransacked, pillaged and destroyed much of the village.

In the spring of 1867, Frank J. Fejfar, together with his parents and five brothers and sisters, boarded a sailing ship in Bremen, Germany, for the arduous journey to America. After five weeks of hazardous sailing, during which a younger sister died and was buried at sea, they docked at Quebec, Canada. The family then journeyed to Chicago, Illinois, and then to LaCrosse, Wisconsin, where they stayed for about a year and a half.

Frank found employment in a lumberyard and stayed in LaCrosse with the rest of the family while his father and sister Anna traveled to Dakota Territory to file on a homestead. While working there he asked the foreman if he could have some lumber to build a tool chest, and upon seeing the tool chest which was entirely constructed without the use of any nail, the foreman asked him to come to the office where he said, "You are too good a cabinetmaker to be working in a lumberyard." The conversation turned to the subject of music, in which Frank was very interested, and subsequently an orchestra was organized. Frank had the distinction of being the first conductor of a large orchestra in LaCrosse. Frank was less than 14 years of age when he left the very small village in Bohemia where it could have been very hard to get any formal music training, so he no doubt had a natural talent for music. He became a very accomplished violinist and music was part of his life until his death.

On May 15, 1870, Frank accompanied his family to Dakota Territory where his father had filed for a homestead on the SW 1/4 Sec. 23, T. 94N, R. 57W. (It was on the southeast 40 acres of this land that the town of Janousek was to be built.) With a large family and shortage of money, Frank, together with Frank Nedved, set out to seek employment. They proceeded along the Missouri River about 22 miles to Springfield, which then contained one business place. They obtained work for two months putting up hay for a Frenchman. When Nedved returned home, Frank went five miles further west where he found employment from yet another Frenchman, feeding cattle and cutting wood, until April of the next year. He then hired out to a third Frenchman, who was employed as a government agent, where Frank delivered wood to the Indians in the Santee Agency. The Santee Indians cut their own trees. It was Frank's job to haul the felled trees with ox teams to areas where the Indians built their own homes on 40-acre tracts given to them by the government, and which spread around the town of Santee for five to eight miles.

The Santee Indians were peaceful; however, marauding bands of Sioux did attack isolated Indian settlers and occasionally attacked the town itself. One day when the Sioux attacked the town, Frank and his Franch companion fled with a horse and a team of four oxen into ravines about 15 miles distant and took cover. After some time they heard hoof beats and soon saw a band of about 200 Sioux coming their way, but, fortunately, the Sioux turned to another direction before getting to their location.

Later the sudden appearance of two Indians at the door of their small cabin when he was alone fueled his desire to return home, even though the Indians turned out to be friendly and only desired food, which Frank gave them. To reach his father's homestead he had to cross the Missouri River, which had flooded the lowlands. It was one of the Indians he had given food who suddenly appeared and helped him find the path through the water where he could reach the ferry boat which was to take him across the main channel. It had been an absence of 10 months so it was a happy homecoming since his family had feared he might have died.

On March 12, 1874, Frank filed for a homestead of his own on NW 1/4 Sec. 23, T. 94N, R. 57W, and on May 2, 1874, married Sophia Janda. They farmed this land for about nine years and then moved to Tabor, South Dakota. There he ran a general merchandise store for five years before moving to Yankton where he for 22 years ran the same type of store at 413 W. 3rd St. In 1909 he joined his sons, who were in business in Utica, and for ten years assisted in the operation of the F. J. Fejfar & Sons general merchandise store before retiring from active commercial life. His wife died in 1910 and later, until his death on August 6, 1926, he lived in Utica with his daughter Christina (Mrs. Anton Walla).

Frank J. Fejfar never gave up his love for music and was a member of the first musical organization in Yankton County. After his retirement, anyone passing the Anton Walla home in Utica in the evening would be greeted with beautiful violin music coming from an open upstairs window, where he spent hours playing for his own enjoyment. His love for music also manifested itself in his children. Daughter Tenie (Christina) enjoyed playing the piano; son James played with several musical organizations in addition to operating a business, notably with Mikota's orchestra; and a son Joseph played with bands in Tabor and Yankton, then was a staff musician on Radio Station WNAX for several years, and later formed the Joe Fejfar Orchestra which played for dances in the midwest and Canada, with regular programs on WNAX.

Children born to Frank and Sophia Fejfar were: Frank, Jr., who never married; Joseph, married to Elizabeth Ross; Otillie, to Leopold Sailer; Ludwig, to Anna Mikolash; Mary, to Frank Holonbeck; James, to Clara Carstensen; Christina, to Anton Walla; and William, who died at the age of 20 and who never married.

by Robert J. Fejfar
Doris (Connelly) Cimpl
The eldest of seven children born to Ladislav A. and Lillian (Hamberger) Cimpl, Laddie was born April 6, 1917, at Tabor, South Dakota.

In 1932, when he was 15, Laddie moved to Yankton to work with his great-uncle John Marek at a meat market, where he was paid $2.00 a week. He attended high schools at Tabor and Yankton, and after high school, he went back to Tabor to work for his dad's meat market. He later traveled to Norfolk, Nebraska, where he learned the wholesale end of the meat business by working for Roman Packing Company.

Laddie served with the United States Navy during World War II; and while stationed in Hawaii, he worked in food procurement. Back home after the war, he and his siblings became more involved in the family meat business, eventually establishing Cimpl Packing Company in Yankton in 1949.

On September 30, 1946, at St. Mark's Catholic Church in Lake Andes, he married Doris Connelly. They have two daughters: Kathleen (Kay) Cimpl, a medical librarian in LaCross, Wisconsin; and Colleen Cimpl (Mrs. Bill) Chase, a teacher in Yankton Public Schools. Bill and Colleen have two sons, Michael and Mark.

Since 1949 Laddie has actively served as president of Cimpl Packing Company.

by Laddie E. Cimpl
Frank & Mary (Teply) Cap, II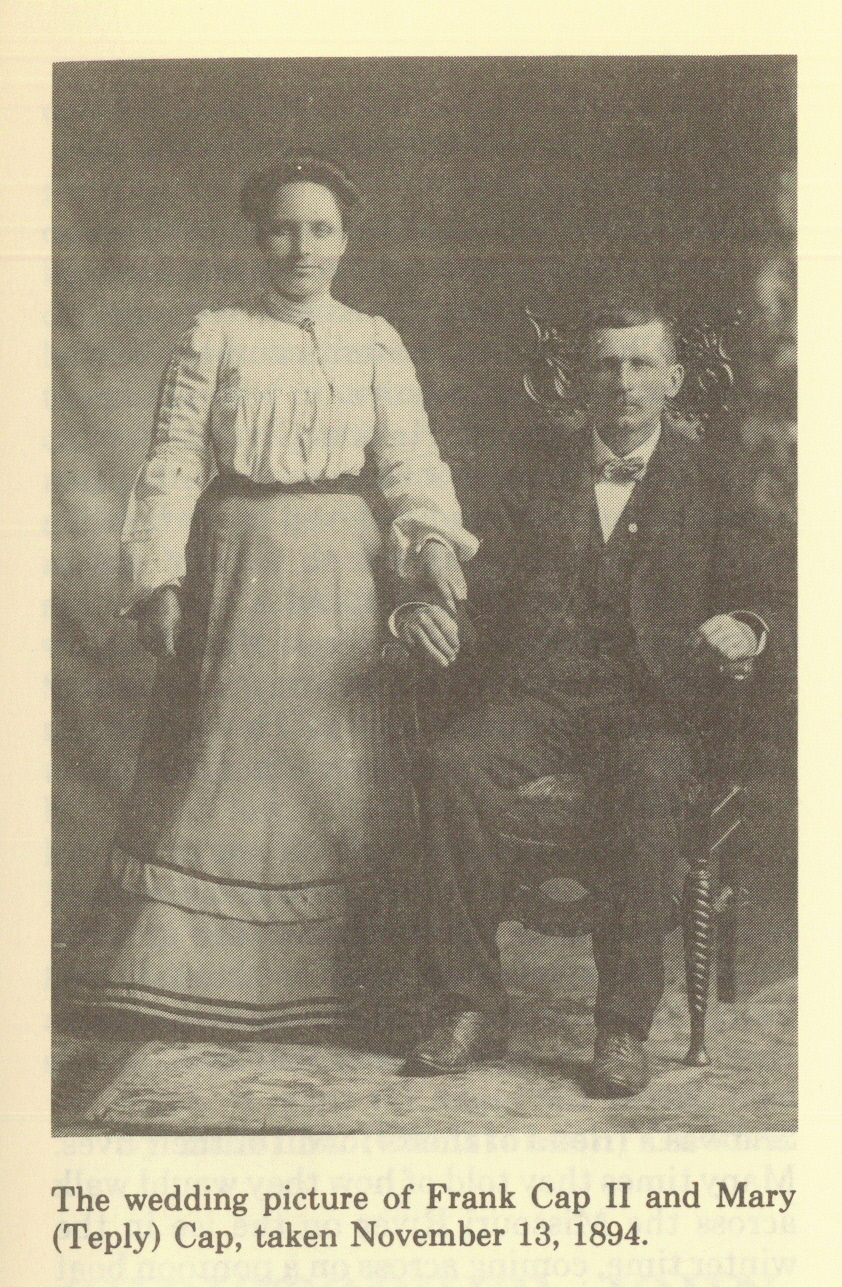 Mary Teply was born in Radetice, Czechoslovakia 8-24-1875. Frank Cap II born in Ratajich by Bechyne in Czechoslovakia, 9-13-1865. When Frank II was 14 years old, he stopped in Chicago and worked in the stockyards for five years. He didn't like it, so he moved to Dakota Territory in 1884 with his parents. Frank Cap I (1834-1924) and Anna (Kochurek) Cap (1835-1911). Children in this family were: Frank Cap II, Anna (Cap) Hacecky, Katy who died at age 16, Anton, Joseph, and John. This family homesteaded in Yankton County, Utica Township, until moving to Tabor, South Dakota about 1902. Frank I and Anna are buried at Tabor. Frank II worked as a hired hand until he bought his own land.

Mary Teply was married to Frank Cap II November 13, 1894, at St. John the Baptist Church at Lakeport, South Dakota, by Father E. A. Bouska. They homesteaded seven miles west of Yankton, Utica Township, until moved to Brookings, South Dakota, in 1946 and to Yankton in June of 1947 at 509 Cedar St. The land was bought for about $3.00 per acre. They enlarged their farm as the years went by, adding acreage and buildings. Frank II and his children farmed with horses. He never learned to drive a car but his children did. They also remembered the storms of January 12, 1881 and 1888. Mary Cap died 9-25-1951, Frank II died 2-5-1955; they are buried at Tabor.

Mary (Teply) Cap and Frank II had nine children born on the farm: Frank III on Thursday, 12-5-1895, died 1-10-1967; Joseph on Friday, 7-29-1897, died age 16, 8-19-1913; Katie (Cap) Straka on Thursday, 5-5-1899, died 7-14-1974; Tonie (Cap) Mazourek (my mother) on Friday, 3-9-1901; Alice (Cap) Petrosky on Sunday, 3-8-1903, died 1-4-1958; Barbara (Cap) Anderson on Thursday, 6-6-1905; Jerry on Monday 8-5-1907, died 3-6-1983; Ann (Cap) Ryan on Friday 3-31-1911; Josephine (Cap) Hajek on Thursday, 11-27-1913.

Frank Cap III was in the Army in World War I and married Hattie Kaiser 6-3-1919. Their children born in Yankton County: Lawrence, Raymond (Navy World War II), Ernest (Navy WWII), Gordon (Marine WWII), Cleo, and Clem. Marvin was born at Meckling, South Dakota. They farmed until 1933, on the place they homesteaded (losing it during depression years) and then moved to Meckling in Clay County. Both are buried at Yankton.

Katie Cap married Joseph M. Strake, Janousek, South Dakota 4-11-1921. Lawrence Welk came to the farm on their wedding day to play a few songs. They had four sons: Joseph II, who was 20 years old when he was killed in World War II, South Pacific 10-12-1942, on ship U.S.S. "Boise;" Alvin (Navy WWII); Luverne (Navy WWII); and Daniel (Army Korean War 1950-51). Straka had the post office and dry goods store in Janousek. Katie and Joseph (b. 8-20-1896, Tabor, South Dakota, d. 10-13-1977) are buried at Tabor.

These are my parents: Tonie Cecelia Cap married Martin A. Mazourek, from Dante, South Dakota, 6-17-1919. Their seven children born on the farm: Theodore Thomas on Sunday 11-20-1921; Benjamin Martin on Monday 1-28-1924; Martin Edwin, Jr. on Thursday 1-28-1926; Adolph Frank on Wednesday 3-7-1928; Leona Marie on Saturday 4-11-1931; Mary Ann on Tuesday 10-3-1933; and Frank Eugene on Monday 3-14-1938.

Alice Cap married John Petrosky 8-26-1926 and had one son, Rudy, born in Yankton County. They were farmers, moving to Plymouth, Indiana, in 1948. John (b. 10-8-1900, Wessington Springs, South Dakota, d. 2-20-1977), and Alice are buried at Plymouth, Indiana.

Barbara Cap married Bud Anderson 9-29-1926. Barb was a file clerk at Avion Aircraft, Maywold, California, from 1942 to 1944 and lives in Anaheim, California. Bud was born 4-25-1901 at Stavanger, Norway and came to the U.S. in 1903 with his parents, Peter and Marie Anderson, living in Yankton. Bud was on a baseball team in 1919-20. It was in 1934 that Bud, Barb and Barb's parents went for a tour of California. Bud was a carpenter. He died 3-19-1972 and is buried at Garden of Memories, Yankton.

Jerry Cap married Mary Carda 6-26-1933. He lived on the home place till his death 3-6-1983, and is buried at Tabor. Their two sons are Stanley and David. David now lives here.

Ann Cap married John Ryan 9-19-1936 at Brookings, South Dakota. Two children were born there - Kathy and Joseph.Ann and John moved to Greenbelt, Maryland, in 1952 where Steve was born a year later. Ann, a nurse, had training at Mitchell, South Dakota. John, born at Plankinton, South Dakota 7-10-1909, was a State Extension Service Agent (Agriculture) at Brookings. He was a journalist at Maryland University, in agriculture. He died 7-9-1958, and is buried at Greenbelt, Maryland.

Josephine Cap married Gus A. Hajek from Lesterville, South Dakota, 6-27-1932. Their two daughters are Jackie and Barbara. Josephine worked at NASA as an electronic assembler (first rocket to go to the moon) in 1962. She now lives in Anaheim, California. Gus, born 7-2-1902, was an electrician and carpenter. He played with Lawrence Welk on drums for a short time while the band was in Yankton. He died 9-1-1963, and is buried at Anaheim, California.

Mary Cap, my grandmother, enjoyed visiting and traveling, making several trips to California and Indiana. Her quilts, flowers, children, and grandchildren were her principal hobbies.

Frank Cap II, my grandfather, was a quiet man, with white curly hair and moustache, who enjoyed his children, family dinners, garden, radio, and reading. Both always spoke Czech and were active members of St. Wenceslaus Church Tabor, South Dakota, serving as officers in the organizations.

by Leona (Mazourek) Cwach
Katherine (Bloch) Cwach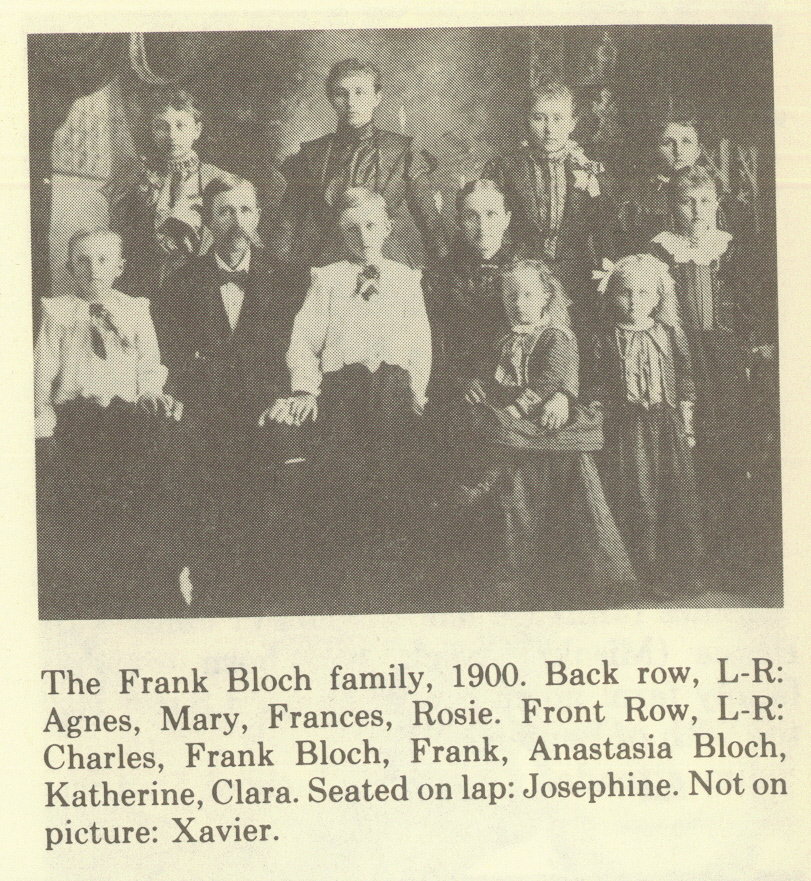 On December 31, 1850, in Poznan, Poland, There was born Frank Bloch, son of John and Maryanna Bloch. He and his mother came to the United States and on June 10, 1878, at Tabor, South Dakota, he married Anastasia Kowalski who had been born December 17, 1860, in Poland and was the daughter of Jacob Kowalski and his wife Teresa Konak.

To this marriage were born ten children: (1) Mary, born January 25, 1880, married Frank Kulish on November 14, 1899, and died October 14, 1966; (2) Frances, born January 29, 1882, married Stanislaus Mikolasek on February 16, 1909, and died January 27, 1974; (3) Agnes, born January 9, 1885, married Charles Blachnik on June 4, 1907, and died December 13, 1960; (4) Rosalia, born July 22, 1886, married Albert Mudloff June 25, 1907, and died October 23, 1984; (5) Clara, born August 20, 1891, married Frank Zdenek on February 17, 1914, and died April 6, 1983; (6) Frank, born November 25, 1892, married Jarmila Totusek June 20, 1921, and died December 27, 1967; (7) Charles, born October 9, 1894, and died June 12, 1971; (8) Katherine, the subject of this biography; (9) Josephine, born August 21, 1898, married Joseph Zdenek on June 26, 1917, and died July 16, 1941; and (10) Xavier, born October 19, 1901, married Emily Skorepa on October 16, 1928, and died January 18, 1963.

Katherine was born April 12, 1886, near Lesterville, and on March 6, 1916, at St. John's Church at Lesterville, married Joseph Cwach. They farmed west of Yankton until they moved to Tabor, South Dakota. For the names of their children, see the biography of Joseph Cwach herein.

Katherine Cwach died February 16, 1973, at Yankton.

by Dewie J. Gaul
Helen (Hladky) Dvoracek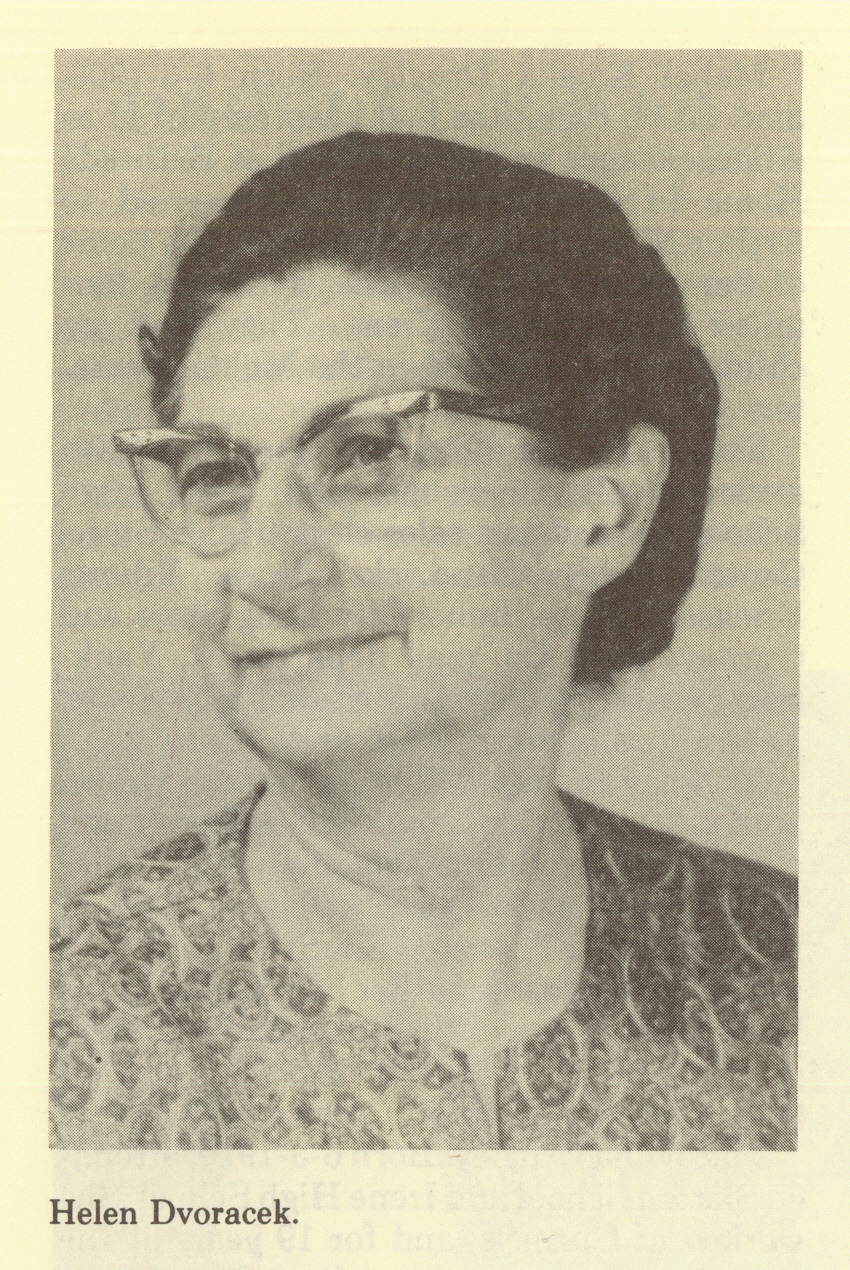 As a more modern pioneer, I was born on December 9, 1907, on a farm four miles south of Lesterville, South Dakota, to Joseph V. and Agnes Hladky, the oldest of seven children: Helen, Val, Sylvia, Henry, Libby, Vlasta, and Clarence. Henry and Vlasta passed away in their early twenties. We lived in a part chalkrock house built in 1886. It is still used now in 1985 as it was restored into a part stucco home.

For my elementary education, I attended Dewey School District #17 which I dearly loved. I won second place in Yankton County Spelling Contest in the seventh grade. The first two years of high school I attended at Lesterville where I took Latin, which was beneficial to me later. The last two years of high school, I finished in Yankton. The last year I took benefit of the last Teacher Training Course. We took State Teacher's Tests and I received a third grad Teacher's Certificate valid for two years. That started my career teaching rural school for 24 years in Bon Homme County and Yankton County. The first salary was $85.00 a month. During the Depression years around 1935 I received $50.00. My last salary in 1970 was $475.00 per month in my home school where I began as a first grader. It was a beloved career.

My worst experience in teaching was when the grates in the coal heater fell down. I had to crawl in head first through the door and lift them up before I could start a fire on a cold winter day. Wow! What a job! I enjoyed teaching as it was my pride and glory to see those children learn with such satisfactory results. To keep on teaching I attended Springfield Normal where I attained three years of college credits only through extension and summer schools. The first few years I started coal fires on cold winter days, but we banked the fire with ashes to keep it warmer overnight.

Wedding bells rang on November 17, 1931, and I became Mrs. Emil G. Dvoracek. We lived on a farm southwest of Tabor for 20 years. I enjoyed farming, shocking grain, husking corn by hand, milking cows, raising chickens and ducks, and having a garden. I even pitched grain bundles for my dad when he stacked the grain. In the 1930's grain was threshed from shocked grain. Bull snakes and snapping turtles often excited us. We killed the turtles.

We had two children: Franklin, born on October 30, 1932, married to Anna Rose Bagdoyan; and Agnes Dvoracek Hoffman, born on July 28, 1935. Later we had a total of five grandchildren. Franklin became an electronics engineer and is still employed by the Navy at Port Hueneme near Oxnard, California, after he attended School of Mines at Rapid City, South Dakota. Agnes was a secretary and became a banker in Billings, Montana. The grandchildren also went to college and have paying jobs, namely Ellen Dvoracek, a zoo entertainer; Richard Dvoracek in geology; Carol Dvoracek in ballet and criminal justice; Greg Hoffman, a scientist at Dow Chemical Company; and Karen Hoffman, a medical technologist in blood banking.

In 1967, my husband was called by the Lord as a result of cancer at 59 years of age. But I kept up my career teaching school a few years and also kept up my home in Tabor. My way of life was to keep busy. I even cooked two years at St. Mary's School for Indian Girls, which was an interesting experience.

Becoming involved in several organizations kept me happy and contented during my later years. Being a member of the Presbyterian Church in Tyndall kept me having a positive outlook. I was the first treasurer of the Martha Circle. Later I was a deacon for two terms and fellowship secretary for four years. Home extension involved many hours at interesting projects especially sewing, crafts and cooking for 40 years. I am a reporter in my Yes Yes Club, was a County Secretary for two terms, a District Vice Chairman and now a District Secretary. A social life is enjoyed in the American Legion Auxiliary and Senior Citizens.

My last ever-busy treasurer's job, with the Czech Heritage Preservation Society, is interesting, especially when members were restoring the old-fashioned dwelling and the St. John the Baptist Pioneer Church that my great grandfather, Frank Nedved, built about 1870 in Ziskov Township, Dakota Territory. Along with necessary living duties, crocheting, sewing, and other crafts help in positive living.

At the last State Homemakers Convention I was awarded a certificate for Certified Volunteer Unites for doing voluntary work.

The latest surprise I had just recently was that my grandson, Greg Hoffman, a scientist at Dow Chemical Company, had been sent to London to work on a "soft plastic" in computers and will take a tour of England.

by Helen Dvoracek
Frank & Marie (Zvnoras) Hacecky
Frank Hacecky I, born September 22, 1822, at Bylany, Czechoslovakia, married Maria Zvnoras and arrived in Yankton Dakota Territory in the year of 1869. To this marriage were born Joseph Hacecky, John Hacecky, Frank Hacecky II, Julia (Hacecky) Chase, Marie (Hacecky) Limpo, and Charles Hacecky.

Mr. Hacecky homesteaded land 7 miles west and 1 1/2 miles north of Yankton. It is described as the NW1/2 of Section 25, Twp 93N R57W Ziskov Township. He was granted his land patent December 30, 1878, signed by President Rutherford B. Hayes. Mr. Hacecky was a mason by trade and built a house and barn out of rocks, using mud as a binding material. Only a small portion of a foundation remains at the time of this writing (1984) on the original homestead. He was engaged in agriculture but was best known for his masonry such as building rock curbing for the hand dug wells, making chimneys, and plastering for his neighbors. He was also known to prepare bodies for funerals in those days before embalming.

As far as can be determined he was the only Hacecky to emigrate to the United States. The original spelling of the name Hacecky was Hacicky. In searching through the records it appears as if the clerk making out the land grant either forgot to dot the i, and in the writing made it look like an e, or mistook the i for an e. All documents since that time have the spelling Hacecky.

He was a member of the Catholic Church at Tabor, South Dakota in which cemetery he was buried. His wife Marie (Zvnoras) Hacecky preceded him in death, dying at the age of 76 years, probably from diabetes. She died January 2, 1900, and was buried in the church cemetery at Tabor on January 5, 1900. Frank died at the age of 85 years on October 14, 1907, and was buried October 16, 1907.

Frank's son Joseph Hacecky married Mary Langer. They farmed 3 1/2 miles west of Utica, South Dakota. To this union were born the following children: Ralph, Laura (Hacecky) Mach, Agnes (Hacecky) Blazek, Clara Hacecky and Abbra (Hacecky) Friedel. Joseph Hacecky was stricken with a heart attack while transporting a load of wheat to Tabor with a team and wagon. He died in the office of Dr. F. M. Blazek at Tabor.

John Hacecky became a druggist in Yankton and on November 19, 1891, had his name legally changed to John Hudson. He left Yankton for California, after which family contact was lost.
Frank Hacecky II was the third son of Frank Hacecky I. He purchased the quarter section of land lying just south of the original homestead. He was married to Anna Cap January 15, 1884. To this union were born the following children: Kristina who married Frank Hlavac, Anna who married Frank Lane, Mary who married Joseph Pechan, Carried who married Edward Lane, Katherine who married Victor Cwach, Frank III who married Emilie Cwach, Edward who married Helen Cwach, Hattie who married Emil Killian, Agnes who married Sanford Fuks and Charles II who married Clara Schempp. Frank's family raised Hereford cattle and wheat. It has been said that he was the first to have a steam powered threshing machine here in the Yankton area. Frank Hacecky II died in 1918 in the flu epidemic that was so widespread then. His wife Anna died about one month later, probably of a ruptured gall bladder. They are both buried also in the St. Wenceslaus Church cemetery at Tabor.

Charles Hacecky I farmed with his father on the original homestead. He died at the age of only 22 years on May 16, 1892. His wife, the former Marie Kortan, died on December 30 the following year. Besides having had a son who died at the age of 6 months, the couple left two small daughters, Josephine and Mary. Josephine was later adopted by her aunt Julia (Hacecky) Chase and lived in Tacoma, Washington, until her death. Mary was later married to Joseph Hakl. Josephine never married.

Julia Hacecky married Frank Chase, a railroad man, retired in Tacoma, Washington. The only child (adopted) was Josephine, mentioned above.

The other daughter of Frank Hacecky I was Maria who married Tom Limpo. They farmed 2 west, 1 south, and 1/2 mile west of Utica. To this marriage were born the following: William, Susan, Brigett, Mary, Millard and Ben. That concludes the first generation of the first Hacecky to arrive to Dakota Territory.

by Dr. Robin M. Hacecky
Mickeal & Francis (Walloch) Hale
Mickeal Hale, son of one of the old pioneers, was born on the farm of his parents two miles east of Tabor to Joseph Hejl and Catherine (Petrick) Hejl in 1891. In 1913 he married Frances Wolloch, daughter of Joseph Wolloch and Balbine (Cerulek) Wolloch. They settled on a farm one and one-half miles east of Tabor which his father bought from the Sykoras. They had six children: Oscar, Clara (Mrs. Emil Caba), Joseph, Helen (Mrs. Charles Rezac), Florence (Mrs. Arthur Vesely), and Anna (Mrs. Thomas Kloucek).

Mickeal Hale died in 1939. Frances Hale died in 1974. Joseph Hale died in 1980.

We heard this farm was homesteaded by the Hejna family. Oscar made his home there when he got married.

by Oscar Hale
Joseph & Mary (Soulek) Hejna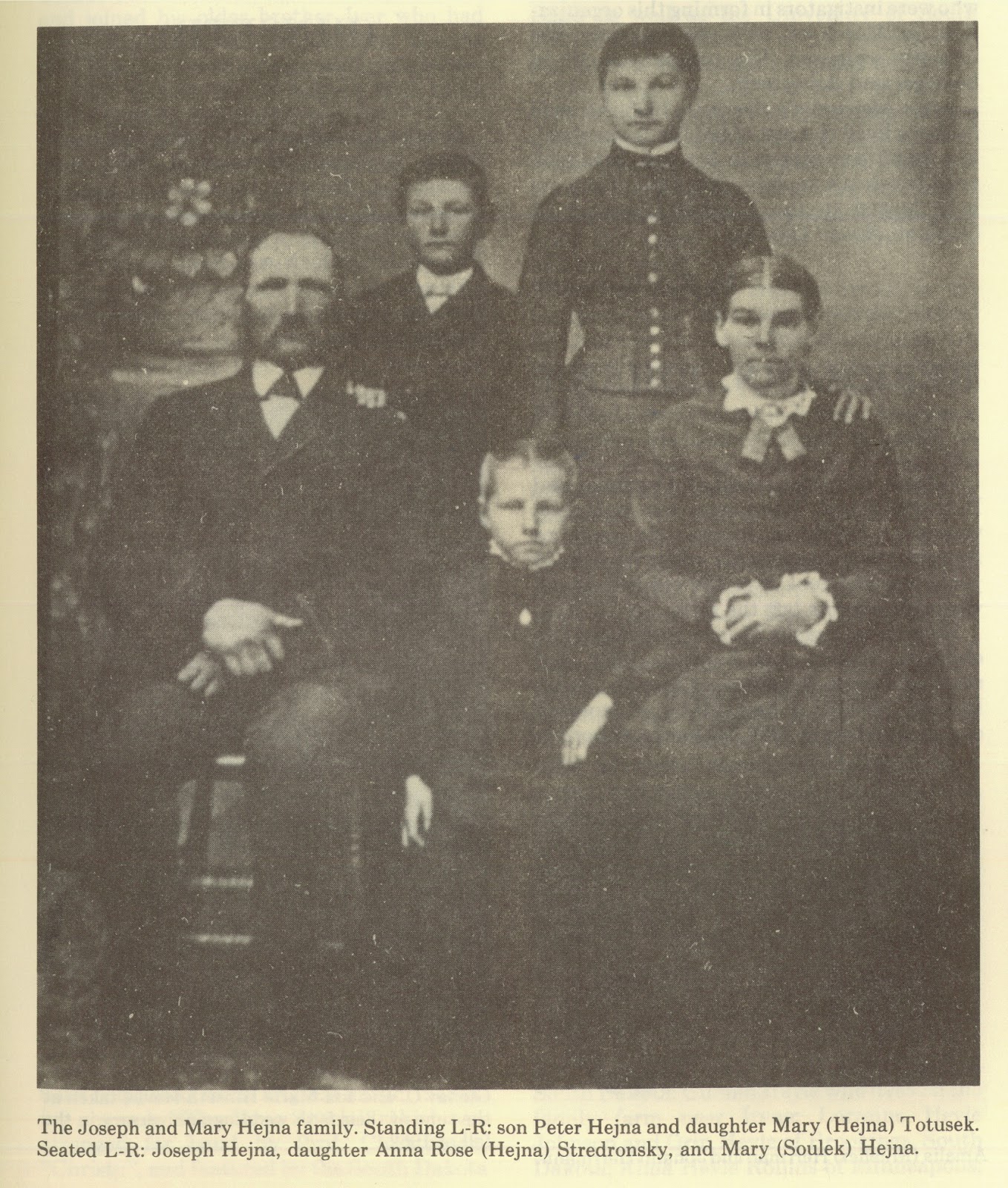 Joseph Hejna was born in March of 1837 at Brezi u Milevsko, Czechoslovakia, and his wife Mary Soulek was born in 1846 at Brezi u Milevsko, Czechoslovakia. On January 10, 1873, Joseph Hejna and Mary Soulek were united in marriage in Czechoslovakia. They decided to come to America, the new promised land, in the year 1873. They worked their way across the new land of America to the midwest. Born to them were four children: May (Totusek) (1874-1892); a daughter in 1875 who died in infancy; Peter (1877-1918); and Anna Rose (Stredronsky) (1880-1955).

On June 30, 1884, signed by President Chester A. Arthur, they homesteaded on a farm one miles east of Tabor, South Dakota (now owned by Oscar Hale), where they remained until 1904. They sold the farm to Frank Kubal and bought 320 acres five miles east and one half mile south of Tabor and moved there. The land was purchased from Adolph and Frances Haas on March 12, 1894, for $7,000. On November 21, 1899, the railroad was coming through the south side of their farm. They were paid $995 from the CMRRSTP Railroad for the strip of land 100 feet wide through the length of 320 acres. The cow barn was located on the south side of the tracks and the rest of the farm on the north side of the tracks. They milked cows and carried all the milk across the tracks to the house. Their water well was also on the south side of the tracks so all the water for the other livestock had to be hauled across the tracks. On March 12, 1900, Joseph and Mary purchased 160 acres just one-half mile south of their place for $4,000, from Martin and Katherina Jensen.

Son Peter was married to Mary Kotalik (1879-1957) in January of 1901, and they lived on the original 320 acres with his parents. Peter purchased the 320 acres from his dad Joseph on March 4, 1905, for $2000. Peter and Mary (Kotalik) had four children: George (1902-1964); Edward (1903-1918); Emma (Vlcek) (1905-1983); and Emil (1907- ).

In 1907 Joseph and Mary moved to Tabor, moving the house from the 160 acre plot of land to Tabor; it is located south of the Richard Kortan residence, and is now owned by Edward Bares.

On August 5, 1918, a great tragedy struck the family. Peter and son Edward were killed instantly by lightning on a stack. The sun was shining, and a small cloud came up; hurriedly they tried to finish the stack, because lightning and thunder were so intense. A bolt struck the stack, killing them on the spot. Mary, wife and mother, was knocked unconscious but lived. Mary took over the farm with help of her children and father-in-law, Joseph.

In February of 1932 son Emil was married to Helen Kralicek and operated the farm along with his mother Mary. Emil and Helen had eight children: Emil, Jr. born 1932, married Lila Riedle; Betty, born 1933, married Laddie Slama; Steve, born 1935, married Donna Olsen; Kenneth, born 1937, married Agnes Adam; Larry, born 1939, single; Lloyd, born 1941, married Marilyn Schmidt; Clarence, born 1942, single; Robert, born 1943, married Kathleen Pinkelman.

On July 27, 1957, Mary (Kotalik) Hejna, mother of Emil, died and the farm was taken over by Emil and his sons. Joseph Hejna died on April 30, 1925, at the age of 88, and his wife Mary (Soulek) Hejna died February 14, 1936, at the age of 90. As of 1985, Emil still operates the farm along with his sons, Lloyd and Robert.

by Agnes (Adam) Hejna
Joseph V. Hladky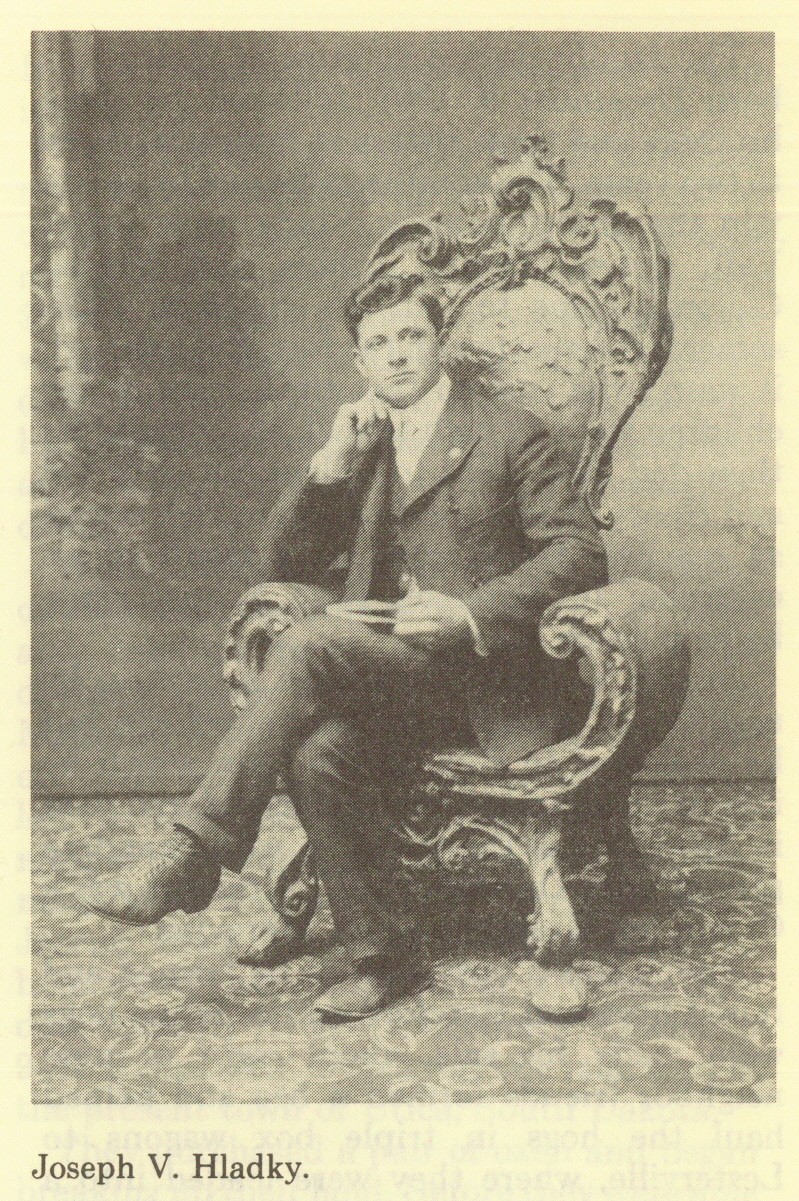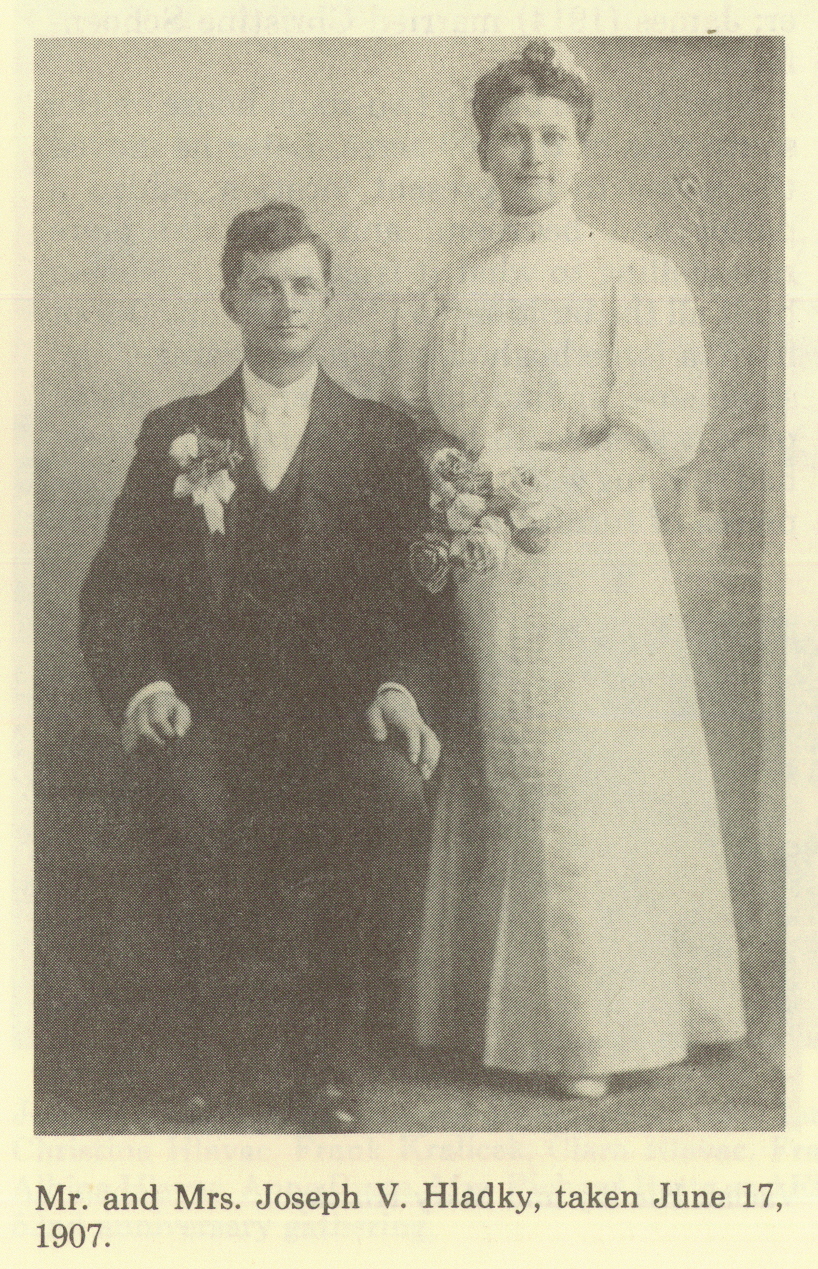 Joseph became a pioneer of South Dakota when he was born August 11, 1877, to Vaclav (James) and Josephine Hladky in Yankton County, four miles south of Lesterville. His parents, two brothers, Vaclav J. and Frank L. and two sisters, Josie and Annie (Mrs. J. W. Peterka) came from Czechoslovakia, near Komenicky to the United States in 1875. Joseph was the only American born in this family.

They came to South Dakota, after stopping in Cleveland, Ohio, and settled on a 160 acre farm they bought from a Kolotz. They lived in a log house. But in 1886, Grandpa built a roomy two story chalk rock house with two rooms with a hallway between. The chalk rock was brought from the bluffs of the Missouri River by oxen teams. It was cut into nice rectangular large slabs making the walls two feet thick.

The children went to Dewey School #17 to learn the English language only about three or four months during the coldest winter months, as they were needed to help farm. But they didn't neglect their Czech newspapers (Hlasatel) and magazines like Hospodar. Vaclav and Frank moved to their farms towards Utica as farms were inexpensive and easy to buy. Annie married Jos. W. Peterka. Josie stayed single. Joseph V. stayed at home, but in the meantime, he attended a Business College in Omaha. Then he taught country school for give years in the Rezac School, three miles to the south. He walked even if it was cold.

They all attended Presbyterian Czech Church services in the Nikodym home three miles west of Utica. The church disbanded - some went to the Presbyterian church west of Tabor. But the cemetery they established just north of the Nikodym home is still existing, with family members and other freethinkers having their eternal home there. It is called the Czech National Cemetery.

Joseph became acquainted with his fiancee Agnes Nedved north of Tyndall. It was tiring driving about 15 miles to see her with a one seated top buggy driven by two pony like horses, Billy and Danny, so they decided to get married on January 17, 1907, on the day of Agnes' twenty-first birthday. They were married by her uncle, Anton Nedved, who was Justice of Peace in Tyndall.

Everywhere they went, they either walked or drove horses as there were no cars yet.

The family started to grow as Helen was born December 9, 1907, followed by three brothers and three sisters at intervals of one to two years. The sprouts came one by one to join the group, namely: Vlady (now called Val), Sylvia, Henry, Libby, and Vlasta. Clarence came to join the group in 1925, somewhat forgotten on the way. Even though it wasn't the custom, most of the children went to high school, encouraged by their dad. Five went to college but only Val and Henry finished and taught in high school as coaches. Henry died as a result of an explosion in Jefferson High School while being a coach there.

Joseph V. could have been a banker, be used to say, with his one year of college, but he preferred to stay on the farm which he inherited. Grandpa was getting old and died in April 1916 at the age of 75, with Grandma preceding in December 1912. Grandpa was a Czech, but Grandma was a Moravian.

Joseph was a busy man as he farmed and raised hogs and Hereford cattle. When hogs were ready for sale, about eight or nine neighbor friends formed a bee and helped haul the hogs in triple box wagons to Lesterville, where they were loaded into a railroad stock car and were shipped to Sioux City, Iowa. The line of wagons looked like a train; men were dressed in fur coats and caps and gig overshoes as it was usually February. The owner usually went along in the caboose to see his hogs being sold. Cattle were usually driven on foot to the railroad car.

Farmers owned eight or ten horses for power and used smaller horse drawn machinery. But everything was done. Most farmers hired an extra man who lived along with the family to help do the work. But they made money.

Joseph V., being intelligent, was a good farm manager and even bought extra land as prices were reasonable. He held many offices such as clerk of the school board and township offices. He was County Commissioner from 1910 to 1914. He was a secretary of a Bohemian Farm Mutual Insurance of about 40 years in Yankton County but had to resign because he retired to Tabor in Bon Homme county. They paid premiums only in case of a loss which the secretary distributed.

He was influential in persuading people to buy War or Victory Bonds during World War I when Woodrow Wilson was our President. During World War II he was a member of the Selective Service Board, and helped in recruiting servicemen. Clarence, his youngest son, voluntarily joined the Marines.

Also he was a member of ZCBJ or now WBFA (Western Bohemian Fraternal Association), a somewhat secret lodge and insurance fraternity. They held their meetings in ZCBJ hall in Utica, which is still in existence.

Another sad occurrence was Vlasta passing away after having a brain tumor. Joseph V. died of emphysema on June 14, 1956, at the age of 79 years and 10 months.

Helen was married to Emil G. Dvoracek (deceased) in 1931; Sylvia was married to John Kocer (deceased); and Libby is married to John Hajek.

by Helen Dvoracek
Arthur Joseph Kotalik
Arthur Joseph Kotalik was born on September 18, 1949, to Joseph F. Kotalik and Marcella (Schramm) Kotalik. He was the only son and the eldest of five children. Following him were born four sisters, Mary, Helen, Irene, and Carol. Arthur attended Elm Grove Elementary School, located south of his home for eight years. He attended four years of high school in Tabor.

When Arthur was sixteen, the year 1966 in June, his father passed away, leaving the farm to Arthur's mother, sisters and himself. He finished his senior year in high school as a part-time farmer, along with the help of his mother, sisters, neighbors and friends.

In the fall of 1967 he enrolled in a mechanics course at Universal Trade School in Omaha, Nebraska. He attended classes during the week and came home on weekends to tend to the farm, grinding feed for the livestock, etc. While attending school there, he also worked part time at Campbell Supply Co and Omaha Livestock Yards.

In April 1970 he became engaged to Geraldine Wubben, daughter of Lawrence and Irene Wubben of St. Helena, Nebraska. On October 30, 1971, they were married at Immaculate Conception Church at 10:30 a.m. Mass in St. Helena, Nebraska.

At this time Arthur's mother, Marcella and his sisters moved to Yankton and Arthur and his wife took over the farm completely. Geraldine had a full time job at White Drug in Yankton until May, at which time she quit to help Arthur on the farm. On August 2, 1972, their first child was born and named Sara Marie. On September 18, 1974, on the birthday of Arthur, their second child, a son, was born. He was named Benjamin Joseph. On May 14, 1976, a daughter was born, named Lolita Jean.

In October 1976 Arthur was named Outstanding Young Farmer for Yankton County by the Yankton Jaycees. He was honored with a plaque and recognition banquet in Yankton.

On August 23, 1980, a son was born and named James Arthur. Three children, Sarah (12), Benjamin (10), and Lolita (7) attend Lincoln Elementary School in Yankton. James (4) remains at home.

Many changes and improvements were made on the farm over the years. Among them a total confinement farrowing and nursery building, a large 60 x 100 foot machine shed, a 60 foot silo and unloading system, numerous bins and as recently as 1982 a new home was built. The old structure was moved to a lot in the Lewis and Clark Lake area to be sold.

Mr. Kotalik and his family live and farm on a 260 acre farm eleven miles west of Yankton on Highway 50. Another 500 acres of rented land are also farmed. Crops raised on the land are alfalfa hay, oats, corn, and soybeans. Livestock raised are beef cattle and hogs.

The family attends St. Wenceslaus Parish in Tabor and are active in various parish duties and belong to Catholic Workman Organization and Pork Producers.

Mr. Kotalik enjoys hunting, fishing, muzzle loading, and restoring antique tractors, etc. Mrs. Kotalik enjoys gardening, photography and antiques. As a family they spend some summer days camping and traveling around the country.

by Arthur J. Kotalik
John F. Kotalik
John F. Kotalik was born February 7, 1897, to John and Antonia (Pechan) Kotalik. He lived and farmed on the home place southeast of Tabor all his life.

He married Mary Jambor August 18, 1925, at Tabor, South Dakota. To this marriage three children were born, Eleanor, Lawrence and Helen. Mrs. Roland (Eleanor) Schreiner lives at Ireton, Iowa, on a farm. They have four children, Bernice, Maxine, Irene, and Ivan.

Lawrence lives on the home place.

Mrs. Raynold (Helen) Nedved lives on a farm west of Yankton, South Dakota. They have three children: Norma, Thelma, and Wilbur. Mrs. Norman (Norma) Stratton lives in Sioux City, Iowa; they have two girls, Lisa Marie and Diane Noel. Mrs. Greg (Thelma) Jennings lives in Fort Dodge, Iowa; they have one girl, Tiffany Ann. Wilbur lives with his folks on the farm.

Mr. Kotalik died April 10, 1976, and Mary resides at the Good Samaritan Center in Scotland, South Dakota.

by Mr. and Mrs. Raynold Nedved
James W. & Anna (Sykora) Kotalik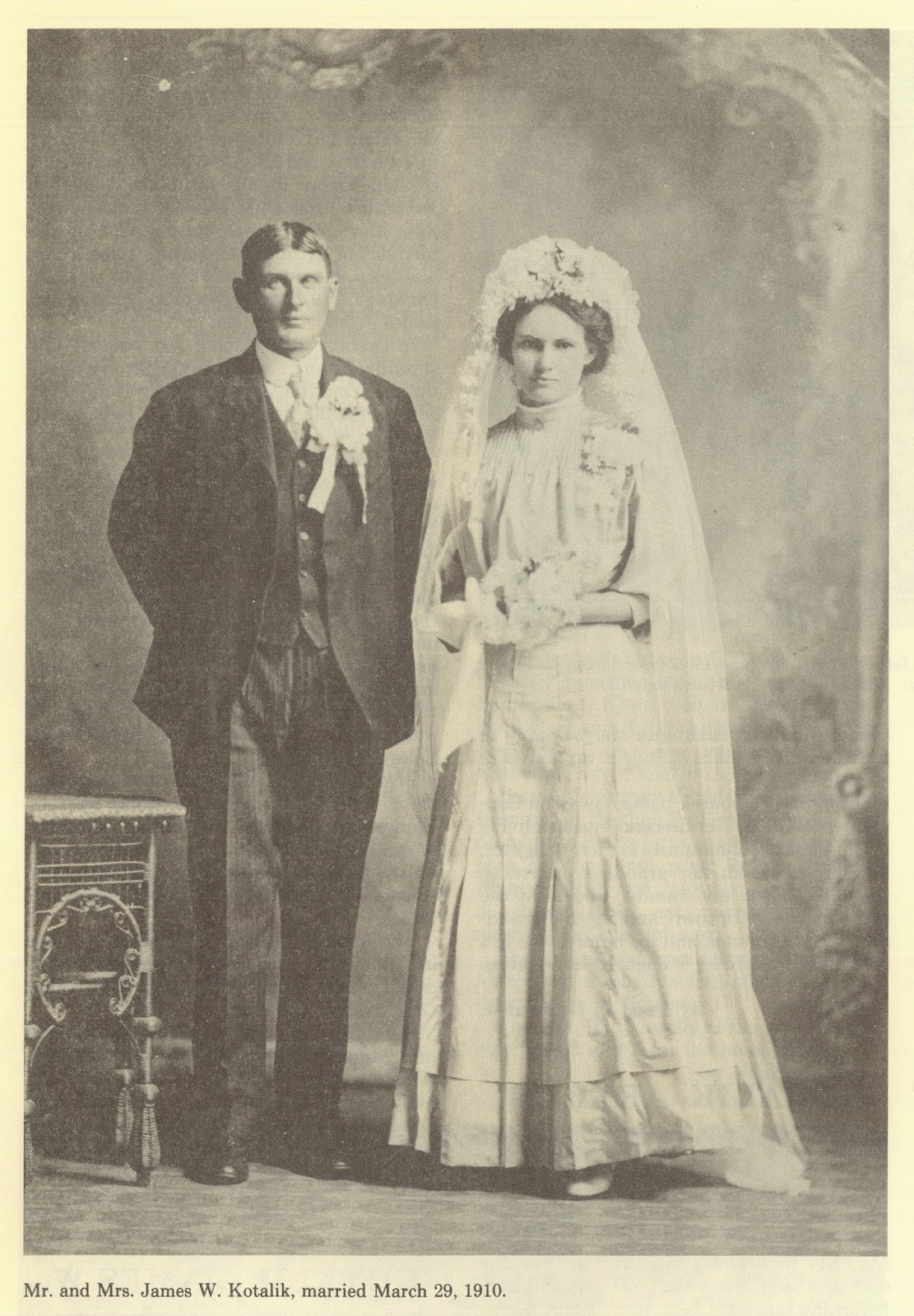 James W. Kotalik was born September 18, 1876, to Joseph and Mary (Pechan) Kotalik who were married March 27, 1873. Joseph Kotalik was born in Bozetice, Bohemia, September 12, 1850. He came in 1869, arriving in Chicago, Illinois, July 4th. He secured work in a lumberyard where he remained a few months. He then went to Dubuque, Iowa, for a short time. He came to Dakota Territory in the early 1870's and worked with a telegraph line crew between Yankton and Fort Pierre.

Mary Pechan, wife of Joseph, was born August 15, 1858, in Prague, Bohemia, the daughter of Mr. and Mrs. Joseph Pechan, one of the first pioneer families in Dakota Territory. She came to America with her parents in 1869. After spending two months in Chicago, the family came to the then sparsely populated Dakota Territory, the father filing on a homestead seven miles northwest of Yankton. The trip from Chicago comprised of ox drawn vehicles and two cows to provide milk for the trip. Food was scarce and Indian threats were imminent.

After Mary married Joseph Kotalik they also homesteaded near Tabor and lived on their homestead 47 years. They had seven children, the oldest being James W.

In the fall of 1907 James W. moved to the present 360-acre family home five miles northwest of Yankton that he purchased from William and Annie Kelly in Section 27 of Utica Township. James was one of the well known early residents of Yankton County's Bohemian descendants, being a native-born son and residing in Yankton County in the vicinity of Tabor and Yankton all of his life.

On March 29, 1910, he married Miss Anna Sykora. She was born February 11, 1890, in Veliny U.Coina, Czechoslovakia. Anna came to the United States with her parents September 4, 1903. They settled in Utica, South Dakota. In the summer of 1913, James and Anna built the house in which they lived the rest of their lives, in which five children were born: Emil, Lillian (Mrs. Frank Schulz), James, Sylvester, and Mildred (Mrs. Ralph Haas).

James W. Kotalik died July 3, 1930, in Sacred Heart Hospital. Anna continued to farm and lived on the same farm until her death, December 9, 1970.

Surviving descendants of James and Anna Kotalik living in Yankton County as of March 1, 1985, are: one daughter, Lillian, Mrs. Frank Schulz; one granddaughter, Shirley Schulte McCloud; one grandson, Kevin Haas; two great granddaughters, Theresa Schulte Archuleta and Jean Schulte Brunken; three great grandson, Dean Schulte, W. Troy Schulte, and Christopher Haas; and one great great granddaughter, Elizabeth Ann Brunken.

by Lillian Schulz
Joseph Kreber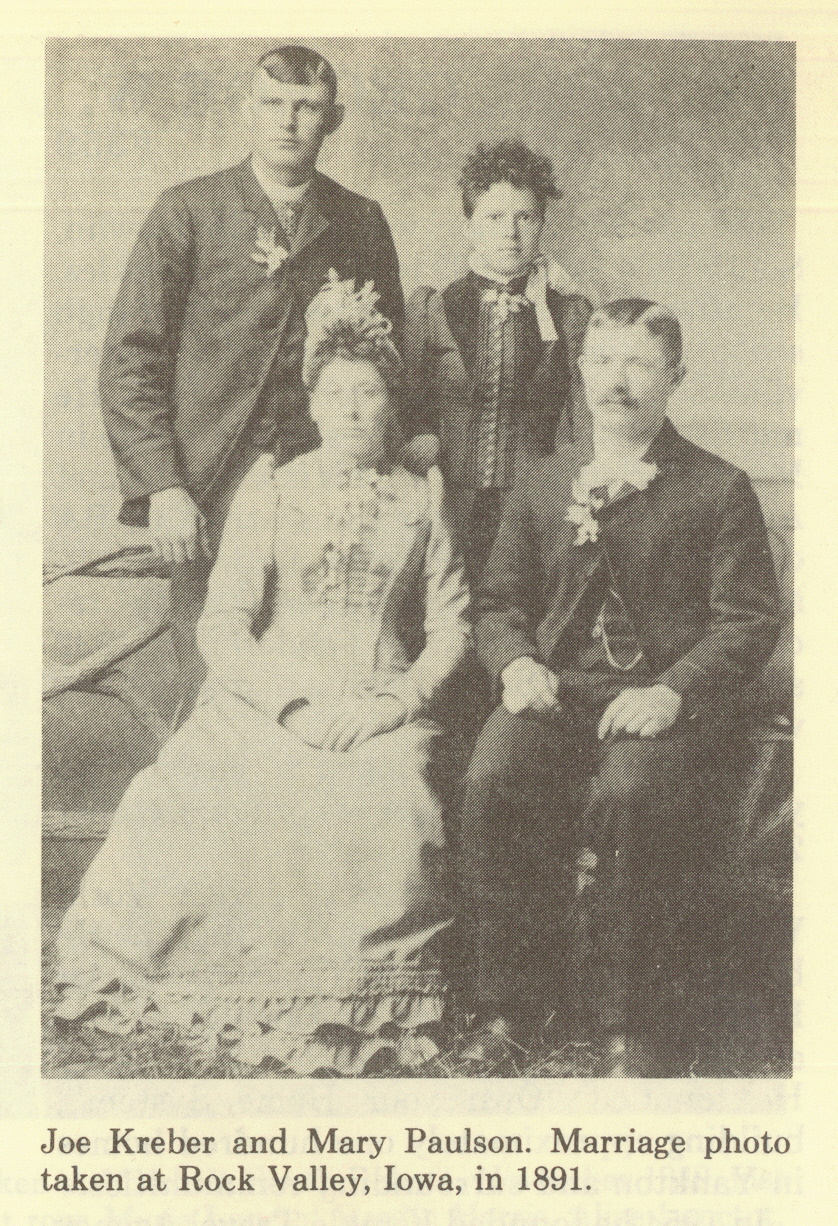 Joe Kreber came to this country with his parents from Alsace, Germany, in 1878. His family included his brothers Eugene, Louis, George, Emil, Edward, and August. His sisters were Josephine, Mary Magdalena, Louise, and Mary. Joe Kreber was raised on a farm near Garwin, Iowa.

Mary Paulson was born at Hammar, Norway. She came to this country at the age of 17 with a friend named Hanna. Mary arrived to live with relatives named Kloppen at Sioux Falls. Mary told of some of the frightening shipboard experiences. A baby died and the parents did not tell the captain. Sharks were following the ship so a search was ordered. The baby's body was found and was buried at sea.

Joe Kreber and Mary Paulson met while working near Canton, South Dakota. She was working at a hotel, and Joe operated a saloon. They were married at Rock Valley, Iowa, in 1891. After a time, they sold the saloon and with one son, George, moved to the McThee farm which they had purchased. The farm was located south of Tyndall, South Dakota. There the rest of the family was born and reared. These children were Mary Magdalena (Lena), Anna, Albert, Lawrence, Louie, and Frances. The children were brought up in the Catholic faith by their strict parents. They attended Highland School and McCrea School. Many times, when the children were older, they had to stay home from school to help with picking corn and other farm work.

Joe Kreber died on September 28, 1922, at the age of 59 years. Mary continued farming with her son Louis until he married. She then moved to Tyndall and passed away in June of 1947.

Anna and Louis recall an early childhood incident of a Christmas with no candy. Their folks forgot to buy the candy, so Albert was sent on a horse to get it; he came home and said he also had forgotten to buy it???? Anna also tells that their Grandma Kreber, who lived in Iowa, sent their dad knit socks for Christmas and $10 to buy candy for the children.

Anna Kreber and Arlo Schneider were married in 1915 at Yankton. They lived three miles south of the Lakeport Church. Subsequently they also lived on Martin Rada's farm north of Tabor and on a Shere place west of Tabor. Later they moved back to the farm south of the Lakeport Church. They had one son named Kenneth.

On November 16, 1926 Anna Kreber Schneider married Anton Pesicka in the Sacred Heart Church in Yankton. They made their home on the Thomas Pesicka homestead seven miles southwest of Yankton. The family lived there until Anton passed away on March 24, 1938. He is buried in the Lakeport Cemetery. Their children are Romaine and JoAnn. Anna Pesicka is presently a resident at the Yankton Care Center, Yankton, South Dakota.

Lena (Mary Magdalena) Kreber and James Barger were married April 2, 1914. They met while living on adjacent farms. Lena had taken sewing lessons and worked for a family named John Cole. After they were married they lived in the state of Missouri for a short time, and later moved back to this locality, farming near Scotland, Tyndall, and Tabor, South Dakota. They had six children: Howard Wilson, Norman Joseph, Agnes Elizabeth (Betty), Donald Loren, Mary Ann, and Patricia Louise. Donald was killed in action, in World War II in July of 1942, while serving with the U.S. Navy in the South Pacific. James Barger died on December 26, 1964, and Lena passed away June 21, 1978; both are buried at the Elm Grove Cemetery southeast of Tabor.

George Kreber and Pearl Felton met at Bon Homme School and were married in 1913, by a justice of the peace and on September 24, 1914, by a priest. Their children are Leo, Raymond, Lorena, Lawrence, Joseph, Idella, Louie, and Vivian. They were farmers, and worked for a man named Grooves near Vermillion, South Dakota. They later lived on farms near Tyndall and Gregory, South Dakota. George passed away December 8, 1933, and is buried at St. Joseph's Catholic Cemetery at Gregory. His son Joseph who died on October 22, 1922, at the age of two months, and a son Lawrence, who suffered a heart attack at the age of 19 years at Pactola Lake on February 17, 1939, are also buried at Gregory. Leo lost his life in the flood at Rapid City on June 9, 1971. He is buried at Sturgis, South Dakota. His first wife, Dorothy, is also buried there. Pearl died November 15, 1964, and is buried at Gregory.

by Mary Ann Vanacek
Louis P. & Alice M. (Schneider) Lanctot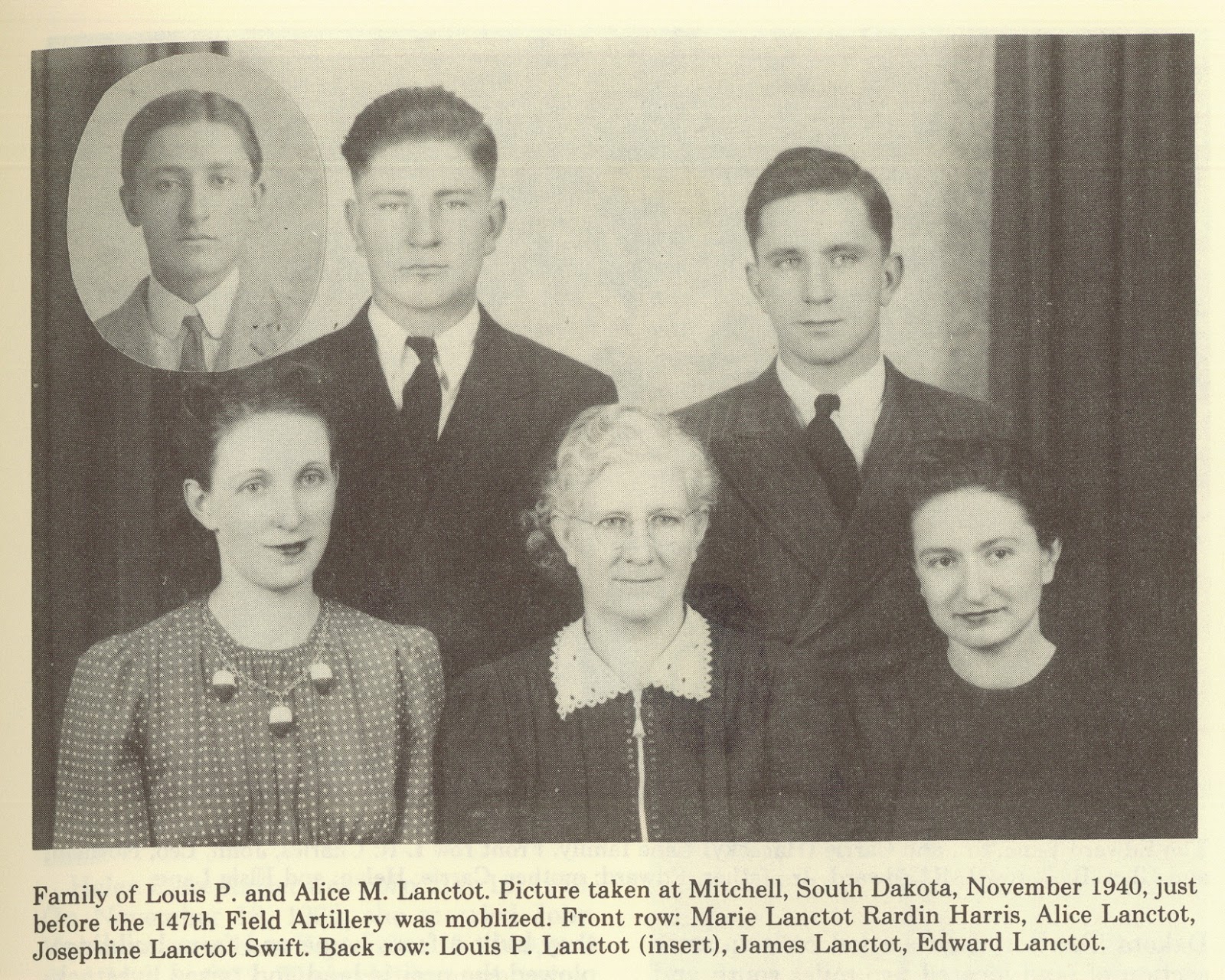 Louis P. Lanctot was born in September, 1887, near Mead, Nebraska, to Zenophile and Elise (Bourk) Lanctot. He moved with his family to a homestead in Charles Mix County. In 1913, because of father's failing health, the parents sold the homestead and purchased the Armour House Hotel at Armour, South Dakota. From a very early age, Louis worked around well drilling machines. After obtaining his own rig, he drilled wells for farmers in Cedar County, Nebraska, and in Yankton County.

Alice Schneider was born in rural Bon Homme County on May 28, 1892. She moved with her family to Yankton County after her parents purchased the farm (Williams Estate) Two miles east of Utica on February 16, 1899. She met Louis when he was employed to drill a well on her parents' farm. They were married in Sacred Heart Church in the summer of 1913 and set up housekeeping in a small house on her parents' farm. Mode of travel in that era was slow and when a well driller was engaged, room and board at the farm where eh was working during the week were part of the compensation. He saw his family only on weekends.

Their home was blessed with a daughter, Marie, born September 5, 1915, and a daughter, Josephine, born March 1, 1917. Within the next year, the family moved to a homestead 25 miles northwest of Casper, Wyoming, where they hoped to make their home. A small house and barn were built, ground was broken and crops were planted. A well was drilled but to their dismay it did not yield good water. It was sulfur water - all right for livestock but unpalatable to humans. During World War I, with the flue outbreak and shortage of doctors, the Lanctots obtained a leave of absence from the homestead and returned to Yankton. Here a son, James was born on May 21, 1919. When the flue epidemic subsided, they returned to Wyoming, where a second son, Edward, was born July 30, 1921.

Louis remained on the homestead during plowing and planting season; to provide needed capital, he worked in Casper during the week at an oil refinery. His brother-in-law, Charles Schneider, provided his transportation home to his family on Saturday nights. The family transportation was a buggy and team of mules. The family raised a large garden to provide vegetables for their table and the surplus was canned for winter use. During the winter months, the only source of fresh meat was rabbit and prairie chicken. Sagebrush was a fuel source for a quick fire.

In 1922, Marie and Josephine started school in a one room schoolhouse at Bucknam, Wyoming, about 7 miles away. In October, 1922, Louis lost his life in an automobile accident near Casper. The family returned to Yankton and resided with Alice's parents. Louis is buried in Yankton Cemetery. To provide for her children Alice worked at whatever job she could get - tailor's assistant, furniture store clerk, waitress, grocery clerk, dressing poultry, and candling eggs. When she did not have steady employment, Alice did door-to-door selling, handling hosiery, lingerie and cosmetics. Alice married E. A. Chambers in 1950 and moved to Aberdeen. She died in 1969 and is buried in Yankton Cemetery.

James and Edward participated in football and track at Yankton high School and both served with the 147th Field Artillery in World War II, in the South Pacific. James attained rank of 1st Sgt. and Edward 1st. Lt. James was awarded the Bronze Star and Silver Star. When the National Guard was reactivated after World War II, both reenlisted and again served during the Korean War.

Marie married Lee Rardin of Mitchell, South Dakota. They lived in Mitchell; Burlington, Iowa; and Portland, Oregon. Four of their six children lived in the Portland area, one in Hawaii and one in Alas. Lee died December 24, 1981. Later, Marie married Russell Harris and they reside in Milwaukee, Oregon. Marie worked 24 years for Sears Roebuck in Portland.

Josephine, after high school graduation in 1934, was one of the first secretaries at Yankton Production Credit Association, where she worked for nine years, then two years at the Sioux Falls Air Base. She moved to Portland, Oregon, in 1945 where she was employed by wholesale lumber companies, retiring from Georgia-Pacific Corporation. She married Samuel P. Swift in May, 1968. They reside in Portland, Oregon.

James married Patricia Poppe. He had three children and four stepchildren. They moved to Sunnyside, Washington. James died of heart failure in April, 1971. His family still resides in the Sunnyside area.

Edward married Maxine Slowey on August 15, 1944. they moved to California and then Portland, Oregon. He worked in various woodworking shops, later having his own shop. Still later he taught woodworking at Franklin High School. They still live in Portland. Three of their five children and families also reside there, with one at Sun Valley, Idaho, and one at Redding, California.

by Josephine M. Swift
Laban H. Litchfield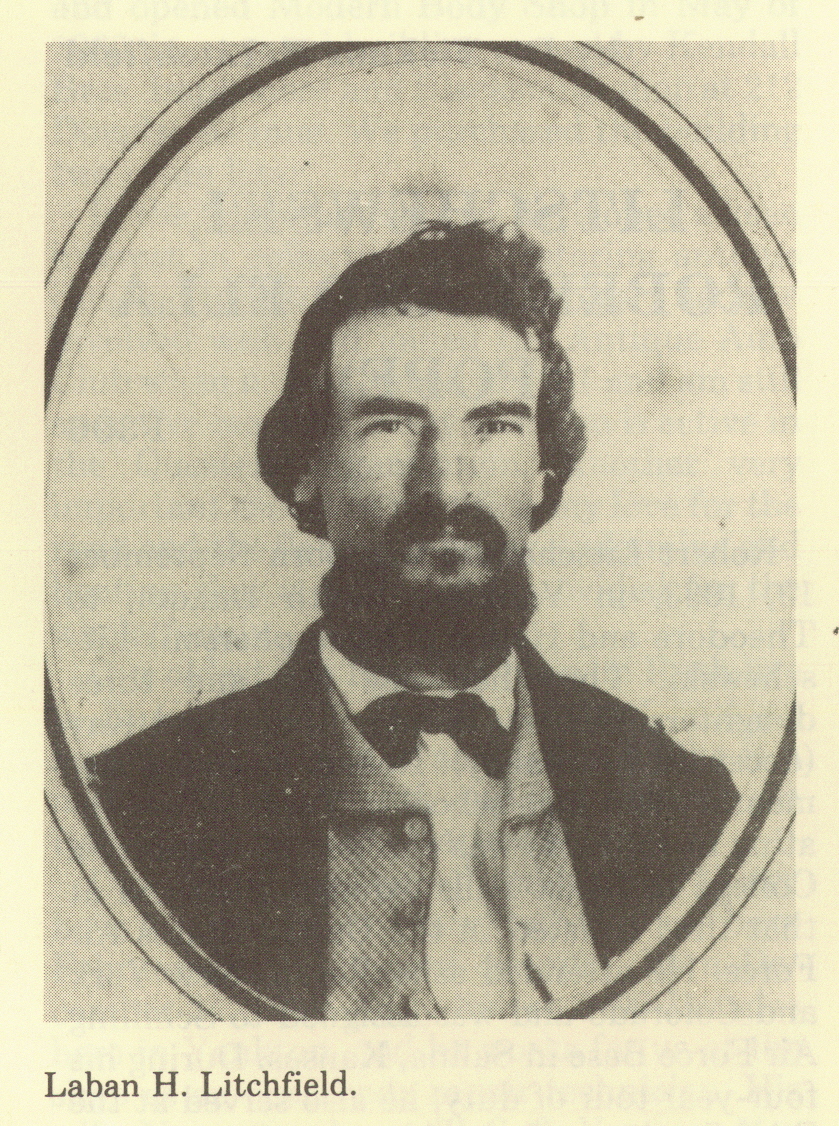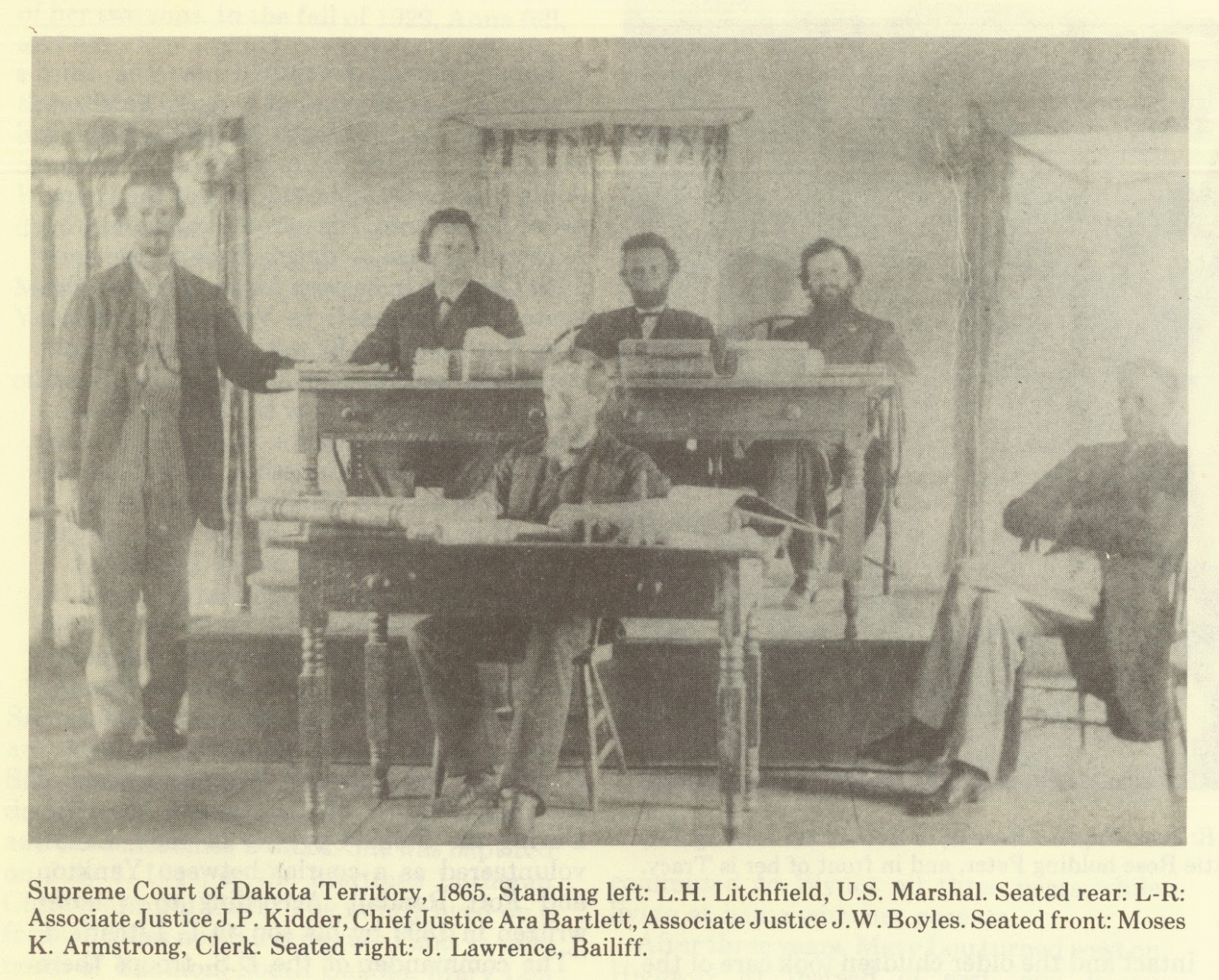 Laban Hersey Litchfield was the third United States Marshal of Dakota Territory, from 1865 to his death in 1872. Born in Albion, Pennsylvania in 1839 to Luther and Anna (Lincoln) Litchfield, he was the youngest of 12 children. His parents migrated from ancestral homes - dating back to the early 17th Century in eastern Massachusetts (Scituate and Cohasset) to Vermont, northern New York, and finally western Pennsylvania. An orphan at the age of 13, Laban lived until adulthood with sisters or brothers in Wisconsin, Iowa, and Minnesota. In late 1859, along with others from Minnesota, he walked 375 miles from eastern Minnesota and settled in Bon Homme County before the official organization of Dakota into a Territory.

Early on, Laban Litchfield engaged in Republican politics of the Territory. In 1862 and 1863, he received gubernatorial appointments to offices in Bon Homme County, successively those of : County Commissioner, Register of Deeds, and Notary Public. He was elected to the House of Representatives of the 3rd Territorial Legislature in 1863. During the Sioux Uprising in 1862, Laban volunteered as a courier between Yankton and Fort Randall. According to a letter written in 1899 by his son, O. T. Litchfield, "The commander of the U.S. troops there (Yankton) called for a volunteer to carry military dispatches to Fort Randall, a post about 50 miles from Yankton on the Missouri River. My father volunteered, crawled through the Indian Lines, but was pursued. He swam the Missouri River, which was full of floating ice, found a canoe on the opposite bank, hid in under the canoe for three days and nights, and finally delivered the dispatches safely to the commander at Fort Randall. Thereafter, he made regular trips through the hostile country, traveling nights and hiding days, carrying the mail, and military messages."

Prior to his appointment as U.S. Marshal of Dakota Territory by President Abraham Lincoln on February 23, 1865, Laban Litchfield served as deputy marshal for three years. As the chief law enforcement officer for the Territorial Supreme Court, Laban's work took him to many places throughout the territory gathering up prisoners and witnesses for court sessions. He traveled mostly to settled counties along the Missouri River near Yankton, but also to far away, remote places like Pembina on the Canadian border.

In 1867, Elizabeth Cowdin visited her Aunt Mary (Reynolds) Ash, wife of Henry C. Ash, in Yankton. Among the first settlers in Yankton, the Ashes owned and operated the Ash Hotel. Presumably, it was here that Elizabeth Cowdin and Laban Litchfield met and, within a year, on July 27, 1868, they were married in her hometown of Delphi, Indiana - she at the age of 17, and he an older 29.

Swept up in the divided Republican politics of the time, Laban's reappointment as marshal was contested and became a controversy in the Territory. He was, however, reappointed to a four year term by President Grant on April 6, 1869. His son, Only Ticknor Litchfield, was born in Yankton on May 13, 1870.

Laban's final service to Territory and Party was as a delegate to the Republican National Convention in Philadelphia in June 1872 at which President Grant was nominated for a second term. Never a well man Laban suffered at various times from tuberculosis and fever. Upon his return sick from a long trip to Pembina in September 1872, he went to bed and doctors were called. Apparently, one doctor gave him an overdose of a strong medication from which he died on September 27, 1872. The doctor, from reports, disappeared on an upriver steamer and was ever found. His funeral was conducted under the rites of Masonry and his funeral cortege was one half mile long. He was buried in the Yankton Cemetery at the age of 33.

Within several years Laban Litchfield's widow was remarried to Clarence H. VanTassel, and they had three additional children. Later in life, Elizabeth Cowdin Litchfield VanTassel informally wrote several accounts of her pioneer experiences. Among the most interesting of the episodes related is the following: "I remember General Custer when he came to Yankton with his cavalry from Kentucky. They came in March (1873) and remained till June 1st, when the grass was green to provide food for the horses. When they left, all of Yankton were out to see them off. It was a beautiful sight. Each troop had horses of one color, General Custer leading on a snow white horse with his long hair waving in the breeze and the band playing 'The Gil I Left Behind'. When the news of the massacre came (1876), all Yankton mourned."

Laban's son, Only Ticknor Litchfield, lived in South Dakota for his entire life. He attended Artesian High School, Madison Normal School, took commercial courses at Watertown, and received a diploma from Dakota University (now Dakota Wesleyan) at Mitchell. He met his wife, Anna Bushnell, at Dakota University. She was the daughter of Hutchinson County homesteaders from upstate New York. O. Ticknor Litchfield became general manager, treasurer, and vice president of the J. F. Anderson Lumber Company in Mitchell. He served on the Mitchell School Board for 19 years, nine as President. Following his death in 1919, a Mitchell elementary school was named for him.

Ticknor and Anna Litchfield had one child, Clarence B. Litchfield, who spent his formative years in Mitchell. After his education as an architect at the University of Pennsylvania, Clarence remained in the East and entered architectural practice in New York City, joining a firm which later became LaPierre, Litchfield, and Partners.

Clarence Litchfield married Margaret Sandt in New York City on April 24, 1931. Between 1931 and 1944, they had five sons: Lawrence, Ticknor; John; Clarence, Jr.; and Richard. All sons (except John, who died in 1982) are now living in New York State, and Laban Litchfield's legacy includes 14 great great grandchildren (8 girls, 6 boys), all currently with the last name of Litchfield.

by Dr. Ticknor B. Litchfield
Delbert "Ray" Livingston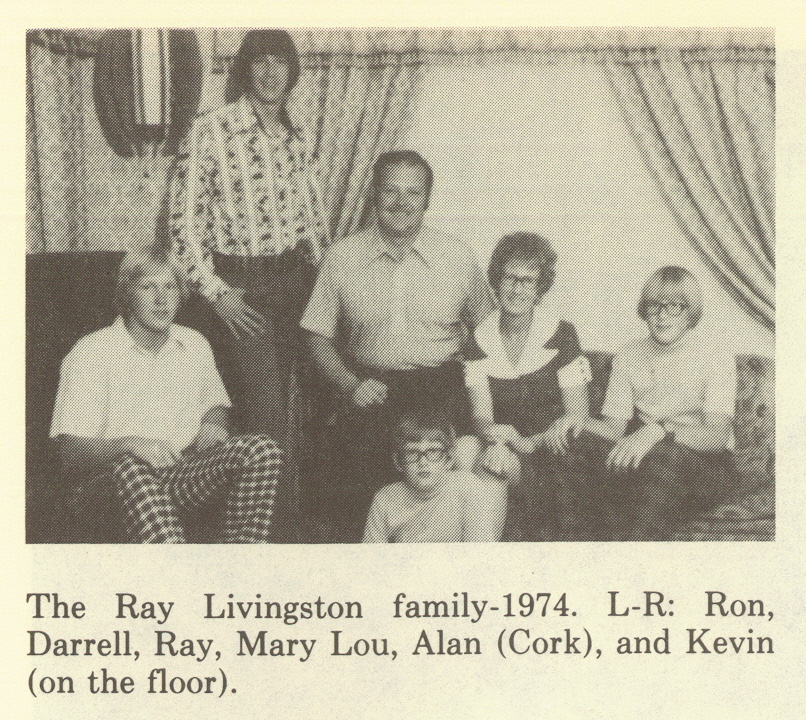 On April 8th, 1934, I was born at Gregory, South Dakota. My parents are Roy O. and Susie E. Durfee Livingston. I have one brother Lester L. Livingston, who is one year younger than I. In 1937 we moved to the west coast and we lived there for 11 years, and moved back to Burke in 1948, where I graduated from high school in 1952. In the fall of that year I enrolled in the Auto Body Repair Class at Southern State Teachers College at Springfield, South Dakota. While at Southern I met Mary Lou Einrem, who is the youngest daughter of Carl J. and Grace J. (Dykstra) Einrem.

The training that I had led to a job offering at Pfeiffer Chevrolet Garage here in Yankton. At the same time Mary Lou came to Yankton and worked at the Our Place Restaurant as a waitress. We were married on October 9, 1954, at Mission Hill, South Dakota. Our first son, Ronald R. was born on November 14, 1955. Our second son Darrell C. was born on May 27, 1957, and Alan R. (Cork) our third son was born on July 29th, 1959. Kevin L., our fourth son, was born on November 14th, 1963.

We rented several different places in Yankton, starting out with the small sleeping rooms. Before we were married I had a room at Guy Livingston's (no relation) and Mary Lou had a room at Ana Sathe's. Then when we got married we lived in a small apartment; as the family required space we rented larger places. When Alan was born we purchased our home at 509 Linn in 1959, where we still live and probably always will. This house was built in 1900 and was the Dunn family home, then Henry Christopherson's; we purchased it from Mrs. Christopherson.

After working in the Chevrolet Garage for seven years and being 26 years old in 1960, I thought it was time to go into business. A co-worker in the garage, Milford Folkers, also felt the time was right for him to enter the business world. So we formed a partnership and opened Modern Body Shop in May of 1960, in a rented building owned by Kendall Bros. Implement and Blacksmith shop at 212 Douglas Avenue. We purchased the building two years later.

In the following years we developed a keen interest in collecting and restoring antique cars and furniture and collectibles. I became involved with and joined the Antique Auto Club when it was formed in 1961 and am still an active member. Mary Lou also is active in the Questers organization. Another very important aspect of my life is my love for the river and the fishing, hunting, swimming and boating that it has always provided for the whole family.

Our oldest son Ron and his wife Ruth live in Rapid City; he works in a beef packing house, Ruth works in a restaurant. She is a native of Connecticut, and her parents are Robert and Beverly Matteson.

Our second son Darrell and his wife Nancy have two daughters: Mary Beth who was born February 14, 1976; and Jennifer, born December 24, 1979. They live at 2409 Douglas here in Yankton, and he works for us at the shop as an auto body repair technician. His wife Nancy works at TF&Y store. Her parents are Luvern and Leona Cwach.

Our third son Alan (Cork) and his wife Gail live at 1718 Capitol here in Yankton. He works for Wilson Trailer Co., and Gail works for Mollet Music Co. they had their first child in May 1985. Her parents are Harvey and Darlene Weisser of Wagner, South Dakota.

Kevin, the youngest son, also works for Wilson Trailer Co. and still lives at home.

Mary Lou worked for the JCPenney Company for six years; then in 1973 she was injured in a car accident that disabled her so that she had to quit Penneys. When her health improved she became interested in ceramics and soon went into business by purchasing Thurmans Ceramic and Gift shop. This was a family hobby project that soon grew into a full time business that demanded more than Mary Lou could do alone, so we sold it. Then in 1979 she began working part time in the Court system as a Bailiff, a job she thoroughly enjoys.

I have been active in the South Dakota Auto Body Association since it was formed in 1970 and have always tried to promote and upgrade the Auto Body Repair Industry. After being in business together for a quarter of a century I purchased Milford Folker's share of Modern Body Shop, Inc on May 15th of 1985 at which time he retired. I look to the future with anticipation and a big smile for all my friends in this community I call home - Yankton, South Dakota.

by Ray Livingston
Charles Machacek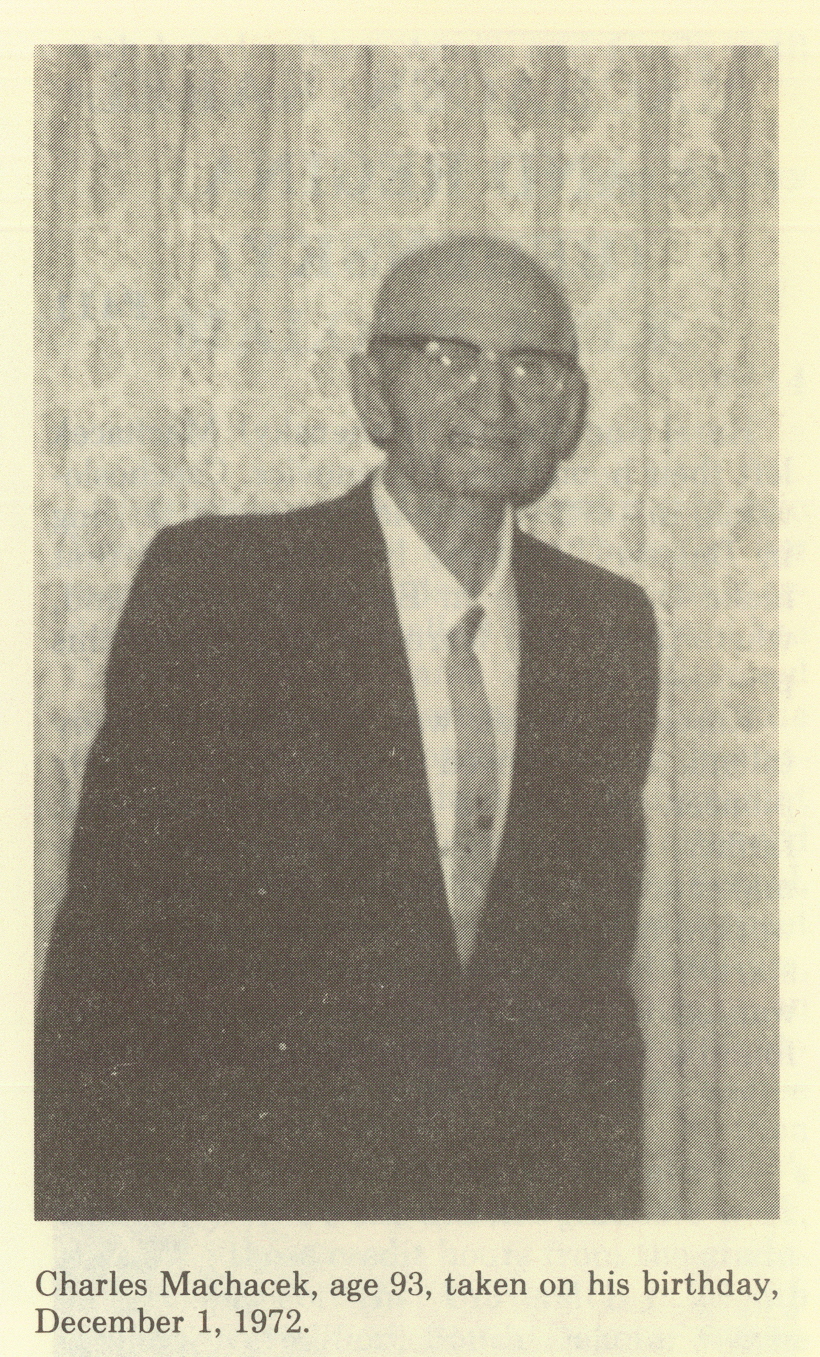 Charles Machacek was born December 1, 1880, in a Bohemian settlement near Utica, South Dakota. He was the son of Charles and Regina Machacek.

He married Otilla Mikolasek of Tabor on April 24, 1906 in Yankton. Four children were born to this union: Tillie, Leo, Richard, and Eleanor. (Tillie married Raymond Sparks and Eleanor married Edward Schoenfelder).

Charles was engaged in farming and was a local tinker, repairing watches, clocks and making some of the parts needed to repair them. He and his family lived give miles east of Janousek. His wife Otilla passed away in 1920, at the age of 32, from influenza and pleurisy, leaving the young children. They were "farmed" out to relatives; for their work they received room and board. A few years later he left the family farm. He did odd jobs and some repair work.

In 1934 Charles and his son Richard went to Wyoming, near Sundance, to homestead. He remained there until 1938 when he became seriously ill. His house and some of its contents are still standing. His daughter Eleanor visited there a few years ago.

When he became ill he returned to Yankton. He was sent to the Mayo Clinic in Rochester, Minnesota, for numerous surgeries. Some of these are in the Guiness Book of Records, for the gold mesh which was put in to reinforce his abdominal wall. He recovered after many months, and in 1940 he moved to Gayville, South Dakota, where he started to use his talents as a shoemaker and shoe repairer. He also repaired musical instruments and clocks. He continued his shop for 25 years. In 1957 he tragically lost his son Richard.

In 1965 he moved back to Yankton. He lived alone until he was 92. Then in 1972 he went to a nursing home where he passed away in 1974; he was 94 years old. He is buried in the Yankton Cemetery in the family plot beside his wife and son.

by Verna M. (Sparks) Hojem
Martin A. & Tonie (Cap) Mazourek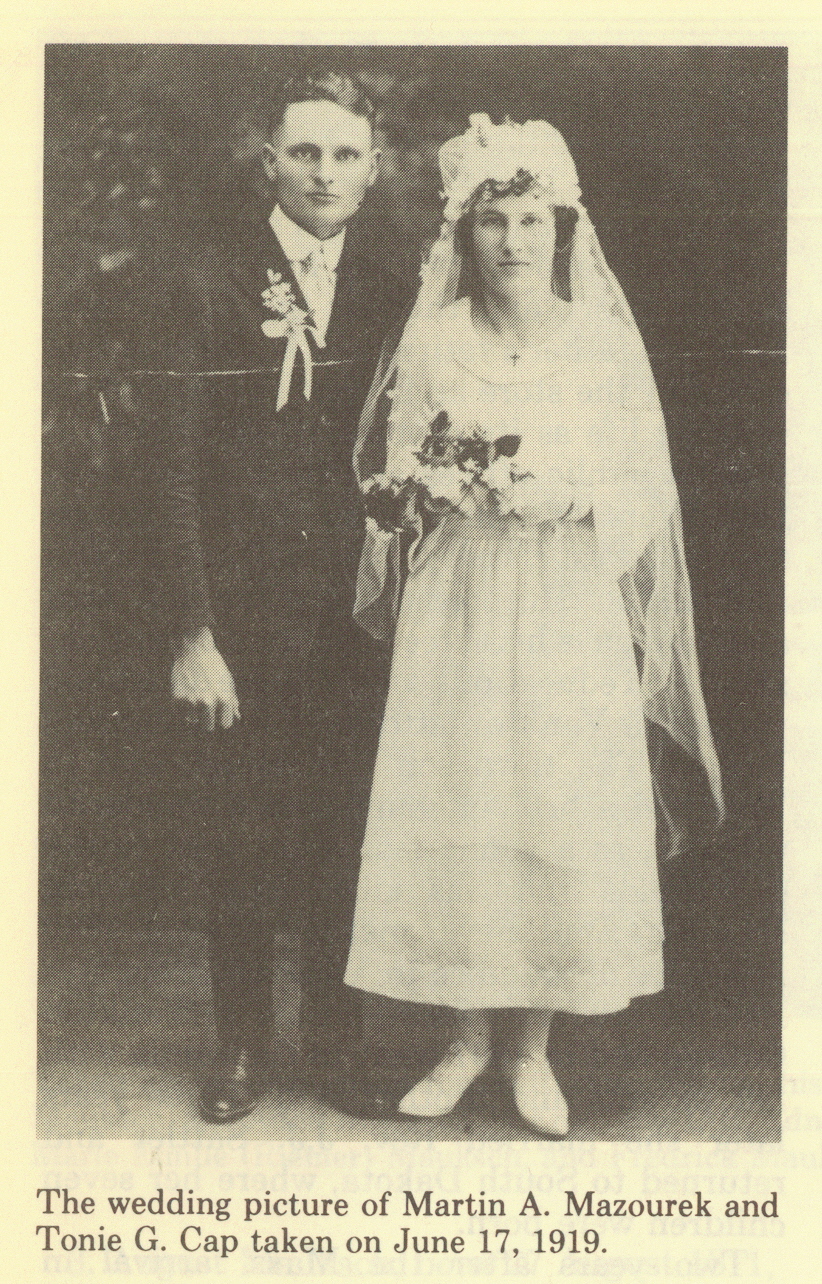 Tonie Cecilia Cap was born on Friday, 3-9-1901, to Mary (Teply) and Frank Cap II in Yankton County on a farm homesteaded by her parents in 1894. She attended rural school, Pleasant Hill #64, and Tabor Parochial School for two winters to prepare or her First Communion and Confirmation.

At 12 years old, Tonie and her older brother Frank III did most of the farming as older sister Katie did more housework. Younger sisters, Alice and Josephine, didn't work in the fields because there weren't any crops. They used horses because that's all there was until their father bought a Nelson tractor in 1918. It was the first tractor in that area. Sister Barb had to push a lever during plowing time. Tonie also helped with discing, cultivating corn, and with hat stacks, shocking grain bundles, and picking corn by hand using a good team of horses. The older children worked in the fields and younger ones did the baking, cooking and the chores. A train went by about 4:00 each day; this was their time for a lunch break.

My father, Martin A. Mazourek, was born 7-2-1896, Dante, South Dakota, Charles Mix County to Frank J. Mazourek and Teresa Rose (Horacek) Mazourek. Frank and Teresa were born at Moravia, Czechoslovakia, 2-26-1868. Both came to the U.S. on the same boat, in 1876, when eight years old, not realizing it until they were courting. Frank and Teresa married 2-26-1889 at Tyndall, South Dakota. Children of Frank and Teresa: Ralph, Frankie, Emil married Rose Kocmick, Cecelia married Laddie Karolevitz and Frank Merkwan, my father Martin, Sr., Anna married Ed Ruhl, Laddie, Lillian married Urban Greenfield, and Jen married Ted Hornstra.

My parents, Tonie Cap and Martin A. Mazourek, were married 7-17-1919 at St. Wenceslaus Church, Tabor, South Dakota. Mother's wedding dress was made by Lydia (Cwach) Peterka, aunt to my husband, Luvern E. Cwach. Children born on their farm in Charles Mix County are: Theodore Thomas 11-20-1921; Benjamin Martin 1-28-1924; Martin Edwin, Jr. 1-28-1926; Adolph Frank 3-7-1928; Leona Marie 4-11-1931; Mary Ann 10-3-1933; and Frank Eugene 3-14-1938.

Tonie and Martin lived on a farm (called Welcome Farm) homesteaded by his parents about 1895 working with horses and tractor in the late 1920's. Many hardships were endured in the years of depression (late 1920's and 1930's): dust storms, grasshoppers, no rain, no crops, and cold winters. Brother Ted remembers buying a binder one day, and the next day hail destroyed the wheat, the storm came so fast. Martin, Sr., had a threshing machine and each year he would thresh for relatives and neighbors. The men ate in the parlor where it was cooler. Good times were family dinners, weddings, babies, school programs at Christmas, barn dances, playing cards with neighbors, making root beer, fudge and homemade ice cream. A mill north of Springfield, South Dakota would grind wheat into flour which was store in cloth sacks in the parlor. Bootlegging took place in the 1920's and 1930's - many farms had the stills "well hidden" as whiskey was illegal. The speed limit during World War II was 35 m.p.h. as rubber was poor quality on tires. Iron scrap drives were organized - all for war defense.

Martin, Sr., died 5-11-1940, and was buried at Dante, South Dakota. Tonie, with the family, moved to Tyndall, South Dakota, 3-1942; Wakonda, South Dakota, 10-1943; Tabor, 3-1948; and to Yankton, South Dakota, 10-1951, at 411 Cedar Street.

Theodore is a carpenter and lives in Big Bear Lake, California. Benjamin served in World War II, works for Rhian Oil and Gerstner Oil Co., and bought the house on 4-24-1971, at 411 Cedar St.. Martin Jr. (Navy World War II) owns a lumberyard in David City, Nebraska. On 4-19-1985, a tornado took the roof of one of the buildings causing much damage. Adolph was in the Korean War, 1951 and 1952, and has a dairy farm in Neilsville, Wisconsin. Leona married Luvern E. Cwach 6-27-1950 at Tabor, South Dakota. They are living on a farm west of Yankton. Five daughters were born to them: Norma Ann, Donna Marian, Ruth Katherine, Nancy Joan, and Renee Marie. Mary Ann married Vince Tielke 5-5-1954; they are living at 415 Linn St., Yankton. Their children: Karen, Deb, Charles, Mary Kay, Cindy, and Douglas. Frank married Priscilla Frank 8-12-1961. Frank was in the Air Force 1956 to 1960. He has worked at the Telephone Company since 1960. Priscilla has worked at Valley State Bank since 1964.

Direct descendants of Tonie and Martin are seven children, 21 grandchildren, 23 great-grandchildren, three step-grandchildren, and seven step-great-grandchildren.

by Leona (Mazourek) Cwach
Josef & Josefa Pajl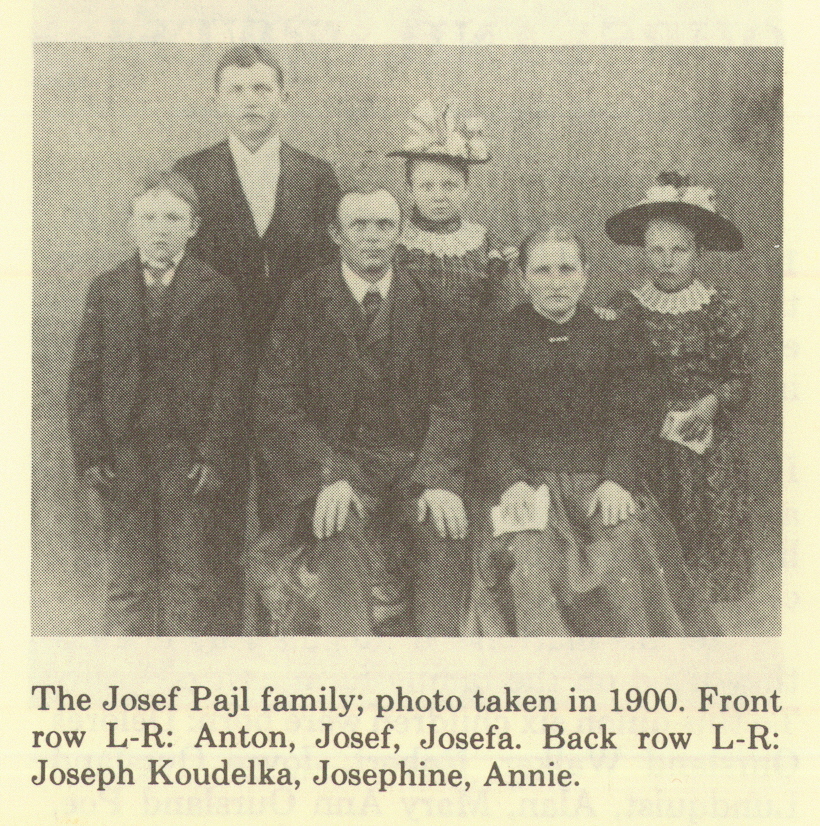 Josef Pajl (November 10, 1859 at Breziny, Czechoslovakia - December 19, 1931 at Utica), the son of Anton Pajl, farmed near Breziny, Policka, Czechoslovakia, before immigrating to the United States. He married Josefa (Elis) Koudelka in 1866 who already had a son named Joseph (April 5, 1880 at Pusta Kamenice, Czechoslovakia - November 10, 1966 Scotland) from her first marriage (about 1879) to Josef Koudelka (1854 at Pusta Rybna, Czechoslovakia - 1882). The Pajls had four children of their own - Josefa, known as Josephine (August 26, 1886 at Breziny, Czechoslovakia - February 16, 1984 at Utica), Anton (October 31, 1889 at Breziny, Czechoslovakia - May 19, 1965 at Winner), Anna, known as Annie (April 16, 1891 at Breziny, Czechoslovakia - August 30, 1982 at Scotland), and Emillie (1894-1895, both at Breziny, Czechoslovakia).

Josefa (Elis) Pajl (August 24, 1859 at Pusta Rybna, Czechoslovakia - November 20, 1955 at Utica) was the daughter of Josef (April 23, 1829 at Jimramov, Czechoslovakia - 1903 in Czechoslovakia) and Josefa (Korabekova) (August 28, 1825 at Pusta Rybna, Czechoslovakia - 1912 in Czechoslovakia) Elis of Pusta Rybna, Policka, Czechoslovakia. Josefa (Elis) Pajl had two brothers, Josef Elis (December 5, 1862 - December 3, 1930; married Anna Buresova on February 13, 1888, who remained at Pusta Rybna) and Anton Elis (March 23, 1871 - January 5, 1941; married Marie Petranek on September 25, 1894) who immigrated to Utica, South Dakota in 1892.

The Pajl family left Czechoslovakia by way of Hamburg, Germany. They traveled 30 days on a freighter ship with only a trunk full of personal belongings and landed at Ellis Island, New York on March 19, 1900. They traveled by train from New York City to Utica, South Dakota. The Pajls came to America for a new start in life and to be reunited with their son Joseph Koudelka who had immigrated from Czechoslovakia in 1898. The Pajls worked though 1909 for different Czech farmers in the Utica-Tabor-Scotland area. In October 1909 Josef, his wife and son Anton headed west to Tripp County with a team and wagon, a milk cow and some chickens. They crossed the Missouri River on a ferry. Josef homesteaded ten miles north northwest of Witten, South Dakota in Curlew Township (NE1/4 12 - 101 - 78). While living in the Bon Homme - Yankton county vicinity they attended the First Bohemian Presbyterian Church of Bon Homme northwest of Tabor.

Three of their children married and stayed in this area. Joseph Koudelka married Anna Bracha (April 6, 1880 at Cernovice, Czechoslovakia - February 17, 1968 at Scotland) on May 12, 1903 near Scotland. Josephine married Utica on October 16, 1906 to Frank Skorepa (May 16, 1874 at Velim, Czechoslovakia - November 28, 1950 at Utica); and Annie married Frank W. Kozel (November 1, 1881 at Tabor - September 10, 1951 at Scotland) at Tabor on October 19, 1909. Anton Pajl married Josephine Warjcka (May 29, 1903 at Bovee, South Dakota). Frank and Josephine Skorepa's children are Lillian, Emillie, Elsie, and Alvin. Frank and Annie Kozel's children are Lillian, Loretta, and Francis.

Anton and Josephine Pajl raised seven children on their farm near Witten, South Dakota. The children are: Lydia (September 3, 1925 at Witten) married to Maurice Earll (February 19, 1921 at Witten) on November 6, 1948 in Winner, South Dakota. Joseph (November 5, 1926 at Witten) married to Donna Vavra (August 25, 1928 at Bronson, Iowa) on May 13, 1957 in Pierre, South Dakota; Elsie (March 15, 1928 at Witten); Anton (December 28, 1930 at Bloomington); Milo (December 17, 1931 at Witten - December 24, 1941 at Winner); Mildred (December 17, 1931 at Witten) married Carl Grover on November 27, 1964 in Glendale, California; and Edward (March 22, 1943 at Winner) married to Marlene Aden (February 20, 1945 at Gregory) on February 15, 1964 in Colome, South Dakota. Lydia Earll's children are Marlene and Sharon. The children of Joseph Pajl are Karen, Janet, James, and Randy. Lynn and Kimberly are Mildred Grover's children. Edward Pajl's children are Lisa, Lana, Duane, and Justin.

Children of James Pajl (November 5, 1952 at Winner) who married Martha Orpin (January 25, 1959 at Newton, Kansas) on August 2, 1980 in Manhattan, Kansas are Elizabeth and Matthew; and of Randy Pajl (April 23, 1958 at Winner) who married Ruth (Stewart) Felts (August 5, 1957 at Gallipolis, Ohio) on July 27, 1983 in Winner, South Dakota are Angela, Julie, Lenny, and Jerome.l
Joseph Nikodym, Sr.
Joseph Nikodym, Sr., the son of Pavel and Eleonora Jurova Nikodym, was born on March 12, 1834, in Nyklovice, Brno region in Moravia, which is now the central part of Czechoslovakia. He left school at the age of 12 years to learn the weaver's trade, serving an apprenticeship of three years at this trade. After that he began learning the carpenter trade, which he followed for three years. When he was 20 years of age he joined the army, serving in the 7th Regiment of Archduke Charles for eight years.

In 1856 he married Veronica Ondrova Fiala, and to this union were born two children: Krystyna, born February 27, 1861, and Frank, born on May 15, 1865. Both were born in House No. 21 in Ubusin, Moravia.

Veronica passed away in 1865, and two years later he married Anna Ondrova. In 1869, they with the two children from his first marriage sailed for the United States, eventually getting to Spillville, Iowa, where they lived for six months. (Many immigrants from what is now Czechoslovakia went to Spillville, Iowa, some settling there and others moving to the Dakota Territory.)

Leaving Spillville, Iowa, for the promised land in Dakota Territory, he brought his family in a buggy pulled by an old horse to his homestead three miles west of what is now the town of Utica, South Dakota. He filed an application for the North 1/2 of the Northwest 1/4 of Section 11, Township 94 N, Range 57 W, where he immediately dug a hole in the ground over which he put a roof. This was to be their home for five years before constructing a log cabin. During this time his old mare died so he bought a cow on credit, and this was his transportation to town. The only timber available was along the Missouri River many miles south of the homestead, so it was there that he walked to bring back large tree branches out of which he made ploys, etc., to do the job of breaking the land, and logs to build their home. They had all the trials of the early pioneers as well as the subsequent successes.

Many of the first settlers were of the Presbyterian faith, as was the Joseph Nikodym family, so their home was used as a gathering place for religious services. later he was instrumental in starting a Presbyterian Church west of Tabor, South Dakota. In 1876 he donated part of his homestead land for a cemetery which is still used.

Three children were born in South Dakota, namely, twins Joseph, Jr., and Anna born on August 28, 1873, and another child who died in infancy. Daughter Anna died in July of 1891. His wife Anna passed away on October 11, 1909, and his death occurred on January 22, 1927.

Daughter Krystyna married John Peshek in 1898, and their children were: John, Mollie (Fox), Christina (Cofer), Anna (Schriever), Joseph, Frank R., Mary (Lihs), and Emma (Cox). Krystyna passed away on September 10, 1935, in Los Angeles, California, where she had been living with her daughter.

Son Frank married Mary Fejfar on November 21, 1891, and their children were: Christina (Hlavac), Lillian (Vanorny), Mae (Block), and Frank, Jr. His wife Mary died in 1901. He then married Mary Nedved in 1902, and their children were: Tillie (Larsen), Alyce (Fox), and Albert. Frank, Sr., passed away on February 5, 1933, in Utica, South Dakota.

Son Joseph, Jr., married Josephine Skorpik in March 1894, and their children were: Anne (Vinatieri), Josephine (Peterson), Joseph, Phyllis (Novak), Emil, Hattie (Kruse), and Clarence. Joseph, Jr., passed away on June 14, 1953, in Utica, South Dakota, and his wife's death occurred on November 21, 1952, in Utica.

Joseph's brother Ignac, who was born on March 16, 1845, in Nyklovice, and his wife Barbara Dvorak, born March 28, 1836, in Hungary, also immigrated to this country. They lived in Lesterville, South Dakota. He passed away on January 5, 1926, and his wife died on October 30, 1917.

Joseph's niece, Teresia Nikodym who was married to John Jancik, also came to this country in 1873.

by great-granddaughter Mrs. Robert J. Fejfar
Lowell D. & Patricia Nelson
Lowell Delbert Nelson was born in Chamberlain, South Dakota, on November 22, 1933, to Francis and Alma Meyer Nelson. He joined a brother Bernard and a sister Darlene. He attended the Keiner School and Chamberlain High School. He played the tuba in the Army Band in Missouri and Korea. In 1957 he took a year of auto mechanics at Southern State Teachers College in Springfield, South Dakota.

Patricia June Sougstad was born in Fresno, California, On Mother's Day of 1938. A brother, Gene Arthur (Mike), and a sister, Evalyn Ann, were born later to Edgar Wendall Sougstad and Marjorie Frances Lutz Sougstad. They made their home in Fulton, South Dakota, for 19 years. Marjorie was the postmistress. Edgar farmed, did carpentry, and clerked in the post office. Pat attended 12 years at Fulton Public School graduating as valedictorian in 1956. She then took two year teaching training at Southern and Dakota Wesleyan in Mitchell, South Dakota.

Lowell and Pat were married a the First Methodist Church in Mitchell on June 15, 1958. They spent the summer in Springfield and the next year worked in Salem, South Dakota. In 1959 they moved to Spearfish, South Dakota, where Lowell was a mechanic at Spearfish Motors and Pat took courses at Black Hills Teachers College. In 1960 they went to Lowell's home place, a farm near Ola, South Dakota, because his father, Francis Nelson, had died. they lived there with Alma for eight years. Pat taught rural Brule Schools, and Lowell farmed and had a mechanic shop on the farm. Lowell built a new house in 1962. Mikel Lowell arrived on June 1, 1963, on the 49th birthday of Grandfather Sougstad in Sioux Falls. Alma babysat Mikel while Pat taught school.

Lowell Nelson and Arvene Wallem bought Auch's Marine in February 1981. Both continued with their jobs at University of South Dakota, Springfield, until the school year ended. Lowell, Pat, and their son Mikel moved to Yankton in July of 1981. Mikel had graduated from Springfield High School in the spring of 1981 and as usual participated in the Lewis and Clark Playhouse musical. Thus far he has participated in the Playhouse for seven summers. In the fall of 1981 Mikel entered college in Vermillion and graduated in May of 1985 with a major in Computer Science. Because of his devotion to music he was one of two South Dakotans to be selected for the Olympic Marching Band in Los Angeles during the summer of 1984.

Lowell and Pat celebrated their 25th wedding anniversary in June of 1983. Lowell is building a super insulated house with a wooden basement in Oak Hills. Lowell and Pat joined the Riverview Park Reformed Church and sing in the church choir. Pat is very active in the American Association of University Women, the Newcomers Club, and other organizations.

by Lowell D. Nelson
Patrick McDonald
Patrick and Mary Alice (McDonall) McDonald came to Yankton March 17, 1870, accompanied by their daughter, Hannah McDonald, and Mary Alice's daughters, Mary Alice and Margaret Egan.

Mary Alice (McDonall) Egan was married previously to Martin Egan in Ireland. The Egan family had lost a son, Michael, in Ireland; and daughter, Bridget, had died crossing the ocean to America. Martin Egan and another daughter, Annie, had died in 1862 at Richmond, Virginia, of a fever. The widow then married Pat McDonald.

The McDonalds and Egans first came to Sioux City, Iowa by train from Pike County, Missouri. They were marooned in the depot in Sioux City for three days because of a blizzard. They took the stage to Yankton where they stayed at the Bradley Hotel for about a month while Pat McDevitt finished a one room house for them to live in.

Pat McDonald was in the employ of Tom Pierce and other early contractors. He worked on a number of buildings in Yankton, including the first large hotel building. He helped plaster the first Congregational Church in Yankton.

The mother worked to earn enough money to buy a cow and two little pigs. The following spring they moved onto a homestead claim near the now extinct town of Bon Homme. Pat worked in Yankton for a year or two. He would walk out to the claim on Saturday (about 20 miles) and bring groceries to the family. Later he got a team and wagon and went freighting from Yankton to Ft. Randall, supplying the officers at the fort with butter, eggs, chickens and other provisions purchased at farms on the way, or bought at Yankton to fill an order. He made the trips the year around and during the winter months slept under the wagon, waking up many mornings covered with snow. He was in many blizzards and was lucky to have survived them.

Patrick's two step-daughters worked at Fort Randall before their marriages. Mary Alice Egan married Louis Schneider in 1878 and Margaret Egan married his brother, William Schneider. Daughter, Hannah McDonald, married Thomas Rogers and lived on the corner of 8th and Burleigh behind the Cotton gas station in Yankton for many years.

Son, Peter McDonald, was born in Yankton the day of the Great Chicago Fire in 1871. The mother died in 1883 and was buried in Bon Homme County Catholic Cemetery. The cemetery was later abandoned and her body and her grandson's were moved to Tyndall, South Dakota.

After the death of his wife, Patrick McDonald married Kate Monahan and had six more children: Mary (married Rudolph Petrick), Julia (married John Hanrahan), Sergeant, Ellen (married Elsworth Flick), Lillian, and Charles. Patrick and Kate lived in Yankton in their retirement years. Pat was born at Castlebarr, County Mayo, Ireland.

Descendants of Mary Alice McDonald living in the Yankton area are great grand daughters: Helen Bride, Margaret Schramm, Rita Gleich, and Eileen Busch.

Family history has the story that the second Mrs. McDonald (Kate Monahan) sister was kidnapped by Indians at age three and didn't get back to the family for 60 years.

During the Civil War, Patrick McDonald served in the Confederate Army under General Fessenden of Holly Springs, Mississippi.

by Eileen D. Busch
Rezac Family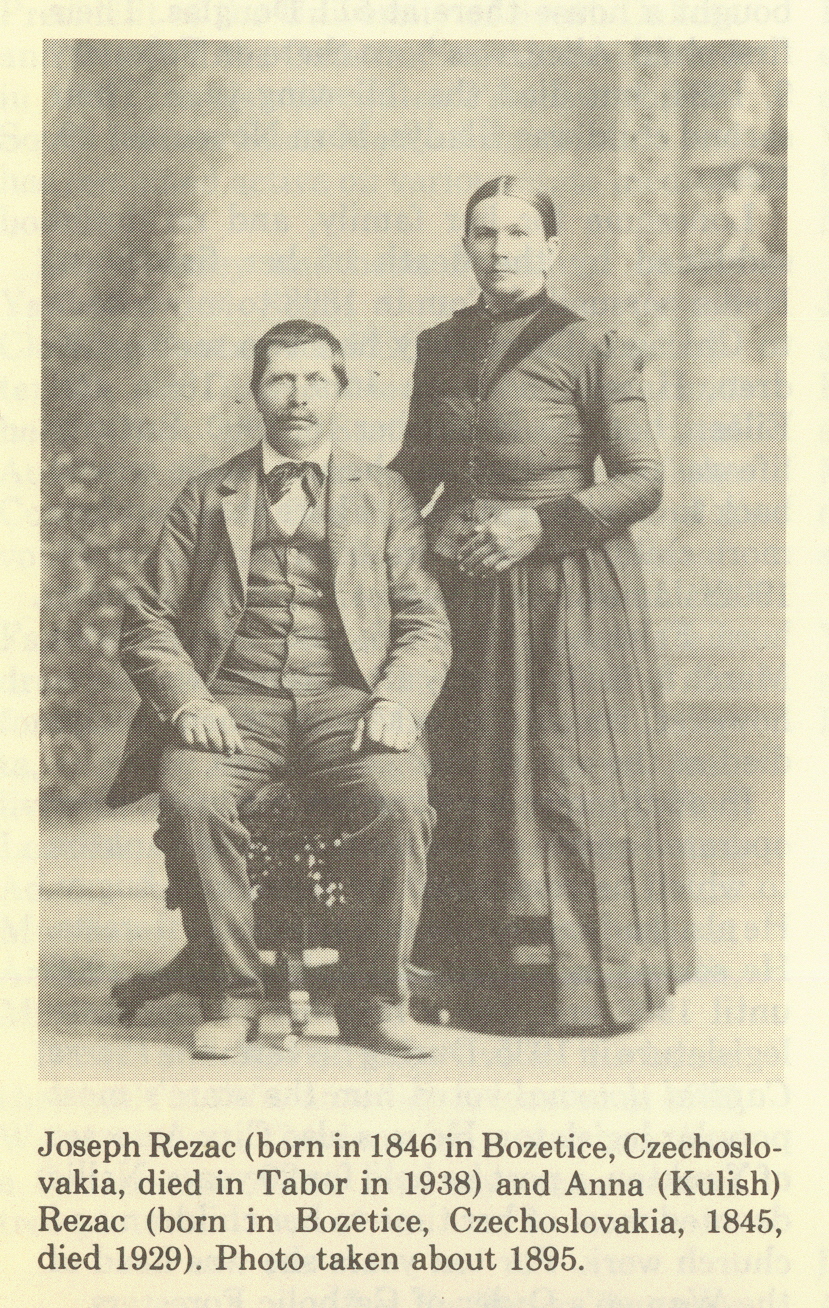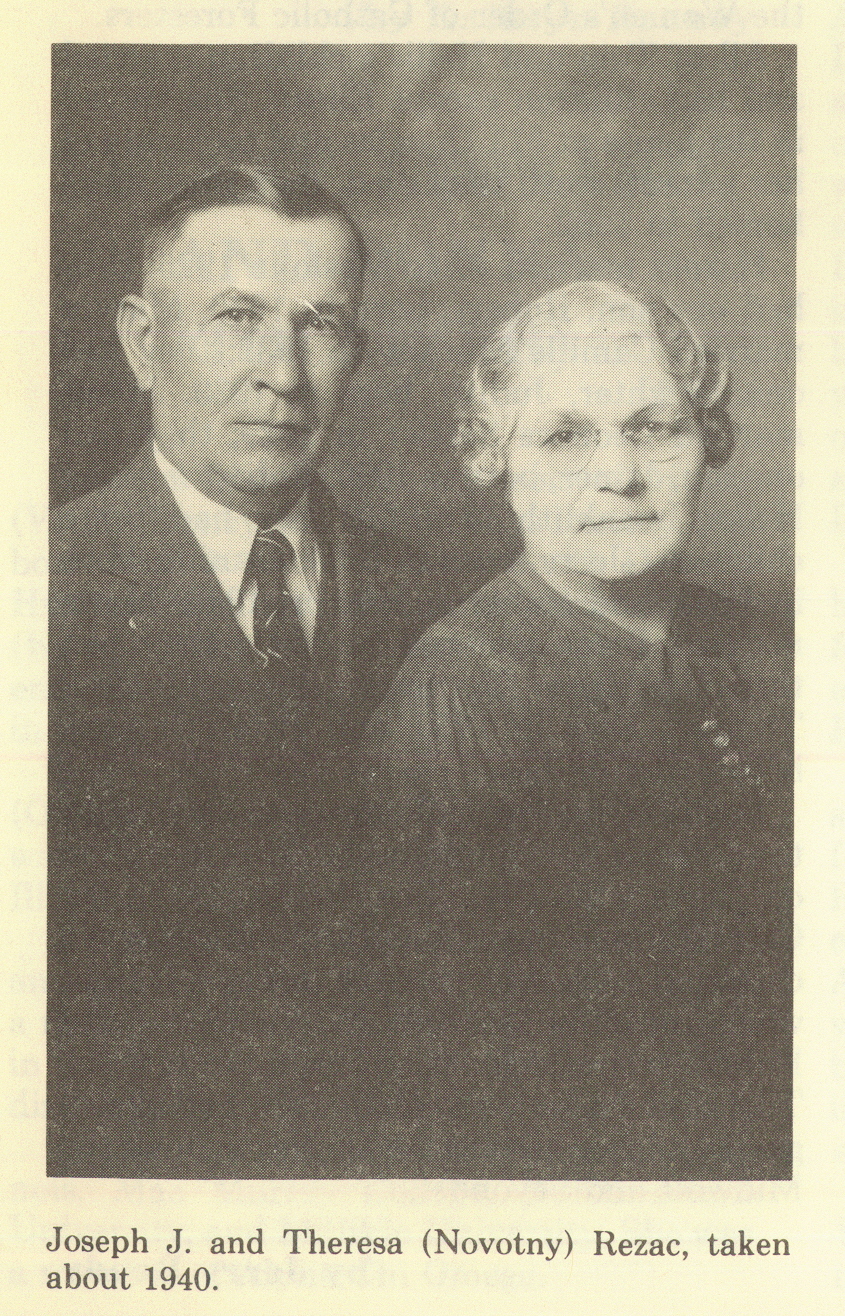 Josef Rezac, Sr., was born February 12, 1845, in a village named Bozetice, Czechoslovakia, about fifty miles southwest of Prague. Because jobs were scarce and all young men had to go into the army, Josef decided to come to America, after receiving an invitation from relatives in Spillville, Iowa. He arrived in New York City in June of 1869 after a terrifying voyage across the Atlantic. His trip by train to Spillville was hampered by many hardships because he lacked knowledge and understanding of the English language. In Spillville, he worked at various jobs and saved enough money to venture west to Dakota Territory.

Josef arrived in Yankton March 16, 1870, where he was met by friends who helped him secure 160 acres of land to homestead. This was located in the western part of Yankton county, two miles east of Tabor, South Dakota. Farming beginnings, with two oxen and crude implements, were difficult for Josef. His friends helped him to build a log cabin made of logs brought from the Missouri River bottom. To strengthen his financial situation, he walked to Sioux City, Iowa, (75 miles) where he secured work. Coming home, he often carried a sack of flour on his back. Even though times were difficult, he saved enough money for a ship voyage for his Czechoslovakian sweetheart, Anna Kulish, who arrived in June, 1874, accompanied by her mother.

Josef and Anna Kulish were married the same year, possibly by a Missionary priest, Rev. S. J. Sulak, who made visits to this territory between 1871-1877. To this union were born three children, Vaclav, Marie, and Joseph, Jr. The first two children died with the dreadful disease diphtheria. Joseph, Jr., was the only child left.

Josef Rezac, Sr., died in 1938. Anna Kulish Rezac was born in 1845 and died in 1929. They are both buried in the St. Wenceslaus Cemetery, Tabor, South Dakota. They were both devout Catholics and supported the new chalkrock church built in 1872. They also supported the present St. Wenceslaus Church built in 1899, built of brick under the supervision of Rev. E. A. Bouska. One thing for sure, they never lost faith in God.

Joseph J. Rezac and Theresa Novotny (born August 8, 1878) were united in marriage November 23, 1897, at St. Wenceslaus Church, Tabor, South Dakota, by Rev. E. A. Bouska.

Theresa's father and mother, Josef and Rozalia Novotny, came from Czechoslovakia in 1870. He was an army man and very much interested in education. Along with his friends he helped build the first public school, made from donated lumber (30 18). The first teacher was Joseph Zitka. The school was completed in time to have a 4th of July celebration and dance in it.

It was on the Rezac family homestead, now enlarged to about 1,000 acres, that Joseph and Theresa spent their lives raising their seven children: (1) Albina, Mrs. James Vlcek was born October 16, 1898. She is a mother of a daughter, Violet Zdenek, and son Joseph. She has six grandchildren. (2) Emil was born October 13, 1899 - no children. (3) Joseph V., born June 27, 1903, has one daughter, Helen Tacke, four granddaughters and one great grandson. (4) Anna, Mrs. Anton Bares (deceased) had two daughters, Mildred and Ann, and a son Charles. there are nine grandchildren. Anna Bares died August 17, 1974. She was born May 23, 1905. (5) William was born October 24, 1908, and had a son, Larry, now deceased, and one granddaughter. (6) Charles was born April 30, 1910, and has three children - two daughter, Doris and Shirley, and son Robert, and seven grandchildren. (7) Stanley, born May 21, 1919, has a daughter, Janet Berback, a son Kenneth, and four grandchildren.

The Rezacs have been prominent Registered Hereford cattle breeders since 1909. all the Rezac boys are excellent farmers - Emil and Stanley stayed with the Hereford Farm. Because of his love for cattle, Emil became an International cattle judge. Emil is now retired and the Hereford Place has been owned and managed by Stanley Rezac and his son, Kenneth, for many years.

Because of Joseph J. Rezac's interest in good farming and raising good livestock, he was chosen by the State College, Brookings, as an Eminent Farmer in 1937. He served as Yankton County Commissioner from 1919-1931. He served two terms as Yankton County representative in the State Legislature.

Theresa Novotny Rezac was very much involved in raising her children and had a reputation as an excellent cook. She died February 6, 1941.

Joseph J. Rezac died July 20, 1964. Both are buried in the St. Wenceslaus Cemetery, Tabor, South Dakota.

by Emil Rezac
Anton L. Pesicka
Anton's parents were Thomas and Josephine Pesicka who came to America from Bohemia in July 1882 and homesteaded seven miles southwest of Yankton. Anton had five brothers and four sisters. The brothers were: Vincent, Frank, Thomas, John, and Joseph. His four sisters were: Sophia, who married John Peterka; Mary, who married Albert Kaiser; Anna, who married Frank Horacek; and Frances who married Martin Kubal. Anton was born in Yankton County on June 23, 1892.

On November 16, 1926, Anton married Anna Kreber Schneider at the Sacred Heart Catholic Church in Yankton. The bridesmaid was Josephine Kaiser, who was a niece to Anton. The best man was Albert Kaiser, who was a nephew to Anton. Albert and Josephine were brother and sister, and their mother was Anton's sister, Mary Kaiser. Two children were born to this marriage. Romaine was born on November 22, 1927. JoAnn was born on October 22, 1931. Anna had one son, Kenneth, by her previous marriage to Arlo E. Schneider.

Anna Kreber Schneider Pesicka was born on April 8, 1895. Her parents were Joseph and Mary Kreber. Anna grew up nine miles southeast of Tyndall. She had four brothers, George, Albert, Lawrence, and Louis. Anna had two sisters, Lena (Mary Magdalena) who married James Barger, and Frances who married Charles Kayl.

Anton and Anna farmed the Thomas Pesicka homestead southwest of Yankton following their marriage. Anton passed away on March 24, 1938, and is buried at Lakeport. The family then moved to Tabor where Romaine and JoAnn completed elementary school at the St. Wenceslaus Catholic School and graduated from the Tabor High School.

Anton attended Sleepy Hollow Rural School #12 in Yankton County. Later the school was moved and renamed Hillview. Romaine and JoAnn attended this school until April 1938.

Today Anna Pesicka is living in the Yankton Care Center and is going on her 91st birthday.

Kenneth Schneider was born on January 4, 1916, and lived with his grandparents after he was six years old. John B. Schneider and Marie Anderson Schneider were his grandparents. The grandparents and Kenneth lived on a farm one miles west and three miles south of the Lakeport Church. The buildings are on the east side of the road. Kenneth completed grade school at Elm Grove. When Kenneth completed grade school in 1930, the grandparents moved to Yankton in order to provide him with the opportunity to attend and graduate from Yankton High School.

Kenneth married Lillian Rokusek of Tabor on November 15, 1937. There were four children born into this family. The children are: Rosemary, Roger, Renae, and John. Rosemary is married to David Kollars and they lived in Pocatello, Idaho. Their children are Mark, John, Mary, and Susan. Roger (Jonathon) lived in Omaha, Nebraska. Renae is married to Robert Hicks and they live in Colorado Springs, Colorado. Their children are Julie and Laura. John is married to Barbara Layne and they live in Yankton. Their children are Aaron and Mitchell. Kenneth is an independent insurance agents and his wife is a beautician. The Kenneth Schneiders live in Yankton.

Romaine married Carmen Karolevitz of Lesterville on May 28, 1953, in Tabor. Lori is their daughter. She is married to Greg Frasch and they live in Columbus, Nebraska. Romaine is superintendent of schools and his wife is an elementary teacher. Romaine and Carmen live in Shelby, Nebraska.

JoAnn married Emil Hlavac of Utica on September 12, 1950. They have one son by the name of Thomas. JoAnn suddenly passed away on June 29, 1982, and is buried in Yankton. JoAnn spent her entire married life on the farm with her husband Emil and their son Thomas. Emil and his son, Thomas farm three miles northwest of Utica.

Kenneth, Romaine and JoAnn were all married in the St. Wenceslaus Catholic Church in Tabor, South Dakota.

by Romaine T. Pesicka
Rev. John J. & Paulina (Max) Sattler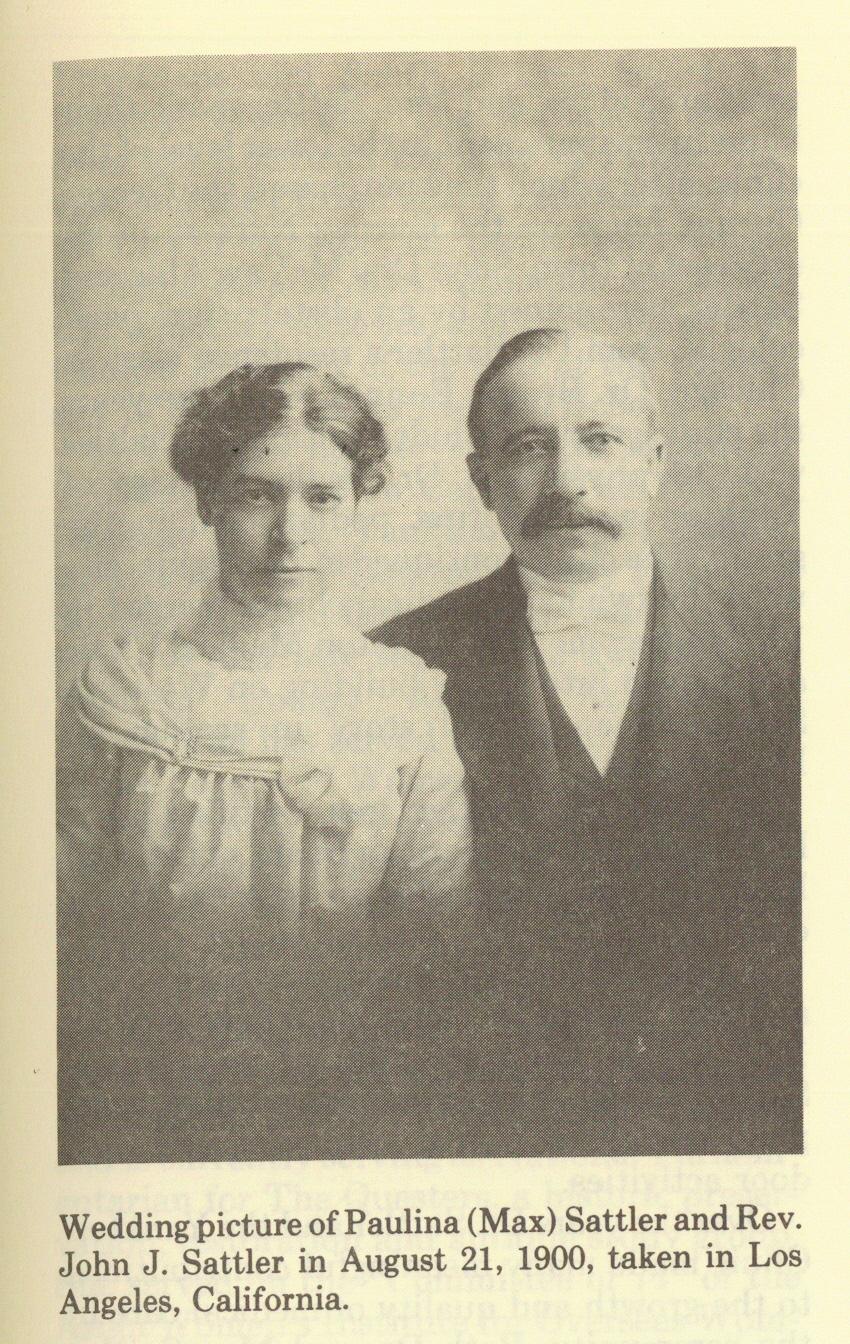 The events that led to Rev. John J. Sattler's immigration to America began when German-born Russian Czarina Catherine the Great invited German immigrants to settle the Russian steppes, acting as models for Russian peasants and providing protection against the threat of re-invasion from Asiatic tribes. Russia offered important guarantees - cash grants, tax exemptions, free land, and freedom from military conscription. Germans responded enthusiastically, in Russia continuing to live as Germans, retaining their own language, culture, and ethnic separation.

The immigration wave which included the forebears of John J. Sattler came a little later, during the reign of Alexander I, who decreed that new German immigrants must be good, well-to-do farmers bringing with them cash or goods worth at least 300 guilders; they had to be people with families, practical skills, and quality training.

The Sattlers who responded to Russia's offer were Johann Jacob, his wife Barbara (Metzger), their son Johann Michael and three daughters. They immigrated to Odessa, Russia, in 1820 from their home in Beitigham, Germany, a little city in the center of the Dukedom Wurtemberg. The church register there dates from the Reformation and the first mention of the Sattler name directly traceable to South Dakota Sattlers is that of Kaspar Sattler, born 1550-1560. Sattler occupations listed in the Beitigham church register through the centuries are "winegrower", "vineyard owner" , "baker", "hat maker", and "a kind of peace-keeper in the community".

Kaspar's direct descendant, Johann Jacob, was a vineyard owner in Germany, as was his father before him. We don't know what occupations were followed by Johann Jacob and his son Johann Michael in Russia, but we do know that the son of the latter, whose name was Johann Gottleib, was married on November 3, 1853, in the German colony of Lustdorf, near Odessa, Russia, to Katherine Beck, daughter of Konstantin and Barbara (Maier) Beck, wealthy Lustdorf jewelers. These people were also from Wurtemberg, where Konstantin was born in 1812 to Gallus and Barbara Beck; and Barbara Maier was born in 1811. Konstantin and Barbara had also left Germany to accept the free land offered by Russia. Soon after their marriage, with friends, they traveled on foot from Germany to Lustdorf with all of their belongings in carts. having plenty of food and money and fine weather, they saw the trip as an adventure, not a hardship. Lustdorf, on the Black Sea not far from Odessa, became a famous summer resort. There they prospered and over the years reared four sons and four daughters. The oldest daughter, Katherina, born in 1835, married Johann Gottleib Sattler in 1853. Konstantin and Barbara died in Lustdorf within a year of each other (1856 and 1857), he by drowning while swimming in the Black Sea a few months after his wife's death.

Katherine (Beck) and Johann G. Sattler became the parents of 12 children, nine boys and three girls, between 1854 and 1881. Their second son was John Jacob Sattler, subject of this article, born May 14, 1858. One boy died in infancy, two girls died at the age of three and the other girl died in America at the age of eight. All of the sons but one eventually became pioneers in Dakota Territory in America.

As the 1870s drew to a close, the Russians began to rescind their promises of freedom from military conscription. The eldest Sattler son, Wilhelm, was called into military service, and in 1877 the second son, Johann Jacob, emigrated to Dakota Territory in America. Soon thereafter, the third son, Heinrich was conscripted into the Russian military.

John J.'s father, Johann Gottleib, perished in a blizzard in Russia in 1883. A year later Johann Gottleib's wife Katherine left for Dakota Territory with sons age 20, 15, 13, 10, and 5 and a three year old daughter, leaving behind the two sons in Russian military service. Married twice more, she died in Eureka, South Dakota, in 1911.

Her second son, John J., had worked for six years on the farm of a relative in Tyndall, Dakota Territory. In the year of his father's death he was converted to Congregationalism at a prayer meeting. He entered Crete, Nebraska "pro-seminary", newly opened in affiliation with Doan College in Crete, Nebraska, to train German speaking young men for the ministry. From there he went to Chicago Theological Seminary. He was the first graduate of the German Department there in 1888. He was naturalized October 25, 1888. He married in Chicago but his first wife died soon after of typhoid fever. He served as pastor of Christ Church (Congregational) in Chicago until 1893 when he was appointed General Missionary of the Dakota for the Congregational Church. Largely due to his influence, German Congregational churches in North and South Dakota grew from the original 15 to 44 in 1898. A History of the German Congregational Churches in South Dakota says: "His was a ministry notable for its length, lasting 38 years, and especially for its effectiveness, reaching out in all directions and touching thousands of lives." After five years of missionary work in North Dakota and South Dakota, Nebraska, and Colorado, he accepted a call from the Tyndall parish in South Dakota.

In 1900 he married Miss Paulina Max in Los Angeles, California, where she was living with her retired parents. She had been reared in Yankton, where her parents Jacob and Barbara Max, were early day merchants. She had studied music and art at Yankton College. After their marriage Pauline and John J. Sattler returned to Tyndall, where they spent 25 years in devoted service to the German Congregational Church. John and Pauline became the parents of seven children, of whom one died in infancy. The others were John, Millie, Leonora, Walter, William, and Theodore.

Rev. Sattler, preparing for retirement, at age 69 purchased a home at 1004 Broadway in Yankton, thinking to move there to provide higher education at Yankton College, where a daughter Leonora was already enrolled, for his children. However, he died of a heart attack in Tyndall on September 27, 1925. His family completed the move and five of them subsequently were graduated from Yankton College: John and William who later taught at Yankton High School before going on to earn Doctorates at Northwestern University in Illinois and to become Chairman of the Department of Speech and English at Eastern Michigan University and Chairman of the Department of Speech at the University of Michigan, respectively; Leonora who became a high school English and Latin teacher and married James Reedy of Yankton; Walter who was a South Dakota High School Superintendent before becoming the International Purchasing Agent for Upjohn Pharmaceutical Corporation in Michigan, where he married Ardath Hunter; and Theodore (married to another Yankton College graduate, Isabel Reedy) whose lifelong career was spent in Yankton. The oldest daughter of John and Paulina, Millie, worked for a Yankton attorney until her marriage to Gottleib Rembold of Scotland, South Dakota, where she spent her life.

Paulina (Max) Sattler died in Yankton six days after her 90th birthday in February of 1960, having spent nearly 60 years of her life in Yankton.

In 1985 John Sattler and his wife Marjorie Crockett Sattler (daughter of former Yankton Mayor Judge Ernest Crockett) who are the parents of one son John, live in Michigan in the summer and Florida in the winter. Leonora (Reedy) widowed since 1958 and also the mother of one son, Jim, divides her time between homes in Florida and Michigan. Millie, whose husband died in 1969, died in 1976. They were the parents of one daughter, Marilyn. Walter died in Michigan in 1976, leaving a wife and three children - Cathy, Pauline, and Margaret. William died in Michigan in 1969, leaving two sons, Robert and William and his widow, Dorothy Ogborn, formerly of Sioux Falls, a Yankton College graduate. Theodore, father of two daughters, Ann and Susan, is actively engaged in the practice of medicine in Yankton.

by Isabel R. Sattler
Andrew & Mary Schmidt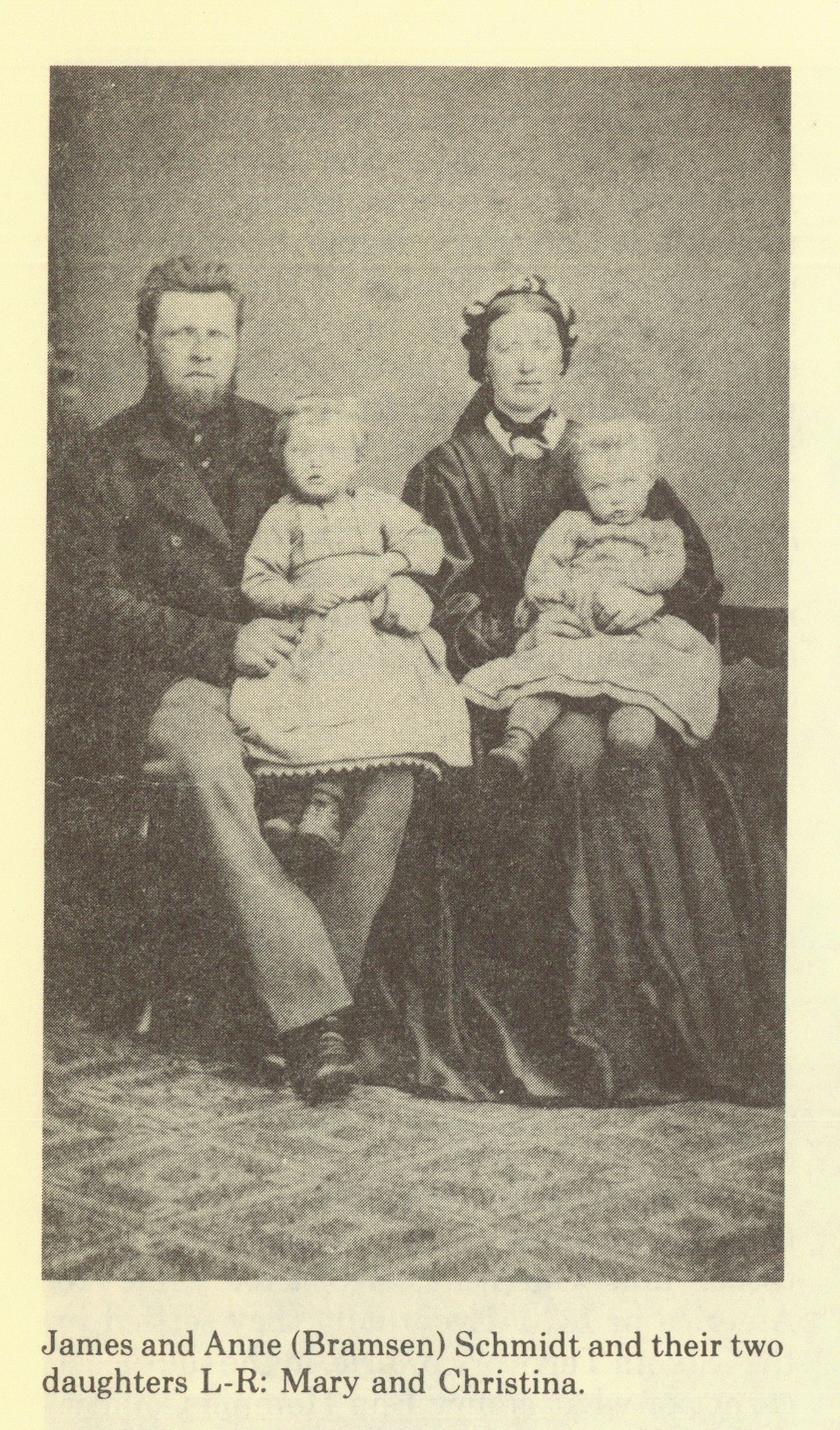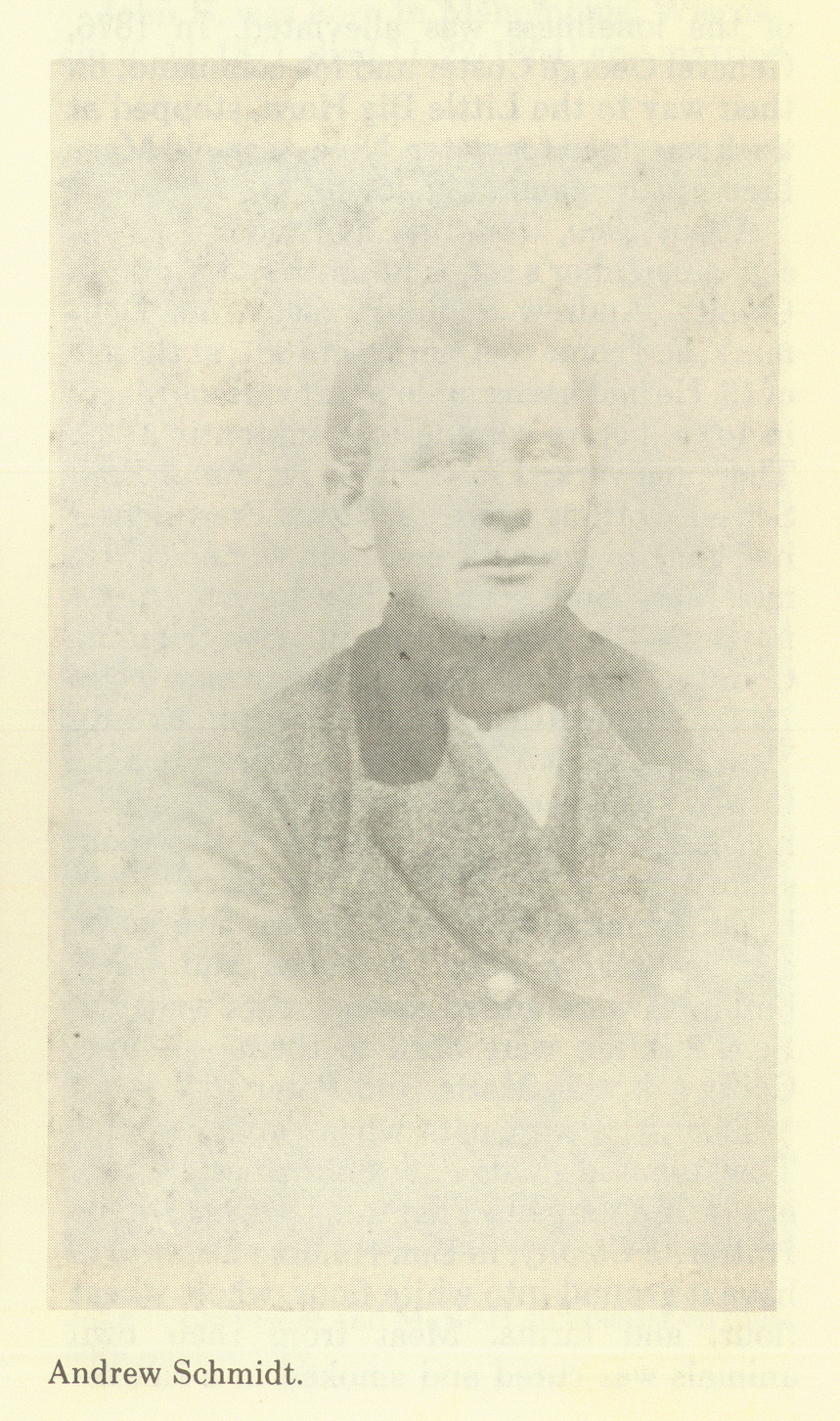 James and Anne (Bramsen) Smith, with two little daughters, Inger Mary (Mary), age three, and Christina, age two, came to America in 1870. Eventually they settled in the Dakota Territory prairie, in the southeast corner of what is now Bon Homme County.

They dug an earth home in the side of a creek bank. It was two logs above ground and had a hewn log door, with a pane of glass, which they had brought from Sioux City, Iowa. The roof was of logs and covered over the earth, as a protection against prairie ires. A barn for their two oxen and two sheep was similarly constructed. They lived in this home for two years, until some of the prairie sod was plowed under for cropland and more fire protection. They built a log house, from logs cut in the ravines of land in adjacent Yankton County. James had bought this land from Christopher Bramsen, Anne's cousin, who had homesteaded it.

In 1875, a son, Mads, was born to them. He grew to manhood, married and lived most of his life on this homestead.

They experienced prairie fires, infiltration of devastating grasshoppers, drought, and sometimes unfriendly Indians.

When the military and stagecoach trail, from Sioux City to the Black Hills, crossed their land, bringing travelers into view, some of the loneliness was alleviated. In 1876, General George Custer and his command, on their way to the Little Big Horn, stopped at the homestead for water. Nine year old Mary brought the general his drink.

About 1900, Christina married Fred Nelson, a neighbor's son, and moved to Yankton County. Andrew Schmidt, also from Denmark, had come to America in 1881, at the age of 19. He had been employed at various places in Iowa, before coming to Yankton in 1900. There he worked in the Ben Katz and Fred Scheel clothing stores. He and Fred Scheel had gone to the same school in Denmark. He met Mary Smith, and rode a bicycle the 14 miles to the Smith farm, in Bon Homme County, to court Mary. They were married in 1905. They settled on land two miles into Yankton County. The land had been bought by Mary's father from Mathias Rudolph, who had homesteaded it. There was a two room shanty and a log barn on the place. They began farming with four horses, five cows, and a walking plow. A house and other buildings were added as the years went by. Five children were born to them - Anne, George, James, Marie, and Peter.

They grew corn, oats, wheat, and wild hay. They planted shade and cedar trees, berries, and a big garden. They took wheat to the Hutterite Colony, in Bon Homme County, to have it ground into white flour, whole wheat flour, and farina. Meat from their own animals was cured and smoked in a smokehouse. A concrete walled cave, housing a stove, supplied the smoke, which was tunneled underground to the smokehouse, a little distance away. Milch cows provided milk, cream, and butter. Chickens supplied meat and eggs for use and for groceries. About once a week, Mary and a couple of the children hitched Charley to the spring buggy, and took the eggs to Lakeport, where Mr. V. L. Mrvik operated a general merchandise store. If there were more eggs than the egg case could hold they were packed in oats, which was then given to Mr. Mrvek for his horses. Mr. Mrvek always gave a generous sack of candy with the groceries, which consisted mainly of coffee, sugar, rice, summer sausage, and corncake tobacco.

The children walked the three quarters of a mile to Elm Grove School, where they made some lifelong friends.

One summer Andrew's brother, from Des Moines, Iowa, came to spend the summer. He and Andrew built a merry-go-round for children. It was 32 feet in diameter and had eight seats. It was powered by a three horse engine. A band organ was belted to it to t furnish the music. Children from Elm Grove and Lakeport Schools hiked to the Schmidt farm to ride the merry-go-round.

In later years, James married Zola Miley and moved to Lake Andes, South Dakota. Marie married Lowell Christenson and moved to Nebraska. Peter married Lucille Schurtz and lives in Yankton. George and Anne are still on the home place.

by Anne Schmidt
Schneider Family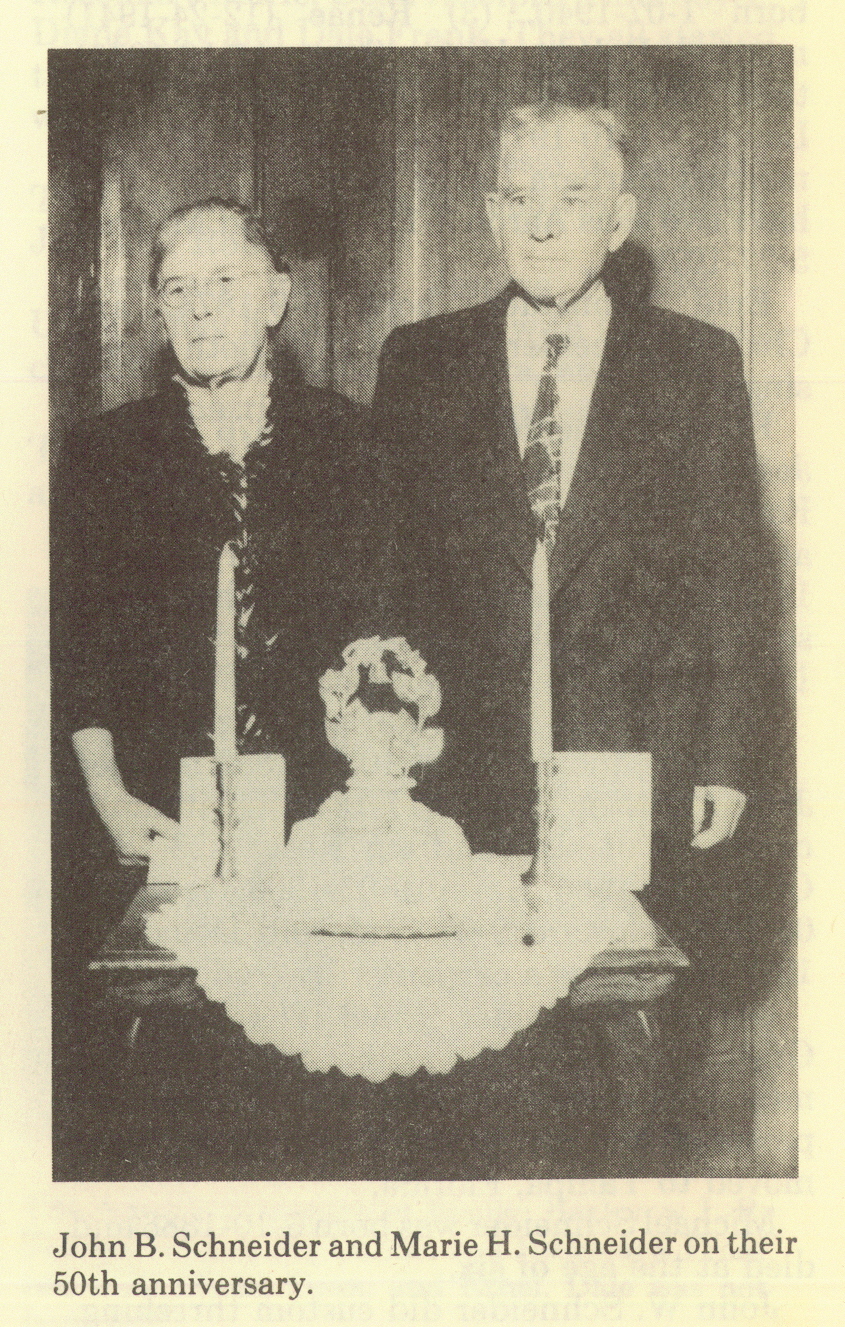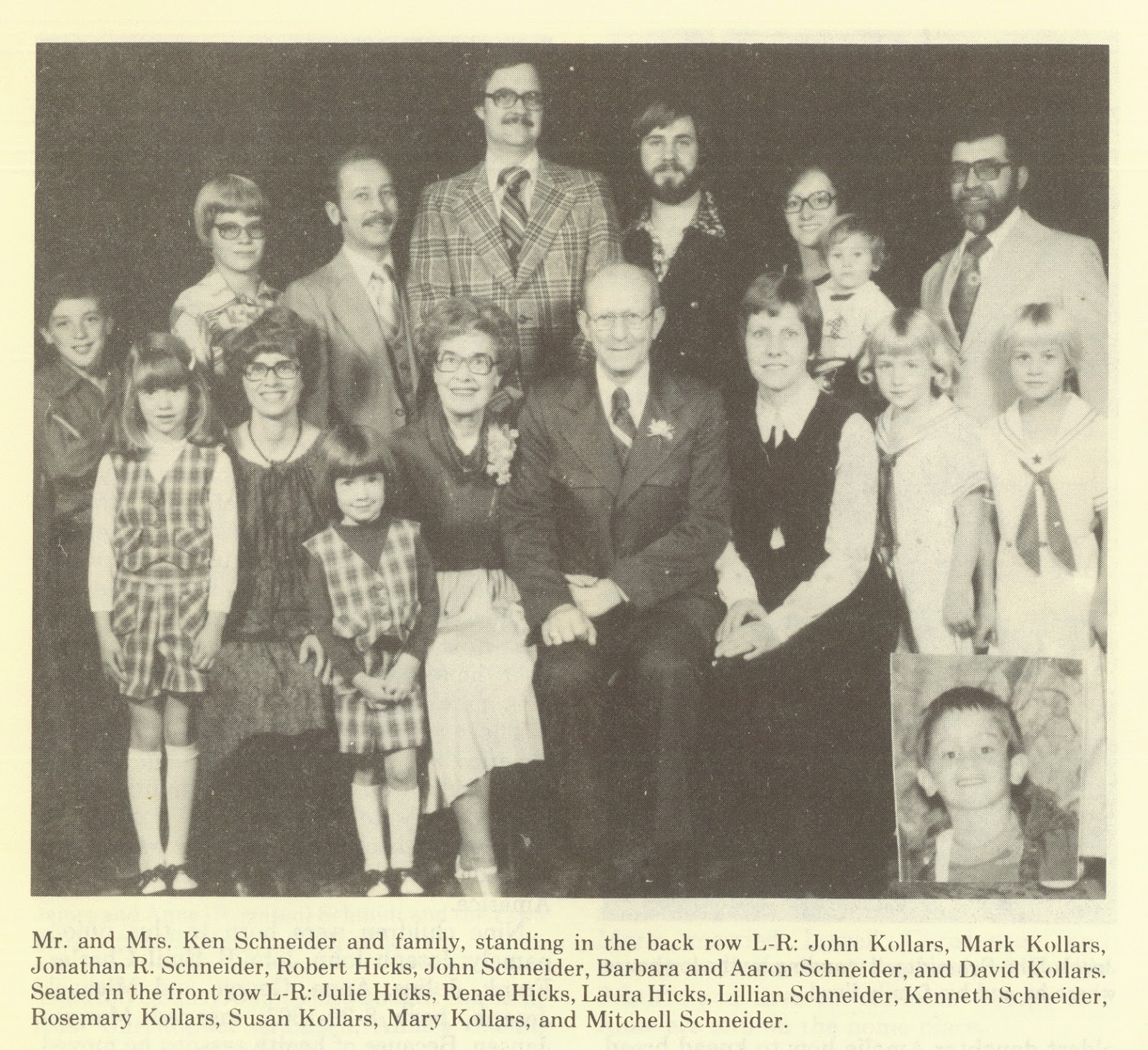 John W. Schneider was born in Alsace in 1835, his wife Rosalia (Grieff) was born in Bavaria in 1845. They moved to Yankton County in 1876; the land is presently owned by Delton and Sarah Aasland. The land was purchased for delinquent taxes in 1936, known as Danforth Estate, and is situated near the Missouri River bluffs, near the Bon Homme County and Yankton County lines.

The reason John W. Schneider came to America was that he would be able to fish, hunt, and farm. In Germany hunting was allowed only to rich men on Sunday. A policeman checked homes for what they cooked. He wished for an independent life in America.

Nine children were born to this union, namely: Joseph John, John B., Emil, Charles, Frank, Julius, Anna, George, and Michael. Joseph, born 8-29-1867, married Margita Jansen. Because of health reasons he moved to Alabama. They had three children, Helen Mae born 8-29-1898, Laura 7-10-1899, and Joseph John II. I did meet Joseph John II at Fair Hope, Alabama. He looked and acted like a Schneider, but talked "southern". He and his wife Madeline have two children, Marjorie (7-22-1925) and Robert M. (7-15-1929), Robert has two sons, Robert M. II (4-7-1954) and Joseph E. (10-26-1956).

John B. was born in Menomonie, Wisconsin (3-11-1871, died 11-22-1954) and married Marie Henryeta Anderson, (born 11-25-1869 in Neenah, Wisconsin, died 12-31-1956). They adopted a son Arlo E. (born 3-12-1895 died 9-1956), who married Anna Kreber (born 4-8-1895). Their son Kenneth Erwin (1-4-1916) married Lillian A. Rokusek (11-7-1910). Their children are: (1) Rosemary (6-17-1938) married to David Kollars (10-1-1936); they adopted four children, Mark 3-31-1965, John 9-27-1966, Mary 11-7-1969, and Susan 1-15-1971. (2) Roger (Jonathan), born 1-07-1940. (3) Renae (12-24-1941) married Robert Hicks (born 11-16-1941); their daughters are Julie 9-29-1971 and Laura 11-10-1973. (4) John 7-06-1949, married Barbara Layne born 9-5-1951; they have two sons Aaron 3-11-1976 and Mitchell 5-27-1979.

Emil Schneider, born 9-9-1874, and Charles Schneider, born in 1878, both stayed single.

Frank Schneider born 6-10-1876 married Jessie P. Olsen. They had two children: Forrest 6-14-1916, who died in a sledding accident 11-28-1931; and Ione Audry, born 8-14-1922, who married Francis Hughes. Their son Frank Joseph, born 7-29-1946, died 6-16-1981. Audry lives in Casselberry, Florida.

Julius Schneider died at a young age.

Anna Schneider born 10-15-1882 married Jesse Mattison born 10-17-1878. Their family consisted of six children: Rose 8-28-1898, Olive 9-26-1904, Hazel 10-2-1906, George 8-8-1909, Howard 9-7-1915, and Donald 9-1917. Jesse was a carpenter by trade.

George Schneider (5-8-1884) married Grace Freel. He solicited her name through means of a catalog. She was a very nice person. They resided in Yankton and later moved to Tampa, Florida.

Michael Schneider was born 6-10-1886 and died at the age of six.

John W. Schneider did custom threshing. An incident that the family related was of one the time he went to water the cattle. He fell and broke his leg. His dog went home and led the family to him. Dr. F.M. Blezek was practicing in Tabor and set that leg. It was a the first time he set a leg, and he really sweat it out. Another health treatment related was about their son Charles, who was a person who did not go ahead with projects. One day the family recognized a change in his attitude. Upon inquiring what he had done, he told them he had taken a dip in the cold water of the Missouri River; since it was early in the spring, it served as a shock treatment.

John B. Schneider bought the Hans Madson farm, two miles east of the home place. This was 240 acres, and had a lime kiln. The limestone was heated in a cistern like place, then used with cement. The Lakeport Church, completed in 1884, was erected using this lime. John B. told of attending the school in a log house at Lakeport, which was near the now 100 year old church. He also told of the boys enjoying plums that had fallen into tracks made by wagons, covered with leaves so they did not freeze. The boys were able to enjoy eating them.

Ken's father, Arlo Schneider, farmed the land Ken's grandfather had owned. However, he became involved in bootlegging, was caught, had a mortgage on the personal property so that on September 28, 1922, he left to return to his original homeland in Iowa and resumed his birth name of Sanderson. On that same day Ken's grandfather Joseph Kreber committed suicide. John B. and Marie, Ken's grandparents made a home for Ken. He attended Elm Grove School which his grandparents and father had also attended. After graduating from Yankton High School in 1934, Ken attended Yankton College to earn a two year teaching degree. Ken's employment includes with Montgomery Wards, Goodyear Service, Ford Garage and since 1959 insurance business. He has a 25 year Service Award from The Travelers Insurance Company.

Ken's mother, Anna, married Anthony Pesicka (6-23-1892) on 11-16-1926. They had two children, Romaine born 11-22-1927 and Anna Josephine (JoAnn) born 10-22-1931, died 6-29-1982. Romaine married Carmen Karolevitz; they have a daughter Lori Ann born 4-15-1959. Lori married Craig Frasch. JoAnn married Emil Hlavac born 6-23-1929, and their adopted son Thomas Joseph was born 7-3-1967.

Ken now owns the John B. Schneider farm, which has expanded to 435 acres. His tenants, T. Henry and Agatha Pesicka, have farmed it for 35 years. A machine shed constructed in 1983 cost more than the original farm.

by Kenneth E. Schneider
Louis and Mary Alice (Egan) Schneider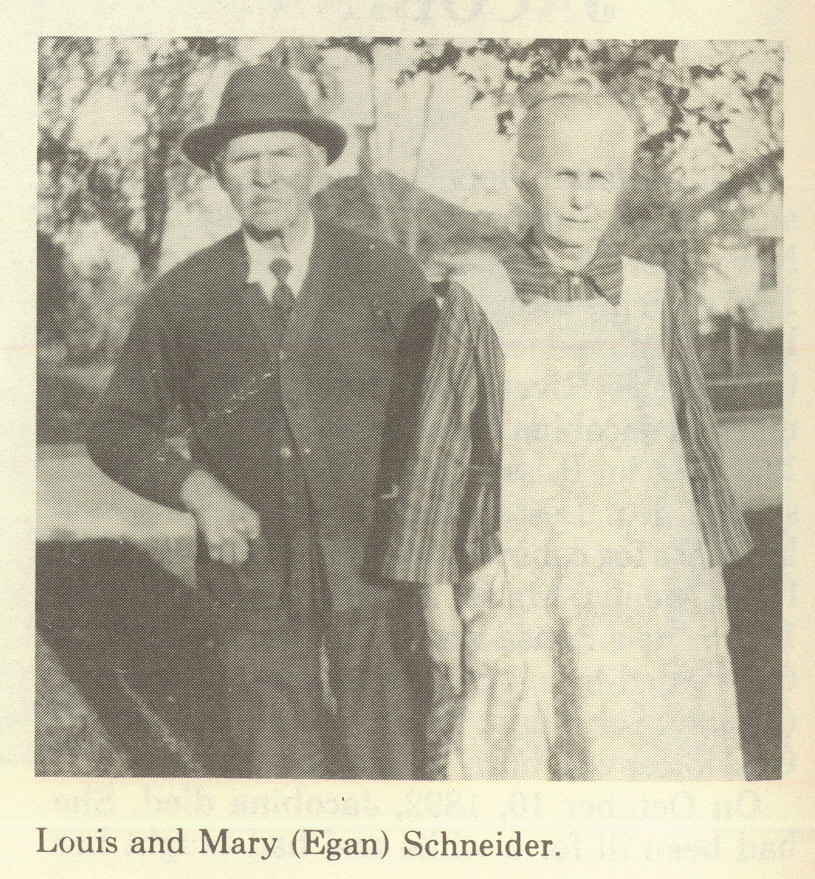 Louis Schneider was born January 2, 1851, in Washington, Iowa, to French parents, Eugene and Marguerite (Curie) Schneider. They had left their native France for Philadelphia, Pennsylvania, about 1848. They homesteaded at Washington, Iowa. They had seven boys and one girl.

Louis homesteaded at Bon Homme, Dakota Territory and married Mary Alice Egan November 18, 1877, at Yankton. Mary Alice was born to Martin and Mary Alice (McDonall) Egan at Washington, D.C. June 14, 1859, two weeks after her parents arrived from Ireland. They moved to Richmond, Virginia, where Martin and daughter, Annie, died. The mother was left with two daughters, having also lost a son and daughter in Ireland. She then married Patrick McDonald and they homesteaded at Bon Homme, Dakota Territory in 1871, having arrived at Yankton in March 1870. The sisters, Mary Alice and Margaret Egan, worked at Ft. Randall Army Post before they married brothers, Louis and William Schneider.

Six of the children of Louis and Mary Alice were born at Bon Homme when it was Dakota Territory. The youngest was born after it was a state. Their children were: Edward, Margaret (married Richard Tester), Joseph (died in infancy), Louis Robert, Martin, Charles, and Alice (married (1) Lou Lanctot and (2) Ernest Chambers).

In 1898 Louis and Mary Alice sold their land at Bon Homme and purchased land near Utica, South Dakota. In 1914 Louis and Mary Alice built a home at 705 Pine Street, Yankton and this home still stands, looking very much the same on the outside. Louis died in 1934 and Mary Alice in 1947. they are buried at Yankton.

Louis raised cane and made sorghum. He grew his own tobacco for his pipe and raised broom cane and made brooms. They suffered grasshopper losses, prairie fires, and cold winter weather spent in small shanties out on the prairie. Mary Alice froze her feet when she was a young girl and didn't walk for a long time after.

They suffered money losses when the Utica and a Yankton bank closed their doors around 1929. But being of hardy pioneer stock they managed to cope with the situation.

For years they lived out on the prairie in a house made of thick blocks of chalk rock which was warm in winter and cool in summer. Louis used large beer pans to cook the sorghum and also used them for roofs on his buildings. Needless to say, the leaked on the lean-to kitchen near Utica. Twisted hay was the common fuel out on the prairie.

A tribute to Louis Schneider in a Yankton paper the year before he died in 1934 said: "Louis Schneider is a quiet and unobtrusive man who keeps to his own life peacefully around his own home at 705 Pine Street. Very regularly he attends his church and wishes no man ill. Louis has whiffed his pipe for many, many moons. But Louis does not buy much smoking tobacco. No indeed, he may even have a surplus for sale, for he has long grown his own - big green leaves, expansive as an elephant's ear." These words gave a very good description of Louis Schneider, a Frenchman with a big mustache.

by granddaughter, Eileen (Schneider) Busch
Martin & Dolly (Carroll) Schneider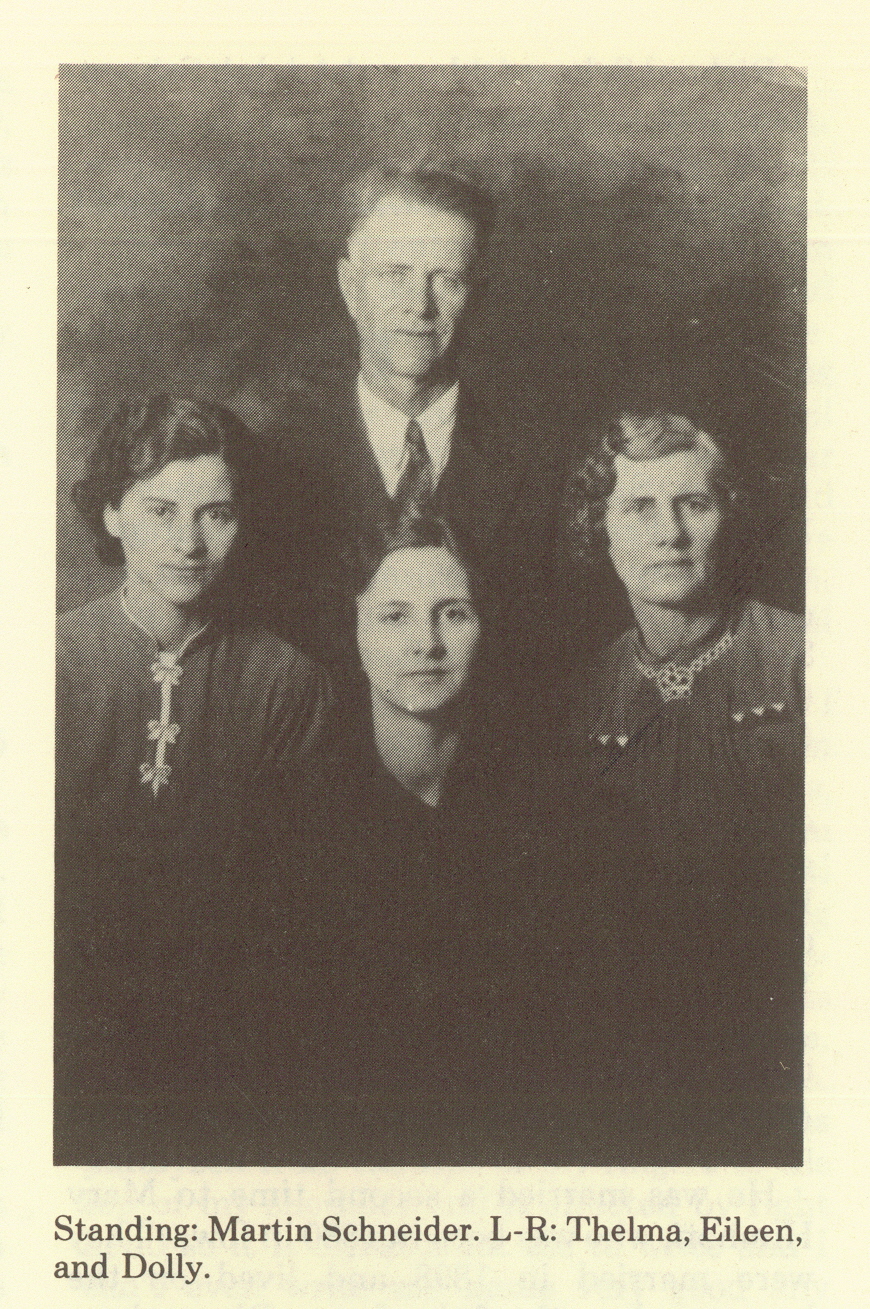 Martin Henry Schneider was born January 25, 1887, at Bon Homme, Dakota Territory. He attended Catholic school in Yankton and business college in Sioux City, and later homesteaded at Nowlin, Haakon County, South Dakota. The land was poor and after he proved up he returned to Yankton. Neighbors at Nowlin told him he was barely out of sight with his team and wagon when neighbors went in and tore down all of his shanties to use for lumber, which was hard to come by out in that territory. A road was later put across the claim and Martin was paid one dollar for the strip of land. He eventually let the land go as it was not worth paying taxes on.

He married Dolly Viola Carroll December 27, 1911, in Yankton. She was born at Ticonic, Iowa, March 28, 1888, to John and Ida (McGraw) Carroll. Her parents moved to South Dakota and rented land from Martin's parents, Louis and Mary Alice (Egan) Schneider. After Martin and Dolly's marriage they lived on that farm until 1944 when they purchased a farm at Beresford. Martin died at Yankton in 1958. Dolly sold the farm and lived with daughter, Eileen, at Jefferson, South Dakota, and Anthon, Iowa. She died in 1969 at Yankton and both are buried at Yankton.

They were the parents of two daughter. Thelma Irene Schneider married Joseph Klasi of Yankton County in 1930. They farmed many years north of Utica. They moved to Port Hueneme, California in 1970. Joseph died in 1983 and Thelma still lives in California.

Eileen Dorothy married Donald Busch in 1969 in Nashville, Tennessee. He died in 1982 and Eileen lives in Yankton.

Eileen's five children from a previous marriage are: Carrolyle Frank of Edinboro, Pennsylvania, who has two daughters, a son, and a granddaughter; Kent Frank of Des Moines, Iowa, who has two daughters; Roland Frank of Sioux Falls has a daughter; Robert Frank of Vermillion with two sons; and Beverly (Frank) Lorensen who lives at Black Hawk, South Dakota.

Three generations of this family attended Fishbeck County School No. 14 near Utica: Martin Schneider, Thelma and Eileen Schneider, and Carrolyle and Kent Frank.

Carrolyle and Kent Frank went to Yankton College; and they, besides their mother, Eileen, and sister, Beverly, attended the University of South Dakota at Vermillion. All were teachers. Robert attended the University of South Dakota at Springfield and is a policeman and fireman.

Before Martin Schneider was married he and his brother Charles served in the National Guard (militia as it was called then). This was during the Theodore Roosevelt administration. They attended the Encampment at Ft. Riley, Kansas.

They were called to emergency duty the night of December 13, 1910, to the Daniel Courtney farm near Utica where a man with a gun was holed up in the upstairs of the house. The man became angry when a young girl he was interested in was spirited away from the farm. Several shots were fired and the man was found dead. It was never proved whether he shot himself or was shot by the militia. Needless to say that was an exciting night for the people around Utica.

In 1897 Dolly Carroll had the experience of a covered wagon trip from Iowa to Kansas. Her blind grandmother was on the trip and died at Baxter Springs, Kansas. Dolly lived long enough to hear of a man walking on the moon, so she covered quite a different span of life from the covered wagon trip to a man walking on the moon.

There has been an annual Carroll Family Reunion at Mapleton, Iowa, ever since 1955. The 29th one was held in June, 1984.

by Eileen D. Busch
Jan Schuch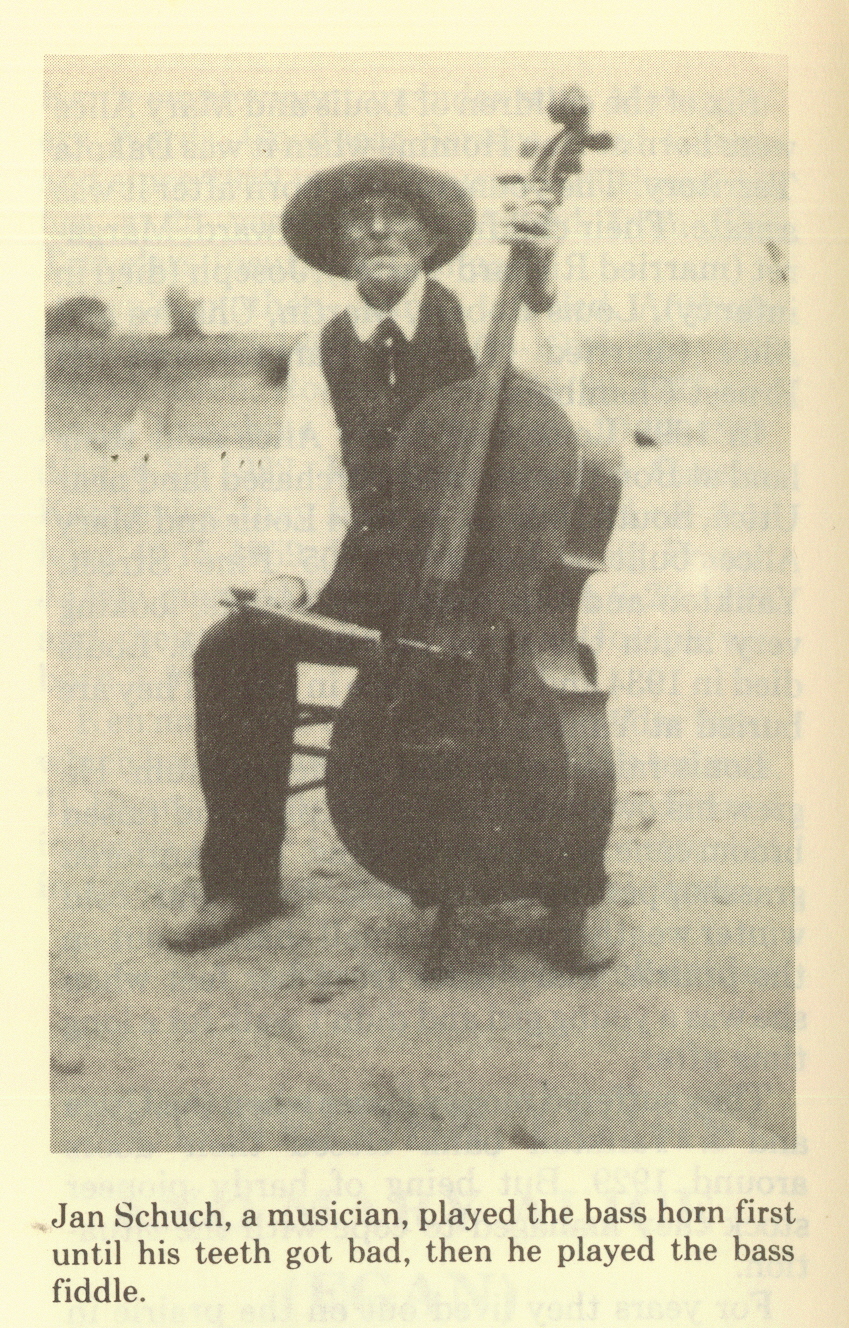 My grandfather, Jan Schuch, was born June 24, 1832, near Prebonovic, Czechoslovakia, and grew to manhood there. He married Anna Polacek, also of Czechoslovakia.

In 1873, Jan, Anna, and their two children left their homestead and came to the United States. They landed at New York where they resided for six years. Their journey by ship to the United States took longer than expected, due to unfavorable wind conditions, and at one point they ran out of food. Then one day they harpooned a whale, and they survived the trip. Grandpa had told me that there were 90 people carving on the whale at one time.

Jan worked in a syrup factory and his wife in a cigar factory. I remember my grandfather telling me that his hands got very sore carrying the heavy buckets of syrup and his boss told him to rub some syrup on them.

Two more children were born while they lived in New York and at the end of six years they left and came to South Dakota, settling on a homestead several miles northeast of Tyndall. They lived in a dugout and later built a sod house with a stable adjoining.

At one time my grandmother went back to New York to earn some more money. They farmed with a team of oxen for two years. Grandpa would walk to Yankton to get a sack of flour, saying that the oxen were too slow and he could make better time by walking.

Eight more children were born making a total of 12: Anna (m. Joseph Pravecek), Mary (m. Frank Pazour), Joseph, Bohamilia (m. John Havranek), John Jr., Aloisie (m. Thomas Sternhagen), Barbara (m. John Krcil), Antonia (d. in infancy), Clara (m. Mike Rados), Rosa (twin) (m. Mike Koupal), Agnes (twin) (M. Stanley Carda), and James.

My grandfather was also a musician and played a bass horn. Later in life he played a bass fiddle, playing in the Tabor Bohemian Band. They once walked to Sioux City, Iowa, down the railroad track with the instruments on their backs, to play for a 4th of July celebration.

Mrs. Jan Schuch passed away in 1909 at 64 years of age. Her husband continued to live on the homestead until 1929, because of his advanced age, he went to live with a daughter, Mrs. Thomas Sternhagen (my mother). I was 14 and he was 95 when he came to live with us and I enjoyed listening to his stories of his homesteading and farming.

He lived with us until his death, February 13, 1941, at the age of 108.

by William Sternhagen
Vincenc & Josephine (Fijala) Totusek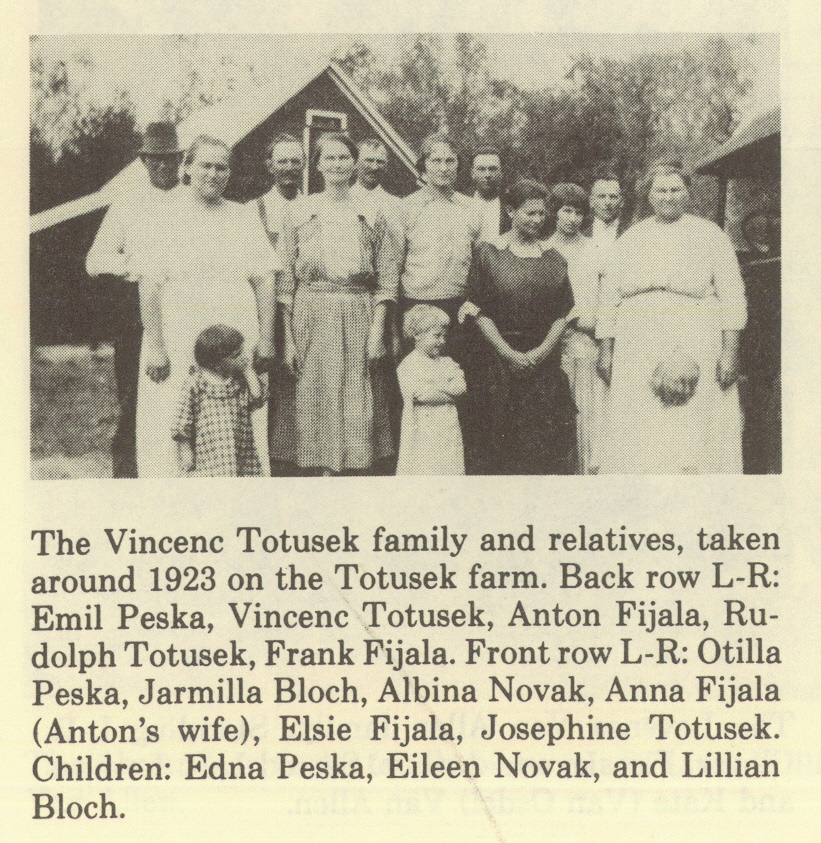 The Vincenc Totusek, Sr., family lived in Moravia, Czechoslovakia. Totusek owned and operated a family brewery. They left Czechoslovakia because their properties were seized by the reigning powers following a regal overtake. The family arrived in New York City in 1874 and settled on a farm 18 miles north of Schuyler, Nebraska. They were farming before the towns of Clarkson or Howells were started. Later, the Chicago Northwestern Railroad was built in 1886 and Clarkson was started.

The Vincenc Totusek family had three sons, Frank, Vincenc, Sr., and Alois; and two daughters, Frances (Mrs. Frank Ptak) and Vincincus (Mrs. Mazourek). Frank married a Jilek, but she died in 1924. Later he married a widow, Mrs. Nadrchal. Frank died in 1939. He had no children. Alois (1861-1893) married Hermina Bukacek in June 1883. They had a daughter, Hermina, and two sons, Emil and Alois.

In the spring of 1889 Vincenc, Jr., walked from Clarkson, Nebraska to Tabor, South Dakota, in search of new farmland. He had to cross the Missouri River before the spring thaw. Near Tabor, Vincenc found employment from the Chladek family. On November 22, 1889 Vincenc purchased his farm from Mr. Basl for $2450. The farm was located three miles east of Tabor. Some of the original buildings are still in use. Vincenc married Josephine Fijala in 1892.

The Fijala family had owned a mercantile in Boleson, Bohemia, and like the Totusek family had lost their business by regal overtake. Her parents, a sister, Anna, and two brothers, Anton and Vince, accompanied Josephine to America.

To the union of Vincenc and Josephine were born six children: Otilla (Mrs. Emil Peska), Albina (Mrs. Jerome Novak), Jarmilla (Mrs. Frank Bloch), Lillian (Mrs. Paul Kuchta), Rudolph (who married Lillian Skorepa), and Frances (Mrs. William Freidel).

The following generation includes: Edward and Edna (Navratil) Peska; Alvin Novak; Lillian (Vitek), Edwin, Frank, and Alvin Bloch; Mavis (Penn) and Adeline (Frick) Totusek; and Allen, Arnold, Janet (Courtney), and Shirley Freidel.

As owners of 480 acres the Vincenc Totusek family worked the land by hard, honest toil. No outside hired help was employed. The daughters often helped with the farmwork and fieldwork. Machines were at a minimum; horses were the only means of power.

Vincenc (1859-1929) and Josephine (1872-1926) are buried in the Ptak Cemetery. Rudolph (1903-1935) and Lillian (1908-1974) Totusek, and Emil (1890-1942) and Otilla (Totusek 1895-1943) Peska are also buried in the Ptak Cemetery. Jerry (1889-1965) and Albina (Totusek 1897-1984) Novak are buried in the Yankton Cemetery. Paul (1901-1979) and Lillian (Totusek 1901-1957) Kuchta are buried in the Catholic Cemetery in Yankton. Frank (1892-1967) and Jarmilla (Totusek 1899-1961) Bloch are buried in the Catholic Cemetery in Lesterville. Frances is the last member of the immediate family alive.

by Alvin V. Novak
Mr. & Mrs. August J. Walloch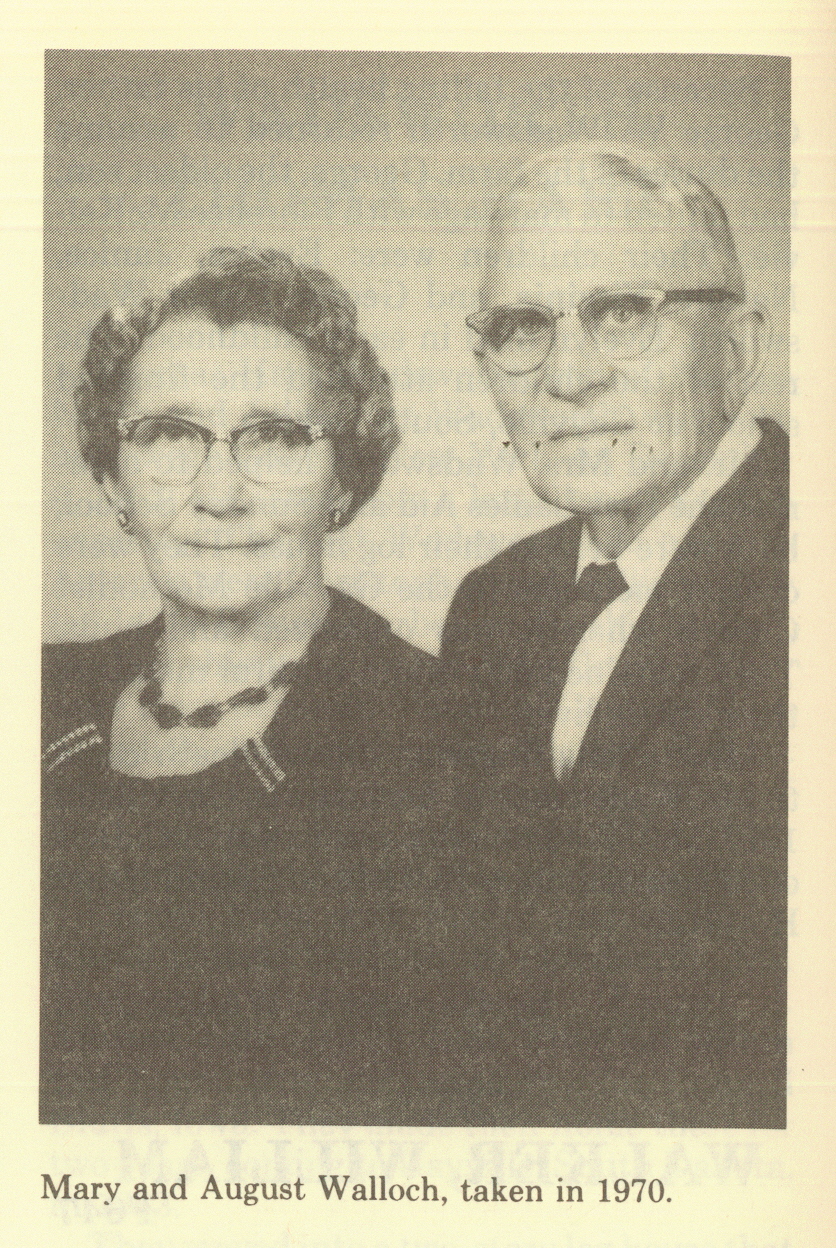 August J. Walloch was born July 28, 1889, near Lesterville to Joseph and Albina (Cerulik) Walloch. His wife Mary Carda was born December 19, 1895, to Joseph and Mary (Hale) Carda near Tabor, South Dakota. They were married February 3, 1913, in Tabor St. Wenceslaus Catholic Church. They farmed in Ziskov Township on a farm south of Lesterville in Yankton County.

August was a County Commissioner for many years.

In 1947 they moved to Tabor where he worked as custodian for the B.Y. Electric Association (REA) for many years. They were members of St. Wenceslaus Catholic Church.

Mary passed away June 21, 1974, and August died March 30. 1978. They were the parents of three children. Adeline was born January 11, 1915, and married Dan Pibal November 17, 1937. She passed away July 28, 1978. They had four children - Larry (Lawrence), David, Betty Jo, and John.

A son, Edward J., was born September 11, 1918, married Florence Stark on November 14, 1940, and lives in Yankton.

A son, Elmer, was born June 28, 1922, and married Dorothy Stepka September 23, 1947. Later they moved to Davenport, Iowa, where he passed away March 15, 1970. They had six children - Charles (Chuckie), Margaret (Peggy), Jerome (Jerry), Paulette, and William (Bill). They had ten grandchildren.

by Mrs. Edward J. Walloch
Carl & Cle Youngworth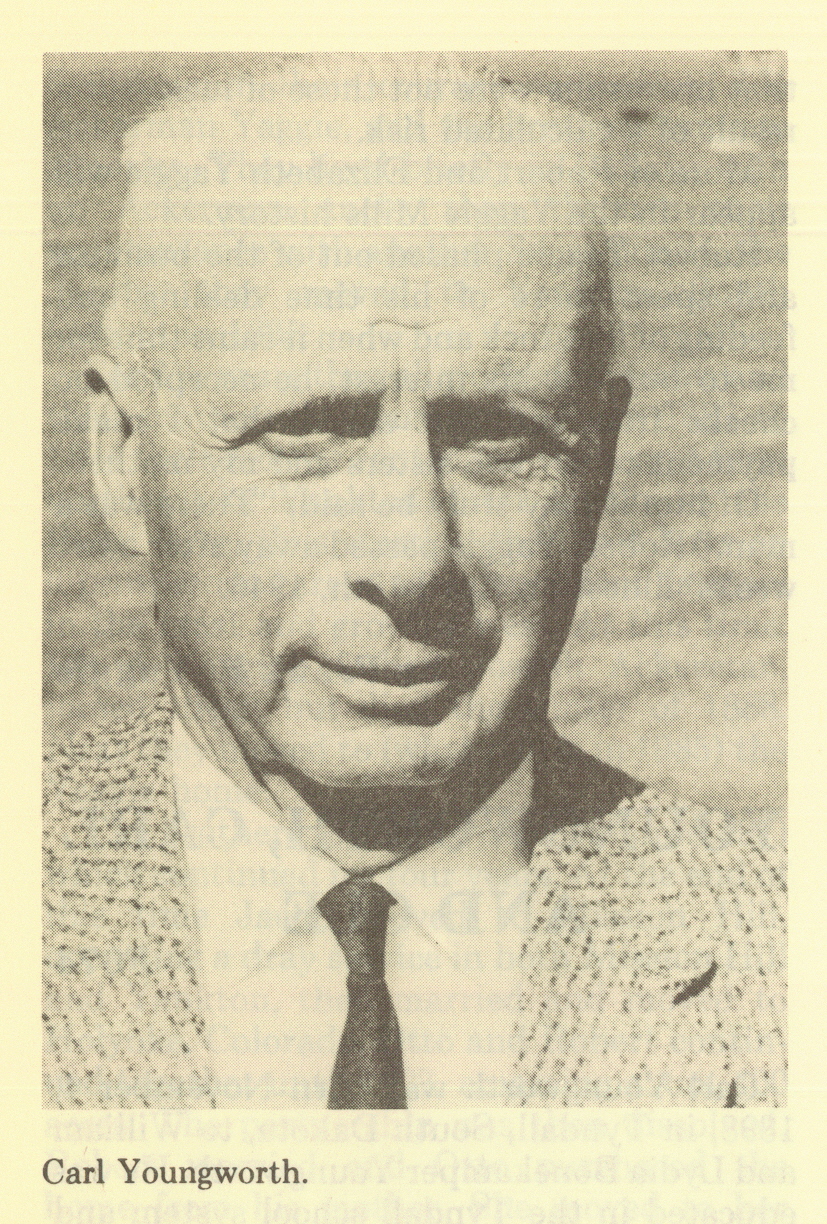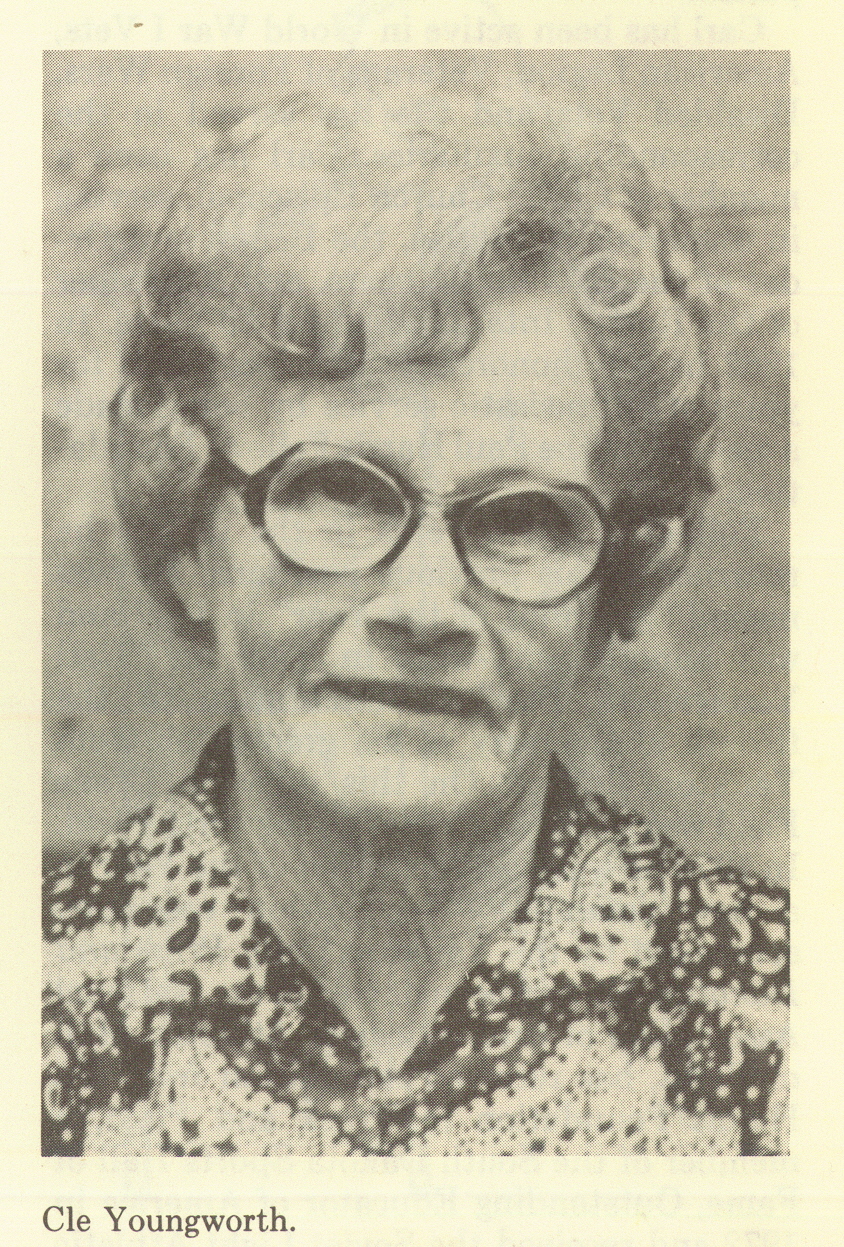 Carl Youngworth was born November 4, 1898 in Tyndall, South Dakota, to William and Lydia Bonekamper Youngworth. He was educated in the Tyndall school system and entered Yankton College in 1915. He served in World War I Army Training Corp from July 1918 to January 1919, and after graduation with a Bachelor of Arts (1919) and Master of Arts (1921) from Yankton College he taught and coached in the Winner Public Schools the year of 1921-1922. He organized their first track program where he had Frank Leahy as a freshman on his team. Leahy, later, was a great star at Notre Dame as done of the country's greatest football coaches.

In 1923 Carl coached the Choteau County track team at Fort Benton, Montana, and the following year succeeded his former coach, Vince Montgomery, at Yankton College. His teams won 13 South Dakota championships and second place four times. During these years he served as Athletic Director, Assistant Professor and Professor of Physical Education. He served in the National Guard from 1928 to 1941. During World War II, from November 1940 to July 1947, he served in the Army Air Corps and spent 21 months overseas in the European Theater.

On August 26, 1925, Carl married Cle Heck, daughter of Thomas and Elizabeth Wilmes Heck of Elkton, South Dakota. Cle was born December 17, 1899, one of ten girls. Two died in infancy and one, Anne, her only surviving sister, now resides in Mt. Vernon, Virginia. Cle was educated in the St. Mary's School system of Elkton and she taught in Brookings County for three years before entering Yankton College. Over the years she completed her Bachelor of Arts degree and taught school 32 years in California, Virginia, and the Yankton-Nebraska area. She has been active in the American Association of University Women, Delta Kappa Gamma, and Sacred Heart parish.

Carl has been active in World War I Vets, American Legion, Veterans of Foreign Wars, Disabled Vets and Cle has served in the corresponding auxiliaries. Carl has been a member of Christ Church Episcopal, serving in numerous capacities, the Benevolent Order of the Elks for 63 years, and a member of the Rotary International for 56 years. In 1982 he was honored by the local club for years of enthusiastic service by being made a member of the Paul Harris Fellows Foundation.

Following Carl's years in the service he returned to his previous positions. He was named "Alumnus of the Year" in 1967 and was honored city-wide in 1969 on "Carl Youngworth Day" in celebration of the fiftieth anniversary of his graduation from Yankton College. On this occasion Crane Field was renamed Crane-Youngworth Field. In 1970 he was named Citizen of the Year in a new community recognition ceremony sponsored by the Yankton Daily Press and Dakotan. He had been named to the National Association of Intercollegiate Athletics Hall of Fame, has received recognition from the Helms Foundation in Track and Field, a member of the South Dakota Sports Hall of Fame, Outstanding Educator of America in 1972 and received the Soviet Light Athletic Federation trophy and commendation because of the testimonial of one of his former students and track star, Tommy, White, who was named "outstanding sportsman of all athletes" in the Moscow International Indoor Meet in 1971.

Under his supervision the Yankton College teams have acquired three Dakota-Iowa conference championships, two South Dakota Intercollegiate championships, plus four runner-ups (with the smallest college enrollment of any member of the nine school conference). He had two semifinalists in Olympic trials, and winners in Junior and Senior Amateur Athletic Union competition. His men places in National Conference of American Athletes championship cross country, holds 16 records in Dakota Track and Field and had at least six all time South Dakota record holders.

In 1970 Carl received an honorary doctorate at the eighty-fourth annual Commencement of Yankton College. At that time Dr. Paul Williams, executive vice-president of the college, stated: "Carl Youngworth is one of those rare men whose giant stature gives them legendary status in the own time. He is a devoted leader of youth, churchman, and civic leader, who has lifted the field of sports activity to its highest plane through his influence and his life. If more evidence is desired, of the caliber of the life of Carl Youngworth, ask any of his hundreds of students, his colleagues, or his fellow citizens of Yankton, South Dakota. Their verdict is unanimous!"

Carl has retired from active teaching and coaching, but is involved in any activity concerning the college or community and at present is serving on the Board of St. Mary's School for Indian Girls and Boys. He and Cle, who has supported him in his many endeavors, reside in their home on Pine Street. Their son, Tom, was married to Barbara Friend of Fargo, North Dakota. They have five children and two grandchildren and now reside in Overland Park, Kansas.

by Mrs. E. W. Boyles